San Francisco Green Film Festival 2020
Enjoy Thought-Provoking Films About People & the Planet
NOTE: Click here to stay up-to-date with what's open and opening soon.
This year's San Francisco Green Film Festival is from September 10-20, 2020. It includes more than 70 independent films from more than 20 different countries, including the U.S., Sweden, Canada, Korea, Equador, and Japan.
All films focus on the environment. It's a great forum to spark conversations and ideas on how to protect and improve the world around us.
This film festival started after the release of An Inconvenient Truth. The founder of this festival watched that documentary and decided there should be a bigger forum and dialouge for these types of pieces.
To broaden this dialogue, some of the session are free to the public.
Though the opening and closing night programs will be at the Castro Theater, most screenings will take place at the Roxie Theater and the Little Roxie in the Mission District. You will also find some at 518 Valencia as well as a few other locations around the city.
The festival includes both full length features and shorts.
Buying Tickets
Ticket prices for the San Francisco Green Film Festival are as follows:
General Admission: $15
Six-Pack of Tickets: $80
Full Festival Pass: $225.00
Opening Night Film & Party: $55
You can buy tickets either online on the San Francisco Green Film Festival website or by calling them at (415) 552-5580, or in person at the Roxie Theater.
Tickets are subject to change.
Find a full schedule of this year's festival and ticketing information on their website.
Places to Stay Nearby
The best place to stay in SF for this festival is in the Union Square District. This is where you will find options from clean budget hotels to five-star luxury hotels.
I recommend Union Square as it's only about a 15 to 20 minute bus ride away from the Mission. It's also centrally located, which makes it easier to get around the rest of SF quickly.
Click here for my recommendations in Union Square.
Click here to check for deals in Union Square and San Francisco on TripAdvisor.com.
Discounted Tickets for Other SF Events, Tours, & More
The best place to check for discounts all around SF is on Goldstar. They feature tickets to events, tours, activities, and theater performances. Most are at up to 50% off.
Here are just a few other upcoming events that you might enjoy.
Adventure Quest: Interactive improv at the Un-Scripted Theater, Full price $10, Goldstar $5*


Dinner Detective: Murder Mystery Show at the Omni Hotel, Full price $121.59, Goldstar price $89.18*
*Small service fee at checkout.
How to Get to the Roxie
From San Francisco
BART: Take BART (SF's underground metro train) to the 16th Street station in the Mission. From here, walk two blocks west to the Roxie Theater at 3117 16th Street (at Valencia).
Bus: Your bus options for the Mission include the 13, 22, 33, and 49.
From the East Bay
Take BART to the 16th Street Station in the Mission. After you exit, head west on 16th Street for the Roxie Theater.
From the North Bay
From the North Bay, take the 70, 80 or 101 bus to the Hyde and Grove Street stop. From here, walk to the Civic Center BART Station. Take BART to the 16th and Mission Street stop. The Roxie Theater is two blocks west on 16th Street.
From the South Bay
Take BART to the 16th Street station in San Francisco. Once you exit, head west just two blocks to find the Roxie Theater.
Tips for those Driving
If you decide you want to drive, then you have a few options for parking in this district. You can also look for parking in the street, but this is always challenging in the Mission.
Your best bet to find parking is in the Hoff Street Garage on 16th between Mission and Valencia. Click here for additional parking garages in the Mission.
Other Things to See & Do in the Mission
Mission Murals: One of my favorite parts of this district is its colorful murals. This neighborhood has hundreds of murals all throughout its streets. Click here to learn more about them, including maps to find them.
Mission San Francisco de Asis: The oldest building in San Francisco is Mission San Francisco de Asis, built in the late 1700s. This historic mission is open to visitors every day. Learn more about what you will see and how to find this beauty.
Other Mission Activities & Restaurant Recommendations: Are you looking for the best place to stay or grab a bite to eat? If so, then look no further. On this page, you will find details on this district's best activities, restaurants, and hotels. Click here to learn more.

Follow SFTourismTips on Facebook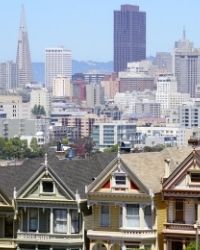 On my Facebook page, you will find more great information about planning your San Francisco vacation.
It includes tips, must see attractions, and other fun details.
Click the link below to check it out. If you enjoy the page, give us a like.

More Great Pages to Explore