Napa Valley Wine Train: What to Expect Aboard this Rolling Restaurant

Hop aboard the Napa Valley Wine Train for an experience of a lifetime. This rolling restaurant features gourmet multi-course meal, an extensive wine menu, and extraordinary views all around. They serve up both lunch and dinner most days of the week as well as a few specials options on key holidays.

While all rides include a meal, there are also a few tours that include stops at local wineries. The half-day experiences stop at one winery while the full day experiences stop at one to three wineries, depending on the option you choose.
Tours last between three to six hours. Some, but not all, of them include one complimentary glass of wine. You can also buy a glass or two of wine off their menu of more than 40 local options.
Read on to learn more about this train, the tours offered, what you should wear, and answers to other frequently asked questions. 

Disclaimer: I receive a small commission from some of the links on this page.

What to Expect from Your Journey

The Napa Valley Wine Train purchased their first railcar in 1987. All of the cars on this historic train are from 1915. Built by the Pullman Standard Company, they were originally in use by Northern Pacific Railway.
After two years of work, four railcars took their inaugural journey on September 16, 1989.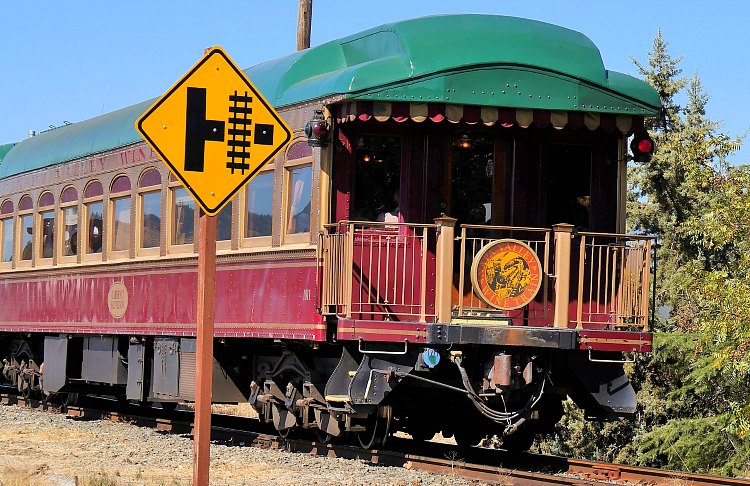 Today, the Napa Valley Wine Train consists of 16 railcars and 4 engines. Although some people confuse it for a touring train just for wine tasting, it is mainly a restaurant on train tracks that rolls through the valley. 
Their Executive Chef, Donald Young, and his team prepare all of the meals on board. There are four kitchen railcars. 
They serve up dishes with fresh ingredients and offer some of the tastiest meals in the valley. For each meal selection, you will have a choice of dishes from a selection of three to four dishes per course.

Since it is a high-end restaurant, they will work with you if you need modifications for your diet. You just need to let them know ahead of time, so they have what they need on board for your meal. When you enter, just let any of the attendants know which person in your party ordered a dietary specific meal.

The cool thing about this experience is that you also have the chance to watch the chef and his staff in action. The main kitchen railcar has a large window and viewing area, so you can see them create the perfect meal.

What to Expect the Day of Your Journey

Your journey starts with check-in at the Napa Valley Wine Train depot in downtown Napa at 1275 McKinstry St, Napa, CA 94559. Check-in starts 45 to 60 minutes before your journey. Once you are finished with that, you can roam around the historic depot until you hear the boarding call. 
They begin boarding about 30 minutes before the train leaves the station. As long as you are still in the depot, you will not miss the boarding call.
Some packages include private tables and others include up to 4 people at one table. All of the tables are against the windows, so each seat has an amazing view of Napa Valley.
The experiences vary slightly, but after you are seated, you are welcome to order a glass of wine. Non-alcoholic drinks such as soda and water are included with your ticket price, so you are welcome to order one of those beverages also.
Your journey begins after everyone is on board. During the first 10 minutes, you will roll through the city of Napa. After that, you will be surrounded by vineyards and wineries for the remainder of your journey.

All experiences are round trip, so your journey begins and ends at the Napa Valley Wine Train station in downtown Napa. 

Napa Valley Wine Train Experiences

There are several daily Napa Valley Wine Train experiences. Some offer lunch, others afternoon tea, and others an evening dinner. There are also a handful of special events that run a few times each year.

Dining Experiences

During the Dining Experiences, you stay on the train the entire time, allowing you to fully immerse yourself in the gourmet gastronomic adventure surrounded by the beautiful landscape.
The daytime experiences last three hours (11:30 am to 2:30 pm) and the evening ones run for around two hours (6:20 pm to 8:30 pm). Keep in mind that check-in and boarding start an hour before train departure. 
1. Vista Dome: The Champagne Vista Dome is a two-story vintage dining car with the best views of Napa Valley. The ride is luxurious thanks to the train's plush booths and curved glass windows that let you admire the landscape, sunset, or stars, depending on the time you choose your tour. The experience includes a welcome glass of sparkling wine along with your multi-course meal. It runs around $270 to $420 per person depending on the time of year. All tickets include private tables.

2. Gourmet Express: The Gourmet Express is a less expensive option. This experience includes lunch or dinner in one of their one-story antique Pullman rail cars. This tour does not include a complimentary glass of sparkling wine but does include a multi-course meal. There are two seatings for each meal, and that way guests get to enjoy different courses in each the dining and the lounge cars. You're also welcome to visit the kitchen cars to see the chefs in action. This dining option runs from about $175 to $255 per person. For these seatings, you may share a table with another party.
3. Afternoon Tea: For those looking for a lighter dining experience, this is a great new option. In addition to a traditional afternoon tea service—complete with a selection of fine teas, finger sandwiches, mini desserts, and more—this tour offers the elegance of wine country dining as well. You'll get a sparkling wine toast with cheese, and small portions of soup and salad to round out the local culinary experience. The tour runs on the lunchtime schedule of 11:30 am to 2:30 pm, and costs $175 to $200 per person.
Half-Day Tours

The half-day tours include a stop at one winery. You will enjoy a multi-course meal on board, disembark to do a tour at a winery, and then re-board the train to return to the station at the end. These journeys last between 3 and 4 hours. 
4. Grgich Hills Estate Tasting: This includes a two-hour train ride, lunch, and a private tour of Grgich Hills Winery. The owner, Mike Grgich, is one of the best winemakers in the valley and famous for the winning Chardonnay from the 1976 Judgement of Paris. Your tour starts with lunch on the train, followed by a one-hour seated tasting at Grgich Hills. You will then finish with a nice dessert onboard the train as you head back to the station. This tour leaves at 11:30 am and tickets cost around $250 to $380 per person.
Full-Day Tours

The full-day tours last from about 5 to 6 hours each and include stops at Napa Valley wineries. All include a gourmet multi-course lunch on the train.
5. The Legacy Tour: This tour includes three one-hour tours at Napa Valley wineries. The tour begins with check-in at 9:45 am with the train leaving at 10:15 am. You'll have breakfast on your way to the first stop, the iconic 1949 Napa Valley billboard, where you will enjoy your first tasting of wine on board and then disembark for a photo opportunity with the sign. You will then re-board at 12 pm and enjoy your second course as the train makes the 30-minute trip to Charles Krug. This tour runs until 1:45 pm. You'll hop on board again to enjoy your third course as you ride the train to V. Sattui Winery. You will spend just over an hour here and return to the train at around 3:20 pm. Your final course is dessert, which you will enjoy as you ride the train back to the Napa Valley Wine Train station. You will return around 4:15 pm. This tour is $385 to $725 depending on your booking date.
Special Events

Murder Mystery: If you love murder mysteries, then hop aboard the Napa Valley Wine Train for one of their Murder Mystery dinners. These two-hour rides include both excitement and elegance as you roll through the vineyards. They last 2 hours each and leave Napa around 5:30 pm. There are a few different storylines, and each offers recommended attire so you can fit into the theme. In total, they run more than 20 of these each year. They are $300 to $600 per person depending on the date and theme.
Romance on the Rails: This event seats just 16 parties and is aboard the Vista Dome. It's an elegant two-hour journey. Included with your ticket is a taste of sparkling wine and two glasses of private labeled wine as well as a multi-course meal. It runs 8 to 10 times a year and costs $290 to $375 per person.
Dressed to the Nines on the Lines: This is a version of the Afternoon Tea dining experience with a special twist: you and all the other guests will be dressed in your best attire! It is a fun way to go back in time to the era of elegant, luxury train travel. You'll enjoy all the scrumptious scones and finger sandwiches, and can choose to enhance your tour with caviar service. Tickets are about $205 per person.
Thanksgiving Dinner Package: They run two trains on Thanksgiving Day, one for lunch and one for dinner. You can choose from the Vista Dome and Gourmet Express options (same offerings as above). Both options are 3.5 hours. They start at around $175 to $180 per person.

What Should You Wear on the Napa Valley Wine Train?

The Napa Valley Wine Train is an upscale restaurant experience. While they don't have a strict dress code, I do recommend that you dress up a little.

You can wear business casual attire or class it up even more in the evening. If you plan to do one of the trains with the tastings at local wineries, make sure to wear casual or comfortable shoes. You will be standing on and off for up to an hour at a time.
Here are a few more tips on what to expect from the weather throughout the year, so you can pack accordingly.
Is the Wine Train Good for Kids?

If you are planning on visiting Napa with family, you will find that kids are welcome on the Napa Valley Wine Train. There are certain tours that include kid pricing and options.
A couple of things to note if you plan on riding the train with your kids. They do not allow the kids to run around the train and/or be unattended. If you have a little one that has a hard time sitting still, you may want to reconsider this as an option.
I think kids will enjoy it as there are great views out the windows, and who doesn't love riding around on a train!