Napa Valley Hotels: 20 of the Best Accommodations

by Jill Loeffler  •

Updated: January 20, 2023
You will find a wide variety of Napa Valley Hotels. They range from budget-friendly options around $100 a night, while the high-end resorts may go for $10,000 a night or more.
You will find lodging options throughout the valley. You will find some of my top picks within the City of Napa and some of the best accommodations in Napa Valley's quaint towns, such as Calistoga, St. Helena, or Yountville.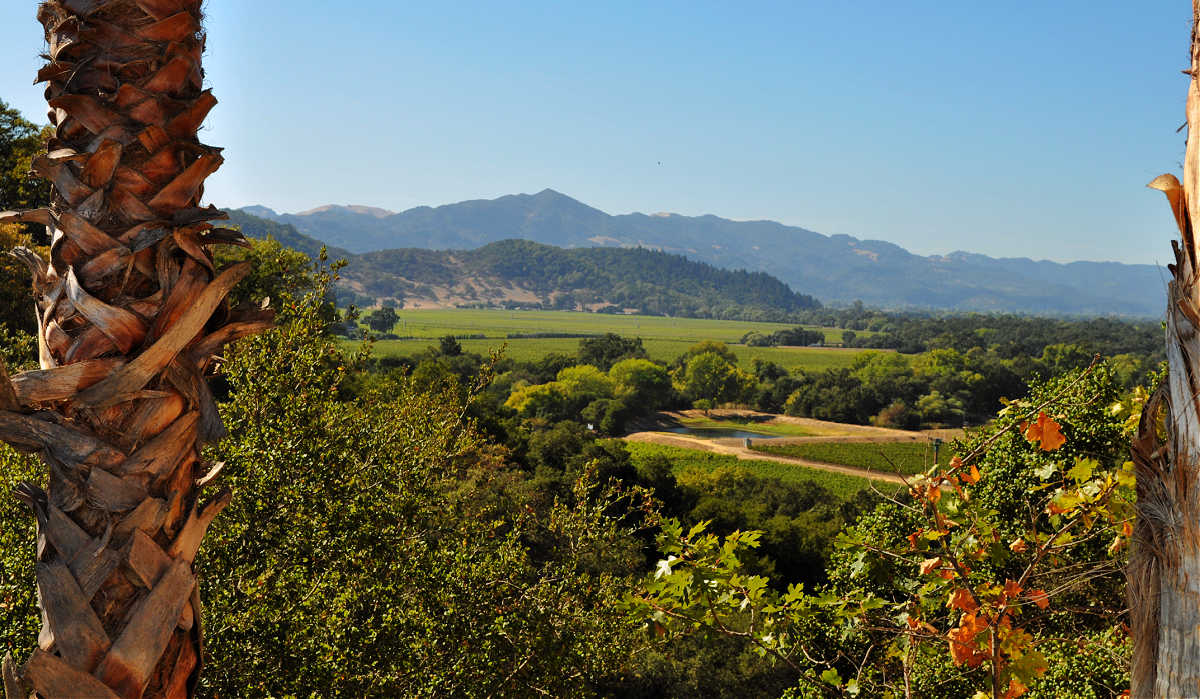 This guide will help you locate the best options for your upcoming visit.

Disclaimer: I receive a small commission from some of the links on this page.

Napa Hotel Deals

Since everyone loves a great deal, I thought I'd start with the places where you can find some deals on rooms in Napa.

TripAdvisor

Another great place to find Napa Hotel Deals is on TripAdvisor. They offer a wide range of deals.
In addition to discounts on your night stay, you will also find deals that include free breakfast or free WiFi.
Click here for a list of hotel deals currently running on TripAdvisor.com.
Booking.com

You will also find some fantastic deals on Booking.com. They have a section that includes their great deals. Some hotel rooms are discounted up to 50% off. That's a HUGE saving.
I use them often during my travels as I find they have a fantastic selection of hotels. On their site, you will find guest reviews, pictures, and other details for each of the hotels listed.
I also like their booking section, where you find out everything you want to know about the exact type of room you are booking.
Click here to check out the deals on Booking.com for Napa Valley Hotels: Save on your Hotel with Booking.com, Planet Earth's #1 Accommodation Site. No booking fees ever!
Top Places to Stay in Napa Valley by Location
Calistoga Lodging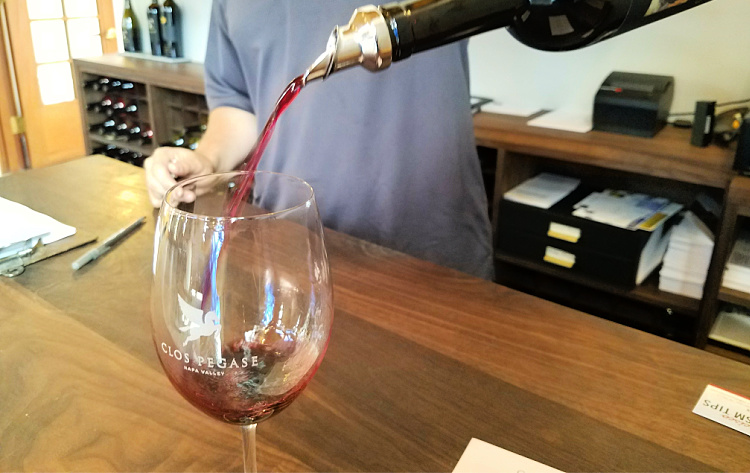 One of my favorite wineries in Calistoga is Clos Pegase. This is from one of our recent tastings here.
1. Four Seasons Resort and Residences Napa Valley
The absolute best place to stay in Calistoga (if budget is not an issue) is the Four Seasons Resort and Residences Napa Valley. This wonderful hotel is part of the Auberge Resort Collection.
You might notice that there isn't a "star" rating with this resort. That is because the star ratings are not applicable since it is above them and situated at the "Luxury" level of resorts. It is basically designed with every amenity you could ever want.
You'll enjoy the spa with two pools, a 24-hour gym, and 24-hour front desk service. There are two restaurants on the grounds, including the fantastic TRUSS Restaurant + Bar. And if that isn't enough, they also have a tasting room for Elusa Winery.
You will have your choice of room or suites located throughout the grounds. And, as you'd expect, the rooms are out of this luxurious like you've never imagined.
Address: 400 Silverado Tri, Calistoga
Room Rate Estimates: Rooms start at around $1,100 a night and more than $9,995 a night for detached villas
>> Find more information and a fantastic room at the Four Seasons Resort
2. Solage Calistoga, an Auberge Resort & Spa
Directly across the Four Seasons Resort and Residence Napa Valley is Solage Calistoga. It's also expensive but offers top-of-the-line amenities. They have numerous special events that make you feel like you are in the most magical place on Earth.
You get free internet, free parking, and access to the gym. They also have a fantastic pool, restaurant/bar, and room service.
The Solage Calistoga recently updated its 89 rooms, which are beautiful. Many of the rooms have outdoor fireplaces, water fountains, and some have private pools with cabanas.
It's the perfect find for those looking to really enjoy their Napa vacation and wants the best Napa Valley Hotels.
Address: 755 Silverado Trail, Calistoga
Room Rate Estimates: Rooms start at around $1,000 and are priced up to around $5,500+ a night
3. Embrace Calistoga
Another popular Calistoga lodging option is Embrace Calistoga. It's a bed and breakfast with five uniquely designed rooms. Each room is spectacular and is an experience unlike any other.
Staying here includes a more intimate experience. You get the chance to mingle with other guests in a quiet atmosphere. They serve a gourmet breakfast each morning and offer a fun gathering with wine and cheese every evening from 5 pm to 7 pm.
It's such a charming place that I'm sure you will love it!
Address: 1139 Lincoln Avenue, Calistoga
Room Rate Estimates: Rooms start at around $350 to go up to around $679 a night
>> Embrace the beauty of Calistoga and book your room here
4. Chateau de Vie Bed & Breakfast
Chateau de Vie is another beautiful bed and breakfast option in Calistoga. It's a great find in the middle of the countryside and right next to their beautiful Cabernet Sauvignon Estate Vineyards. Even though it's outside town, it's only a five-minute drive to this lovely town's restaurants and shops.
For the price, this is my favorite option in Calistoga.
In addition to its relaxing location also features a private jacuzzi hot tub, a heated pool, and continuous concierge and beverage service. You can also request garden or indoor spa services.
Their peaceful setting and wonderful amenities make me want to revisit them soon!
Address: 3250 Hwy 128, Calistoga
Room Rate Estimates: Rooms start at around $250 a night and range up to around $629
5. Best Western Plus Stevenson Manor
The best budget-friendly find here is the Best Western Plus Stevenson Manner. It's perfect if you are on a tighter budget or don't plan to spend much time in your room.

I also love it because it's right in the heart of the action. If you love to head out on the town, you will want to consider this option.
It's a 2.5-star hotel but features an outdoor pool, free internet access, a concierge, and complimentary breakfast. Some of the rooms also feature a kitchenette and family rooms.
Address: 1830 Lincoln Ave., Calistoga
Room Rate Estimates: Rooms start at around $125 during the slower season and can cost up to $371 during the busy summer and fall months
City of Napa

The City of Napa has the largest concentration of hotels. It's also the best bet for those looking for a bit of nightlife and grand hotels in the mid-to-lower budget ranges.
1. Andaz Napa
The Andaz Napa is a four-star hotel in the heart of downtown Napa. When you stay here, you are just steps from the Napa Valley Opera House, Uptown Theater, and many other attractions that you will enjoy. This lovely find is close to the action and features 141 rooms.
This is an excellent hotel for you if most of your activities are on the southern end of the valley. It's in the mid-to-upper price range based on the dates you visit and the type of room you select for your stay.
It features standard amenities, concierge service, a private balcony, and access to its onsite gym. You will also find a restaurant and bar in the hotel for those that don't feel like walking too far.
This is perfect for those on business in Napa or looking for a standard 4-star hotel for their visit.
Address: 1450 First Street, Napa
Room Rate Estimates: Rooms start at around $250 during low season and are closer to $658 during the busy season
>> Find rooms and more information for Andaz Napa here
2. Inn on Randolph
If you are looking for a great B&B right in the city of Napa, then check out the Inn on Randolph. It offers five rooms in the main house as well as five private cottages if you want even more alone time.
All options include the newest amenities as they were all completely renovated when the Inn opened. They also offer onsite massage service, large community rooms for you to relax outside of your rooms, and a gourmet breakfast each morning.
It's set in Napa's gorgeous historic district, so all the downtown activities and restaurants are just a short walk or drive away!
Address: 411 Randolph Street, Napa
Room Rate Estimates: During low season, you will find a room here starting at $300 a night. It's pricier in the summer with rooms reaching up to around $600 a night.
>> Book rooms for the Inn on Randolph in Napa
3. Napa River Inn at the Historic Napa Mill
This is an excellent find in Napa. This fun 4-star option is along the river and is just steps to downtown Napa.
Located in a mill from the 1800s, you will be offered the standard amenities of a 4-star hotel, and beyond that, they also offer you breakfast in bed. You will also have the option to treat your doggie(s) with their VIP (Very Important Pet) program.
They also offer hot tubs, bicycle rentals, babysitting, and more.
Address: 500 Main Street, Napa
Room Rate Estimates: Rooms go for around $199 to $594 a night based on the season.
>> Find all the information you need to book your room at the Napa River Inn
4. Elm House Inn by Best Western Plus
Another low to mid-range option in the city of Napa is the Elm House Inn. This two-star hotel offers a few fun amenities, from an outdoor hot tub to free breakfast to extra large beds.
They have a knowledgeable staff that welcomes you the minute you walk in the door. You will also love the fact that it's close to downtown Napa.
For the price, this place is a great find.
Address: 800 California Blvd, Napa
Room Rate Estimates: Prices here range from about $250 to around $900+ all year long.
>> Find excellent deals for your stay in this cute inn here
5. The Cottages of Napa Valley
The lovely Cottages of Napa Valley are in a peaceful setting just two miles south of Yountville. All cottages are furnished and offer a full kitchen.

These are an excellent option for those traveling in a large group or who want to have some fun and family time in Napa Valley. In addition to full kitchens, you can also use the outdoor BBQ facilities.

They offer bike rentals daily and transportation to Yountville each night between 5 pm and 10 pm.

They are great for large groups, but they do come at a price.

Address: 1012 Darms Lane, Napa
Room Rate Estimates: The Cottages start at around $300 in the low season but can be quite pricey (up to $1,200 each) in the busy summer season.
Weather and Packing Tips by Month
Places to Stay in St. Helena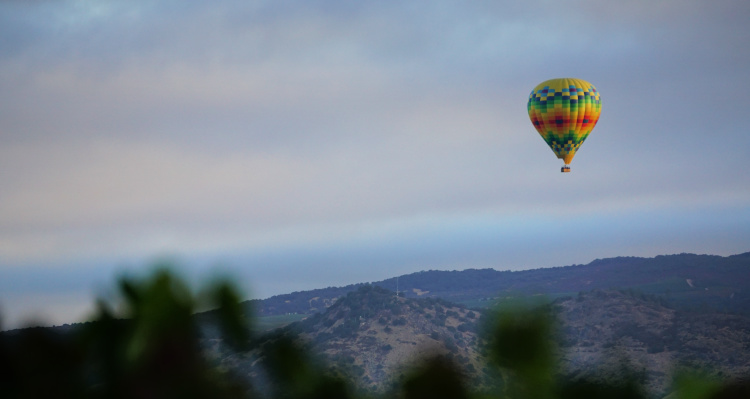 1. The Wine Country Inn & Cottages
The best way to describe this four-star bed and breakfast is to state that it's a hidden gem and the perfect weekend getaway. It's set on a property with gorgeous vineyards and is within walking distance of a few of the best Napa Valley Wineries. You are also just a short drive to St. Helena (2 miles) and dozens of other great wine-tasting options.
They do not offer TVs, so you can truly relax in this quiet environment. They provide a daily wine social, a complimentary shuttle to nearby restaurants, and a pool and hot tub. There are only 29 rooms, so it is very personal and cute.
Address: 1152 Lodi Lane, St. Helena
Room Rate Estimates: Rooms range from around $340 to $900+ a night.
>> Learn more about how to book your rooms at this beautiful inn
2. Meadowood Napa Valley
The five-star hotel offers 36 rooms in a beautiful property in St. Helena. It's a great place to see the authentic charm of Napa Valley.
It's also perfect for those that love to stay active. They feature seven tennis courts, a nine-hole walking golf course, and access to several great trails. You can also do a little swimming or unwind at their onsite spa.
Food lovers will enjoy the Michelin three-star option, The Restaurant, right on the property. You can also check out The Grill or dine in your room.
The Meadowood Napa Valley is a real treat for your Napa Valley vacation.
Address: 900 Meadowood Lane, St. Helena
Room Rate Estimates: Rooms range from around $900 to $1,900+ a night
3. Inn St. Helena
This is a very highly rated inn, and you will feel like you have found the perfect place when you stay here. It is an excellent choice since there are two houses for you to stay in depending on your wants and needs.
I love this winery so much because it is an easy walk to numerous wineries, including Beringer, Merryvale, Salvestrin, and others. There is nothing like being able just to enjoy the calmness, take a walk through beauty to get some delicious wine, and just relax afterward in your gorgeous setting.
And when you wake up, you are treated to an amazing seasonal breakfast daily. For coffee lovers, they have a unique blend made specifically for them by the Napa Valley Roasting Company.
Note: They have special deals for people attending the Culinary Arts Academy.
Address: 1515 Main Street, St. Helena
Room Rate Estimates: Rooms start at $336 a night and range up to around $685 a night during the busy season
>> Learn more about rooms and this beautiful inn here
4. Harvest Inn
This four-star property is another one of the best of the Napa Valley Hotels. They offer wonderful amenities from their outdoor pool to access to their onsite workout facilities.
The other thing I really like about the Harvest Inn is that it's set on nearly 8-acres of property that borders gorgeous Napa Valley vineyards.
Named neighborhoods also set up the property, and each section has a unique view. The 74 guest rooms are well equipped and offer you the comfort you've been waiting for on your trip here!
Address: 1 Main Street, St. Helena
Room Rate Estimates: Rooms range from around $424 to $1000+ a night
>> Learn more about the Harvest Inn and how to book your rooms
5. El Bonita Motel
Of course, I always like to add one budget option per location. For St. Helena, it's the El Bonita.

This 2.5-star option doesn't offer many amenities, but it's clean and in an incredible location. They offer free parking, a refrigerator, access to their pool, and free internet.
Address: 195 Main St., St. Helena
Room Rate Estimates: Rooms are from around $190 to around $290 a night
Yountville Hotels

1. Bardessono Hotel & Spa
The Bardessono is one of the best Napa Valley Hotels on my list. It's a 4.5-star that offers luxurious suites and everything you would expect from a high-end hotel.
While you are here, make sure to check out their onsite spa as well as their award-winning restaurant, Lucy Restaurant and Bar.
You can also relax in their poolside bar, enjoy their spa services, and take breakfast in bed. This property is also dog friendly.
Address: 6526 Yount Street, Yountville
Room Rate Estimates: Rooms range from around $700 to $1776+ a night
2. Hotel Yountville
You will also enjoy your stay at Hotel Yountville. This lovely four-star hotel is just a short walk or drive to some of Yountville's excellent restaurants.
This luxury hotel also offers rooms and suites that are all 400+ square feet, so you will have plenty of room to spread out and relax. You can also spend quality time in their outdoor pool or the cozy Y Bar in the hotel lobby.
Address: 6462 Washington Street, Yountville
Room Rate Estimates: Rooms start at around $300 up to around $1337+ a night
3. North Block Hotel
The North Block Hotel is a lovely four-star option in the heart of Yountville. This modern boutique hotel offers 20 guest rooms with every amenity you would want from a four-star hotel.
The best part about this place, though, is the location. You can walk to a few tasting rooms, restaurants, and bars. It's also a short drive to dozens of other wineries, tasting rooms, and restaurants.
They also have an on-site spa so that you can relax during your stay in Napa Valley.
Address: 6757 Washington Street, Yountville
Room Rate Estimates: Rooms start at around $400 and range up to around $900+ a night
>> Learn more about how to book your rooms at the North Block Hotel
4. Napa Valley Lodge
Recently refurbished in 2020, this is a four-star masterpiece in the heart of beautify Yountville. You'll enjoy their complimentary continental breakfast when you wake up as you sit and look out over a beautiful vineyard.
Some benefits of staying here include spa services, free bicycles so you can ride around the town, and a fitness center. The heated outdoor pool is lovely and relaxing. You will also enjoy their outdoor fireplace.
All the rooms are equipped with Queen or King beds and free cribs, and each room has a terrace. There are also family rooms available. And, if you are traveling as a family, this is an excellent location since kids stay free.
Address: 2230 Madison, Yountville
Room Rate Estimates: Prices range from around $300 to $1,145 a night
>> Click here to find rooms and learn more about the Napa Valley Lodge
Book Today
You will find a number of places to book your hotels. I recommend TripAdvisor as they have a large inventory of recent guest reviews, so you can get a feel for exactly what the experience is like now. Click here to visit TripAdvisor for more details.

You will also find a large number of these places (and other Napa Valley hotels) on Booking.com. They offer everyday discounts, which allows you to find some great deals on your stay. Click here to head to Bookings.com to start your hotel search.
Napa Valley Events by Month

Find additional things to do each month in Napa.

Top 15 Napa Valley Bed and Breakfast Options

One of the best ways to enjoy Napa Valley is by staying in one of its lovely B&Bs. I've mentioned a few above, but there are many more great options.
Click here to read all about my 15 favorite Napa Valley B&Bs.
Napa Vacation Rentals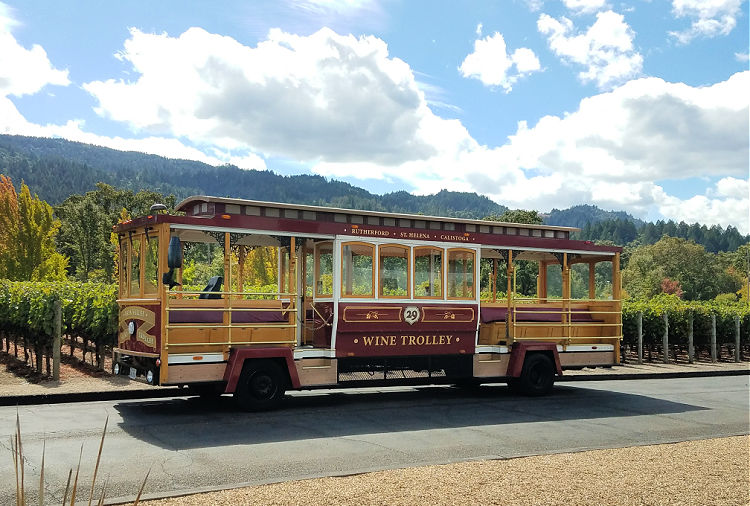 Another popular option is to rent an apartment or house for your stay. This will give you the freedom of a place of your own. It's the perfect option for those staying with a larger group or staying for more than just a few days.
Here are a few places I recommend looking for your rentals.
TripAdvisor: TripAdvisor has a large number of vacation rentals in Napa. Options on their list range from small studio apartments to 4- and 5-bedroom houses with pools. There are also a large number of reviews from those that stayed previously, so you get a great sense of what to expect during your stay. Click here to review their vacation rentals.
VRBO: I also use VRBO quite a bit for these types of rentals. You get a great look at the places available, and their website makes it easy to find something that fits your needs. Click here to check out VRBO selections.
A Word of Warning About Short Term Vacation Rentals

Many places throughout the US, including Napa, are starting to crack down on short-term vacation rentals. What began as a wonderful idea has exploded and cut into the business of local hotels and resorts. Their issue with short-term rentals is that they do not have to follow the same rules, pay taxes, and follow other hotel regulations.
This allows short-term rental properties to rent their places for less.
It is required in Napa Valley to have a permit to rent your apartment or house to those renting for the short term. You may get stuck in the middle as they begin to crack down on those renting without permits.
Now, it's an extreme case that you would have issues, but it's something I like to mention to anyone using these services I recommend or any others. Since they do not have to provide their permit to sign up for these services, you cannot guarantee that they are legal rentals.
Here is a recent article to give you a better idea of what's happening on this topic:
Napa Valley Register: City Residents Divided on Vacation Rentals
I recommend asking a few questions before you rent to know what risks you are willing to take. Yes, these can be a great, cost-effective way to visit Napa, but there could be some downsides also.
Comments? Questions? Suggestions?
I would love for you join me in my private Facebook group! 
It's a great place to interact with me and others that know the area well.
You can ask questions, get advice for your upcoming stay, and then share your photos and advice with others when you return home. It's a great community and the fastest way to get answers to those nagging questions about your visit!