Events in Napa in October 2023: Wine Tasting, Halloween Parties, & More

by Jill Loeffler  •

Updated: September 10, 2023
Events in Napa in October 2023 include harvest parties, wine tasting at local wineries, and Halloween celebrations. You will also find some great things to do at night at both the Blue Note and the Uptown Theatre.
In addition to these events, I've also included some wine tasting and hotel deals for your stay. Read on for more tips on your stay this month in the Napa Valley.

Disclaimer: I receive a small commission from some of the links on this page.

Hometown Harvest Festival

Date: 10/21
The St. Helena Harvest Festival is one of the events in Napa in October that is fun for the whole family. It has been a community tradition for more than 30 years. 
It kicks off with a morning Fun Run, followed by the Pet Parade. The day continues with live music, carnival rides, a wine lounge, a food alley, and a variety of arts and crafts.
All festivities are along Oak Avenue between Adams Street and Spring Street. It runs from 11 am to 4 pm.
Where to Stay in October

Are you looking for a great place to stay as you enjoy these events in Napa in October? If so, then check out the specials below. You will find the best deals this month from discounted rooms to free amenities.

TripAdvisor: What's the #1 hotel in the Napa Valley? Read reviews & find hotel deals on TripAdvisor!
Booking.com: Save on your Hotel in Napa with Booking.com, Planet Earth's #1 Accommodation Site. No booking fees ever!
VRBO: Another great lodging option is VRBO. You can stay at a local's house, apartment, or even just rent a room. It's a great way to feel more like a local while visiting. Find a great place to stay on VRBO.
Napa's Uptown Theatre Shows in October

After wine tasting all day, make sure to check out some of the top shows at the Uptown Theatre. Most concerts start at around 8 pm.
Get The Led Out - Tribute Band, 10/7 
Girl Named Tom, 10/8
Hairball, 10/12
Jesse Cook, 10/14
Christopher Cross, 10/19
Marty Stuart, 10/27
>> Find tickets to shows at the Uptown Theatre
Halloween Hometown Party

Date: 10/28
Start your trick-or-treating early this year with Halloween festivities in downtown Napa on Saturday from 11am to 1pm.
You and your family will encounter famous Disney characters and more fun surprises, as well as goodies at participating the local businesses decked out in orange and black.
This hometown costume party is open to all ages.
Napa Valley Triathlon

Date: 10/28
This incredible triathlon event takes place in Putah Canyon Recreation Area, where you'll find gorgeous views and lots of rugged wildlife, including swans, bald eagles, foxes and white-tailed deer.
There are four race distances so you can participate in the one that best matches your training and ability. These range from the Alpha Open (100 meter swim, 3 mile bike, and 1 mile run) to the Alpha 70.3 (1.2 mile swim, 56 mile bike, and 13.1 mile run). 
>> Visit the official site for more details
Wine Tasting Events in Napa in October 2023

These are the best events in Napa in October at our local wineries. You will find several harvest parties, the chance to stomp grapes, and new release celebrations. Many of these require tickets and/or advanced reservations so make sure to grab your seat today!
Benessere Vineyards (10/14): Harvest Party & Grape Stomp, grape stomping, Italian appetizers, al fesco lunch and newly released wines. Event runs from 11 am to 3 pm.
Cliff Lede Vineyards (10/1): Harvest BBQ

Clos Pegase (10/28): Barrels, blues and barbecue from 5:30 pm to 8 pm

Cuvaison (10/7): Behind the Cellar Door: A Harvest Experience from 1 to 7 pm

Ehler's Estate (10/7): Harvest Party 2023

Larson Family Winery (10/29): 6th Annual Canine Costume Contest from 11 to 11:30 am. Judging starts at noon.

Markham (10/20): Harvest Library Wine Dinner with Chef Gary Penir, limited to just 15 seats

Merryvale (10/7): Profile Collection: Harvest Brunch and Release Party from 11 to 3 pm
Robert Biale Vineyards: Harvest Dinner (10/21), runs from 5:30 pm to 8 pm

Tamber Bey (10/15): Fall Harvest Party from noon to 5 pm

V. Sattui Winery (10/13): Crush Party with food stations, live music, barrel tasting, grape stomp, and more from 6 pm to 9:30 pm

Groupon Wine Tasting Deals in Napa

Are you looking for additional wine tasting opportunities in addition to these fun events in Napa in October? Here are some of the local wineries offering special deals on tastings. Click the links for specific details.

Vintage Sweet Shoppe: Chocolate and Wine Pairing Package for Two or Four at Vintage Sweet Shoppe (Up to 44% Off), check for availability
Envy Wines: Wine Tasting for Two or Four with a Take Home Bottle of Wine (Up to 50% Off), check for availability
*Note: Most deals last for 120 days after purchase, so make sure to check the exact terms before purchasing.

Calistoga Lions Club Halloween Parade

Date: TBD
Head to downtown Calistoga to celebrate Halloween. This family-friendly event features families and children parading through town in their costumes. Before the event starts, head over to the Calistoga Inn for some pre-parade fun with cookies and drinks.
October Shows at the Blue Note in Napa

The Blue Note is the perfect place to spend an evening in Napa. Their jazz shows are some of the most popular events in Napa in October. Enjoy dinner or just come for the show.
All performances are at the historic Napa Valley Opera House in the heart of the city of Napa.
Kim Waters, 10/7 at 6:30 pm and 9 pm, 10/8 at 3 pm and 6:30 pm
Peter Escovedo Retirement Tour: Juan Escovedo, Peter M. Escovedo & Sy Smith, 10/14 at 6:30 pm and 9 pm, 10/15 at 3 pm and 6:30 pm
Jon B, 10/27 and 10/28 at 6:30 pm and 9 pm, 10/29 at 3 pm and 6:30 pm
There are also some final performances at the Meritage Resort for their Summer Sessions.
The Psychedelic Furs & Squeeze, 10/6 at 7 pm
Nikki Glaser, 10/13 at 8 pm
Yacht Rock Revue, 10/28 at 7 pm
Yes - Band, 10/31 at 7 pm
>> Find tickets to these and other shows at the Blue Note this month
Vintagelandia Market
Date: TBD
If you love browsing antiques markets and craft fairs, Vintagelandia in Napa is worth checking out. Discover unique finds while also enjoying the live music and gourmet food options outdoors. 
The market takes place every third Saturday from 9 am to 3 pm, at the Napa Valley Community College. Each event features new and returning local artists, crafters, and antiques merchants.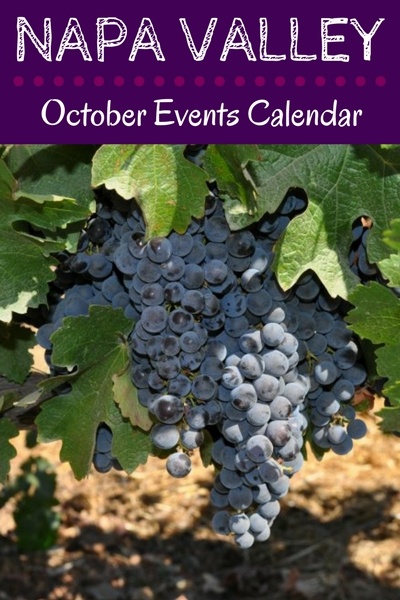 Comments? Questions? Suggestions?
I would love for you to join me in my private Facebook group! 
It's a great place to interact with me and others who know the area well.
You can ask questions, get advice for your upcoming stay, and then share your photos and advice with others when you return home. It's a great community and the fastest way to get answers to those nagging questions about your visit!