Events in Napa in November 2022: Holiday Parties, Wine Tasting & More

by Jill Loeffler  •

Updated: November 8, 2022
Events in Napa in November 2022 include wine tasting at local wineries, holiday parties, and the Napa Valley Film Festival. Other highlights this month include the Turkey Chase, Napa's Lighting of the Christmas Tree, and the Christmas Parade.
You will also find some fun things to do at night with shows at both the Blue Note and the Uptown Theatre. Read on for more fun activities this month in the Napa Valley.

Disclaimer: I receive a small commission from some of the links on this page.

Cabernet Classic

Date: 11/4 - 11/6
If you like this luxurious varietal of red wine, there's no better way to appreciate it than at Napa's weekend-long celebration for cabernet sauvignon fans. 
The event runs Friday through Sunday, from morning till night, with a full calendar of tastings, gourmet lunches and dinners, spa treatments, and entertainment. You'll have the opportunity to taste rare vintages with the experts and exquisite food pairings by Napa's top chefs.
Ticket options include a full weekend pass, individual day pass, and the Grand Tasting pass.
>> More details, including participating wineries and tickets
Napa's Lighting of the Christmas Tree

Date: 11/23
The Christmas tree lighting is one of the local favorite events in Napa in November. This celebration is meant for the whole family, so take the kids with you to admire the beautifully lit 20-foot tall tree in Veterans Park.
You'll also have the opportunity to join the mayor in sipping hot chocolate, eating cookies, and enjoying live entertainment. 
The event starts at 6 pm.
Makers Market

Date: 11/19
For a quaint afternoon of shopping, eating, and listening to live music, visit this open-air artisan faire in the heart of downtown Napa. Kids and dogs are welcome to stroll along with you as you browse the craft booths for all sorts of jewelry, home goods, plants, candles, and more. 
The market is all day Saturday, from 11 am to 5 pm, in the main plaza on First Street. If you can't make it that day, or simply want to check out even more of the local artisan goods, you can stroll into the brick-and-mortar shop adjacent to the market area. 
Yountville Town & Tree Lighting 

Date: 11/20
The Christmas tree lighting is one of the local favorite events in November.
This celebration at the Community Center in Yountville is meant for the whole family, so take the kids with you to admire the beautifully lit seasonal surroundings...and get a glimpse of Santa. 
Calistoga Food & Wine Event
Dates: 11/19
This three-day long celebration of food and wine kicks off on Friday with the Winemaker Dinner at the Fairwinds Estate wine cave, offering a perfectly paired meal in a fantastic setting.
Saturday afternoon is the Grand Tasting Event at Solage Calistoga with delicious samples from over 40 local wineries.
Finally, the event concludes with the Chef and Sommelier Brunch, combining freshly made gourmet creations with breakfast cocktails.
>> Details, including participating wineries
Napa Valley Film Festival 

Dates: 11/10 - 11/13
In 2022, the Napa Valley Film Festival returns to in-person screenings. This year's event will feature a curated group of four film screenings. It will also include tributes focused on some of this year's most highly talked about films.
The event will also include special culinary experiences carefully created by the Culinary Institute of America (CIA). These experiences will run alongside the screenings. It's a way to celebrate the food and wine culture showcased in each film.
All events will take place at the CIA at Copia.
>> Get the details on the Napa Valley Film Fest

Uptown Theatre in November in Napa

These are some of the top events in Napa in November at the Uptown Theatre.

Napa Valley Turkey Chase

Date: 11/24
Head out early Thanksgiving morning for the annual Napa Valley Turkey Chase. This fun athletic family event includes both a 5K and 10K course around Napa Valley College and along the beautiful Napa River Trail.
It's a great way to get out and enjoy the fall weather and burn some calories before your holiday feast! The 10k starts at 8 am, followed by the 5k at 8:15 am.
>> Additional Turkey Trots around the SF Bay Area

Deals on Napa Valley Hotels, Resorts & B&Bs

If you are looking to stay the night as you enjoy these events in Napa in November, you can find some great deals all around the valley. Click the links below to find some of the best deals on room rates and complimentary amenities.

TripAdvisor: What's the #1 hotel in the Napa Valley? Read reviews & find hotel deals on TripAdvisor!
Booking.com: Save on your Hotel in Napa with Booking.com, Planet Earth's #1 Accommodation Site. No booking fees ever!
VRBO: Another great lodging option is VRBO. You can stay at a local's house, apartment, or even just rent a room. It's a great way to feel more like a local while visiting. Find a great place to stay on VRBO.
Wine Tasting Events in Napa in November 2022

These are just some of the wine tasting events in Napa in November. Most require advanced tickets, so pick up yours today if you plan to attend.
Pine Ridge Vineyards: Fall into Fortis (11/5), vertical tasting with four vintages of their Fortis Cabernet Sauvignon
Robert Biale Vineyards: Zinner Dinner (11/12), runs from 6 pm to 8 pm
Silverado Vineyards: The Lobster Bar (11/12)
ZD Wines: Harvest Wine Celebration (11/05)
Blue Note Shows in November

Most nights of the week, you can also enjoy some evening events in Napa in November at the Blue Note. This fun, funky downtown venue offers live jazz music and cuisines from locally sourced ingredients. 
11/11 - 11/12: Gary Owens
11/18: John Scofield Solo
11/19: Dar Williams
11/25 - 11/27: Jon B
Holidays in Yountville 

Dates: 11/20 - 1/1
Spend part of your holiday season in Yountville during their six weeks of holiday celebrations.
Events include food and wine tastings, craft classes, Santa visits, town and Christmas tree lighting, and romantic carriage rides. 
Discover Wine Tasting Deals on Groupon

You can also find some great wine tasting deals this time of year. Click the links below for details on these and to find other great wine tasting discounts this month in Napa Valley.

Vintage Sweet Shoppe: Chocolate and Wine Pairing Package for Two or Four at Vintage Sweet Shoppe (Up to 44% Off), check for availability
Envy Wines: Wine Tasting for Two or Four with a Take Home Bottle of Wine (Up to 50% Off), check for availability
*Note: Most deals last for 120 days after purchase, so make sure to check the exact terms before purchasing.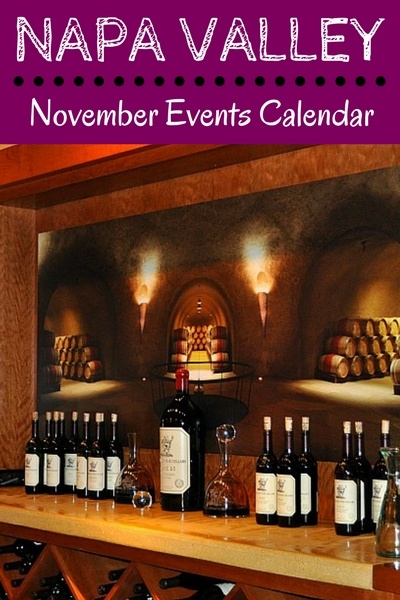 More Tips for Your Napa Valley Vacation

Comments? Questions? Suggestions?
I would love for you join me in my private Facebook group! 
It's a great place to interact with me and others that know the area well.
You can ask questions, get advice for your upcoming stay, and then share your photos and advice with others when you return home. It's a great community and the fastest way to get answers to those nagging questions about your visit!