Events in Napa in May 2018
Wine Tasting, Activities, & Other Things to Do
The biggest events in Napa in May 2018 include BottleRock, Calistoga Food & Wine, and special wine tasting activities at the wineries. You will also find some great shows throughout the month at the Blue Note.
In addition, I've included some great deals on tastings around Napa Valley as well as a few places to find the best rates on local hotels.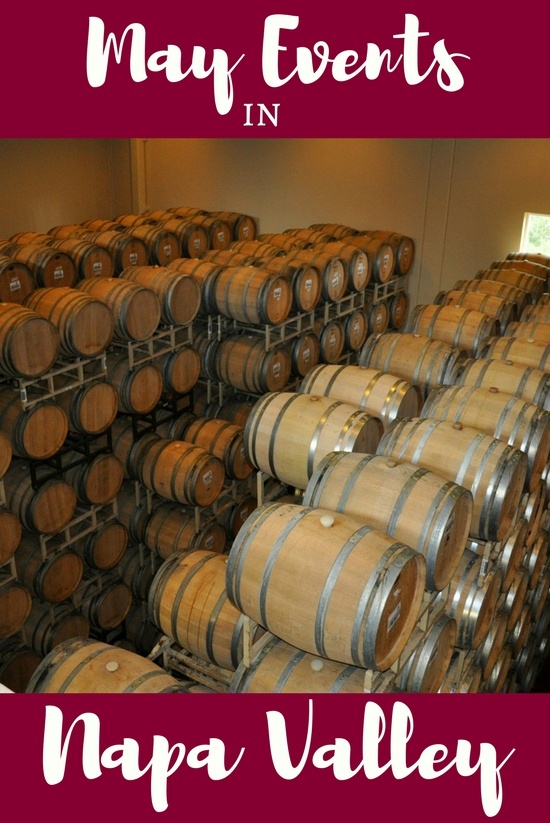 Disclaimer: I recieve a small commission from some of the links on this page.
Calistoga Food & Wine Event
Dates: 5/10-5/12
This three-day long celebration of food and wine kicks off on Friday with the Winemaker Dinner at the Fairwinds Estate wine cave, offering a perfectly paired meal in a fantastic setting. Saturday afternoon is the Grand Tasting Event at Solage Calistoga with delicious samples from over 40 local wineries. Finally, the event concludes with the Chef and Sommelier Brunch, combining freshly made gourmet creations with breakfast cocktails.
>> Details, including participating wineries
BottleRock Napa Valley
Dates: 5/25 - 5/27
Of all the events in Napa in May, the BottleRock music festival is probably the most anticipated. This three-day celebration of great music, food, beer, and wine attracts lots of big name artists. Friday headliners include Muse, The Chainsmokers, Earth Wind & Fire and Incubus. Saturday brings The Killers, Snoop Dog, Billy Idol, and more. And finally, Sunday welcomes Bruno Mars, Halsey, The Thievery Company, and more. This lineup is truly hard to beat.
Wine Tasting Events in Napa in May
The following events are held at wineries all around Napa Valley. Many are open to the public and most have discounted rates or are complimentary for wine club members.
Most events in Napa in May land on the weekend, but there are a handful during the week too. These events are VERY popular, so I recommend planning in advance if you can and booking your tickets before you arrive.
Ballentine Vineyards: Ballentine Release Party on Saturday the 5th, includes food, wine, music and more on their deck next to the tasting room. Wine club members receive complimentary tickets and $25 for their guests. It's $35 per ticket for the public.
Benessere Vineyards: Spring Release Party (19th), release of their Pinot Grigio and Sangiovese, plus music, food and other wine. two complimentary tickets for members, non-members tickets available too.
Beringer: Kentucky Derby Party (5th), guests encourages to wear festival attire for the Derby
Castello di Amorosa: Grand Barrel Tasting Event on Friday, May 4, sample some of their 40 wines, music, dancing, and more. 6:30pm to 10pm, $95 for club members, $125 for other guests
Cliff Lede Vineyard: Rock Block Release Party (19th), sample the new Rock Block Cabernet Sauvignon as well as other wines, they will fire up the grill for tasty treats, 11am to 3pm, discounted tickets for wine club members, $95 for the public
Duckhorn Vineyards: The Discussion Release Party, 5th from 1pm to 4pm, Kentucky Derby plus the release of The Discussion, watch the race, sample some goodie, and enjoy a taste of their new release
Elizabeth Spencer: Paella Party (13th) from 3:30pm to 6pm
Falcor Wines: Mardi Gras in May! (19th), enjoy a New Orleans style party at Falcor Wines, savor crawfish, Andouille sausage, and new releases, $40 for members, $55 for non-members, advanced reservations are required at sales@falcorwines.com
Judd's Hill Winery: Judd's Hill Annual Springtime Bonanza (5/20), sample BBQ and Judd's Hill wines, proceeds go to benefit the Napa Valley Youth Symphony, 12pm to 2:30pm, free for members, $35 for members' guests, $55 for the public
Madrigal Family Winery Heritage Party: Annual Heritage Party (5/5), 12pm to 4pm
Markham Vineyards: Little Havana at Markham (5/5), cigars, wine and tasty eats, 4pm to 6pm
Miner Family Winery: Spring Fling (5/12), sample their warm weather wines, tasty bites, and enjoy their live entertainment and lawn games, 10am to 2pm
Robert Mondavi Winery: I Block Release and Lobster Feed (5/19), lobster dinner in the vineyard with live music and Mondavi wines, 6pm to 10pm
Round Pond Estate: Summer Release Party (5/19)
Trefethen Family Vineyards: 50th Anniversary Celebration (5/12), wine tasting, snacks, live music and fun from 11am to 3pm
ZD Wines: 4th Annual Crush Challenge (5/12), new date due to fall wildfire, includes a day full of wine tasting, activities, and fun
Fair & Fiesta
Dates: 5/5 & 5/6
Spend the weekend at the Napa County Fairgrounds with food, fun and entertainment. The Flynn Creek Circus will perform both days with high flying acrobats. Head over to the speedway to watch AMA racing and watch the bull studded Mexican Jaripeo. You can also enjoy goodies from local food trucks, chef demonstrations, community competitions, a petting zoo, kids activities, and so much more. The doors are open from noon to 10pm both days.
Uptown Theatre
Are you looking for some fun nightlife events in Napa in May? Check out these popular shows coming up this month at the Uptown Theatre.
Inspire Napa Valley
Dates: 5/4-5/6
This is the first year for Inspire Napa Valley. It's a weekend long event with wine tasting, dinners, a VIP brunch and more. The proceeds from this event will go to support the Alzheimer's Association. The event starts with a VIP dinner on Friday night. On Saturday, there is a seminar, wine tasting event, and a seated dinner. The event wraps up with a VIP brunch on Sunday morning.
Crush Challenge
Date: 5/11 & 5/12
The annual Crush Challenge (typically in the fall) will be in May this year since it was cancelled in the fall due to the wildfires. It includes a bicycle ride around the vineyards, wine tasting activities, and food events throughout the region. Proceeds benefit local charities.
Wine Tasting Deals for May
Here are a few great wine tasting deals in Napa Valley on Groupon.
Starmont Winery and Vineyards: Save up to 45% off tasting deals at Starmont Winery and Vineyards, check deal availability


Envy Wines: Wine Tasting for Two or Four with Take-Home Bottle, up to 53% off, located in Calistoga, check for availability


Judd's Hill Winery: Tasting for two or four plus a bottle of wine to take home with you, up to 45% off, tasting room is on Silverado Trail, check for availability
*Note: Most deals last for 120 days after purchase, so make sure to check the exact terms before purchasing.
Angwin to Angwish Trail Run
Date: 5/6
This trail running event features a half marathon, 10K, and family 4K Fun Run. The course starts atop the Napa Valley at Pacific Union College, then leads runners along the Angwin Trails on Howell Mountain lined with groves of pine, oak, redwood, and manzanita, and then finally to the famous Angwish Hill. This is a great opportunity to get out and enjoy Napa's incredible natural beauty.
>> Details and registration for the race
Conversations at Copia: Terrior
Date: 5/6
Terrior is a word that is often used in winemaking. How would you describe it? Learn more about the terrior in and around Napa as it relates to the foods and beverages produced here. Conversations at Copia is a panel discussion. The guest panelists describe their perspectives and how they know and/or believe terrior impacts Napa Valley products. The events runs from 5pm to 8pm at CIA at Copia at 500 First Street in Napa.
>> Visit their site for more details
May Shows at the Blue Note
Check out the Blue Note for some of the best nightlife events in Napa in May. This jazz clubs bring live music to the stage most nights of the week. It's one of my favorites as it's set on the first floor of the history Napa Valley Opera House. Their dinners are also amazing and used with locally grown ingredients. The best part is that they pair it all with top of the line Napa Valley wines.
>> Find tickets to select shows at up to 50% off on Goldstar
>> Find tickets to all shows at the Blue Note on Ticketmaster.com
Top Hotel Deals in Napa Valley
Are you looking to stay for a night or two as you enjoy these events in Napa in May? If so, check out these great hotel deals all around the valley.
Booking.com: Save on your Hotel in Napa with Booking.com, Planet Earth's #1 Accommodation Site. No booking fees ever!
TripAdvisor: What's the #1 hotel in the Napa Valley? Read reviews & find hotel deals on TripAdvisor!
JaM Cellars Ballroom at Margrit Mondovi Theatre
You will also find some great shows this month at JaM Cellars Ballroom in downtown Napa at 1030 Main St. They are located in the same building as the Blue Note inside the Napa Valley Opera House.
More Tips to Visit Napa