Events in Napa in May 2020: Wine Tasting, Activities, & Other Things to Do
The biggest events in Napa in May 2020 include BottleRock, Calistoga Food & Wine, and special wine tasting activities at the wineries. You will also find some great shows throughout the month at the Blue Note.

In addition, I've included some great deals on tastings around Napa Valley as well as a few places to find the best rates on local hotels.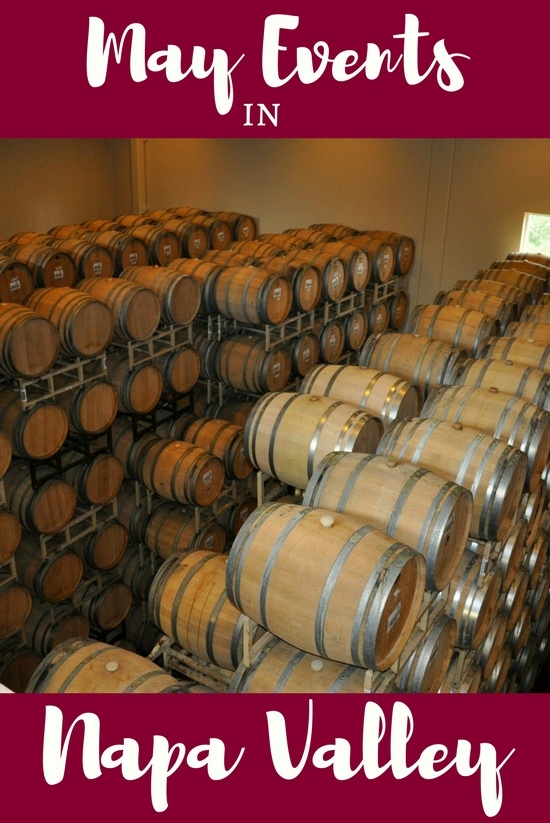 Disclaimer: I receive a small commission from some of the links on this page.

BottleRock Napa Valley

Dates: 5/22 - 5/24
Of all the events in Napa in May, the BottleRock music festival is probably the most anticipated. This three-day celebration of great music, food, beer, and wine attracts lots of big name artists.
They haven't announced this year's headliners, but here is a look at last year's. Friday (2019) headliners include Imagine Dragons, Logic, OneRepublic, and Sylvan Esso. Saturday (2019) brings Neil Young, Pharrell Williams, Nathaniel Rateliff & The Night Sweats, and Gary Clark Jr. to the stage. And finally, Sunday (2019) welcomes Mumford & Sons, Santana, Tash Sultana, and Lord Huron. This lineup is truly hard to beat.
CampoVelo Napa Valley

Dates: 5/1 - 5/3
CampoVelo Napa Valley is another cycling event this month. Activities and festivities for this one will last throughout the weekend in the town of St. Helena. Routes range from 12 to 80 miles on moderate terrain with some hills. Just think of how you will fully enjoy the region's world-class food and wine after burning all those calories!
"The Race is On!" at Black Stallion Estate Winery

Date: TBD
Time: 2-5pm
Location: Black Stallion Estate Winery, 4089 Silverado Trail, Napa, CA 94558
You're invited to watch the fastest two minutes in horse racing on the big screens in our Barrel Cellar. Start with a refreshing Sauvignon Blanc Mint Julep follow by scrumptious, Kentucky inspired nibbles paired with our winning wines including our 2018 Rose.
Wear your best hat, tie, or both to participate in our "Best Derby Attire" contests! Enjoy live Blue Grass music on our Garden Terrace and surprises throughout the afternoon!
Tickets are $50 for the general public and $40 for club members. Contact them directly at 707-227-3255 for tickets.
Calistoga Food & Wine Event

Dates: TBD
This three-day long celebration of food and wine kicks off on Friday with the Winemaker Dinner at the Fairwinds Estate wine cave, offering a perfectly paired meal in a fantastic setting. Saturday afternoon is the Grand Tasting Event at Solage Calistoga with delicious samples from over 40 local wineries. Finally, the event concludes with the Chef and Sommelier Brunch, combining freshly made gourmet creations with breakfast cocktails.
>> Details, including participating wineries
Wine Tasting Events in Napa in May

The following events are held at wineries all around Napa Valley. Many are open to the public and most have discounted rates or are complimentary for wine club members.
Most events in Napa in May land on the weekend, but there are a handful during the week too. These events are VERY popular, so I recommend planning in advance if you can and booking your tickets before you arrive.
Ballentine Vineyards: Spring Release Party (5/3), Mexican cuisine and newly release wines from 1 pm to 4 pm
Benessere Vineyards: Spring Release Party (5/2), celebrate some of their new releases from 1 pm to 4 pm
Beringer Vineyards: Kentucky Derby Celebrations (5/2), Celebrate the Kentucky Derby with food and wine, discounts, from 10 am to 5 pm
Castello di Amorosa: The Grand Barrel Tasting (5/8), over 40 vintage wines for tasting, live music, seasonal food, barrel making demonstrations, 6:30 pm to 10 pm
Cliff Lede Vineyards: Rock Block Release Party (5/17), new release of their Rock Block Cabernet Sauvignon as well as FEL wine releases, library and large format wines will be opened and music from 11 am to 2 pm
Cosentino Winery: Sunday Brunch (5/17),with bubbles, brunch and wines all served on their patio, 11 am to 1 pm
Duckhorn: The Discussion Release Derby Party (5/2), watch the Kentucky Derby and enjoy the annual release of The Discussion wine with Winemaker Renee Ary from 1 pm to 4 pm
Judd's Hill: Annual Springtime Bonanza (5/17), Food, newly released wines, and some aged library wines, benefits the Napa Valley Youth Symphony from 12pm to 2:30pm
Merryvale: Profile Then & Now (5/2), taste a selection of their Profile Library wines along side their winemaker, you will then taste a flight of Merryvale wines alongside small bites, 10:00am to 1pm
Merryvale: Summer Release Party (5/16), Taste the newest releases of both Merryvale and Starmont along with pizza, live music from 3 pm to 5 pm
Mumm Napa: Vineyard Green Season Opening (5/8), Enjoy the start of Summer on the Vineyard Green with sparkling wine and tasty bites, live music, from 6 pm to 8 pm
Mumm Napa: Cheese & Cheers, Pair sparkling wine and cheese hosted by a cheese educator and the winemaker, 6 cheese, four sparkling wines, and loads of fun, 5:30 pm - 7:30 pm
Robert Mondavi Winery: I Block Release and Lobster Feed (5/16), celebrate the release of the 2017 I Block Fume Blanc with lobster and all the fixings, live music after dinner and a dessert buffet, 6 pm to 9:30 pm
Sequoia Grove Winery: Mother's Day Tasting & Brunch (5/10), New releases and brunch from 10:30 am, reservations required
Trefethen Family Vineyards: Trefethen Flower Festival (5/9), celebrate the flowering of the vines
2019 Events

Many wineries are still in the planning stages. These are all the events from 2019 and most will be updated once their 2020 dates are confirmed. This will give you an idea on what else to expect this month.
Beringer Vineyards: Vineyard Outing & Lunch (5/11), Tour of the St. Helena Home Vineyard, lunch paired with reserve wines
Cliff Lede Vineyards: Mother's Day Tasting (5/12), light bites, special release wines
Elizabeth Spencer: Sauvignon Blanc & Paella Party (5/18) from 11 am to 2 pm
Falcor Napa Valley: Mardi Gras in May (5/18), creole food paired with wines and live music from 11 am to 3 pm
Flora Springs: Sixteen Spirits Historical Ghost Winery Tour & Tasting (5/19), learn the history of one of the few remaining ghost wineries and finish with a tasting of their wines
Grgich Hills Estate: Mother's Day Brunch (5/12), buffet lunch paired with rose, chardonnay and merlot from 11:30 am to 1:30 pm
Grgich Hills Estate: Paris Tasting Commemorative Chardonnay Release Party (5/18), release of the 2016 Chardonnay, lobster rolls, and 70s music from 12:30 pm to 3:30 pm
Markham Vineyards: Cigars & Wine (5/4), Learn how to use a cigar roller, eat Cuban food, live music and wines from 3 pm to 5 pm
Miner Family Winery: Wine Release Party (5/11), lawn games, wine tasting, live entertainment and tasty bites with three seatings at 6 pm, 6:30 pm or 7 pm
Pine Ridge Vineyards: Hike in the Vineyards (5/2), educational stroll through the vineyards, grape to glass experience with lunch and wine tasting, starts at 9 am until 1 pm
Round Pond Estate: Summer Release Party (5/18), Small bites paired with new wines, from 4pm to 6pm
Schramsberg: Spring Release Party (5/18), Numerous vintages of their sparkling wines, a delicious lunch, and a walk through the vineyard from 12 noon to 3 pm
Fair & Fiesta

Dates: TBD
Spend the weekend at the Napa County Fairgrounds with food, fun and entertainment. The Flynn Creek Circus will perform both days with high flying acrobats. Head over to the speedway to watch AMA racing and watch the bull studded Mexican Jaripeo. You can also enjoy goodies from local food trucks, chef demonstrations, community competitions, a petting zoo, kid's activities, and so much more. The doors are open from noon to 10pm both days.
Uptown Theatre

Are you looking for some fun nightlife events in Napa in May? Check out these popular shows coming up this month at the Uptown Theatre.

Inspire Napa Valley

Dates: 5/1-5/3This is the second year for Inspire Napa Valley. It's a weekend long event with wine tasting, dinners, a VIP brunch and more. The proceeds from this event will go to support the Alzheimer's Association. The event starts with a VIP dinner on Friday night. On Saturday, there is a seminar, wine tasting event, and a seated dinner. The event wraps up with a VIP brunch on Sunday morning.
Wine Tasting Deals for May

Here are a few great wine tasting deals in Napa Valley on Groupon.

Vintage Sweet Shoppe: Chocolate and Wine Pairing Package for Two or Four at Vintage Sweet Shoppe (Up to 44% Off), check for availability
Envy Wines: Wine Tasting for Two or Four with a Take Home Bottle of Wine (Up to 50% Off), check for availability
Buhman Estate Vineyards: Wine Tasting and Cheese Board for Two or Four (Up to 53% Off), check for availability
*Note: Most deals last for 120 days after purchase, so make sure to check the exact terms before purchasing.

May Shows at the Blue Note

Check out the Blue Note for some of the best nightlife events in Napa in May. This jazz clubs bring live music to the stage most nights of the week. It's one of my favorites as it's set on the first floor of the history Napa Valley Opera House. Their dinners are also amazing and used with locally grown ingredients. The best part is that they pair it all with top of the line Napa Valley wines.
>> Find tickets to all shows at the Blue Note on Ticketmaster.com
Top Hotel Deals in Napa Valley

Are you looking to stay for a night or two as you enjoy these events in Napa in May? If so, check out these great hotel deals all around the valley.

TripAdvisor: What's the #1 hotel in the Napa Valley? Read reviews & find hotel deals on TripAdvisor!
Booking.com: Save on your Hotel in Napa with Booking.com, Planet Earth's #1 Accommodation Site. No booking fees ever!
JaM Cellars Ballroom at Margrit Mondavi Theatre

You will also find some great shows this month at JaM Cellars Ballroom in downtown Napa at 1030 Main St. They are located in the same building as the Blue Note inside the Napa Valley Opera House.