Events in Napa in May 2017
Wine Tasting, Activities, & Other Things to Do
The biggest events in Napa in May 2017 include BottleRock, Pawsport, and special wine tasting activities at the wineries. You will also find some great shows throughout the month at the Blue Note.
In addition, I've included some great deals on tastings around Napa Valley as well as a few places to find the best rates on local hotels.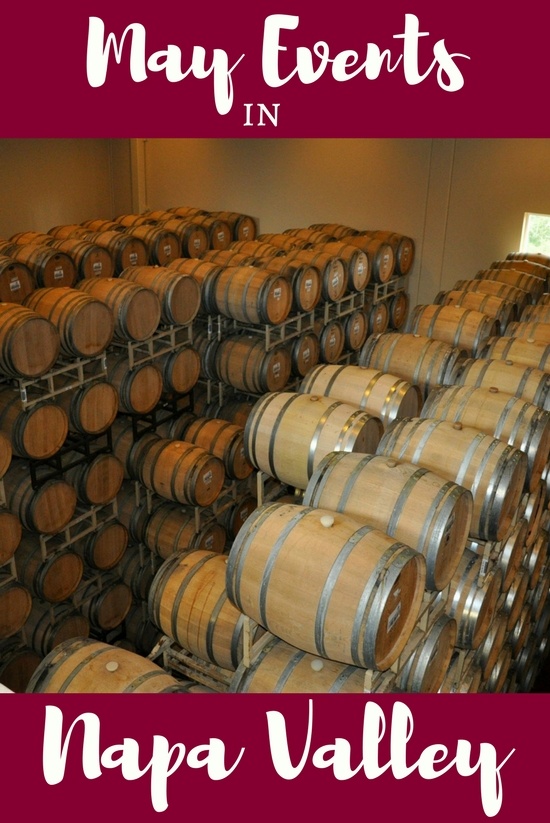 For some of the links on this page, I receive a small commission when you purchase. You don't pay more when you buy through me and it gives me the chance to offer you all this great content for free!
Pawsport Napa Valley
Dates: May 18 - 21
It's that time of year when Napa Valley's wineries open their doors to patrons and their pooches! That's right, for these four days, you can wine taste with your dog when you present your $75 "Pawsport," which benefits Napa Humane and gets you access to exclusive tastings, souvenirs, raffles, dog treats, discounts on bottles, and more.
BottleRock Napa Valley
Dates: May 26 - 28
Of all the events in Napa in May, the BottleRock music festival is probably the most anticipated. This three-day celebration of great music, food, beer, and wine attracts lots of big name artists. Friday headliners include Maroon 5, Macklemore & Ryan Lewis, Modest Mouse, and the Silversun Pickups. Saturday brings Tom Petty, Ben Harper & the Innocent Criminals, the Dirty Heads, and more. And finally, Sunday welcomes the Foo Fighters, the Roots, Band of Horses, and more. This lineup is truly hard to beat.
Wine Tasting Events in Napa in May
The following events are held at wineries all around Napa Valley. Many are open to the public and most have discounted rates or are complimentary for wine club members.
Since most events in Napa in May land on the weekend, you will find the events listed under the weekend dates below. These events are VERY popular, so I recommend planning in advance if you can and booking your tickets before you arrive.
May 6 & 7
Cakebread Cellars: Rubaiyat Grilling Day (7th), release of their rubaiyat wine and sample tasty bites from their culinary team, wine club members and their guests, $40 per person, 11am to 1:30pm
Con Creek: Club Anthology Garden Fiesta (6th), 11am to 4pm
Franciscan Estate: Magnificat Release Party (6th), celebrate the release of this meritage from Napa Valley, includes live music, culinary treats and tastings, members $50, public $75, 2pm to 4:30pm
Markham Vineyards: Pizza in the Piazza (6th), pizza party, award winning wines, and music in the piazza, $50 for club members, $60 for general public, 1pm to 3pm
Miner Family Winery: Spring Fling (6th), sample their warm weather wines, tasty bites, and enjoy their live entertainment and lawn games, 10am to 2pm, $60 per person, $40 for wine club members
May 13 & 14
Elizabeth Spencer: Sauvignon Blanc & Paella Party (13th) from 4pm to 7pm
May 20 & 21
Ballentine Vineyards: Ballentine Release Party on Saturday the 20th, includes food, wine, music and more on their deck next to the tasting room. Wine club members receive complimentary tickets and $25 for their guests. It's $35 per ticket for the public.
Cliff Lede Vineyard: Rock Block Release Party (20th), celebrate the 50th anniversary of the "Summer of Love" and sample the new Rock Block Cabernet Sauvignon as well as other wines, they will fire up the grill for tasty treats, 12pm to 3pm, $60 for wine club members, $75 for the public
Clos Pegase: Spring Garden Party (20th), celebrate spring and the opening of their new wine tasting room, 1pm to 3pm, free for members, $35 for the public
Falcor Wines: Mardi Gras in May! (20th), enjoy a New Orleans style party at Falcor Wines, savor crawfish, Andouille sausage, and new releases, $30 for members, $60 for non-members, advanced reservations are required at sales@falcorwines.com
Judd's Hill Winery: Judd's Hill Annual Springtime Bonanza (21st), sample BBQ and Judd's Hill wines, proceeds go to benefit the Napa Valley Youth Symphony, 12pm to 2:30pm, free for members, $35 for members' guests, $55 for the public
May 27, 28, & 29 (Memorial Day Weekend)
Bouchaine Vineyards: Wine, Food, & Flavor! Event (27th)
Other Event Dates
Castello di Amorosa: Grand Barrel Tasting Event on Friday, May 5, sample some of their 40 wines, music, dancing, and more. 6:30pm to 10pm, $95 for club members, $125 for other guests
Flora Springs: #ChardonnayDay 2017 (25th), celebrate this famous grape with one of the standout producers in the Napa Valley
Wine Tasting Deals for May
Here are a few great wine tasting deals in Napa Valley on Groupon.
Rutherford Ranch Winery: Wine and chocolate pairing for two (or four), up to 46% off, tasting is in their Rutherford Ranch's Cabernet Room in Saint Helena, check for availability


JaM Cellars: Tasting for two plus a bottle of JaM Cellars wine to take home with you for up to 42% off, tasting room located in downtown Napa, check for availability


Judd's Hill Winery: Tasting for two or four plus a bottle of wine to take home with you, up to 52% off, tasting room is on Silverado Trail, check for availability
*Note: Most deals last for 120 days after purchase, so make sure to check the exact terms before purchasing.
May Shows at the Blue Note
Check out the Blue Note for some of the best nightlife events in Napa in May.
5/4 - 5/6: Pete Escovedo Orchestra
5/7: Sandy Cressman
5/9: Locals Night Feat. Roem Baur
5/10: Sherri Roberts
5/18 - 5/20: David Benoit Trio
5/23: Locals Night Feat. Roem Baur
>> Find tickets to all shows at the Blue Note on Ticketmaster.com
Top Hotel Deals in Napa Valley
Are you looking to stay for a night or two as you enjoy these events in Napa in May? If so, check out these great hotel deals all around the valley.
Booking.com: Save on your Hotel in Napa with Booking.com, Planet Earth's #1 Accommodation Site. No booking fees ever!
TripAdvisor: What's the #1 hotel in the Napa Valley? Read reviews & find hotel deals on TripAdvisor!
More Tips to Visit Napa