Events in Napa in August 2019
Wine Tasting, Festivals, & More
Events in Napa in August 2019 include several wine tasting celebrations at local wineries, food festivals, and the Napa Town & Country Fair. You will also find some fun things to do at night at the Uptown Theatre and the Blue Note.
In addition, I've included a few of the best deals this month so you can save during your stay. Read on for more ideas on what to do this month in the Napa Valley.
Disclaimer: I receive a small commission from some of the links on this page.
Napa Town & Country Fair
Dates: 8/7 - 8/11
This August, the Napa Town and Country Fair celebrates 86 years of exhibits, competitions, entertainment, and community events that bring local artists, crafts people, farmers, and youth together. Enjoy all of the displays, carnival rides, great food, and more during these five days at the Napa Valley Expo.
Main Street Reunion Car Show
Dates: 8/16 & 8/17
This weekend, the lovely downtown Napa streets will be lined with 400 pre-1976 cars for the public to admire. 40 prizes will be given to the 'Best Of' cars. You'll also find food and drinks for sale. This is one of the admission-free events in Napa in August.
Hotel Deals in Napa in August
Are you looking to save on your stay? If so, then check out the best deals this month by clicking on the links below. You will find discounts on your nightly rate as well as some great complimentary amenities.
Booking.com: Save on your Hotel in Napa with Booking.com, Planet Earth's #1 Accommodation Site. No booking fees ever!
TripAdvisor: What's the #1 hotel in the Napa Valley? Read reviews & find hotel deals on TripAdvisor!
Blues, Brews & BBQ
Date: 8/25
If you love blues music, tasty micro-brews, and finger-licking BBQ, this is the event for you. You'll have more than you can imagine to choose from in each of those categories. And, of course, don't miss the annual rib-eating contest. This fantastic, delicious, fun-filled festival lasts all Saturday long from noon to 6pm on First Street in downtown Napa.
Uptown Theatre in Napa
One of the fun places to go for nightlife in Napa is the Uptown Theatre. Here is their calendar of events in Napa in August.
Calistoga Concerts in the Park
Dates: Thursday nights through August 22
This month concludes the free summer concert series at Pioneer Park in Calistoga. Every Thursday evening from 6:30 to 8:30pm between June and August, the town gathers for picnics on the lawn set to great live music. These events are accompanied by wonderful local wines, as each week features a different winery.
>> Enjoy this year's last Calistoga summer concerts
Napa City Nights
Dates: Friday nights through 8/23
Among the events in Napa in August, the free Friday night concert series is one that always brings people out enjoying the beautiful summer weather. Each week through the end of the month, you'll find concerts representing a wide range of musical styles at the Veterans Memorial Park Amphitheater. This venue allows you to set down your blanket and enjoy a picnic dinner with the family while enjoying live music.
>> More about Napa's free summer concert series
Wine Tasting Events in Napa in August
Enjoy these wine tasting events in Napa in August. Most of the events are on the weekends and you will find a few during the week too.
Beaulieu Vineyard: Georges de Latour Release Weekend (8/25 & 8/26), to celebrate the release of their popular 2015 Cabernet Sauvignon. Tickets are on sale for non-members and this event is complimentary for wine club members.
Clos Pegase: Music in the Vineyards (8/24), live music in Clos Pegase's cave starting at 7:30
Cuvaison Estate Winery: Annual Club Lobster Dinner (8/17), pair chardonnay wines with lobster from 11 am to 3 pm
Falcor Napa Valley: Lobster Feed (8/3), a full lobster for each person, artichokes, sourdough baguettes, and more paired with wines in the cellar from 11 am to 3 pm
Flora Springs Family Estate: 2018 Soliloquy Release Party at The Estate (8/10), tasting of the new vintage of Soliloquy paired with seafood from 6 pm to 9 pm
Judd's Hill Winery: Judd's Hill 2018 Harvest Party (8/11), Free for members, $35 for members' guests, $55 for the public starts, taste new fall releases starting at 12pm until 2:30 pm
Luna Vineyards: Harvest Party (8/18), celebrate the kick off of harvest with this annual event, new wine releases, food and more
Markham Vineyards: Music in the Vineyards (8/14) starting at 7:30 pm to 9:30 pm
Mumm Napa: Lobster Dinner on The Vineyard Green (8/3), A delicious lobster dinner with all the fixings and sparkling wine pairing, from 7 pm to 10 pm
Paraduxx: Live Fire Roast at Paraduxx (8/3), Argentinian animal roast with new fall release wines, meet with the chefs and more starting at 6 pm to 8 pm
Peju Napa Valley: Peju Grape Stomp (8/18), help Peju prep their grapes after harvest, farm to table lunch, grape stomping competition for fun, 10:30am to 1:30pm, $175 per person
Robert Biale Vineyards: Paella & Petite Sirah Dinner at the Back Porch (8/17), Delicious Petite Sirah and paella dinner from 6:30 pm
Robert Mondavi Winery: Dinner Under the Stars (8/17), Multi-course dinner paired with Mondavi wines, live music and dancing, $145 per person, $125 for club members from 6:45pm to 10:00pm
Saintsbury: Pigs and Pinot (8/4)
Schweiger Vineyards: Annual Lobster Feast (8/18), fun day of wine tasting along with a lobster feast
Silver Oak Napa Valley: 2015 Alexander Valley Cabernet Release Day (8/3), food, entertainment and wine tasting, plus you get to keep your commemorative glass for the day from 10am to 3:30pm
Silverado Vineyards: Paella Party (8/10), Paella on the terrace, Silverado wines, homemade sangria, paella and more, live music from 2pm to 4pm
Starmont Winery: Lobster Feed at Starmont winery (8/10), Lobster feed and dinner paired with wines from Starmont and Merryvale Vineyards, live music from 6 pm to 9 pm
St. Supery Estate Vineyards and Winery: #CaBacon Cabernet and Bacon Pairings (8/30, 8/31, 9/1), Taste 4 estate Cabernet Sauvignons paired with bacon delights with tastings on all three days at 11:30 and tastings on 8/31 and 9/1 at 2 pm also
Stag's Leap Wine Cellars: Dinner in the Vineyard (8/17), Enjoy a sunset wine tasting and a three course meal starting at 6 pm and ending at 10 pm
Tedeschi Family Winery: Winemaker Dinner - A Magical Evening in Our Vineyard (8/17), Dine in the vineyard with a four-course menu and paired wines from 5:30 pm to 9 pm
Tedeschi Family Winery: Lobster Feast in the Vineyard (8/24). Eat lobster while drinking paired wines in the vineyard from 5:30 pm to 8:30 pm
Summer Luau
Date: TBD
Head over to The CIA at Copia for a Summer Luau. This year's event features live music, Tiki drinks, Island cuisines, and a lot of fun! The event runs from 7:30pm to 10pm in the Jackson Family Wines Amphitheater.
Wine Tasting Deals
Check out some of the best wine tasting deals this month in Napa. They are a great addition to the days you are enjoying these events in Napa in August.
Starmont Winery and Vineyards: Save up to 35% off tasting deals at Starmont Winery and Vineyards, check deal availability


Envy Wines: Wine Tasting for Two or Four with Take-Home Bottle, up to 53% off, located in Calistoga, check for availability


Vintage Sweet Shoppe: Chocolate and Wine Pairing Package for Two or Four at Vintage Sweet Shoppe (Up to 44% Off), check for availability
*Note: Most deals last for 120 days after purchase, so make sure to check the exact terms before purchasing.
Cochon555's Heritage Fire
Date: TBD
Located at the gorgeous Charles Krug Winery, the Cochon555 Heritage Fire is a must for anyone that loves fine wine and mouth-watering delicacies. Over 50 of the best chefs cook responsibly raised foods and meat in the open air with lots of wine, ciders and other beverages from the best local producers.
Add to this that the scenery and location cannot be beat, and this is a must attend this one time only event. The event runs from 4 pm to 7:30 pm. There are three different tickets levels so make sure to pick the one that is right for you.
Shows at the Blue Note
Another one of the best nightlife options in Napa is the Blue Note. They feature several concerts each month on the first floor of the Napa Valley Opera House.
>> Find tickets for all of their shows on sale on Ticketmaster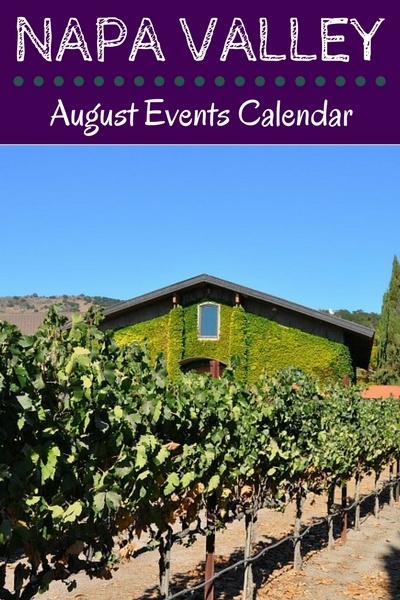 More Resources for Your Visit to Napa