Events in Napa in April 2020: Arts, Festivals, & Wine Tasting Activities
Events in Napa in April 2020 include Arts in April, Wine Valley Cycle for Sight, and the Calistoga Food & Wine Festival. You will also find shows at the Uptown Theater, wine tasting events all around the valley, and a few other fun things to do during your visit.

Read on for details on the best activities in Napa this April.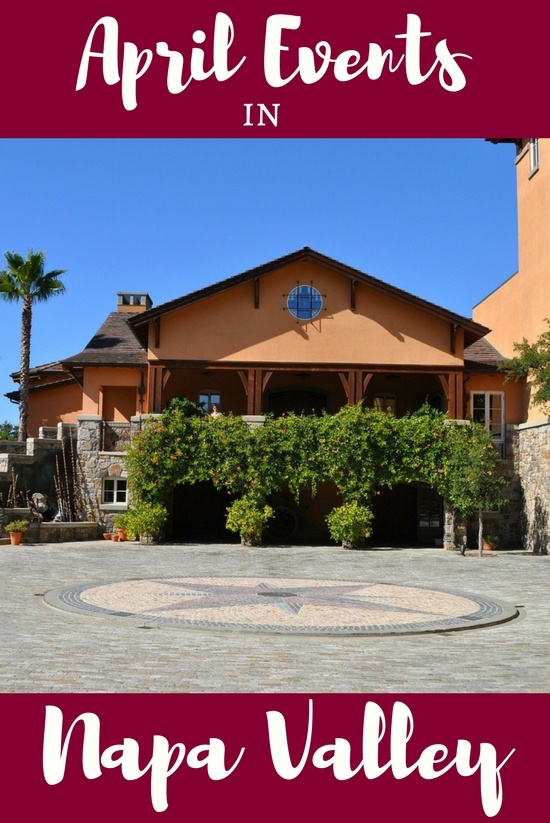 Disclaimer: I receive a small commission from some of the links on this page.

SIP Napa Valley

Dates: 4/2 - 4/5
This is the inaugural year for SIP (Songwriters in Paradise) Napa Valley. One of the top events in Napa in March, SIP offers performances from 15 highly acclaimed songwriters.
Performances are at Silver Oak, Alpha Omega, Brasswood and Frank Family. Each performance has a limited number of tickets, so you are sure to get an amazing seat.
SIP is the creation of Nashville-based songwriter Patrick Davis. In 2013, he was asked to perform in the Bahamas and wanted to try out this new idea. It was an overwhelming success and has drawn in crowds from around the world since 2013. You will find it in three locations: the Bahamas, Cabo in Mexico and now in Napa.
>> Visit their site for a full schedule of performances
bASH: Appellation St. Helena

Date: 4/4
St. Helena's annual food and wine competition, bASH, is a must attend for food and wine lovers. This event is held in the historic barrel room inside the Culinary Institute of America at Greystone (2555 Saint Helena Highway).
The event offers more than 30 tasting stations with Appellation St. Helena wines paired with tasty treats. All of the food is prepared by aspiring students, winery chefs, and St. Helena's finest restaurants.
The event runs from 6pm to 8:30pm.
Napa Valley "Arts in April"

Dates: All month
This is the 10th year of the month-long Arts in April festival that strives to bring the community together at arts and cultural events across Napa County. By attending a variety of art gatherings, you'll discover the downtown districts of Calistoga, St. Helena, Yountville, Napa, and American Canyon, engage in thoughtful conversations, and hopefully get inspired!
>> Read more about the festival
Shows at the Uptown Theater in April

Some of the best night events in Napa in April are at the Uptown Theater. Here are all of the performances scheduled so far this month.

Wine Valley Cycle for Sight

Date: 4/18
The Cycle for Sight / Rotary Ride for Veterans is one of the most fun and athletic events in Napa in April, perfect for those who enjoy being active outdoors. The bike race offers the satisfaction of helping a great cause while enjoying scenic routes through the vineyards and rolling hills of Napa Valley.
Choose from 50-, 25-, and 15-mile courses, and enjoy the music and wine festival that will take place at the end.
>> Information and registration
Where to Stay in Napa

Click the links below for top deals all around Napa Valley.

TripAdvisor: What's the #1 hotel in the Napa Valley? Read reviews & find hotel deals on TripAdvisor!
Booking.com: Save on your Hotel in Napa with Booking.com, Planet Earth's #1 Accommodation Site. No booking fees ever!
Napa Valley Endurance Run

Date: 4/18
This trail running event features a half marathon, 10K, 35K, and 50K. The course runs through Robert Louis Stevenson State Park and is along the Oat Hill Mine Trail. This is a challenging course on trails that aren't run on very often.
There will be two start times to make sure the trail is not too crowded. Teh 35K and 50K runners will start at 7:30am. The 10K and half-marathon runners will start at 9am. This is a great opportunity to get out and enjoy Napa's incredible natural beauty.
Vineyard to Vintner

Dates: 4/24 - 4/26
Spend the weekend in the Stag's Leap District sampling wines and learning more about their world class wines. The weekend starts with exclusive Friday night dinners. On Saturday, enjoy open houses with special all around the Stag's Leap District. The weekend long event ends with a hosted lunch on Sunday. Tickets are required for all events.
April Shows at the Blue Note

Head over to the Blue Note for some great live music almost every night of the week. This live jazz club is on the first floor of the gorgeous Napa Valley Opera House.
In addition to world class jazz music, they also serve up farm to table dishes along with some of the region's top wines. It's one of the best night events in Napa in April.
>> Pick up tickets to Blue Note shows on Ticketmaster
Wine Tasting Events in Napa in April

You will find dozens of wine tasting events in Napa in April. The ones listed below are at the wineries and offer you the chance to taste the best Napa Valley wines.
Most events are on the weekends. Almost all events include a fee to taste and/or attend.
Clos Pegase (4/26): Spring Brunch , live music, delicious food, award-winning wine as well as an espresso bar and mimosas
Cosentino Winery (4/18): Wine Trivia party where you can taste wines while testing your knowledge of their wines, prizes will be awarded for winners
HALL Wines Napa Valley (4/25): HALL's Cabernet Cookoff, Food from top Bay Area chefs paired with HALL wines, proceeds benefit local charities from 12 noon to 5 pm
Hess Collection: Blending Party 2020 (4/18), become a winemaker for a day as you create your own wine and label. Awards for the best blend and best label. After making wine, you will have a lunch prepared by Chad Hendrickson, 10:30 am - 2:30 pm
Inglenook Vineyard: RC Reserve Syrah Dinner (4/18), food and wine pairing with wine-making team from 6 pm to 9 pm
Mumm Napa: Cheese & Cheers (4/30), sparkling wine and cheese pairing class, features six cheeses, four sparkling wines and a cheese expert to teach you more about it all from 5:30 pm to 7:30 pm
Paraduxx (4/4): Spring Release Party with small bites with different wines from their vineyards, reservations required, 1 pm to 4 pm
Raymond Vineyards: Spring Cleaning Friends & Family Sale (4/4 and 4/5), Exclusive deals on library wines, large format bottles and reserves from 11 am to 4 pm, members from 10 am to 4 pm
Raymond Vineyards: Generations Release Celebration (4/25), Flagship release of their Generational Cabernet Sauvignon, vertical tasting of other vintages and a barrel tasting, small bites start at 11 am and reservations required
Robert Biale Vineyards (4/29): Sunset Yoga & Tasting, yoga under the sycamore trees and then a special wine tasting and small bites to eat, 5:30 pm to 7:30 pm
Robert Craig Winery: Robert Craig Winery Spring Release Party (4/18), Taste numerous new releases, enjoy food, and live music from 11 am until 2 pm
Robert Mondavi Vineyards (4/19): Wine and Chocolate Walk Around Tasting, enjoy sweet and savory food while tasting numerous wines, 2 pm to 4 pm
Round Pond Estate: Easter Day Vineyard Garden Brunch (4/12)
Rutherford Hill: Sip & Paint (4/18), sip on wines, listen to classical music and follow the instructor to create a portrait to take home
Tamber Bey Vineyards: Spring Release Party and Open House (4/18), celebrate the release of new vintages, horseshoe tournament, live entertainment, and catering by Tre Posti from 1 pm to 5 pm
2019 Events

The rest of these events are from 2019. Many of the wineries are still working on finalizing their plans, but I wanted to give you an idea on what to expect this month. I'll continue to update them as their dates and details are finalized.
Elizabeth Spencer: 8th Annual Spring Rose Party (4/6), celebrate the release of their 2019 Rose of Pinot Noir, enjoy southern food, and don't forget to wear your pink and white, 11:30 am to 2 pm
Flora Springs: Sixteen Spirits Historical Ghost Winery Tour & Tasting (4/14), tour one of the few remaining ghost wineries in Napa, Flora Springs, learn about its history, and then sample its amazing wines from 10 am to 12 noon
Grgich Hills Estate: Rose Release Party (4/20), games on the lawn, paella and dessert pairing with wines from 12:30 pm to 3:30 pm
Larson Family Winery: Adult Easter Egg Hunt (4/15 - 4/19), Find one of five Easter eggs hidden in the tasting room
Larson Family Winery: Easter Day (4/21), Meet the Easter Bunny as it visits the tasting room from 12 noon to 3 pm
Merryvale: 1st and 3rd Friday in April, Friday Music on the Terrace
Silverado Vineyards: Sunset BBQ & Country Music Bash (4/27), BBQ dinner, wine, and live music from 6pm to 8:30pm
Wine Tasting Deals

Here are just a few of the best wine tasting deals right now for Napa Valley wineries.

Vintage Sweet Shoppe: Chocolate and Wine Pairing Package for Two or Four at Vintage Sweet Shoppe (Up to 44% Off), check for availability
Envy Wines: Wine Tasting for Two or Four with a Take Home Bottle of Wine (Up to 50% Off), check for availability
Buhman Estate Vineyards: Wine Tasting and Cheese Board for Two or Four (Up to 53% Off), check for availability
*Note: Most deals last for 120 days after purchase, so make sure to check the exact terms before purchasing.