Events in Napa in April 2017
Arts, Festivals, & Wine Tasting Activities
Events in Napa in April 2017 include Arts in April, Wine Valley Cycle for Site, and the Calistoga Food & Wine Festival. You will also find shows at the Uptown Theater, wine tasting events all around the valley, and a few other fun things to do during your visit.
Read on for details on the best activities in Napa this April.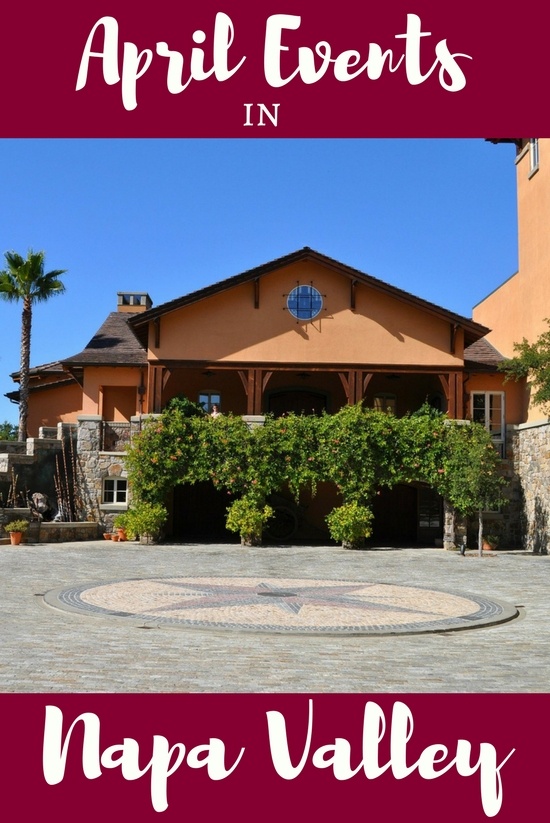 For some of the links on this page, I receive a small commission when you purchase. You don't pay more when you buy through me and it gives me the chance to offer you all this great content for free!
bASH Food & Wine Pairing Competition
Date: April 1 from 6 to 8:30pm
Head over to the Culinary Institute of America for this year's bASH food and wine paring competition. It's one of the events in Napa in April that is allows you to taste the best of the region. Tickets start at $125 a person.
>> Visit eventbrite for ticketing details
Napa Valley "Arts in April"
Dates: All month
This is the 6th year of the month-long Arts in April festival that strives to bring the community together at arts and cultural events across Napa County. By attending a variety of art gatherings, you'll discover the downtown districts of Calistoga, St. Helena, Yountville, Napa, and American Canyon, engage in thoughtful conversations, and hopefully get inspired!
>> Read more about the festival
Shows at the Uptown Theater in April
Some of the best night events in Napa in April are at the Uptown Theater. Here are all of the performances scheduled so far this month.
Calistoga Food & Wine Event
Dates: April 21 - 23
This three-day long celebration of food and wine kicks off on Friday with the Winemaker Dinner at the Fairwinds Estate wine cave, offering a perfectly paired meal in a fantastic setting. Saturday afternoon is the Grand Tasting Event at Solage Calistoga with delicious samples from over 40 local wineries. Finally, the event concludes with the Chef and Sommelier Brunch, combining freshly made gourmet creations with breakfast cocktails.
>> Details, including participating wineries
Emergence Theater Festival
Dates: April 21 - 23
This month, step out of the box and into the studio theater of Napa Valley College to discover original works and premiere experimental theater. All pieces are directed, scripted, and acted by emerging student artists, and you can watch them at the accessible price of $15.
Where to Stay in Napa
Click the links below for top deals all around Napa Valley.
Booking.com: Save on your Hotel in Napa with Booking.com, Planet Earth's #1 Accommodation Site. No booking fees ever!
TripAdvisor: What's the #1 hotel in the Napa Valley? Read reviews & find hotel deals on TripAdvisor!
Wine Valley Cycle for Sight
Date: April 22
The Cycle for Sight / Rotary Ride for Veterans is one of the most fun and athletic events in Napa in April, perfect for those who enjoy being active outdoors. The bike race offers the satisfaction of helping a great cause while enjoying scenic routes through the vineyards and rolling hills of Napa Valley. Choose from 50-, 25-, and 15-mile courses, and enjoy the music and wine festival that will take place at the end.
>> Information and registration
CampoVelo Napa Valley
Dates: April 28 - 30
CampoVelo Napa Valley is another cycling event this month. Activities and festivities for this one will last throughout the weekend in the town of St. Helena. Routes range from 12 to 80 miles on moderate terrain with some hills. Just think of how you will fully enjoy the region's world-class food and wine after burning all those calories!
Vine to Vintner
Dates: April 28 - 30
Spend the weekend in the Stag's Leap District sampling wines and learning more about their world class wines. The weekend starts with exclusive Friday night dinners. On Saturday, enjoy open houses with special all around the Stag's Leap District. The weekend long event ends with a hosted lunch on Sunday. Tickets are required for all events.
April Shows at the Blue Note
4/1 & 4/2: Diane Schuur
4/4 - 4/6: Laith Al-Saadi of the Voice
4/7 - 4/9: Ravi Coltrane
4/12: Kellie Fuller & the Mike Greensill Quartet
4/13 - 4/16: Stanley Jordan Trio
4/18: Locals Night Feat. Roem Baur
4/19 - 4/21: Bill Charlap Trio
4/22 & 4/23: Marc Ford & the Neptunes Blues Club
4/25: Locals Night Feat. Jealous Zelig
4/26: Tommy Igoe Band
4/27 - 4/30: Keiko Matsui
>> Pick up tickets to Blue Note shows on Ticketmaster
Wine Tasting Events in Napa in April
You will find dozens of wine tasting events in Napa in April. The ones listed below are at the wineries and offer you the chance to taste the best Napa Valley wines.
Most events are on the weekends, so you will find a list of each weekend in April. Almost all events include a fee to taste and/or attend.
April 1 & 2
Beringer: Wine and Cheese Pairing with Janet Fletcher (1st), award winning author will take you through the process to perfectly pair wine and cheese, reservations required at least 24 hours in advance. Starts at 11am, visit their website for ticketing information.
Clif Family: Pedal & Party, Sip & Support to Benefit the Napa Valley Vine Trail (2nd), 9am to 2pm, starts with breakfast, then a ride around the valley, followed by a tasting party from 11:30pm to 2pm, you are participate in any of the three activities
Elizabeth Spencer: 6th Annual Spring Rose Party (1st), celebrate the release of their 2016 Rose of Pinot Noir, enjoy southern food, and don't forget to wear your pink and white, members $40, public $80
April 8 & 9
Jessup Cellars: Art House Short Film Series (8th), an independent film with a sample of their wines, 7pm, tickets are $25 for members, $35 for non-members
April 15 & 16 (Easter Weekend)
Barnett Vineyards: Spring Open House, Blues & Blancs, sample their whites, enjoy BBQ and listen to R&B tunes, 15th.
Flora Springs: Easter Cork Hunt at The Room (15 & 16th), grown-ups only egg hunt, special message on corks in the eggs you find, contact them for details (the room@florasprings.com)
April 22 & 23
Alpha Omega Winery: ERA Party from 11am to 2pm on Saturday the 22nd. Complimentary to wine club members and $150 for guests.
Andersons Conn Valley Vineyards: Spring Fling on Saturday the 22nd from Noon to 4pm. Free for members and $65 for guests.
April 29 & 30
Beaulieu Vineyard: Annual Lobster Feast (30th), savor tasty lobster and celebrate the 2017 vintage Budbreak.
Benessere Vineyards: Spring Release Party (29th), release of their 2016 Pinot Grigio and 2015 Sangiovese, plus music, food and other wine. $30 per person, two complimentary tickets for members.
Beringer: Founders Day Celebration (30th), tastings, food, live music, and more from 11am to 4:30pm.
Bouchaine Vineyards: Wine, Food, & Flavor! Event (29th)
Hall Wines: Hall Cabernet Kickoff (29th), 11am to 2pm, food and wine pairing competition where world renowned chefs battle it out to win money for their selected charity and you get to sample their creations and help select the winner
Wine Tasting Deals
Here are just a few of the best wine tasting deals right now for Napa Valley wineries.
Rutherford Ranch Winery: Wine and chocolate pairing for two (or four), up to 46% off, tasting is in their Rutherford Ranch's Cabernet Room in Saint Helena, check for availability


JaM Cellars: Tasting for two plus a bottle of JaM Cellars wine to take home with you for up to 42% off, tasting room located in downtown Napa, check for availability


Judd's Hill Winery: Tasting for two or four plus a bottle of wine to take home with you, up to 52% off, tasting room is on Silverado Trail, check for availability
*Note: Most deals last for 120 days after purchase, so make sure to check the exact terms before purchasing.
More Napa Tips to Plan Your Stay