Events in Napa in April 2018
Arts, Festivals, & Wine Tasting Activities
Events in Napa in April 2018 include Arts in April, Wine Valley Cycle for Sight, and the Calistoga Food & Wine Festival. You will also find shows at the Uptown Theater, wine tasting events all around the valley, and a few other fun things to do during your visit.
Read on for details on the best activities in Napa this April.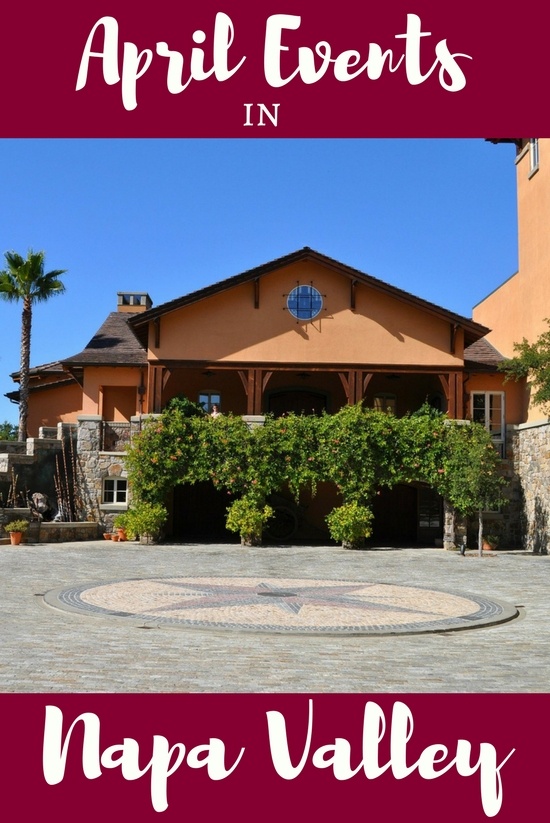 Disclaimer: I recieve a small commission from some of the links on this page.
bASH Food & Wine Pairing Competition
Date: April 7 from 6 to 8:30pm
Head over to the Culinary Institute of America for this year's bASH food and wine paring competition. It's one of the events in Napa in April that is allows you to taste the best of the region. Tickets start at $125 a person.
>> Visit eventbrite for ticketing details
Napa Valley "Arts in April"
Dates: All month
This is the 8th year of the month-long Arts in April festival that strives to bring the community together at arts and cultural events across Napa County. By attending a variety of art gatherings, you'll discover the downtown districts of Calistoga, St. Helena, Yountville, Napa, and American Canyon, engage in thoughtful conversations, and hopefully get inspired!
>> Read more about the festival
Shows at the Uptown Theater in April
Some of the best night events in Napa in April are at the Uptown Theater. Here are all of the performances scheduled so far this month.
Conversations at CIA at Copia
Dates: 4/7 & 4/8
Spend the weekend learning about Sustainable Seafood & Bay Area Watersheds at this month's Conversations at CIA at Copia. This monthly event offers detailed information about the food system. Through live panels, documentary films, art, dialogue and food tasting, you will learn all about how issues within the food system impact you and how you can get involved.
This monthly series is at their new facility in downtown Napa at 500 1st Street.
>> Visit their site for more details and to register for these events today
Emergence Theater Festival
Dates: April 21 - 23
This month, step out of the box and into the studio theater of Napa Valley College to discover original works and premiere experimental theater. All pieces are directed, scripted, and acted by emerging student artists, and you can watch them at the accessible price of $10-$25.
Where to Stay in Napa
Click the links below for top deals all around Napa Valley.
Booking.com: Save on your Hotel in Napa with Booking.com, Planet Earth's #1 Accommodation Site. No booking fees ever!
TripAdvisor: What's the #1 hotel in the Napa Valley? Read reviews & find hotel deals on TripAdvisor!
Wine Valley Cycle for Sight
Date: April 21
The Cycle for Sight / Rotary Ride for Veterans is one of the most fun and athletic events in Napa in April, perfect for those who enjoy being active outdoors. The bike race offers the satisfaction of helping a great cause while enjoying scenic routes through the vineyards and rolling hills of Napa Valley. Choose from 50-, 25-, and 15-mile courses, and enjoy the music and wine festival that will take place at the end.
>> Information and registration
CampoVelo Napa Valley
Dates: April 27 - 29
CampoVelo Napa Valley is another cycling event this month. Activities and festivities for this one will last throughout the weekend in the town of St. Helena. Routes range from 12 to 80 miles on moderate terrain with some hills. Just think of how you will fully enjoy the region's world-class food and wine after burning all those calories!
Vine to Vintner
Dates: April 27 - 29
Spend the weekend in the Stag's Leap District sampling wines and learning more about their world class wines. The weekend starts with exclusive Friday night dinners. On Saturday, enjoy open houses with special all around the Stag's Leap District. The weekend long event ends with a hosted lunch on Sunday. Tickets are required for all events.
April Shows at the Blue Note
Head over to the Blue Note for some great live music almost every night of the week. This live jazz club is on the first floor of the gorgeous Napa Valley Opera House. In addition to world class jazz music, they also serve up farm to table dishes along with some of the regions top wines. It's one of the best night events in Napa in April.
>> Find certain show at up to 50% off on Goldstar
>> Pick up tickets to Blue Note shows on Ticketmaster
Wine Tasting Events in Napa in April
You will find dozens of wine tasting events in Napa in April. The ones listed below are at the wineries and offer you the chance to taste the best Napa Valley wines.
Most events are on the weekends. Almost all events include a fee to taste and/or attend.
Beaulieu Vineyard: Annual Lobster Feast (4/22), savor tasty lobster and celebrate with new releases
Beringer: Founders Day Celebration (4/29), tastings, food, live music, and more from 11am to 4:30pm.
Clif Family: Pedal & Party, Sip & Support to Benefit the Napa Valley Vine Trail (4/8), 9am to 2pm, starts with breakfast, then a ride around the valley, followed by a tasting party from 11:30pm to 2pm, you are participate in any of the three activities.
Elizabeth Spencer: 7th Annual Spring Rose Party (4/7), celebrate the release of their 2016 Rose of Pinot Noir, enjoy southern food, and don't forget to wear your pink and white, 11:30pm to 2pm
Hall Wines: Hall Cabernet Kickoff (4/28), starts at noon, food and wine pairing competition where world renowned chefs battle it out to win money for their selected charity and you get to sample their creations and help select the winner
Luna Vineyards: Pinot & Paella Fiesta (4/28), 5pm to 8pm, flamingo dancing, paella (vegetarian option too), tasting of their Pinot Grigio and Pinot Noir
Raymond Vineyards: Spring Cleaning Friends & Family Sale (4/14 & 4/15) & Generations Release Party (4/27- 4/29)
Robert Craig Wine: Spring Release Party (4/14) from 11am to 1:30pm, sample new releases paired with tasty food bites
Rombauer Vineyards: April Painting Party (4/19), evening with small bites as you are walked through how to paint your masterpiece, 5pm to 8:30pm; Spring Release Party (4/21), 4pm to 7pm
Round Pond Estate: Spring Blending Party & Lunch (4/21)
Schweiger Vineyards: Spring Celebration (4/15), Andy's famous BBQ, new club releases and some old favorites
Tamber Bey Vineyards: Spring Release Party (4/28), 1pm to 5pm, sample new releases
Wine Tasting Deals
Here are just a few of the best wine tasting deals right now for Napa Valley wineries.
Starmont Winery and Vineyards: Save up to 45% off tasting deals at Starmont Winery and Vineyards, check deal availability


Envy Wines: Wine Tasting for Two or Four with Take-Home Bottle, up to 53% off, located in Calistoga, check for availability


Judd's Hill Winery: Tasting for two or four plus a bottle of wine to take home with you, up to 45% off, tasting room is on Silverado Trail, check for availability
*Note: Most deals last for 120 days after purchase, so make sure to check the exact terms before purchasing.
More Napa Tips to Plan Your Stay