Camping in Yosemite: What to Expect from Best Campgrounds within the Park

by Jill Loeffler  •

Published: December 12, 2022
You will find almost a dozen camping areas within Yosemite National Park. These include spots near Yosemite Valley, up near Glacier Point Road, and others located throughout the park.
My top picks include Upper Pines, Wawona, and White Wolf Campground.
Some of these are tent-only camping areas. Others allow you to pull in your camper or RV for your stay.
Reservations are required for many of these locations. To grab your spots, it's best to plan ahead. Peak hours and months for these campgrounds start in mid-April and run until late October.
Read on to learn more about each area and uncover a few things to know before you arrive.
Disclaimer: I receive a small commission from some of the links on this page.

5 Things to Know About Camping in Yosemite
1. Reservations
Yosemite attracts thousands of people each year who love to sleep outdoors and their campgrounds fill up quickly. Eight of their 13 campgrounds require reservations in advance. The others are on a first come, first served basis.
The campgrounds that require advanced reservations during certain times of the year include: 
Hodgdon Meadow
Crane Flat
Wawona
Parts of Tuolumne Meadows
Camp 4
Tamarack Flat
White Wolf
Yosemite Creek
This list changes at times and some on this list started required reservations for the first time in 2022. You will want to double check where you plan to stay to make sure spots are available or that it's still first come, first served.
Reservations open up on the 15th of the month, usually about five months in advance. For example, if you plan to visit April 15 - May 14, reservations open on December 15. Another example is if you plan to visit July 15 - August 14, spots will open for reservations on March 15.
The reservations system opens at 7 am Pacific Standard Time that day and the most popular campgrounds fill up that morning. 
So, in case I haven't stressed this enough: This means you need to plan in advance. 
If you miss getting a spot, make sure to check out their online system for cancelations. Visit the National Parks Service site for reservations and to check for cancelations. 
Note: Backcountry campgrounds are not part of the reservation system, but you do need a permit to camp.
2. Locations of Campgrounds
Another thing to consider before booking your spot is the location of the campground. Yosemite National Park is huge and you could spend a couple of hours driving from one end to the next, so make sure to think about what you want to do while you are here before you book one.
You will also think about what type of camping you like. Some of these spots are in the heart of the action and others are more remote. If you want to be close to services and other things to do, then look at those near Yosemite Valley. If you like to be in a more remote spot, check out the options at Tamarack Flat or Yosemite Creek Campgrounds.
If you want to get up early to tackle a specific trail, make sure your campground is nearby so you don't have to drive to the trailhead to start your day.
3. Food Safety and Bears
Yosemite is an outdoor lovers dream, but it also comes with the risk of encountering bears. While they might be interesting to admire from afar, make sure to protect yourself from bringing them into camp.
All food or anything with a scent should be store in the approved bear lockers on site. Do not leave anything in your car or your tent while camping. Bears will smell even the smallest item in your bag and may coming looking for the source.
Yosemite requires that you keep your food locked up 24 hours a day.
Bear containers are also important if you are hiking and camping in the backcountry on your own. 
4. Seasonality of Campgrounds
Some of the campgrounds in Yosemite National Park are open all year and some are only open during the busiest months. Those open all year include Upper Pines, Camp 4, Hodgdon Meadows, and Wawona. 
Lower Pines and North Pines typically open in late April and stay open until mid to late October. The others typically open sometime in early to mid-July and close sometime in late September or mid-October. The closing date changes slightly each year.
5. Other Yosemite Campground Rules
Here are a few other things to consider:
Reservations: You can only make two reservations per website visit or call. 
Stay Length: You can stay up to 30 nights per year within Yosemite. From May 1 to September 15, you can only stay 14 nights and only 7 nights in campsites in Yosemite Valley.
Campfires: Allowed in open campgrounds all year long. From May to September, campfires are only allowed in Yosemite Valley from 5 pm to 10 pm.
Number of People per Site: Only six people are allowed in each campsite (including children).
Number of Cars per Site: Only two cars are allowed per site.
Quiet Hours: These run from 10 pm to 6 am.
Check-In/Check-Out Times: Check-in and check-out time is at noon.
13 Best Places to Camp in Yosemite
1. Upper Pines Campground in Yosemite Valley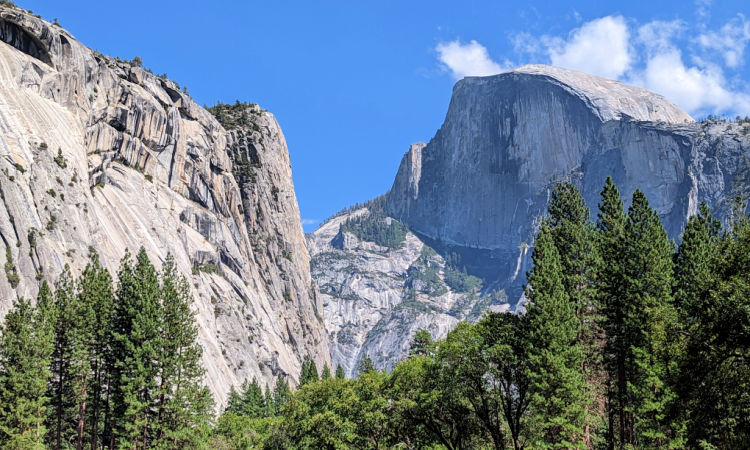 Dates: Open all year long
Reservations: Required
Occupying a prime spot in the Yosemite Valley and within easy reach of the main attractions is Upper Pines Campground. It's one of the campgrounds in Yosemite that is an excellent place for those with campers and RVs.
With tap water and more than 230 spots, this is one of the largest campsites in the valley.
This all-year campsite is close to the picturesque Merced River and provides stunning views of the surroundings. It is easily accessible by road and makes for a perfect base from which to explore the local area.
Yosemite Village and Curry Village are close by for supplies from general stores.
2. Lower Pines Campground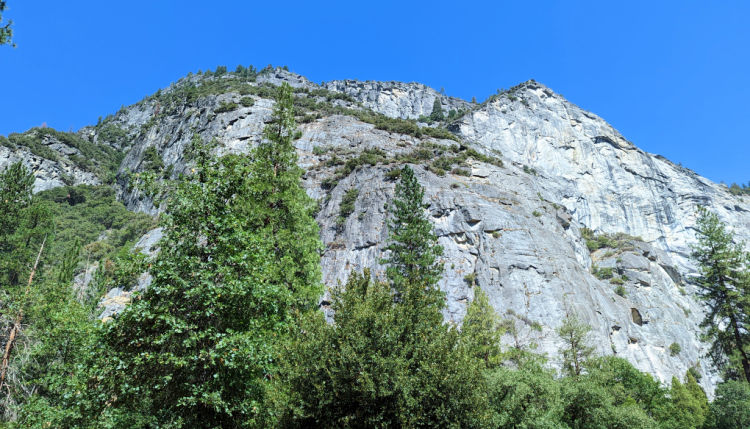 Dates: Mid to late April to Mid October
Reservations: Required
Smaller than Upper Pines, with just over 70 pitches, Lower Pines campground is also on the Merced River. Like Upper Pines, it is within easy reach of some of the most impressive hiking and biking routes in Yosemite Valley.
It is a tranquil spot in a pretty spectacular location with views of the mountains.
As with Upper Pines, wood fires are permitted all year within certain times of the day, and the camp is on the shuttle bus route. Lower Pines welcomes RVs up to 40 feet and is an ideal choice for getting to know Yosemite Valley.
This is also close to Curry Village.
It is open from April to October.
3. North Pines

Dates: Mid April to late October
Reservations: Required, it will be on a lottery system in 2023. Any open spots will be available by reservation through their system.
For simply stunning mountain views through the glorious pine forests, it is difficult to beat the North Pines campground.
It is located on the Merced River and offers 60 camping pitches. It also has limited RV access, so this is a popular campsite in a beautiful setting.
At night, light a wood fire, and enjoy a tranquil evening in one of the most spectacular places in the USA. Biking and hiking from North Pines are a must, and each offers an opportunity to return to nature.
You can take the shuttle bus to the main hiking trails or Yosemite and Curry villages for supplies.
4. Camp 4 in Yosemite National Park

Dates: All year long
Reservations: Required during the high season from late April to late October
Situated close to spectacular granite cliffs and the stunning Yosemite Falls is Camp 4. It has just 25 pitches for tents and no RV admittance. Therefore, this is a small and intimate campsite situated in a glorious location.
Ideally placed as a base for exploring the many wonders of Yosemite, Camp 4 allows wood fires at certain times. It is a peaceful and friendly site that welcomes families and couples alike.
As with many Yosemite camping grounds. reservations are required.
This is especially true at Camp 4 due to limited availability.
5. Wawona

Dates: All year long
Reservations: Required during high season from early April to late October
Located close to the historic town of the same name, Wawona campground is south of Yosemite Valley on the Merced River.
With a total of 97 pitches, around half for tents and a limited few for RVs, you have a few different choices to stay when you are here.
Wawona is an ideal place to take the short drive to one of the region's most spectacular sights, the Mariposa Grove of Giant Sequoias.
The campsite offers excellent access to the valley and the main attractions of Yosemite national park.
The town of Wawona features a market and visitor center. Always book ahead, as reservations are required.
6. Bridalveil Creek

Dates: July through late September
Reservations: First come, first served
Close to the simply spectacular Glacier Point, Bridalveil gives visitors views unrivaled anywhere. It is within easy reach of all the main attractions in Yosemite National Park.
This quiet camp within a beautiful pine forest setting is popular for exploring the local region.
Bridalveil Creek offers 41 tent pitches but does not permit RVs. Yosemite Valley is just a 45-minute drive.
NOTE: The only campground on Glacier Point Road, Bridalveil Creek, is currently (2022) undergoing significant improvements. This includes the water supply, which will be reopened sometime in 2023 with notable enhancements.
7. Hodgdon Meadow

Dates: All year long
Reservations: Required during high season from early April to late October
Occupying a prime location on Big Oak Flat Road is Hodgdon Meadow. Hodgdon is an all-year campsite with many pitches for tents but no RV access. Local hiking trails take visitors to some spectacular spots.
At the same time, the Tuolumne Grove of Giant Sequoias is a short drive away and not to be missed.
Located on the western edge of Yosemite national park, the campsite is just a 45-minute drive from Yosemite Valley.
The site is perfect for a family vacation or a romantic trip for two. Reservations are required as this is a popular choice for exploring the beautiful surrounding area.
8. Crane Flat

Dates: July through late October
Reservations: Required
Closed for refurbishment in 2022, the popular Crane Flat Campground will reopen in 2023. It will have been considerably upgraded and modernized.
Located on the Big Oak Flat Road, the site will offer 88 tent pitches and many more for trailers, with just a single RV pitch available.
It occupies an excellent spot close to Merced Grove and other local sights. Crane Flat is ideal for exploring the local surroundings and enjoying some of the most fantastic scenery in the USA. Book ahead for 2023, and secure your pitch for a fabulous vacation.
9. Tamarack Flat

Dates: June through mid October
Reservations: This one varies. Reservations are required for the busiest times of the year. They also reserve out 50% of the campground early and then put the rest of the campground on a two-week-in-advance rolling reservation system. Check ahead on this one as the rules change slightly each year.
For campers who want a real back-to-nature experience, there are few places that match the Tamarack Flat campsite. It is located twenty miles from Yosemite Valley and in a beautiful forest setting 3-miles from Tioga Road.
However, this is not a site for trailers or RVs because it is more challenging to access than most other campsites.
Furthermore, the only water source is Tamarack Creek, with water needing to be boiled or treated before use. This is a genuinely rough and ready campsite that comes with all the charms of traditional camping.
Therefore, only head here if you truly want to escape it all.
10. White Wolf Campground

Dates: Mid July through early September
Reservations: Required for high season. Part of the year, they reserve 50% of the spots and open them up two weeks in advance for reservations.
The wonderful forest location of the White Wolf campground makes this a popular choice for a vacation under canvas.
At 8,000 feet above sea level, this is among the highest of all campsites in the Yosemite region, and it is a truly charming place to stay.
Even though White Wolf Lodge is nearby and may provide amenities when open, facilities are limited. However, that's exactly what visitors want from this simple and traditional Yosemite camping ground.
Take a hike through the wilderness to Lukens and Harden Lakes, which are as beautiful and remote as it gets in Yosemite National Park. There are no areas for RVs.
11. Yosemite Creek Campgrounds

Dates: July through early September
Reservations: Required and some spots are available up to four days before arrival.
For many people, a camping vacation is an opportunity to leave daily life behind, and the Yosemite Creek campground offers such a chance.
With no cell phone reception and basic facilities, this is what many will call a 'proper' campsite.
Being at 7,700 feet, Yosemite Creek Campgrounds is not accessible for RVs and trailers, and the site offers 75 tent pitches. Water comes from the creek and must be treated or boiled before use. If you're looking for a remote and tranquil campsite where you can be undisturbed, this is the place for you.
Yosemite Creek is open from July to September, and reservations are essential.
12. Porcupine Flat

Dates: July through mid October
Reservations: First come, first served
Porcupine Flat is one of the more basic campgrounds in the Yosemite region. This means water comes from Porcupine Creek and no other facilities are on site. The campsite offers a rare opportunity to experience nature in this beautiful forest.
This location has more than 50 tent pitches and no provisions for RVs since the narrow roads make getting to the site in large vehicles impossible.
With many of the local attractions reachable by hiking trails, this is a choice for adventurers looking to explore the wilderness surrounding the area.
13. Tuolumne Meadows Campground

Dates: Closed until 2024 or 2025
Reservations: Required for half the sites and the other half are on a first come, first served basis.
The largest campsite in the Yosemite region is Tuolumne Meadows. It covers a vast area close to the Tuolumne River and caters to tents, RVs, and trailers, the latter two up to 35ft.
At present, the site is being comprehensively revamped, and at the time of writing, the date for reopening is not firm.
I recommend checking the available information regularly if you wish to experience one of the most spectacular locations in Yosemite.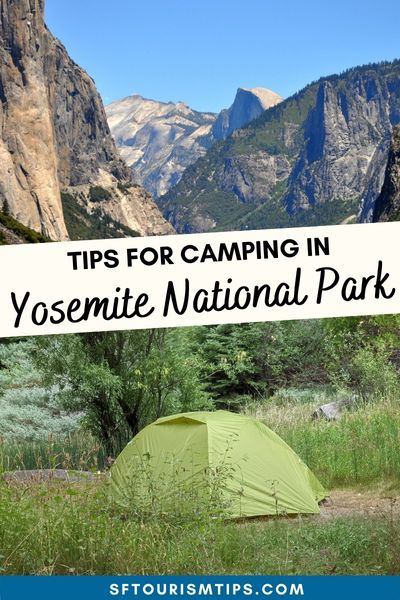 Comments? Questions? Suggestions?
I would love for you join me in my private Facebook group! 
It's a great place to interact with me and others that know the area well.
You can ask questions, get advice for your upcoming stay, and then share your photos and advice with others when you return home. It's a great community and the fastest way to get answers to those nagging questions about your visit!