Calistoga Wineries: My 6 Favorites
Calistoga wineries offer you all the best of Napa Valley. Situated on the northern end of California's wine country, you will find some of the region's most celebrated wineries.

This is where you will find Sterling Vineyards, which sits high on the hill above the valley. It's also where you will find Castello di Amorosa, which is often referred to as "the castle winery." Another top pick in this area is Chateau Montelena Winery which has a rich history of award-winning wines.
Read on for more details about my six favorites and what to expect when you visit each one.
Disclaimer: I receive a small commission from some of the links on this page.

1. Chateau Montelena Winery

One of my favorite Calistoga wineries is Chateau Montelena. Alfred Tubbs purchased the property in 1882. He planted the vineyard shortly thereafter and built the current chateau in 1886.
The winery became one of the top wineries in the region by 1896, but that came to an end with Prohibition in the 1920s. In the early 1970s, Jim Barrett bought the property and made his first wine in 1972.
The winery made history at the 1976 Judgement of Paris with their 1973 Chardonnay. The judges rated it the #1 white wine as compared against four white Burgundies and six other California Chardonnays.
Napa Valley's Stag's Leap Wine Cellars won as the #1 red wine that year as well. Together, these two wineries put Napa Valley and the quality of its wines on the map. This was the first time that US wineries won a "blind" competition. A blind competition is one where the judges don't know where the wineries are located from around the world. Before this happened, US wines weren't taken seriously. The win was a huge surprise and earned US wineries a lot of respect.
Even though people flock here because of the history of their Chardonnay, you will find that their Cabernet Sauvignon is also one of the best in the region. The volcanic soil in their vineyards produces low volume, highly concentrated grapes that burst with flavor. The Cabernet Sauvignon is rich and full bodied with an earthy-berry flavor.
The volcanic rich soil is also home to decades-old Zinfandel vines. They mix the powerful grapes from these vines with grapes from some of their newer Zinfandel vines to create a spicy, ripe berry Zinfandel wine.
Chateau Montelena Winery welcomes visitors daily between 9:30 am and 4 pm. They require reservations for all tastings.
You can choose from three different tastings that range in price from $40 per person up to $120 per person. You can also book a tour which will take you behind the scenes of their production facility as well as give you the chance to sample some of their wines.
Make sure to also spend some time outdoors near Jade Lake, which is surrounded by beautiful gardens. You can visit this part of the estate without tasting as well.
>> Find more great wineries and wine regions in Northern California
2. Vincent Arroyo Winery

Petite Sirah lovers must add Vincent Arroyo Winery to their list of Calistoga wineries to visit. Vince Arroyo purchased the property in 1974. Before he could start planting his own vines, he spent some time pulling out old prune trees, walnuts, and unhealthy vines.
Finally, in 1984, Vincent Arroyo Winery produced their first vintage. He focused on creating just a few hundred cases of two of his favorites: Petite Sirah and Cabernet Sauvignon.
Today, the winery now produces around 8,000 cases a year and is still a family affair. Arroyo's daughter, Adrian Moye, and her husband, Matthew Moye, run the winery.
They make wines from five distinct properties near their winery. The Greenwood Ranch property is where Arroyo first planted. It's home to the vines of one of their most popular wines, the Greenwood Ranch Petite Sirah. This property is also where the majority of the grapes are grown for their Cabernet Sauvignon Winemaker Reserve blend.
Their other properties include Rattlesnake Acres, Grant Street Ranch, Albright Ranch, and Lone Tree Ranch. Other varietals they grow on their properties include Merlot, Sangiovese, Syrah, Tempranillo, Zinfandel, Chardonnay, and others.
Their signature wine is still their Petite Sirah, but as you can see, they have a wonderful selection of well-crafted single varietal and blended wines available. If you've never tried a Petite Sirah, it tastes like delicious berries and has a wonderful spiciness that is unlike any other wine you will find anywhere.
Wine tasting is available daily between 10 am and 4 pm. The cost is around $30 per person and is complimentary for their members. You must make an appointment for all wine tastings and all appointments start on the hour.
Monthly Events in Napa

Click the links below for the best monthly events all around Napa Valley.

3. Sterling Vineyard

Note: Sterling is temporarily closed for renovations. Stay tuned for more info about their reopening in Spring/Summer 2023. 

You will love both the wine and the unique experience at Sterling Vineyard. The winery is a gorgeous Greek-inspired white building set on top of one of Napa Valley's steep hills. The 360-degrees views from the top are amazing.
The fun thing too is that the only way to reach the top is by taking their aerial tram. With four sides covered in glass, you will love the views as you ascend the hill to the top for your wine tasting.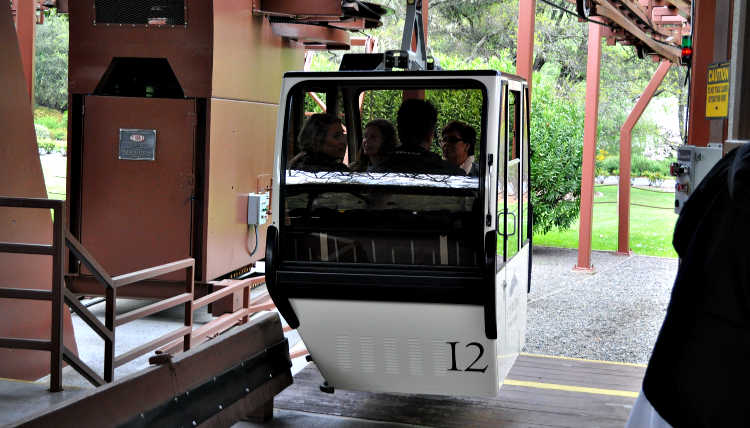 Peter Newton founded the winery in 1964. Newton, a British international paper broker, loved the beauty of Napa Valley and the high quality of the local wines, so he bought some property in the region.
Although other Calistoga wineries and the entire region focused quite a bit on Cabernet Sauvignon at the time, Newton decided to try to focus on some different wine varieties including Chardonnay and Sauvignon Blanc. In addition, he planted a large amount of Merlot, which was the region's first significant planting of that grape.
In 1969, Sterling Vineyards bottled the first single variety Merlot in the region. Previous winemakers only used Merlot as a part of a blend, but Newton continued to try new things in Napa Valley.
Work on the Mediterranean hilltop winery structure began in 1971 and finished in 1972. Over the next several years, Sterling continued to add on more properties to expand their wine production.
Their wines have won many awards over the years. They were also selected to be the official wine of both the 2016 Emmy Awards and the 2017 Screen Actors Guild Awards.
Some of their most popular wines include their Cabernet Sauvignon, Zinfandel, Chardonnay, and Sauvignon Blanc. You will also find a lovely Rose and some sparkling wines on their menu. Nothing is better than enjoying some of their bubbly on the balcony on a warm summer day in Napa Valley.
Their tasting room is open Thursday through Monday from 10 am to 5 pm. Prices range from $35 to $55 per person and include a ticket on their aerial tram to the top. Reservations are required.
4. Schramsberg

Another one of my favorite Calistoga wineries is Schramsberg. I fell in love with this place about two decades ago when I took my first tour of their facility and sampled some of their wonderful sparkling wines.
Jacob Schram purchased this property in 1862. By 1870, he had more than 30,000 vines and he completed his mansion on the hill in 1875.
By the late 1800s, Schram owned more than 100 acres of vineyards and produced thousands of cases of wine.
When Schram died in 1905, his son inherited the property. In 1912, his son ceased wine making operations and sold all of their property.
The wine history of this vineyard picks back up in 1965, when the property is purchased by Jack and Jamie Davies. In 1967, they were innovators in the wine industry when they produced the first U.S. based vintage dated Blanc de Noir with Pinot grapes. This was the start of their successful sparkling winemaking business.
Over the years, Jack and Jamie continue to build their wine making operations as they won awards and had their wine featured at important national events. Their son became the head winemaker in 2000 and took over the business in 2005.
Today, Schramsberg continues to expand and create some of the best sparkling wines in Napa Valley. In case you were wondering why it isn't called Champagne, and is called sparkling wine, it is because only sparkling wine from Champagne can officially have this destination on their label. Otherwise, it is essentially the same wine. So, to impress the people at the tasting rooms, make sure to call it sparkling wine.
The best way to experience their sparkling wines is in person. They have a few wine tasting options that range from a basic wine tasting with a tour of their caves (around $70 per person) to a wine and cheese tasting with reserve tastings as well as a tour through the caves ($125 per person).
Some tastings are only available during their high season from May to October.
You must make a reservation in advance for any of their tasting experiences. You can also stop by their visitor's center to pick up some wine. It is open daily from 9:30 am to 4 pm (this does not include tasting).
Check out more sparkling wine houses on my self-guided itinerary.
What to Pack for Your Upcoming Stay

Click the links below for details on the weather each month in Napa Valley and tips on what to pack.

5. Castello di Amorosa

Castello di Amorosa is one of the most famous Calistoga wineries. Many people see pictures of this gorgeous property and search for this "castle winery in Napa Valley."
Dario Sattui, who also reinvigorated his family's V. Sattui winery in the region, bought this property in 1993. His Italian roots drove him to use Napa Valley as a way to showcase small lot, mostly Italian style wines.
Construction on the winery began in 1994. Sattui wanted to make it authentic so only used materials and methods that would have been used when castles like this were built in Italy around 700 to 800 years ago.
Castello di Amorosa's winery opened to the public in 2007 after 15 years of construction.
This 13th century Tuscan castle is spread out over more than 3 acres. Inside, you will find 107 rooms on eight floors. Four are below ground and four are above.
In addition to the castle, Sattui added some special touches to compliment his medieval castle including a moat, five towers, a draw bridge, courtyards, and a torture chamber (depending on the tour you take, you might be able to visit it!).
All of the 107 rooms offer a unique feel and you can visit many of them on either self-guided or guided tours. There are also a few areas that are only open to their members or not open to the public at all.
Castello di Amorosa offers a wide variety of wines including popular Napa Valley varietals such as Cabernet Sauvignon and Chardonnay as well as classic Italian varietals such as Sangiovese and Barbera. They have a couple dozens types of wines, so you will have plenty to choose from.
They offer several different tasting experiences. All currently require reservations.
You can do a tasting with a guided tour. You can also do a more personalized tasting by selecting their Cheese & Wine Pairing Tour or their Antipasti & Wine Pairing Tour. Both include a food pairing along with a tour of their wine.
6. Clos Pegase

Another one of my favorite Calistoga wineries is Clos Pegase. This wonderful estate has a friendly staff, amazing wines, and a beautiful property. I often keep one of their wines on hand for special occasions.
The owners, Mr. and Mrs. Jan Shrem, purchased the property in the 1980s. Both knew they wanted something different and decided to work with the San Francisco Museum of Modern Art to find the perfect architect. They created a contest and after reviewing almost 100 entries, they selected the design by architect Michael Graves.
The design was modern with European touches. Construction finished in 1987.
Today, you will find a breathtaking facility with clean lines, well-manicured gardens, and a warm, welcoming tasting room. Their caves cover more than 20,000 square feet. This is where you will find their wine barrels and bottles wines, all still undergoing the aging process.
The wine menu includes Cabernet Sauvignon, Pinot Noir and Merlot. Other reds that aren't as often planted in Napa Valley include Malbec, Petit Verdot, and Cabernet Franc. They also have a wonderful Chardonnay and Sauvignon Blanc. Their Rose is one of my favorites and perfect for a hot summer afternoon.
The tasting experiences and cave tours include their By-the-Glass or Bottle option. This is where you can sit down, relax and just enjoy a full glass or bottle of their wine. Their Estate Tasting option starts from $40 per person. They also have a Cabernet Sauvignon only flight which is $60 per person. There are numerous other options for your wine and food tasting enjoyment.
Reservations are required for all tastings. They are open daily from 10 am to 5 pm.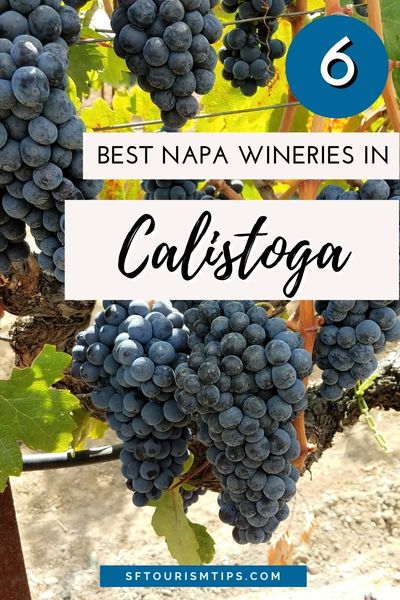 Comments? Questions? Suggestions?
I would love for you to join me in my private Facebook group! 
It's a great place to interact with me and others who know the area well.
You can ask questions, get advice for your upcoming stay, and then share your photos and advice with others when you return home. It's a great community and the fastest way to get answers to those nagging questions about your visit!