San Francisco Events in March 2017
Theater, Ballet, Warriors Basketball & More
San Francisco events in March 2017 include Saint Patrick's Day celebrations, Hamilton on stage at the Orpheum Theater, and Golden State Warriors basketball. Other highlights include several performances by the SF Ballet and SF Symphony, the Ocean Film Festival, free walking tours, and lots of great museum exhibits.
Among these events, you'll find some that are completely free and others that are rather expensive. Don't miss my tips below on how to save money during your stay!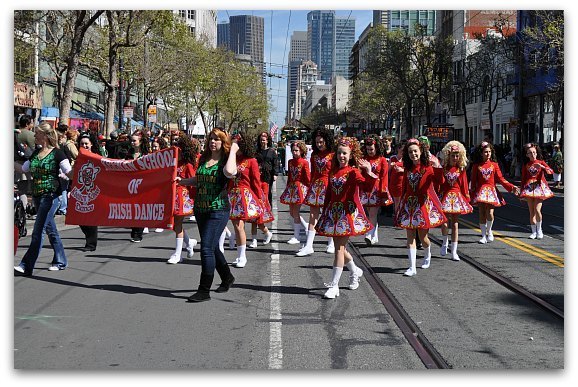 For some of the links on this page, I receive a small commission when you purchase. You don't pay more when you buy through me and it gives me the chance to offer you all this great content for free!
Hamilton at the Orpheum Theater
Everyone is raving about the huge Broadway hit Hamilton, a wonderfully entertaining musical based on Ron Chernow's biography of Alexander Hamilton. Though set during the founding of the United States, this is no boring historical show. The play's creative award-winning score blends pop, hip-hop, jazz, blues, and Broadway. And, of course, the costumes and scene design are phenomenal.
Dates: 3/10 - 8/5
Tickets: On sale for all dates
More: Additional theater performances this month in SF
Game Developers Conference
With over 27,000 attendees, GDC is the largest professional game industry event in the world. The week-long conference is hosted at SF's Moscone Center and attracts everyone involved in the industry, from game designers to programmers, artists and producers. This is the premier event to attend lectures, panels, tutorials, and round-table discussions about computer, online, and smartphone games.
Dates: February 27 - March 3
More: More details about the conference
Golden State Warriors
Watch the Bay Area's one and only pro basketball team light up the court at the Oakland Coliseum, just a 20-minute train ride away from SF. In this last full month of regular season home games, the Warriors will face the Boston Celtics, Philadelphia 76ers, Orlando Magic, Milwaukee Bucks, Sacramento Kings, Memphis Grizzlies, and Houston Rockets. Go Dubs!
Dates: March 8, 14, 16, 18, 24, 26, and 31
Tickets: On sale now on TicketMaster
More: Full schedule and game day details
Other Sports: Additional information on sports events in SF and the Bay Area
Two Perfect Days in San Francisco
What would I do if I only had two days in San Francisco? A LOT! I would visit the Golden Gate Bridge, Alcatraz, and sooooo much more. Read my Two Perfect Days in San Francisco self-guided tour itinerary to get a feel for everything you can see and do in just 48 hours!
Dates: Any day of the month
Learn More: Click here to read my Two Perfect Days in SF Itinerary
SF Ballet
These San Francisco events in March include three different, stunning performances by the oldest ballet company in the country. Program 4 of the 2017 Season runs from March 7 - 18 and features Stravinsky's Violin Concerto, Prodigal Son, and Diamonds. Program 5 runs from March 9 - 19 and features Fusion, Pita - World Premiere, and Fearful Symmetries. And finally, beginning March 31 and running through April 12, you can watch Swan Lake (Program 6). All shows take place at the beautiful War Memorial Opera House, right across from City Hall.
Dates: March 7 - 31
More: More about the renowned SF Ballet
Ocean Film Festival
One of the top San Francisco events in March is the SF International Ocean Film Festival. This year marks the 14th annual festival, featuring dozens of ocean-themed independent films from around the world. The festival is designed to raise awareness about the environmental, social, and cultural significance of the sea. Two very popular subcategories are sharks and surfing. Expand your knowledge of the ocean and enjoy four days of documentaries, shorts, narratives, and animations at the Cowell Theater at the Fort Mason Center.
Dates: March 9 - 12
More: Info on this year's festival
Free Museum Days: San Francisco Events in March
Plan ahead before paying to visit any SF museums! Several of them offer free admission days each month, so you can view their world-class collections and exhibits without breaking the bank. Click the link below to find out which days in March you can visit the Asian Art Museum, Conservatory of Flowers, de Young Museum of Fine Arts, Legion of Honor, and others for free.
Dates: Several toward the beginning of the month
Schedule: A detailed schedule of free museum days
Saint Patrick's Day
It's that time of year again, where SF goes green! Whether you're looking for parties, pub crawls, cultural festivals, or family fun, you'll find plenty of ways to celebrate Saint Patrick's Day in the city. One of the biggest San Francisco events in March is the annual parade and festival (a long running tradition now in its 166th year!), which will take place on Saturday, March 11 in the downtown/Civic Center neighborhood. Also, watch live entertainment, explore Irish culture, and hit up the more than one dozen Irish bars and restaurants around town!
Festival & Parade: Saturday, March 11
Holiday Date: Friday, March 17
More: Get more details about Saint Patrick's Day festivities in SF
Coit Tower Murals & Other Free Walking Tours
Every Wednesday and Saturday at 11am, the SF Public Library offers free tours of the Coit Tower Murals in the North Beach/Telegraph Hill district. All you have to do is meet them at the entrance to Coit Tower and follow along to learn about the controversial Diego Rivera-inspired works depicting life in California in the 1920s an 30s.
In addition to the Coit Tower murals, you can explore the Mission District murals, City Scapes & Public Spaces, the Japanese Tea Garden, Fisherman's Wharf, and so many more San Francisco neighborhoods and themes, on these free walking tours. You will find several options offered every single day.
Date: Every day in March
More: Check out the schedule of free tours offered daily by SF City Guides
Fillmore Spring Wine Walk
The 2nd Annual Fillmore Spring Wine Walk is a great way to explore the scenic districts of Pac Heights and the Fillmore, which are a little off the beaten path. From 4 - 8pm, you'll be armed with a complimentary tasting glass and a map of participating merchants as you stroll down Fillmore Street from Jackson to Eddy, sampling wine and special treats inside the stores. This is one of the San Francisco events in March that will take place rain or shine!
Date: Thursday, March 23
More: Additional wine tasting events each year in SF
Human Rights Film Festival
This annual film festival features thought-provoking works about human rights abuses and issues throughout the world. This three day event is hosted by the University of San Francisco and is a way for them to help educate the broader public on these topics. It's also a chance for USF students and alumni to showcase their works.
Dates: March 23 - 25
Info: More information on this annual festival
Learn More: Find a list of all film festivals this month in SF
SF Symphony Performances
The elegant Davies Symphony Hall will feature several San Francisco events in March in the Civic Center district. Watch the renowned conductor Michael Tilson Thomas conduct Tchaikovsky and Shostakovich, catch a performance of Beethoven and Brahms, enjoy the talents of the Saint Petersburg Philharmonic, and much more. A night at the symphony is a great excuse for getting a little dressed up, going out for a nice dinner or drinks nearby, and relishing SF's high culture.
Dates: Several this month
Schedule: Full schedule for this month and tips to attend a performance
"The Future of the Past" Exhibit at the Legion of Honor
One of SF's most famous museums, the Legion of Honor, is currently hosting a fantastic exhibit called "The Future of the Past: Mummies and Medicine." Learn how a team of scientists, doctors, and historians delve into the ancient past of Egyptian mummies using state-of-the-art modern technology. Discover incredible secrets about the lifestyle, society, religion, and funerary practices of long-deceased men like Irethorrou.
Dates: All month long
More: Full schedule of all exhibits in SF
Museum: Learn more about visiting the Legion of Honor
Whiskies of the World
OK, whisky lovers--here's your chance to taste more than 200 varieties of Scotch, Bourbon, Canadian, Irish, and other imported whiskies from around the world. You can also attend seminars and learn how to pair certain whiskies with food and cigars. This grand event will be held from 6 - 9:30pm on the Belle Yacht at Pier 3, and your participation will benefit the Breast Cancer Emergency Fund.
Date: Friday, March 31
Tickets: Available on their official website
More Fun Things to Do in San Francisco