San Francisco Events in December 2017
Festivals, Lighting Ceremonies, & Christmas Activities
San Francisco events in December 2017 include several tree lighting ceremonies, Christmas activities, and other fun things to do. You can head to the theater to see Disney's Aladdin, catch one of the SF Ballet's popular Nutcracker performances, or visit Santa Claus at one of several locations around town.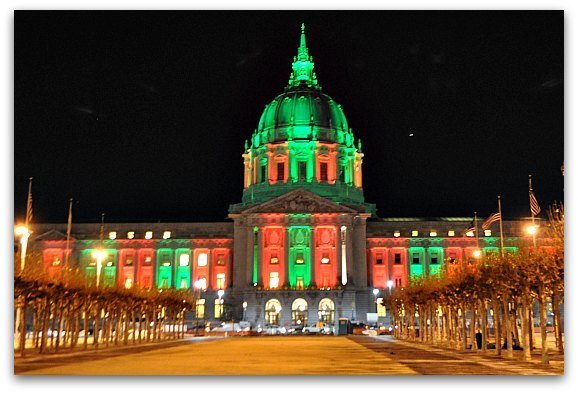 For some of the links on this page, I receive a small commission when you purchase. You don't pay more when you buy through me and it gives me the chance to offer you all this great content for free!
Most Popular San Francisco Events in December 2017
Click the links below to jump to the section with more information on these top December events.
SF Theater: Disney's Aladdin
Dates: 11/1 - 1/7
Tickets: Find tickets to all performances on Ticketmaster
In December 2017, you will have the chance to see Disney's Aladdin on stage at the Orpheum Theater. It follows the same story as the popular movie of the same name. It includes some of the most popular songs from the movie as well as a few new ones. It's one of the best family San Francisco events in December.
Additional Shows this Month: Click here for a full calendar of theater productions in SF in December
Great Dickens Christmas Fair
Dates: Saturdays & Sundays from November 18 - December 17
For the first three weekends of December in San Francisco, you have the unique opportunity of immersing yourself in a world centuries and half a globe away, to Charles Dickens' Victorian London, where it's always Christmas Eve.
Here you'll find hundreds of costumed guests, as well as lamplit lanes, pubs, theaters, music halls, and shops, like a Victorian Christmas card come to life.
Learn More: Visit their site for details and tickets
SF Theater: A Christmas Carol
Dates: 12/1 - 12/24
Tickets: On sale soon
A Christmas Carol is a beloved San Francisco tradition this time of year. For more than 40 years, the SF American Conservatory Theater has performed this musical version of Charles Dickens' classic tale with a lively cast, colorful costumes, and spooky ghosts. You can catch this holiday favorite at the Geary Theater all month long, even on Christmas Eve. Make sure to plan ahead as tickets sell out quickly!
Additional Shows this Month: Click here for a full calendar of theater productions in SF in December
SF Ballet: The Nutcracker
Dates: December 13 - 30
Tickets: On sale for all performances
The SF Ballet will perform The Nutcracker again this December at the War Memorial Opera House. It was performed here for the first time in the US on Christmas Eve, 1944.
Enjoy a performance with your entire family. Shows run from December 13 - 30.
Learn More: Find out more about these shows
Half-Priced Tickets for San Francisco Events in December
60-Minute Bay Cruise: Cruises around the bay, leaves from Fisherman's Wharf, several cruises a day, Full price $31, Goldstar price $15.50*


Cable Car Hop On/Hop Off Tour: Ride around SF on a cable car on wheels, hop on and off at up to 15 stops around town, Full price $30-$45, Goldstar $20-$30*


Sunset Cruise: 2-hour sunset cruise around the SF Bay, step aboard the Privateer, each ticket includes two drinks, offers spectacular views of the city of San Francisco, Golden Gate Bridge, Alcatraz, and more, Full price $60, Goldstar $45*
*Small service fee at checkout.
Avenue Q at the New Conservatory Theater
Dates: 12/1 - 1/7
Tickets: On sale soon
Avenue Q will keep you laughing all night long. This entertaining Tony Award winning musical is the adult version of Sesame Street. This entertaining show features puppets finding that the realities of adulthood are different from the shows they watched and learned from in their childhood.
More: Find a schedule of all musicals on stage this December in SF
SF Opera
Dates: Turandot: 9/8 - 12/9; Girls of the Golden West: 11/21 - 12/10
Don't miss the concluding performances of two great shows at the SF Opera. The first is Turandot, the story of a cold hearted princess that likes to challenge her suitors to a game of wits.
The second is Girls of the Golden West, which tells the story of what really happened during the days out west as everyone was fighting for gold.
Learn More: See the full Opera calendar
Free Museum Days
Dates: Several in December
Whether your interest is art, history, technology, or gardening, you are sure to be delighted by SF's variety of world-class museums, including the Asian Art Museum, Exploratorium, California Academy of Sciences, Conservatory of Flowers, de Young Fine Arts, Legion of Honor, and more.
Even better, you don't have to break the bank to visit them!
Learn More: Click the link below to find out which museums offer free admission on which days in December
More: Additional free things to do this month
Live Music in SF
Dates: Several
Lucky for live music fans, San Francisco is a city with lots of great concert venues. They range from large auditoriums to more intimate spaces, and they welcome big and small names from all different genres. This month, catch top performances at the Bill Graham Civic Auditorium, the Nob Hill Masonic Center or The Fillmore. You will also find several top shows around the SF Bay Area.
Learn More: See a full list of the top upcoming shows as well as ticketing information
Three Perfect Days in SF
Dates: Every day in December
With this three-day itinerary, you will discover the very best of San Francisco, including top attractions like the Golden Gate Bridge, Alcatraz, and Chinatown. You will also get to ride a cable car, go shopping, see colorful murals, and explore great neighborhoods on foot.
Make the most of your 72-hour visit to the city!
Learn More: Get the detailed itinerary
Top Places to Stay
If you plan to check out some of these great San Francisco events in December, then I recommend staying a few nights as well. The best places to stay are in SF's Union Square and Fisherman's Wharf. Both offer great access to the rest of the city. You might also want to try one of our lovely boutique hotels or splurge on a five star gem.
Check out recent guest reviews and great deals today!
TripAdvisor: What's the #1 hotel in San Francisco? Read reviews & find hotel deals on TripAdvisor!
Booking: Find great deals all around San Francisco for your upcoming stay!
Tree Lighting Celebrations & Other Holiday Festivals
Dates: Several in December
The whole city is getting into the holiday spirit. Tree and Menorah lighting ceremonies continue to illuminate San Francisco this month as the holidays draw near, and it doesn't stop there!
Union Street's beautiful Victorian homes, the Embarcadero, and even the SF Zoo will all come to life with lights, and you can be a part of it!
Learn More: Check out the full schedule of ceremonies and holiday festivals
Santa Skivvies Run
Date: December 10
This is not your average run to raise awareness and fight HIV/AIDS. This is a festive and fun tradition in San Francisco's Castro district, where you get to jog approximately one mile through this neighborhood among hundreds of other Santas in their underwear!
Click the link below to register today!
Learn More: Visit their site to register
Santa Claus in SF
Dates: Several in December
Another one of the top San Francisco events in December is when Santa Claus starts to make his rounds.
You can find him and take pictures with him at the Westfield, Japantown and Stonestown malls, as well as at the SF Zoo, the Fairmont's life-sized gingerbread house, the Ritz Carlton, Ghirardelli Square, and more!
Learn More: Click here for details on how to track down the man in the big red suit
SF 49ers vs. the NY Jets
Date: 12/17 & 12/24
Tickets: On sale on Ticketmaster
The SF 49ers have two home games this month at Levi's Stadium in Santa Clara. They play host to the Tennessee Titans on Sunday, December 17 at 1:25pm. The second game is on Christmas Eve against the Jacksonville Jaguars at 1:05pm. Head down early for pre-game tailgating and to check out their new stadium.
Learn More: Find the 49ers full schedule for 2017 + details on attending a game at Levi's Stadium
Christmas Eve & Day
Dates: December 24 & 25
If you're planning to be in town for Christmas Eve and/or Day, don't worry; you'll find plenty of things to do and see. Check out the list of attractions, tours, and restaurants that remain open on this holiday and even offer special menus and services. In addition, you may want to catch a holiday performance of The Nutcracker or A Christmas Carol.
Learn More: Discover the full list of what to do on Christmas Eve and Day
New Year's Eve
Date: December 31
Whether you prefer getting dressed up for a fancy dinner, having a night out dancing, watching fireworks, or attending a special performance of the SF Symphony, you will love New Years Eve in San Francisco.
Ring in your 2018 in the City by the Bay!
Learn More: Get the details on this year's parties, which SF attractions are open, how to take public transit, and more
What to Pack
Are you looking for ideas on what to pack for your visit? My weather guide for December will give you information on the average temperatures, what to expect during your stay and some ideas on what to bring along. It's a great way to help you prepare for your visit.
>> Tips to prepare for your visit in December
2016 Events
The following includes information about the San Francisco events in December from 2016. I will update the details for them as soon as the events have been finalized.
Santa Con
Date: TBD
Santa Con is huge annual event held in large cities all over the country and world, in which thousands of everyday people dress up as Santa and walk through the streets together spreading holiday cheer. Either put on your jolly red suit to join in, or head towards downtown to take in the unique sight.
Learn More: Find out more about this funky Santa event
Parol Lantern Festival & Parade
Date: TBD
Don't miss the 14th annual Parol Lantern Festival and Parade, a Filipino-American tradition in San Francisco showcasing the beautiful colors of their culture. This year's theme is "SoMa Pilipinas: Bring Our Culture to Light." Festivities start at 5pm and the parade of star-shaped lanterns and dozens of local organizations takes off from Yerba Buena Gardens at 6:15pm. Leading up to the event, you can make your own parol lantern at the Bayanihan Community Center.
Learn More: Get the details for this year's festival
Lighted Boat Parade
Date: TBD
The Lighted Boat Parade has been a holiday tradition and one of the popular San Francisco events in December since 1994. It is a unique event that brings the holiday spirit out onto the bay and invites everyone to enjoy San Francisco's waterfront.
Watch the decorated boats parade past Pier 39, Fisherman's Wharf, Fort Mason, and Crissy Field.
Learn More: Read more on the Fisherman's Wharf website
Ice Skating in SF
Dates: TBD
Without a white Christmas, San Francisco still manages to bring the wintry magic of the holidays right to the heart of downtown. While you're out shopping, eating, and taking in the urban holiday decor of Union Square or the Embarcadero, take a break to catch a nice breeze on one of the outdoor skating rinks that only appear during this season. 90-minute sessions are affordable and skate rentals are available.
Learn More: Get more details about session times and rentals at Union Square
Learn More: Find out more about the Bay Area's largest outdoor rink at the Embarcadero
Other Pages You Will Enjoy