Fourth of July San Francisco
Top Activities & Events for 4th of July 2016
Plan for a crazy Fourth of July in San Francisco again this year. In 2016, this popular holiday lands on a Monday, but I plan for it to still attract thousands of people to the waterfront area.
On this day, you can enjoy fireworks along the waterfront, activities all day at Pier 39 and a ferry ride around the bay.
Beautiful fireworks over Pier 39 in SF's Fisherman's Wharf
Other popular activities this day include biking around the city, wine tasting tours, and several other fun activities throughout the day. You can also join one of the SF Public Library's free walking tours in the morning or afternoon.
The weekend is also full of fun activities with the annual Fillmore Street Festival, a free concert in Stern Grove Park and Oakland Athletics baseball just across the bay.
For some of the links on this page, I receive a small commission when you purchase. You don't pay more when you buy through me and it gives me the chance to offer you all this great content for free!
Watch the Fireworks Display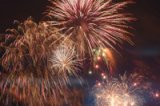 Every year, San Francisco holds a large fireworks display over the bay. There are two sets of fireworks, synced, to allow you to get a glimpse from all around the area.
One set at the end of the Municipal Pier. The other one is on barges in front of Pier 39.
Large parts of the SF waterfront are closed to cars due to crowds for the fireworks display. I recommend heading down early and using public transit to get to and from this area of town for the fireworks display.
The fireworks display starts shortly before 9:30pm (or once it's dark enough to start) and lasts around 30 minutes.
Click here for additional tips on attending this year's fireworks display.
In addition to San Francisco, there are a number of other cities planning large fireworks displays and festivals in the Bay Area. Click these links to find out more:
---
Grab a Seat on a Fireworks Cruise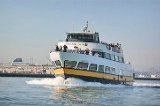 The best views of the fireworks are from a cruise on the bay. Several local ferry and boat companies offer cruises for fourth of July San Francisco.
The cruises leave the Fisherman's Wharf neighborhood about an hour or more before the fireworks start. This gives the boats a chance to get to the perfect viewing point before they start.
Here are the ferries scheduled so far for 2016. All cruises sell out quickly, so buy yours today!
Hornblower's Premier Fourth of July Dinner Cruise
Four hour cruise, boards at 6:00pm and leaves at 7pm
Four-course seated meal
Premium hosted open bar with Champagne and after dinner liquors
Live entertainment
Business casual attire recommended
Tickets start at $273 per person (includes taxes, service charge & landing fees)
Blue & Gold Fireworks Cruise (2015 Details)
Head out on the water and watch the fireworks display on a Blue & Gold Ferry
Three boats leave from SF's Pier 41: 8:20pm, 8:30pm, & 8:40pm
One boat leaves from Tiburon: 8:30pm
One of the best ways to see the fireworks on the water
Tickets are $80 for adults, $60 for kids 6 to 11
Red and White Fleet: 4 Cruises (2015 Details)
All depart from SF's Pier 43 1/2 in Fisherman's Wharf
Snacks and beverages available for purchase during the cruise
Boats #1 and #2 leave at 7:45pm
Boats #3 and #4 leave at 8:15pm
Boarding starts 30 minutes before departure so arrive early to secure your spot on the cruise
Must check in a minimum of 60 minutes before your cruise departs
No outside food and drink allowed
Tickets start at $80 per person
---
Celebrate the Day on Pier 39 (2015 Details)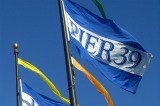 Pier 39 will again host a large fourth of July celebration. All afternoon you can listen to live music and enjoy other family friendly activities.
Time: 12pm to 11pm
Schedule of Events:
12pm to 3pm: WJM on the Entrance Plaza Stage
3:15pm to 3:45pm: Meet & Greet with August Maturo from Disney's Channels Girl Meets World
5pm to 8pm: Tainted Love on the Entrance Plaza Stage
Approximately 9pm: Laser Light Show above Pier 39 provided by Discovery's Shark Week
9:30pm: Look to the sky as The City of San Francisco presents a spectacular fireworks display over the SF Bay
Learn More: Other Top Activities & Attractions on Pier 39

---
Hotel Recommendations
Are you not sure where to stay in SF? Here are several recommendations based on budget, SF district and amenities.
If you are looking for some great hotel deals, then I recommend checking out the great deals on TripAdvisor.com. They offer discounts on room rates and other amenities such as Wifi and parking. Click here to find great deals on TripAdvisor.com today!
---
Other Activities on Fourth of July San Francisco 2016
Every year, there are dozens of other fun events on Fourth of July. Here are some of the activities planned already for Fourth of July San Francisco 2016.
Cruises and other tickets are selling out QUICKLY. Book your tickets today in order to secure your spot on any of these cruises or tours.
Escape from the Rock Cruise
Head out on the SF Bay on this 90-minute SF Bay Cruise. You will start with a ride past SF's northern shoreline. You will continue past the Palace of Fine Arts and under the Golden Gate Bridge. Your tour continues with a second trip under the GGB. It then makes an entire loop around Alcatraz Island (the only cruise that does this) as you learn all about its infamous prisoners. It then returns to Fisherman's Wharf. This cruise runs at 11:30am and 3:45pm on Monday, July 4.
---
Snob Hill Gentleman's Tour
The Nob Hill district in San Francisco is often referred to as Snob Hill. It originally got this nickname as it was the district where the first wealthy of the city built their mansions. Today, it's a charming district with a lot of history. On this two hour walking tour, you will learn all about this district's history, famous residents, and facts about its attractions. You will also learn more about the "Big Four" and walk by one of the locations where Alfred Hitchcock filmed Vertigo. This tour runs at 11am and 3pm on Fourth of July.
---
SF Bay Sailing Cruise
Enjoy a 90-minute cruise around the bay on a catamaran. On this cruise, you will see some of SF's top attractions including the Golden Gate Bridge, Sausalito, and Alcatraz Island. Choose from three departure times on the Fourth of July: 11am, 1pm, and 3pm. Snacks, beer, wine, and soft drinks are available for purchase on board.
---
SF Giants Baseball
Celebrate Independence weekend with the American past time - baseball! The SF Giants host the Colorado Rockies on Monday at AT&T Park.
Find Tickets: On Sale Now
---
Aquarium of the Bay
Spend some time exploring the Aquarium of the Bay on Pier 39. This interesting aquarium gives you the chance to check out all of the colorful plants and animals that live in the SF Bay. You will see jelly fish, star fish, and a couple of the small sharks as you walk through the tunnel tank. There are also some great hands on exhibits. The aquarium is open from 9am to 8pm on Fourth of July.
Learn More: Click here to learn more about visiting the Aquarium of the Bay
Tickets: Buy your tickets in advance
---
Fillmore Jazz Festival
One of my favorite street fairs every year is the Fillmore Jazz Festival. This free, jazz music festival is the largest of its kind on the west coast. It's held in the Pacific Heights neighborhood on Saturday, July 2 and Sunday, July 3. Head over for some great music, gourmet eats and locally produced arts and crafts.
Learn More: 2016 Fillmore Jazz Festival
Other Festivals: 2016 Festivals and Street Fairs
---
Free SF Library Walking Tours
The Public Library offers a number of free walking tours each day in San Francisco. So far, many of their Monday tours are still planned for Fourth of July. Here is the schedule so far:
9:30am: Japanese Tea Gardens in Golden Gate Park
10am: Chinatown
11am: Fisheman's Wharf
1pm: Japanese Tea Gardens in Golden Gate Park
1:30pm: Chinatown
Click here for details and where to meet for the start of the walk.
---
Attractions Open on July 4th
Most SF attractions stay open for their regular hours on Fourth of July. However, a few have extended hours and a couple close.
Click here for a detailed look on the hours for all of SF's top attractions on Fourth of July.

---
Other Activities for Fourth of July Weekend 2016
Here are some additional things to do on Sunday before Fourth of July.
90-Minute Afternoon Beer & Wine Cruise
This fun beer and wine cruise runs every day at 12:30pm, 2pm, and 4pm. It includes a cruise around the SF Bay past top attractions such as the Golden Gate Bridge, Alcatraz, and Sausalito. It also includes two drinks (beer or wine) per ticket. This small, semi-private cruise fits just 28 people, so you won't have to fight the crowd for that perfect picture.
---
Morning Champagne and Mimosa Cruise
Head out on the water first thing in the morning on Saturday or Sunday on this lovely 2-hour Champagne and Mimosa Cruise. During this cruise, you can sit back, relax, and admire top SF attractions such as the Golden Gate Bridge, Alcatraz Island, and the Palace of Fine Arts. You will also cruise past the SF Bay Bridge, Sausalito, and Angel Island. Each ticket includes two drinks of Champagne, Mimosas, white wine, beer, soda, coffee, or water. It leaves Pier 39 at 10am (check in is at 9:30am).
---
Shanghai Kelly Walking Tour
On this two hour tour, you will take a step back in time and find out what San Francisco was really like in the late 1800s. You will learn all about the history of the Barbary Coast and walk by the locations of some of its most famous brothels, saloons, and gambling halls. You will also walk down alleys where many ladies of the night worked and walk by the location of an actual "shanghaiing tunnels" as you learn what it meant to be shanghaied.
---
Free Walking Tours
SF City Guides and the SF Public Library will offers several free walking tours on Saturday, July 2 and Sunday July 3. Top tours include those about Golden Gate Bridge, the Haight Ashbury District, and the Castro.
Learn More: Discover a Full List of Tours the Weekend of Fourth of July
---
Alcatraz Tours
Alcatraz Island is open all weekend long. If you plan to visit, book your tickets as soon as you can as they will sell out quickly. All three days, you will find several days tours and a few night tours. The first cruise leaves at 8:45am.
Learn More: What It's Like to Visit Alcatraz
---
California Academy of Sciences
Do you plan to visit the California Academy of Sciences during the Fourth of July Weekend? If so, book your tickets in advance to skip the line when you arrive. The cost is the same, so plan early and save a little time during the holiday weekend.
Learn More: Tips to Visit the California Academy & Ticket Info
---
Stern Grove Park
Catch a free performance of the SF Symphony in Stern Grove Park. On Sunday, July 3, head over to Stern Grove for this live event that starts at 2pm. You'll want to get there early to find the perfect seat on the lawn.
Find Directions & More Details: Stern Grove Summer Concert Series
---
SF with Kids
Do you need more ideas to keep your kids entertained this holiday weekend? No reason to worry. You will find plenty of activities for kids, that are also fun for the entire family. Options range from the 7D Experience at Pier 39 to the hands-on science and human perception museum, The Exploratorium.
Learn More: 25 Fun Activities for Kids in San Francisco
---
Weather in July & What to Wear
What will the weather be like during your visit for Fourth of July San Francisco? Some visitors think it is hot and sunny in San Francisco during the summer. However, the cool ocean breezes and late day fog keeps it nice and cool.
Although it is usually nice and sunny during the day, you will want to bring along a light jacket or sweater for the fireworks display. As the sun sets, the cool breezes bring the temperatures down all around the city. Discover even more tips about what to wear in San Francisco in July.
---
More Pages You Might Enjoy