Fourth of July San Francisco
Top Activities & Events for 4th of July 2015
Plan for a crazy Fourth of July in San Francisco again this year. In 2015, this popular holiday lands on a Saturday!
Since it falls on a weekend, I expect even more events and people coming to the city to celebrate this special holiday.
On this day, you can enjoy fireworks along the waterfront, activities all day at Pier 39 and a ferry ride around the bay.
Other popular activities this day include biking around the city, wine tasting tours, and several other fun activities throughout the day. You can also join one of the SF Public Library's free walking tours in the morning or afternoon.
The weekend is also full of fun activities with the annual Fillmore Street Festival, a free concert in Stern Grove Park and Oakland Athletics baseball just across the bay.
Beautiful fireworks over Pier 39 in SF's Fisherman's Wharf
Watch the Fireworks Display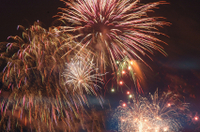 Every year, San Francisco holds a large fireworks display over the bay. There are two sets of fireworks, synced, to allow you to get a glimpse from all around the area.
One set at the end of the Municipal Pier. The other one is on barges in front of Pier 39.
Large parts of the SF waterfront are closed to cars due to crowds for the fireworks display. I recommend heading down early and using public transit to get to and from this area of town for the fireworks display.
The fireworks display starts shortly before 9:30pm (or once it's dark enough to start) and lasts around 30 minutes.
Click here for additional tips on attending this year's fireworks display.
In addition to San Francisco, there are a number of other cities planning large fireworks displays and festivals in the Bay Area. Click these links to find out more:
---
Grab a Seat on a Fireworks Cruise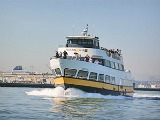 The best views of the fireworks are from a cruise on the bay. Several local ferry and boat companies offer cruises for fourth of July San Francisco.
The cruises leave the Fisherman's Wharf neighborhood about an hour or more before the fireworks start. This gives the boats a chance to get to the perfect viewing point before they start.
Here are the ferries scheduled so far for 2015. All cruises sell out quickly, so buy yours today!
Red and White Fleet: 4 Cruises
All depart from SF's Pier 43 1/2 in Fisherman's Wharf
Snacks and beverages available for purchase during the cruise
Boats #1 and #2 leave at 7:45pm
Boats #3 and #4 leave at 8:15pm
Boarding starts 30 minutes before departure so arrive early to secure your spot on the cruise
Must check in a minimum of 60 minutes before your cruise departs
No outside food and drink allowed
Tickets start at $80 per person
Hornblower's Premier Fourth of July Dinner Cruise
Four hour cruise, boards at 6:00pm and leaves at 7pm
Four-course seated meal
Premium hosted open bar with Champagne and after dinner liquors
Live entertainment
Business casual attire recommended
Tickets start at $273 per person (includes taxes, service charge & landing fees)
---
Celebrate the Day on Pier 39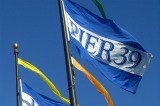 Pier 39 will again host a large fourth of July celebration. All afternoon you can listen to live music and enjoy other family friendly activities.
Time: 12pm to 11pm
Schedule of Events:
12pm: WJM on the Entrance Plaza Stage
5pm: Tainted Love on the Entrance Plaza Stage
9:30pm: Look to the sky as The City of San Francisco presents a spectacular fireworks display over the SF Bay
Learn More: Other Top Activities & Attractions on Pier 39

---
Enjoy Music & Fun at Aquatic Park
Note: These details are also for 2014, but 2015 will be similar. The park often features music all afternoon with a special band playing right before the show. I'll update this once more information is available.
Head down to Aquatic Park to experience Super Huey live along the waterfront. This 7-piece band offers you the chance to step back in time and remember the best of the 80s.
Starting at 6pm, you get the chance to listen to the top hits of the time including "The Power of Love." Get there early to grab your place on the Aquatic Park lawn.
Also, stay all evening for additional fun and to see one of the best fireworks displays in the Bay Area!
Admission is free. You will find the excitement at 499 Jefferson Street!
---
Other Activities on Fourth of July San Francisco 2015
Every year, there are dozens of other fun events on Fourth of July. Here are some of the activities planned already for Fourth of July San Francisco 2015.
July 4th Concert with the sF Symphony
Enjoy the music of the San Francisco Symphony and fireworks at the Shoreline Amphitheater in Mountain View. This year's concert is a special tribute to the Sound of Music. In honor of the movie's 50th Anniversary, the SF Symphony will play its hits including "Do-Re-Mi," "My Favorite Things," and "Climb Ev'ry Mountain." The evening ends with one of the largest fireworks displays in the Bay Area.
Tickets: On Sale at Up to 50% Off on Goldstar
---
Morning Champagne or Mimosa Cruise
Head out on the SF Bay on Fourth of July morning for this lovely 2-hour Champagne & Mimosa cruise. The cruise starts at 10am and takes you past top SF attractions. Get great views of the Palace of Fine Arts, the downtown SF skyline, and Alcatraz Island. Cruise under the Golden Gate Bridge and raise your glass in a toast at 11am. Each ticket includes two glasses of Champagne, Mimosa, white wine, beer, or soda. This cruise also runs on Sunday morning at 10am.
Tickets: On Sale at Up to 50% Off on Goldstar
---
California Sunset Cruise
Before the fireworks begin, head out on this fun 2-hour sunset cruise around the SF Bay. It includes lovely views of the SF Skyline, the Golden Gate Bridge, and Alcatraz Island. It also includes a hearty appetizer buffet with sandwiches, salads, fruits, and desserts. One drink is included with your ticket and you can purchase additional drinks at the cash bar. It leaves at 7pm from Pier 43 1/2 from Fisherman's Wharf and returns around 9pm to the same location. This will give you plenty of time to find a good spot to watch the fireworks display. In addition to Fourth of July, this cruise also runs on Friday and Sunday evenings.
(Note: This is not a fireworks cruise, but you will be able to see them in Fisherman's Wharf once you return.)
Tickets: On Sale at Up to 50% Off on Goldstar
---
Waterfront Segway Tour
Explore San Francisco waterfront on this fun 2.5 to 3 hour Segway Tour. On this tour, you will ride around Fisherman's Wharf and North Beach as your expert guide shows you hidden spots and tells you all about this popular districts. Your tour begins with a 45-minute training session, so you are comfortable with your Segway before you hit the streets. It's a fun way to see more of this amazing city by the bay.
Tickets: Find Tickets at Up to 50% Off on Goldstar
---
National Park Service Free Walking Tour
Take a free, one hour walking tour of Fisherman's Wharf with the National Park Service. The tour starts at 10:30am in the The Argonaut Hotel Lobby. This one mile tour will give you a great overview of the history of this area and will talk through The Cannery, The Hyde Street Pier, "Fish Alley," and more.
---
Oakland A's Baseball
Celebrate Independence weekend with the American past time - baseball! The Oakland A's host the Seattle Mariners this weekend at the Oakland Coliseum. You can catch a game on Thursday, Friday, Saturday or Sunday.
Find Tickets: Find Tickets to the Fourth of July Game at Up to 50% Off On Goldstar
Find Tickets: Find Tickets for All Games
---
Fillmore Jazz Festival
One of my favorite street fairs every year is the Fillmore Jazz Festival. This free, jazz music festival is the largest of its kind on the west coast. It's held in the Pacific Heights neighborhood on Saturday, July 4 and Sunday, July 5. Head over for some great music, gourmet eats and locally produced arts and crafts.
Learn More: 2015 Fillmore Jazz Festival
Other Festivals: 2015 Festivals and Street Fairs
---
Free SF Library Walking Tours
The Public Library offers a number of free walking tours each day in San Francisco. So far, many of their Saturday tours are still planned for Fourth of July. Here is the schedule so far:
10am: North Beach
10am: Omni Hotel Walk
10am: Chinatown
11am: Castro, Tales of the Village
11am: Historic Victorians of Alamo Square
11am: Pacific Heights Mansion
11am: Mission Murals
12pm: Ferry Building
1pm: Fort Mason to Aquatic Park
1pm: Telegraph Hill Stairway Hike
1pm: Palace of Fine Arts
1pm: Japanese Tea Garden
2pm: Japantown, Urban Renewal and the Fillmore Jazz District
2pm: Land's End: Sutro Heights
2pm: Mission Bay: Hidden Waters
Click here for details and where to meet for the start of the walk.
---
Attractions Open on July 4th
Most SF attractions stay open for their regular hours on Fourth of July. However, a few have extended hours and a couple close.
Click here for a detailed look on the hours for all of SF's top attractions on Fourth of July.

---
Hotel Recommendations
Are you not sure where to stay in SF? Here are several recommendations based on budget, SF district and amenities.
If you are looking for some great hotel deals, then I recommend checking out the great deals on Booking.com. They also offer free cancellation on most rooms. Click here to reserve your room today!
---
Other Activities for Fourth of July Weekend 2015
Additional events will be available for 2015 as plans are finalized. I'll continue to add them, so check back for updates.
Midnight Summer Cruise
Kick off the holiday weekend with a party cruise on Friday night. The Midnight Summer Cruise is a three hour cruise around the SF Bay. During the cruise, you can enjoy the sounds of two DJs playing House and Top 40 dance music. The boat is stocked with three full cash bars. You will also get the chance to enjoy amazing views of the SF Skyline and other top attractions on board. The boat leaves at 9:30pm on July 3.
Tickets: On Sale at Up to 50% Off on Goldstar
---
SF Opera: the Marriage of Figaro
The SF Opera features its two final performances of The Marriage of Figaro this holiday weekend. On Friday and Sunday, catch a performance at the War Memorial Opera House. The Friday show starts at 7:30pm. The Sunday performance is at 7pm.
Tickets: On Sale Now
---
Alcatraz Tours
Alcatraz Island is open all weekend long. If you plan to visit, book your tickets as soon as you can as they will sell out quickly. All three days, you will find several days tours and a few night tours. The first cruise leaves at 8:45am.
Learn More: What It's Like to Visit Alcatraz
---
California Academy of Sciences
Do you plan to visit the California Academy of Sciences during the Fourth of July Weekend? If so, book your tickets in advance to skip the line when you arrive. The cost is the same, so plan early and save a little time during the holiday weekend.
Learn More: What It's Like to Visit the California Academy of Sciences
Book Tickets: Book in Advance to Skip the Line When You Arrive
---
Stern Grove Park
Catch a free performance of the SF Symphony in Stern Grove Park. On Sunday, July 5, head over to Stern Grove for this live event that starts at 2pm. You'll want to get there early to find the perfect seat on the lawn.
Find Directions & More Details: Stern Grove Summer Concert Series
---
Yerba Buena Gardens Festival
Head over to the Yerba Buena Gardens on Friday, July 3 and Saturday, July 4 for free performances in the park. On Friday, July 3, catch Caterpillar Puppets (a fun performance for children) at 11am. On Saturday, July 4, the San Francisco Lesbian/Gay Freedom Band performs from 1pm to 2:30pm.
Learn More: Full Summer Performance Calendar
---
SF with Kids
Do you need more ideas to keep your kids entertained this holiday weekend? No reason to worry. You will find plenty of activities for kids, that are also fun for the entire family. Options range from the 7D Experience at Pier 39 to the hands-on science and human perception museum, The Exploratorium.
Learn More: 25 Fun Activities for Kids in San Francisco
---
Weather in July & What to Wear
What will the weather be like during your visit for Fourth of July San Francisco? Some visitors think it is hot and sunny in San Francisco during the summer. However, the cool ocean breezes and late day fog keeps it nice and cool.
Although it is usually nice and sunny during the day, you will want to bring along a light jacket or sweater for the fireworks display. As the sun sets, the cool breezes bring the temperatures down all around the city. Discover even more tips about what to wear in San Francisco in July.
---
More Pages You Might Enjoy
Did you enjoy this page?
If so, share it with your friends!

Like me on Facebook for the latest
on events, attractions and
other tips to help plan your visit.
Search the Site or Ask a Question
Are you still looking for additional information? If you can't find what you are looking for, you can use the Google search box below to search the site or click here to ask me directly. Thanks for visiting my site!