Fourth of July San Francisco
Top Activities & Events for 4th of July 2014
Plan for a crazy Fourth of July in San Francisco again this year. In 2014, this popular holiday lands on a Friday!
Since it falls on a weekend, I expect even more events and people coming to the city to celebrate this special holiday.
On this day, you can enjoy fireworks along the waterfront, activities all day at Pier 39 and a ferry ride around the bay.
Other popular activities this day include theater performances of Once, wine tasting tours and several other fun activities throughout the city. You can also join one of the SF Public Library's free walking tours during the day.
The weekend is also full of fun activities with the annual Fillmore Street Festival, a free concert in Stern Grove Park and Oakland Athletics baseball just across the bay.
Beautiful fireworks over Pier 39 in SF's Fisherman's Wharf
Watch the Fireworks Display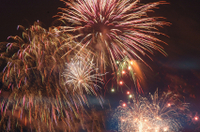 Every year, San Francisco holds a large fireworks display over the bay. There are two sets of fireworks, synced, to allow you to get a glimpse from all around the area.
One set is near the Marina Green. The other one is closer to Fishermans Wharf.
Your best options to see the fireworks display are along the northern side of the city. Crissy Field, the Marina Green and Aquatic Park are some of my favorite options.
Large parts of the SF waterfront are closed to cars due to crowds for the fireworks display. I recommend heading down early and using public transit to get to and from this area of town for the fireworks display. Visit the Fisherman's Wharf page or the Marina district pages for tips on public transportation to and from the waterfront.
One of the best ways to avoid the crowded buses and street cars after the event is to book your hotel right in Fishermans Wharf. Many are just a few blocks from the waterfront and all of the Fourth of July action. Here you can find a list of my top recommendations from this neighborhood.
The fireworks display starts shortly before 9:30pm (or once it's dark enough to start) and lasts around 30 minutes. I recommend getting to your viewing spot no later than 9pm.
In addition to San Francisco, there are a number of other cities planning large fireworks displays and festivals in the Bay Area. Click these links to find out more: North Bay & Wine Country | South Bay & Peninsula | East Bay
---
Grab a Seat on a Fireworks Cruise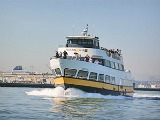 The best views of the fireworks are from a cruise on the bay. Several local ferry and boat companies offer cruises for fourth of July San Francisco.
The cruises leave the Fisherman's Wharf neighborhood about an hour or more before the fireworks start. This gives the boats a chance to get to the perfect viewing point before they start.
Here are the ferries scheduled for 2014. All cruises sell out quickly, so buy yours today!
Blue & Gold Fleet: 3 Cruises
Three cruises available:

From San Francisco: 8pm and 8:15pm (this one is non-alcoholic)
From Tiburon: 8:30pm (boarding passes must be printed before arrival for this ferry)
You need to be on all three ferries at least 15 to 20 minutes before the departure time

Tickets are $70 for adults and $50 for children 5 - 11
Red and White Fleet: 4 Cruises
All depart from SF's Pier 43 1/2 in Fisherman's Wharf
Enjoy a complimentary beverage on board (beer, wine or soda)
Additional snacks and beverages available for purchase during the cruise
Boats #1 and #2 leave at 7:45pm
Boats #3 and #4 leave at 8:15pm
Boarding starts 30 minutes before departure so arrive early to secure your spot on the cruise
No outside food and drink allowed
$70 general admission tickets per person
Hornblower's Buffet Dinner Cruise
Three and a half hour cruise, boards at 6pm and leaves at 7pm
Buffet dinner with cruise style tables, where you can share the fun with 8 to 18 other people
Hosted wine and beer bar
Cocktails available at the cash bar
DJ will spin tracks including a special mix during the fireworks show
Full Price: $185.71 | Goldstar Price: $111.42*
Hornblower's Premier Fourth of July Dinner Cruise
Four hour cruise, boards at 6:30pm and leaves at 7:00pm
Four-course seated meal
Premium cocktail bar with Champagne and after dinner liquors
Live entertainment
Business casual attire recommended
Tickets start at $248.50 per person (includes taxes, service charge & landing fees)
IndepenDANCE Family Fireworks Cruise: Food & Fun Included
Hop aboard The San Francisco Spirit for a night of food and fun
Four hour family cruise with amazing views of the fireworks
Full seated buffet dinner
Open bar for adults
Live DJ with music and dancing
Open-air deck and a climate controlled interior, so you can choose how you would like to enjoy the show
Leaves Pier 3 at 8pm
Full Price: $161.50 | Goldstar Price: $80.75*
*A small additional fee applies
---
Celebrate the Day on Pier 39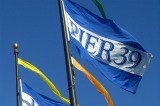 Pier 39 will again host a large fourth of July celebration. All afternoon you can listen to live music and enjoy other family friendly activities.
This is the full schedule for 2014.
Time: 12pm to 11pm
Schedule of Events:
12pm - 3pm: "Mobility" from the USAF Band of the Golden West on the Entrance Plaza Stage
5pm - 8pm: Tainted Love on the Entrance Plaza Stage
9:30pm: Look to the sky as The City of San Francisco presents a spectacular fireworks display over the SF Bay
Learn More: Other Top Activities & Attractions on Pier 39

---
Enjoy Music & Fun at Aquatic Park
Head down to Aquatic Park to experience Super Huey live along the waterfront. This 7-piece band offers you the chance to step back in time and remember the best of the 80s.
Starting at 6pm, you get the chance to listen to the top hits of the time including "The Power of Love." Get there early to grab your place on the Aquatic Park lawn.
Also, stay all evening for additional fun and to see one of the best fireworks displays in the Bay Area!
Admission is free. You will find the excitement at 499 Jefferson Street!
---
Other Activities on Fourth of July San Francisco 2014
Every year, there are dozens of other fun events on Fourth of July. Here are some of the activities planned already for Fourth of July San Francisco 2014.
Fourth of July 2-Hour Beer Lunch Cruise
Listen to relaxing live music as you sip on free-flowing beer and champagne on Independence Day. As you cruise around the bay, you can enjoy a variety of dishes from their traditional BBQ buffet lunch. It includes BBQ baby back ribs, sirloin skewers and Southern fried chicken. It also includes a number of side dishes such as corn on the cob, macaroni salad and roasted potatoes as well as some sweet treats.
Tickets: On Sale Now on Goldstar for Up to Half-Off
---
Free SF Library Walking Tours
The Public Library offers a number of free walking tours each day in San Francisco. So far, many of their Friday tours are still planned for Fourth of July. Here is the schedule so far:
9:30am: Japanese Tea Garden/Stow Lake
10:00am: City Scapes and Public Spaces
10:00am: South of Market Architecture Stroll
11:00am: Hidden Fisherman's Wharf History
1:00pm: Japanese Tea Garden (need to pay admission into the gardens)
1:00pm: Presidio: From Earthquake Refugee to National Park
1:30pm: City Scapes and Public Spaces
1:30pm: Gold Rush City
Click here for details and where to meet for the start of the walk.
---
Mime Troupe Performances
The SF Mime Troupe kicks off their summer performance this weekend in SF. This crazy group of performers creates their own shows each year that discuss socially relevant topics. It's funny, fun and not your typical silent mime performance.
The Fourth of July show starts at 2pm in Dolores Park. You will find a second show on Saturday, July 5 at 2pm in the same location.
Learn More: Fourth of July Weekend Performance Details
---
Attractions Open in SF on July 4th
Most SF attractions stay open for their regular hours on Fourth of July. However, a few have extended hours and a couple close.
Click here for a detailed look on the hours for all of SF's top attractions on Fourth of July.

---
Hotel Recommendations
Are you not sure where to stay in SF? Here are several recommendations based on budget, SF district and amenities.
If you are looking for some great hotel deals, then I recommend checking out this month's specials on TripAdvisor. You can save on the cost of your hotel room, get free parking and more. Click here for a list of current special deals and save today!
---
Other Activities for Fourth of July Weekend 2014
Since many of these organizations plan far in advance, this list include events for 2014. However, more events will be scheduled in a couple of months and I'll continue to add to this list as details become available.
2-Hour Champagne Cruise
On Saturday or Sunday morning, head out on a morning Champagne and Mimosa cruise. Sit back, relax and enjoy your cocktails as you cruise around the SF Bay. You will pass by popular sights such as the Palace of Fine Arts, Alcatraz, and Sausalito. You will also raise your glass right at 11am as you cruise under the Golden Gate Bridge.
Find Tickets: Up to Half-Off on Goldstar.com
---
Oakland A's Baseball
Celebrate Independence weekend with the American past time - baseball! The Oakland A's host the Toronto Blue Jays this weekend at the Oakland Coliseum. You can catch a game on Thursday, Friday, Saturday or Sunday.
Find Tickets: On Sale Now
---
Broadway & Theater Performances
You can also catch a theater performance this weekend. One of the most popular shows is Once at The Curran Theater. This fun musical follows the story of a Dublin street musician that needs just one thing for his music - a special woman. This 'adult' themed performance is best for older teenagers and no kids under 5 are allowed.
Find Tickets: On Sale Now
Full Calendar: July 2014 Theater Calendar
---
Fillmore Jazz Festival
One of my favorite street fairs every year is the Fillmore Jazz Festival. This free, jazz music festival is the largest of its kind on the west coast. It's held in the Pacific Heights neighborhood on Saturday, July 5 and Sunday, July 6. Head over for some great music, gourmet eats and locally produced arts and crafts.
Learn More: 2014 Fillmore Jazz Festival
Other Festivals: 2014 Festivals and Street Fairs
---
Stern Grove Park
Catch a free performance of the SF Symphony in Stern Grove Park. On Sunday, July 6, head over to Stern Grove for this live event that starts at 2pm. You'll want to get there early to find the perfect seat on the lawn.
Find Directions & More Details: Stern Grove Summer Concert Series
---
Visit Wine country
You can also take a trip up north for some wine tasting. During this weekend, Goldstar.com is offering one-day tours at up to half-off! Napa and Sonoma are beautiful this time of year and it is the perfect way to spend the day!
Find Tickets: Up to Half-Off on Goldstar
---
Weather in July & What to Wear
What will the weather be like during your visit for Fourth of July San Francisco? Some visitors think it is hot and sunny in San Francisco during the summer. However, the cool ocean breezes and late day fog keeps it nice and cool.
Although it is usually nice and sunny during the day, you will want to bring along a light jacket or sweater for the fireworks display. As the sun sets, the cool breezes bring the temperatures down all around the city. Discover even more tips about what to wear in San Francisco in July.
---
More Pages You Might Enjoy
Did you enjoy this page?
If so, share it with your friends!

Like me on Facebook for the latest
on events, attractions and
other tips to help plan your visit.
Search the Site or Ask a Question
Are you still looking for additional information? If you can't find what you are looking for, you can use the Google search box below to search the site or click here to ask me directly. Thanks for visiting my site!