Stow Lake & Strawberry Hill: Top Things to Do at this Golden Gate Park Attraction


by Jill Loeffler  •

Updated: August 24, 2023
Stow Lake is a beautiful man-made lake in the heart of Golden Gate Park. At this San Francisco attraction, there are several things to do, including hiking to the top of Strawberry Hill, taking a pedal boat out on the lake, and spending a little time relaxing in the Chinese Pavilion.
You can also grab a bite to eat at the Stow Lake Cafe.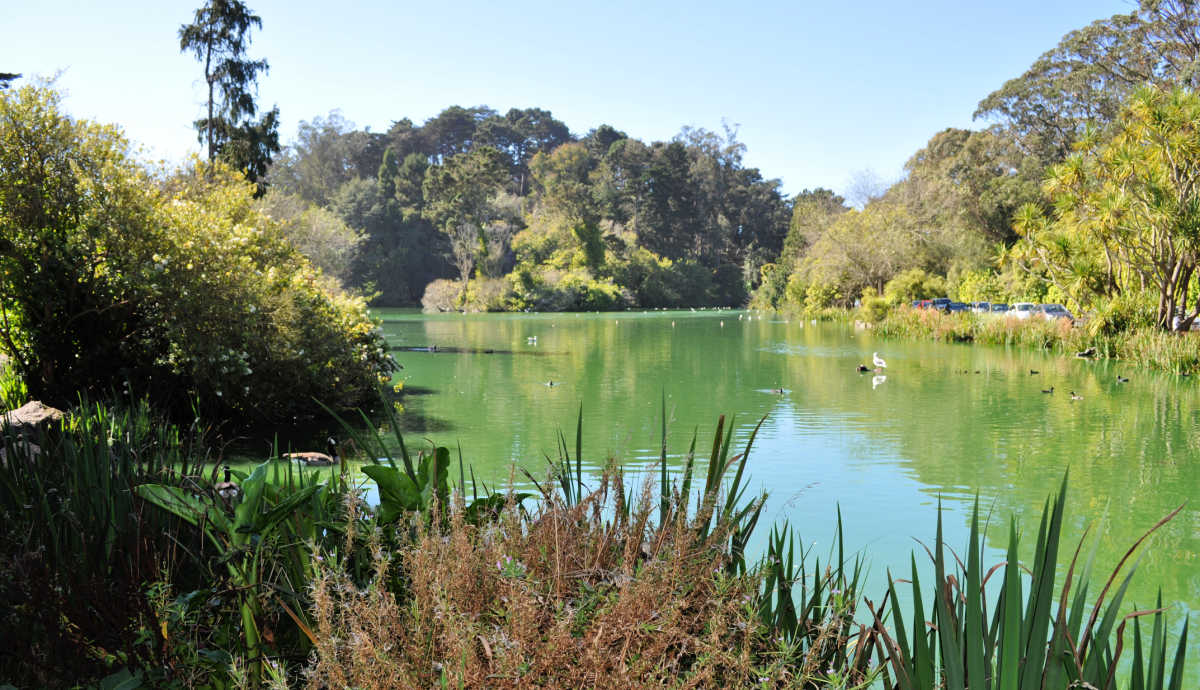 During your visit, make sure you also spend a little time soaking in the beauty of Huntington Falls and watching the birds and turtles playing around in the water.
I love stopping at Stow Lake when I'm in Golden Gate Park. It's quiet, and the scenery is beautiful.
There are some fun things to see and do here - yet it's not as touristy or crowded as some of the other attractions in Golden Gate Park.
Disclaimer: I receive a small commission from some of the links on this page.

Boat Rentals at the Stow Lake Boathouse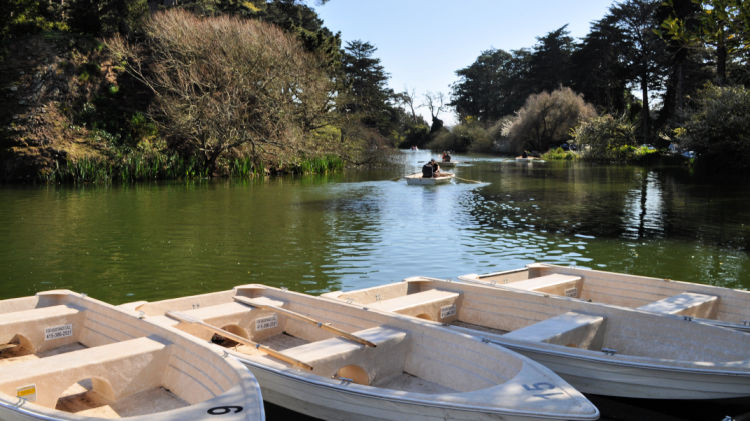 One of the most popular activities here is renting a boat. The Stow Lake Boathouse is on the northwestern side of the lake. This is where you can rent both pedal boats and rowboats.
The Stow Lake Boathouse is open daily from 11 a.m. to 4:30 p.m. on weekdays and from 10 a.m. to 5 p.m. on weekends. Boat rentals end one hour before closing.
The cost to rent pedal boats is $32.50 an hour. The cost for row boats is around $26 an hour.
The lake is a pretty decent size – so you could spend a relaxing hour or two on the boat. Plenty of boats are usually available, so you don't need to worry about making a reservation in advance.
But keep in mind, they are first come, first served, so I recommend heading over earlier in the day on those busy summer days and holiday weekends.
Boat Rental Rules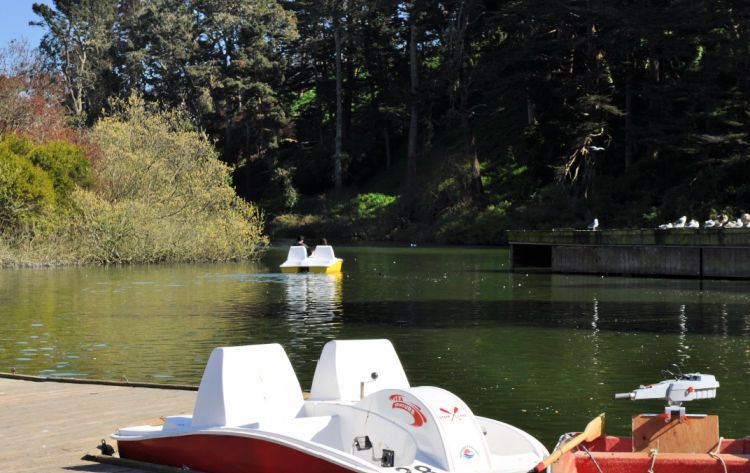 You will want to keep a few things in mind before you rent a boat at Stow Lake.
Only ages 18 and older can take the boats out on their own. Those 15 to 17 may be in the boat on their own, but they have to have a parent or guardian sign the waiver with them. Anyone 14 and under can only be in the boats with a parent or guardian.
Rowboats only allow for three people. The pedal boats are only for four people.
They provide the life jackets and everyone on the boat must wear them at all times. 
No swimming or diving into the water from the boats.
The row boats allow for up to 450 pounds for all passengers. The pedal boats allow for up to 650 pounds for all passengers.
You are not allowed to bring along or enjoy any substance before or on the boat that could impair you from safely operating the boat. 
Dogs are allowed on the boats with an additional $5 fee.
Enjoy the Wildlife
This lake and the surrounding greenery are home to a variety of wildlife. Here are just a few of the types of animals you might see here.
American Bullfrogs
Northern Alligator Lizard
Western Pond Turtle
Pond Slider
Several species of sapsuckers and woodpeckers
Several species of gulls and hummingbirds
Ducks (Northern Shoveler, Muscovy Duck, Mallard, etc.)
Swallows, blackbirds, and orioles
Raccoons
Note: Feeding the animals is not allowed here. Please do not feed the ducks and other birds bread. Also, watch your food, as the raccoons can get a little sneaky and steal food when you aren't watching.
You can also visit the iNaturalist site if you want to get a list of animals recently seen here.
Hike or Run the Trails

One of the things that I love to do here is hiking and running on the trails. You have a couple of options.
Walk or Run on the Flat Trail Around the Lake
Your first option is the fairly flat trail that goes all the way around the lake. It's one of the best places to run - since there usually aren't very many people here. On this trail, you also don't have to fight any major San Francisco hills.
It's also fun to take a stroll around this trail, watching the birds and the turtles. The trail has several benches, so you can sit down and rest for a while too.
The entire loop around the lake is just over a mile long (about 1.1 miles), so it takes only about 20 minutes to walk around without stopping. When I used to run here every week, I would run the loop a few times to get in some good mileage.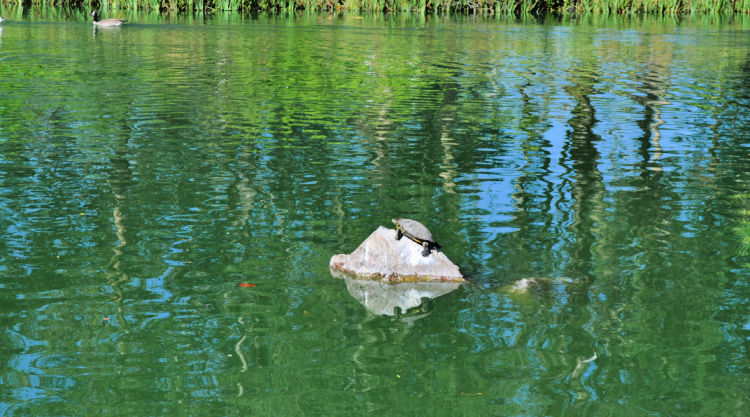 Walk Around Strawberry Hill Island in the Middle of Stow Lake
Your second option is the trails on Strawberry Hill. Strawberry Hill is an island in the middle of the lake.
You can access Strawberry Hill Island from the two bridges. While it's not large, there are a few trails that you can walk around and even hike to the top of the hill.
The gravel and dirt path is a loop that runs around the corridor of the island. The entire loop is about a half-mile around. If you head up to the top of Strawberry Hill and around some other trails, you could easily add another mile to your walk. 
More Fun Things to Do Around Golden Gate Park
Relax in the Golden Gate Pavilion

One of the other SF attractions here is the colorful Chinese Pavilion. This was gifted to the city of San Francisco in the mid-1970s and has called Stow Lake home since that time.
The pavilion is located on Strawberry Hill. You can easily walk across the southern bridge to get to there. It's a great place to hang out, relax, and enjoy the day.
It's gorgeous red, green, and blue colors offer a beautiful backdrop for some pictures. There is also a table with some chairs where you can sit down and some benches inside its parameter. 
You will find it over a small stone bridge just off the main trail on Strawberry Hill. 
Check Out Huntington Falls

I also love hanging out and spending a little time enjoying Huntington Falls. The falls are also located on the main trail on Strawberry Hill. However, your best view of the falls is from the flat walking trail around the lake.
The falls are near the Chinese Pavilion – on the eastern side of Strawberry Hill. The 110-foot waterfall is also man-made, so it doesn't depend on the rain for its water supply.

Relax in the Meadows Around Stow Lake
All around the lake, you will see several places to relax and unwind. Two large meadows offer plenty of room to spread out and picnic tables.
It's a great place to bring a picnic, a book, or some friends and hang out for a few hours or all day! 
Stow Lake Cafe and Gift Shop
If you want to grab some yummy bites and a drink or two, then you will want to check out the Stow Lake Cafe. All ingredients are locally sourced, organic, and sustainably grown if possible. Some of the items on the menu include hamburgers, salads, wraps, and they even have vegan choices.
Beer and wine are also available.
There are a handful of places to sit inside if you prefer to eat before you set off to explore this area of Golden Gate Park.
You can also grab a coffee, espresso, or other drink to enjoy on your walk around Stow Lake.
There is also a little gift shop here with some sweatshirts, souvenirs, and historic postcards of the area. 
They are open 7 days a week from 10 am to 5 pm.

Other Things to Know for Your Visit
Restrooms at Stow Lake
There are two sets of restrooms at Stow Lake. One is in the boathouse on the northern end of the lake. The second set of restrooms is off Martin Luther King Drive near the lake's southern end. 
How to Get Here from the Entrances

The easiest way to get to here is by entering the park from the north at the 8th Avenue entrance. From here, take a left and head west along John F. Kennedy Drive. A small trail leads from John F. Kennedy Drive into Stow Lake.
From the south, the easiest way is to enter is from 9th Avenue. Take that street (which turns into Martin Luther King Jr. Drive once you enter the park) all the way around until you see the sign that says Stow Lake. From here, you will have to walk up a small hill to reach the lake.
It's about a half mile walk or more from each of these entrances. You can see both entrances and your destination on the map below. The blue star marks the lake.

Parking Near the Lake
You can usually find some good parking around Golden Gate Park and unless it's a busy holiday weekend or mid-day on a regular weekend, you can usually find parking on Stow Lake Drive, which circles around the park. 
There are also a few handicap parking spots that allow you to access the trail around the lake from your car easily. 
You will also find a small parking lot near the boathouse for another 20 or so cars. They also have about four handicap spots in this lot. This is also where the employees park, so make sure you don't park in one of the designated spots for the employees.
If all the spots around the lake are taken, you can head back out to Martin Luther King Jr. Drive and look for parking there. Make sure to check the signs to ensure you follow the parking regulations. Also, for safety reasons, don't leave anything in your car.
Fun Facts About Stow Lake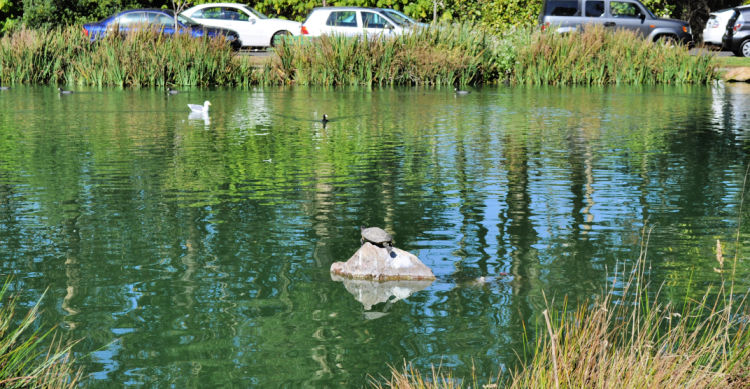 This small area in Golden Gate Park has a rich history. Here are a few fun facts about its history.
It was created in 1893 for locals to use as a leisurely boating spot. 
This man-made lake was also used to irrigate the park when it was first built.
Strawberry Hill got its name from the wild strawberries that used to grow here.
Taipei, one of San Francisco's sister cities, donated the pavilion in 1976.
Other Top Golden Gate Park Attractions

Comments? Questions? Suggestions?
I would love for you to join me in my private Facebook group! 
It's a great place to interact with me and others who know the area well.
You can ask questions, get advice for your upcoming stay, and then share your photos and advice with others when you return home. It's a great community and the fastest way to get answers to those nagging questions about your visit!