Santa Cruz Beaches: 20 Places to Enjoy the Waterfront

by Jill Loeffler  •

Published: June 20, 2023
Are you looking to check out some of the top Santa Cruz beaches? My list includes 20 different options, from large, busy spots to some secluded gems.
Top picks include Natural Bridges State Beach, the Main Beach by the Santa Cruz Boardwalk, and Capitola Beach. Some smaller options nearby include Four Mile, Strawberry, and Cliff Beaches.
Read on for more details about these fun beaches in and near Santa Cruz, California.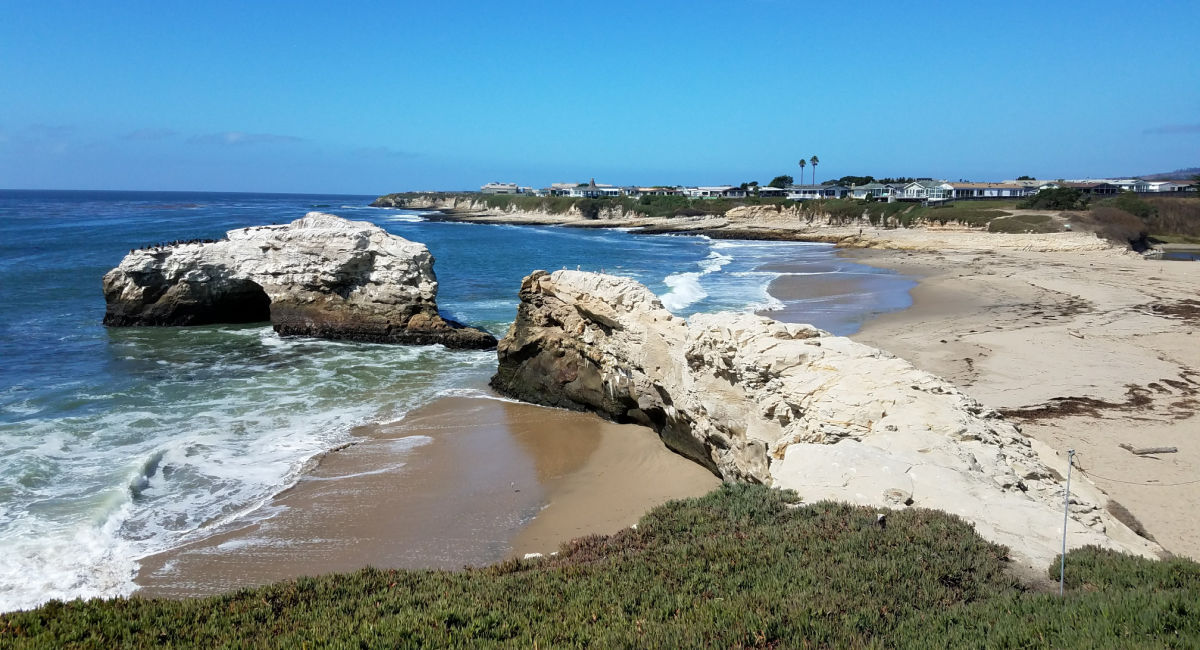 Disclaimer: I receive a small commission from some of the links on this page.

1. Mitchell's Cove Beach

Unlike many beaches along the Santa Cruz coast, Mitchell's Cove Beach allows dogs. This pretty and unusual beach has a prominent rock monolith in the middle of it.
Park above the beach and take the staircase down to a secluded stretch of sand backed by a tall cliff face. The beach may be inaccessible during high tide and stormy months when most of the sand is underwater.
Mitchell's Cove is a popular choice for those who like to take quieter walks to explore. There is little in the way of amenities, yet it remains worth a visit for the spectacular rock formations.
2. Lighthouse Field State Beach

Lighthouse Field State Beach is located at a point on the southwestern coast of Santa Cruz and is named after the prominent lighthouse that now houses the Santa Cruz Surfing Museum. Surfers flock to Steamer Lane, a legendary surfing hotspot where the nearby cliffs provide an excellent vantage point for onlookers.
The beach is popular with wildlife lovers who can take tours of the various trails, see California sea lions, and enjoy the presence of the overwintering Monarch butterflies. There are picnic areas laid out, and restrooms and showers are among the amenities.
Every Christmas, the beach hosts the 'Caroling Under the Stars' event, which brings the local community together for an enjoyable evening in a simply fantastic location.
3. Capitola Beach

Capitola Beach is a stunning stretch of sand at the northern end of Monterey Bay. This popular beach is bustling on warm days and is especially popular with surfers. You'll find a fishing pier, volleyball courts, and other amenities include showers and restrooms.
Behind the beach, the inviting, colorful esplanade features a selection of restaurants and shops. The colorful facade of the many hotel units that face the beach makes for a spectacular backdrop.
During the warmer months, the beach comes alive in the evening with movies, art shows, and live music, making Capitola Beach a prime destination for vacationers and locals alike.
4. Cowell Beach

Cowell Beach sits in downtown Santa Cruz to the west of the Municipal Pier. On the other side of the pier is the bigger Santa Cruz Main Beach.
Cowell's, as it is locally known, is a popular beginner's surfing beach, but unfortunately, it is also known for being one of the more polluted beaches along this stretch of coastline.
It is strongly recommended visitors talk to the lifeguards about water quality before entering the water.
The Dream Inn is a fabulous grand hotel facing Cowell Beach and is a place where vacationers stay to explore the local area and enjoy the many fine restaurants, bars, beaches, and shops in downtown Santa Cruz.
>> Find additional places to stay around Santa Cruz
5. Santa Cruz Beach (Main Beach)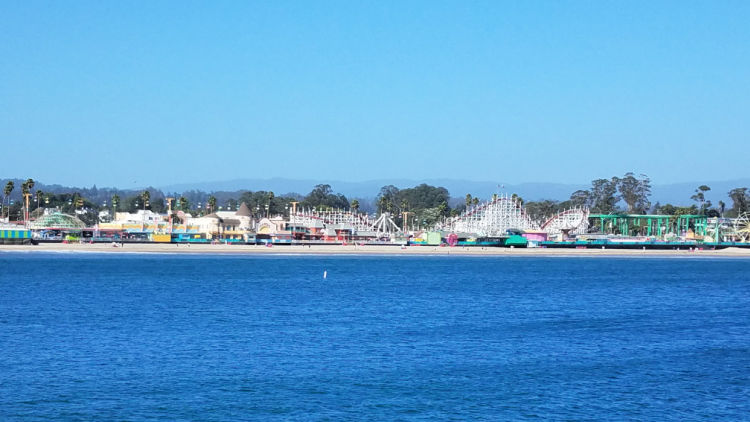 Santa Cruz Main Beach, the largest of them all, is a superb stretch of sand favored by vacationers. However, the famous Santa Cruz Beach Boardwalk that sits beside it is what really makes this place unique.
The oldest existing amusement park in California, the Boardwalk, was first opened in 1907 and remains as popular today as ever. The 'Giant Dipper,' an old wooden rollercoaster, still dominates the skyline and is now on the US National Register of Historic Places.
Other old-fashioned amusements mixed with more modern attractions, plus the railway right outside the Boardwalk, make for a fun experience in a simply legendary location. With plentiful snack bars, cafes, and restaurants on the Boardwalk, Santa Cruz Beach is a must-see destination if you are in the region.
>> More fun things to do around Santa Cruz
6. Pleasure Point Beach

Pleasure Point Beach is one of the most vibrant and popular surfing spots on the Santa Cruz coast. If you want plenty of sand and a typical beach, this is not the one for you. It's a small bluff that you park above and take the staircase down, and often there is little sand to be seen.
This does not deter the surfers; there is a rock shelf where one can sit and watch the action. Up above the beach, the Pleasure Point neighborhood is full of surf shops, cafes, bars, and restaurants, so there is plenty to enjoy as a family.
There are also picnic tables in Pleasure Point Park, which sits above the cove. This is a thriving community that is friendly and welcoming to vacationers.
Dogs are allowed on a leash, and showers and restrooms are available.
7. Seabright Beach

One of the smaller beaches in Santa Cruz, Seabright Beach is nevertheless a popular choice for a family day out. The west end of the beach features fire rings where visitors are encouraged to gather wood and sit around the fire, a lovely experience on a warm evening.
A secluded spot, Seabright Beach is known to be warmer than some others on the stretch, and views of the San Lorenzo River and the famous Boardwalk are found beyond a stone arch through which visitors can walk at low tide.
On Wednesday evenings, from spring onwards, an amateur sailboat race is held off the beach, and a jetty is a place for an enjoyable walk to get close to the Walton Lighthouse at the tip of the structure.
There are restrooms and showers, lifeguards (in the summer), and free parking close to the beach.
More Fun Things to Do Around Santa Cruz
8. Santa Cruz Harbor

Santa Cruz Harbor Beach is located just east of the small harbor inlet along the Seabright district and is popular for fishing, sunbathing, and simply relaxing in the sun. Here, you can rent kayaks or Hobie Cat sailing boats and take them to the water for an enjoyable adventure.
This is a pretty spot with convenient parking close by, and the harbor itself is a lovely place to explore. Behind the parking lot is a series of restaurants serving local and international cuisine, making this a family-friendly choice for a sun, sea, and sand day.
Volleyball courts can be found on the beach, and dogs are allowed on a leash.
9. Natural Bridges State Beach

The wonderfully evocative Natural Bridges State Beach is among the many glorious Santa Cruz beaches. Named after the natural stone arch that straddles the beach, this stunning stretch of sand is a popular choice for beach lovers and vacationers.
Due to decay—there were once three arches, but two have collapsed—the arch itself is now out of bounds for visitors. The beach is famous for the Monarch Butterfly Natural Preserve, home to 150,000 butterflies from October to February, a sight not to be missed.
Marine life can be observed on the beach thanks to the tide pools, and the beach is open throughout the year for swimming, exploring, and other water activities.
Guided tours through the local hiking trails are recommended for nature lovers.
10. Twin Lakes State Beach

Twin Lakes State Beach is a one-mile-long stretch of sand found on the east side of the Santa Cruz harbor entrance.
Technically it includes Seabright Beach and Harbor Beach. Birdwatchers like Twin Lakes as there is a freshwater lake close to the beach where many species of birds can be spotted.
The lake is also popular with walkers who enjoy the many fine trails here. Visitors will find volleyball courts close to the harbor entrance, and there are also good restaurants and shops in the region. The beach is an excellent choice for sunbathers and is also popular for surfing.
11. Santa Maria's Beach

One of several beaches in the Live Oak area of Santa Cruz, Santa Maria's Beach is a pretty yet small stretch of sand complete with a rock shelf. The beach is accessible by a staircase at the end of 20th Avenue and adjoins Corcoran Lagoon Beach to the south.
There are no facilities at this quiet and attractive little spot, but it remains popular for sunbathers and surfers.
The rock shelf continues to Sunny Cove, although visitors are advised to take care as it is difficult to traverse in place. If you visit on the weekend, be aware that you must acquire a parking permit.
Smaller Beaches and Coves In and Near Santa Cruz
12. Coast Dairies State Beach

Near the small town of Davenport, this seven-mile stretch of state land is actually a string of several small beaches, which themselves can be hard to access, but are connected by the California Coastal Trail that runs along the bluff up above them.
13. Four Mile Beach

Located within Wilder Ranch State Park, this is a nice, secluded sandy spot at the mouth of Baldwin Creek.
From the parking lot along Highway 1, you take the Ohlone Bluffs Trail across some railroad tracks and through a wetlands area toward the ocean.
14. Three Mile Beach

This is another little-known spot in Wilder Ranch State Park, just down the coast from Four Mile Beach and accessible by the same Ohlone Bluffs Trail.
It is unofficially considered clothing-optional because it's so tucked away.
15. Strawberry Beach

Take the same Ohlone Bluffs Trail past Four and Three Mile Beaches, and since it's a longer hike to get here, you'll find the park's least frequented beach.
It's smaller and quieter, but you might possibly share it with a couple of nudists.
16. Black's Beach

Just east of Twin Lakes State Beach, you'll find Blacks Beach, accessible at the end of 14th Avenue, where there are some public chemical toilets and benches overlooking the beach.
There is no longer access from Geoffroy Drive on Black Point.
17. Sunny Cove Beach

On the other side of Black Point, you'll find Sunny Cove Beach, a narrow inlet nestled between low sandstone bluffs and the surrounding residential area.
Note that it can get crowded, the cove is deep, and currents can be strong here.
18. Corcoran Beach

This wide sandy beach gets its name from the Corcoran Lagoon located just behind it.
There is a seasonal porta potty and plenty of room to spread out here, but finding parking along East Cliff Drive may be a challenge.
19. Moran Lake Beach

Moran Lake Beach is attached to a 9-acre regional park in Santa Cruz's Live Oak area, where families come to picnic, fish, and more.
It's also a popular surfing spot, and the advantage is that there is a large parking lot for visitors.
20. Cliff Beach

This gorgeous little hideout in the Pleasure Point area of Santa Cruz is known for its stunning views of Monterey Bay.
At high tide, there's not much sand to lie on, but it's perfect for surfers, including beginners and kids, with supervision.
Comments? Questions? Suggestions?
I would love for you to join me in my private Facebook group! 
It's a great place to interact with me and others who know the area well.
You can ask questions, get advice for your upcoming stay, and then share your photos and advice with others when you return home. It's a great community and the fastest way to get answers to those nagging questions about your visit!