Thanksgiving in San Francisco 2016
Things to Do on Thanksgiving Day & Weekend
Are you spending Thanksgiving in San Francisco? If so, you will be excited to learn that there are a lot of fun events scheduled on Thanksgiving Day and throughout the weekend. In 2016, this popular holiday falls on November 24.
Several restaurants open their doors to serve up a variety of gourmet dishes. You can also do something a little different and enjoy your meal while cruising around the bay. In addition, many tour companies run most of their fun adventures throughout the day.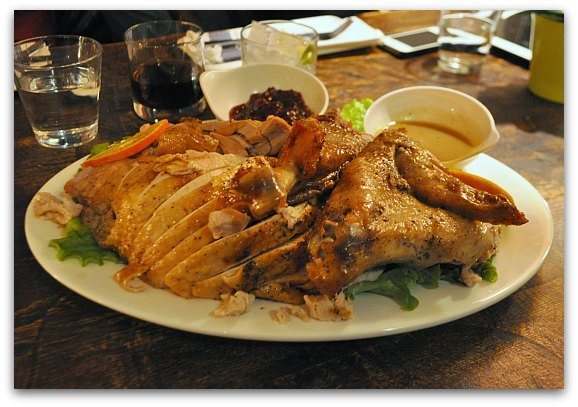 The rest of the weekend is also full of activity including the lighting of the Union Square Holiday Tree and Black Friday Shopping.
Details for Thanksgiving Day
Holiday Attraction Schedule
The best place to start your planning for 2016 is to check out the opening and closing times for all of SF's main attractions. While many museums and a handful of attractions close this day, you will still find several that open their doors to visitors.
Learn More: Click Here for a Detailed Attraction Schedule for Thanksgiving 2016
---
SF Cruises on Thanksgiving Day
One of my favorite ways to spend this holiday is on a dinner cruise with my loved ones. You can enjoy a seated dinner or take a more casual cruise that offers a buffet. All offer an unforgettable experience.
Last year, all of these cruises sold out. I recommend booking early to avoid missing your chance for a lovely evening on the water to celebrate Thanksgiving.
Twilight Cruise with Hearty Appetizers

Relaxed, casual two-hour cruise with views and hearty appetizers
Enjoy live guitar music as you ride around the bay
Heated indoor viewing area as well as plenty of outdoor space
See the Golden Gate Bridge, the Bay Bridge and Alcatraz Island
Hearty appetizers will fill you up and offer almost a full meal
Starts and ends on Pier 43 1/2
Leaves at 5:30pm
Tickets start at around $64 per person



Thanksgiving Day Buffet Cruise

3-hour cruise leaving Pier 3 at 3:30pm, boarding begins at 2:30pm
Gourmet Thanksgiving Day Dinner Buffet
Live band & cash bar
Views of the San Francisco Bay
Leaves from Pier 3 at Embarcadero at Washington Street
Dress code is business casual to dressy casual
Price is around $135 per person including taxes and fees



Thanksgiving Seated Dinner Cruise

3-hour cruise leaves Pier 3 at 3:00pm
Four-course seated dinner that includes coffee, sodas, ice tea, and water
Cash bar for wine, beer, cocktails
Live music during full cruise
Price is around $128 per person including taxes and fees
---
Cirque du Soleil's Luzia
Enjoy a performance of Luzia, this year's Cirque du Soleil show under the Big Top near AT&T Park. Luzia is a Walking Dream of Mexico. Watch talented acrobats perform in colorful costumes as they tell the story of a dreamy Mexico. There is one performance on Thanksgiving Day at 8pm. You will also find other performances all weekend long.
Tickets: On sale now for Thanksgiving night
Tickets: Other performances this weekend
More: Learn more about this show here
---
The King & I
Head over to the Golden Gate Theater for Rodgers & Hammerstein's The King & I. This classic performance is set in Bangkok in the 1860s. It tells the story of an unconventional relationship between the King of Siam and an English school teacher. She was brought over to teach his many wives and kids. The Thanksgiving Day show is at 8pm. You will also find other performances all weekend long.
Tickets: Find tickets for the Thanksgiving night show
Tickets: Find other tickets for this weekend
More: Discover a full theater calendar here
---
Other Fun SF Tours on Both Thanksgiving Day & Weekend
Most SF Tour Companies remain open during this busy holiday. They offer an almost complete schedule of tours both on Thanksgiving Day and throughout the weekend.
Some of my favorite tours that run this day include bike tours over the Golden Gate Bridge, walking tours through some of SF's top districts, and the standard SF Bay Cruises. Here are a few I recommend.
Waterfront Segway Tour
3 hour tour includes a 45 minute training session to get your comfortable on the Segway before you begin
Cruise around North Beach, Fisherman's Wharf and the SF Waterfront
Narrated by a local expert guide
Two tours on Thanksgiving at 10am and 3pm
Start at $69.99 per person
Red & White Fleet Bay Cruise
60-minute cruise around the SF Bay
Individual headsets, so you listen to the narrator (or not!)
Leaves from Fisherman's Wharf
Rides past the Palace of Fine Arts, Fort Mason, Fort Point National Historical Site
Cruises under the Golden Gate Bridge (twice!)
Floats by Alcatraz Island and Angel Island
Tours all day long from 10am to 3:45pm
Full price is $30 per person
Find other top walking tours for Thanksgiving Day
---
Lunch & Dinner Recommendations (2015 Details)
Below are some of my recommendations for Thanksgiving in San Francisco. Most offer a traditional meal and all serve only the prix-fixe offering on that day (unless otherwise noted).
I'll update these for 2106 once the restaurants start finalizing their menus. In the meantime, take a look at last year's offering to get an idea on what will be available for this year.
501 Zingari: 3-course dinner for $59.00 each, special children's menu is available


750 Restaurant & Bar: 3-course prix-fixe menu with your choice of Roast Turkey, Salt Baked Prime Rib, or Seared Pacific Salmon, $65 Adult or $95 with wine pairing & $25 Children under 12, 2pm to 10pm, call to book a table at 415-433-6600 or book online at opentable.com


Big Four: Thanksgiving Day feast with all of the trimmings, seating tables between 2pm and 8pm


Bluestem Brasserie: Four-course prix-fixe for $75 per person, 2pm to 8pm


Bourbon Steak: Four-course pre-fixe for $125 per person


The Cavalier: $80 per guest, prix-fixe menu between 11:30am and 7:30pm, wine pairing an additional $80 per guest


L'Olivier: Four-course prix-fixe for $46.50 per person plus tax and service, open starting at 3pm


The Oak Room in the Westin St. Francis: Choice of 5 entrees (roasted turkey, prime rib, pacific salmon, pork loin, 3 cheese manicotti), $97 per person, $47 for kids under 12


RN74: Three-course prix-fixe for $85 per person
*Note: All prices exclude taxes and gratuity
Once you have decided where you want to go for your Thanksgiving meal in San Francisco, I highly recommend you make a reservation immediately. Since there are a limited number of tables, it will be impossible to get a spot without a reservation. You can either contact the restaurant directly or use OpenTable to reserve your spot today.
---
Hotel Recommendations
Book your hotel early and save! Click the links below to find the best deals currently running during your stay.
TripAdvisor: What's the #1 hotel in San Francisco? Read reviews & find hotel deals on TripAdvisor!
Bookings: Save on your Hotel with Booking.com, Planet Earth's #1 Accommodation Site. No booking fees ever!
---
Are you visiting with kids? Here is a quick guide to the 25 most kid friendly places in the city. All offer a fun experience for both your kids and you!
---
Shopping Options for Thanksgiving Day 2016
If you plan on going shopping, I recommend heading over to the Fishermans Wharf area. Most shops in that area are open this holiday.
Chinatown is another great option as most of the shops and restaurants run their regular hours.
If you head to Union Square, plan on most shops being closed as they prepare for Black Friday.
Ghirardelli Square: The management here lets the shops decide if they want to open or not on Thanksgiving Day. However, they did confirm that at least some of the shops will be open on Thanksgiving Day.


Pier 39: About 75% of the shops and restaurants on the pier are open


Union Square: A few shops in Union Square area also open, but it's more hit or miss in this neighborhood.


Chinatown: Here you will find inexpensive items such as San Francisco gifts, clothing and jewelry.
---
Other Events on Thanksgiving in San Francisco 2016
San Francisco Turkey Trot: This annual event only takes a limited number of entrants, around 1,400, and registration is open for 2016. The cost is $38 per person. The run takes place in Golden Gate Park. The kids race is at 8am and the Turkey Trot starts at 8:40am on Thanksgiving morning. The course is mostly flat.
Date & Time: Thursday, November 24 at 8:30am
Location: Polo Fields in Golden Gate Park
Learn More: Visit their website to register today
---
Thanksgiving Day 5k: Starts at 8am at AT&T Park and runs along the waterfront. Registration is open and it starts at around $20 per person. It benefits the San Francisco and Marin Food Banks.
Date & Time: Thursday, November 26 at 8:00am
Location: AT&T Park
Learn More: Visit their website to register today
---
Indigenous People's Sunrise Gathering at Alcatraz, also called Unthanksgiving Day
: This one day event is to commemorate the 1969 - 1971 occupation of Alcatraz by the "Indians of All Tribes." This sunrise celebration includes traditional Native American dancing, singing, and other performances.
Boats leave Pier 33 every 15 minutes between 4:15am and 6am
Everyone must return from Alcatraz on the last boat at 8:45am
Tickets are $14 per person, kids under 5 are free
Get tickets by calling 415-981-7625 or from the ticket booth at Pier 33 Alcatraz Landing, the ticket booth opens that morning at 4:15am
Details for Thanksgiving Weekend
All museums and attractions run regular schedules for the rest of the weekend. All tour companies run their full schedules also. In addition to these activities, here are a few other fun things to check out this weekend.
Tree Lighting in Union Square: The annual lighting of the tree in Union Square is scheduled for Friday, November 25. The ceremony begins at 6pm with the tree lighting finishing at around 6:40pm. Click here for a full list of tree lighting ceremonies and other holiday festivals this weekend.


Ice Skating Rink in Union Square: Each year throughout most of November and December, there is a temporary ice skating rink in Union Square. Each session is 90 minutes and starts on the hour, every even hour starting at 10am.


Embarcadero Skating Rink: A second temporary ice skating rink is open throughout November and December at the Embarcadero Center.


Santa in San Francisco: Santa will make an appearance several times over the Thanksgiving Weekend. Click here to find out where he will be.
---
Event & Tour Tickets for Up to 50% Off
Save today by booking your tour and event tickets for Thanksgiving Weekend through Goldstar. They are already offering dozens of tickets at up to 50% off. Here is just a sample of the tickets currently available at a discount:
Sunset Cruise on the Bay
Foodies! The Musical
Golden Gate Park Segway Tour
Muir Woods Day Tour
Electric Bike Tour Over the Golden Gate Bridge
North Beach Food Tour
Click here to learn more and check out Goldstar's selection of tickets today!
---
The Lion King
Catch The Lion King at the Orpheum Theater. This classic theater performance is great for the entire family. You will find shows on Friday, Saturday, and Sunday after Thanksgiving. There are two performances on all three days. Get your tickets early as they are sure to sell out quickly.
Tickets: On sale now
Learn More: Find Additional Theater Performances in SF this Weekend
---
San Francisco Opera
There are two performances by the SF Opera this weekend. The first is Madame Butterfly on Saturday (11/26) at 7:30pm. The second show Aida. It runs on Sunday (11/27) at 2pm. Both are at the War Memorial Opera House.
Tickets: Madame Butterfly
Tickets: Aida
More Details: 2016 SF Opera calendar
Black Friday Shopping in San Francisco
Black Friday is a big shopping day in SF. This is when you'll want to head back to the places with larger retail stores for the best deals.
Union Square: Here you will find several shops with great Black Friday deals. Macy's is the anchor store here - with several others that surround it.


Westfield Shopping Center: There is also a large shopping center about five blocks from Union Square. It's an indoor mall with dozens of stores. It is on the corner of Market and Fifth Streets.
Find more details, maps and tips for shopping in this area.
Fun SF Tours

*Some Goldstar tickets include a small additional service fee