Thanksgiving in San Francisco 2015
Things to Do on Thanksgiving Day & Weekend
Are you spending Thanksgiving in San Francisco? If so, you will be excited to learn that there are a lot of fun events scheduled on Thanksgiving Day and throughout the weekend. In 2015, this popular holiday falls on November 26.
Several restaurants open their doors to serve up a variety of gourmet dishes. You can also do something a little different and enjoy your meal while cruising around the bay. In addition, many tour companies run most of their fun adventures throughout the day.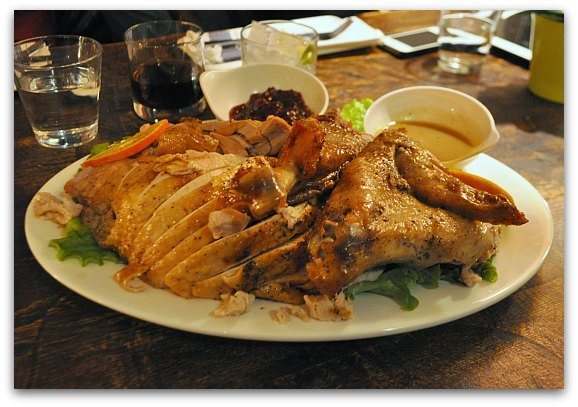 The rest of the weekend is also full of activity including the lighting of the Union Square Holiday Tree and Black Friday Shopping.
Many places are still working on their plans for 2015. Below you will find details for 2014 to give you an idea on what to expect again this year. I'll continually update this page as the event details for this year are announced.
Details for Thanksgiving Day
Holiday Attraction Schedule
The best place to start your planning for 2015 is to check out the opening and closing times for all of SF's main attractions. While many museums and a handful of attractions close this day, you will still find several that open their doors to visitors.
Learn More: Click Here for a Detailed Attraction Schedule for Thanksgiving 2015
---
SF Cruises on Thanksgiving Day
One of my favorite ways to spend this holiday is on a dinner cruise with my loved ones. You can enjoy a seated dinner or take a more casual cruise that offers a buffet. All offer an unforgettable experience.
Last year, all of these cruises sold out. I recommend booking early to avoid missing your chance for a lovely evening on the water to celebrate Thanksgiving.
Thanksgiving Day Buffet Cruise

3-hour cruise leaving Pier 3 at 3:30pm, boarding begins at 2:45pm
Gourmet Thanksgiving Day Dinner Buffet
Live band & cash bar
Views of the San Francisco Bay
Leaves from Pier 3 at Embarcadero at Washington Street
Dress code is business casual to dressy casual
Price is around $135 per person including taxes and fees



Thanksgiving Seated Dinner Cruise

3-hour cruise leaves Pier 3 at 3:00pm
Four-course seated dinner that includes coffee, sodas, ice tea, and water
Cash bar for wine, beer, cocktails
Live music during full cruise
Price is around $128 per person including taxes and fees



Twilight Cruise with Hearty Appetizers

Relaxed, casual two-hour cruise with views and hearty appetizers
Enjoy live guitar music as you ride around the bay
Heated indoor viewing area as well as plenty of outdoor space
See the Golden Gate Bridge, the Bay Bridge and Alcatraz Island
Not a full meal, but a fun way to nibble on appetizers as you enjoy SF's famous sites from the boat
Starts and ends on Pier 43 1/2
Leaves at 5:30pm
Tickets start at around $64 per person
---
Other Fun SF Tours on Both Thanksgiving Day & Weekend
Most SF Tour Companies remain open during this busy holiday. They offer an almost complete schedule of tours both on Thanksgiving Day and throughout the weekend.
Some of my favorite tours that run this day include bike tours over the Golden Gate Bridge, walking tours through some of SF's top districts, and the standard SF Bay Cruises. Here are a few I recommend.
Waterfront Segway Tour
3 hour tour includes a 45 minute training session to get your comfortable on the Segway before you begin
Cruise around North Beach, Fisherman's Wharf and the SF Waterfront
Narrated by a local expert guide
Two tours on Thanksgiving at 10am and 3pm
Start at $69.99 per person
Red & White Fleet Bay Cruise
60-minute cruise around the SF Bay
Individual headsets, so you listen to the narrator (or not!)
Leaves from Fisherman's Wharf
Rides past the Palace of Fine Arts, Fort Mason, Fort Point National Historical Site
Cruises under the Golden Gate Bridge (twice!)
Floats by Alcatraz Island and Angel Island
Tours all day long from 10am to 3:45pm
Start at $30 per person
Chinatown Walking Tour
Two hour walking tour
Starts at 10am in Chinatown
Walk through this vibrant neighborhood as you learn more about it's history and the culture of its residents
See its back alleys and side streets where the locals live
Visit a Buddhist temple, an herbalist's shop, the fortune cookie factory and more
Find other top walking tours for Thanksgiving Day
---
Lunch & Dinner Recommendations
Below are two lists with recommendations for both lunch and dinner on Thanksgiving Day. Many of these restaurants will be offering special Thanksgiving meals.
Lunch
These are the restaurants scheduled to be open for lunch on Thanksgiving.
501 Zingari: Italian/Downtown
Acquolina: Italian/North Beach
Alioto's: Seafood/Fisherman's Wharf
The Cavalier: British/Financial District
Crab House at Pier 39: Seafood/Fisherman's Wharf
Neptune's Waterfront Grill & Bar: Californian/Fisherman's Wharf
Perry's: American/Embarcadero
Ruth's Chris Steak House: Steakhouse/Civic Center
Wayfare Tavern: American/Financial District
Dinner
These restaurants plan to be open for dinner on Thanksgiving evening.
398 Brasserie: French/Downtown
Alamo Square Seafood Grill: Seafood/Alamo Square
Alioto's: Seafood/Fisherman's Wharf
Bluestrem Brasserie: American/Downtown
Bob's Steak & Chop House: Steakhouse/Financial District
Daily Grill: Contemporary American/Union Square
Elite Cafe: Southern/Pacific Heights
First Crush: Californian/Downtown
Il Fornaio: Italian/Financial District
McCormick & Kuleto's Seafood Restaurant: Seafood/Fisherman's Wharf
Morton's: Steakhouse/Downtown
Pier Market Seafood Restaurant: Seafood/Fisherman's Wharf
The Stinking Rose: Italian/North Beach
*Note: All prices exclude taxes and gratuity
Once you have decided where you want to go for your Thanksgiving meal in San Francisco, I highly recommend you make a reservation immediately. Since there are a limited number of tables, it will be impossible to get a spot without a reservation. You can either contact the restaurant directly or use OpenTable to reserve your spot today.
---
Are you staying all weekend in SF? If so, then check out some of these fun brunch spots throughout the city. They range from the famous Mama's of North Beach to Brenda's French Soul Food.
---
Hotel Recommendations
Are you still looking for the perfect place to stay during your visit to SF? Below you will find the best hotels in each neighborhood. You will also find recommendations for hotels based on your budget and for certain amenities (such as pet friendly). Click the links below to learn more about each one.
Before booking, make sure you also check out the specials for this weekend on TripAdvisor. They offer dozens of special hotel deals from discounts off your hotel room rate to freebies. Click here to find a list of current special offers for Thanksgiving weekend.
---
Are you visiting with kids? Here is a quick guide to the 25 most kid friendly places in the city. All offer a fun experience for both your kids and you!
---
Shopping Options for Thanksgiving Day 2015
If you plan on going shopping, I recommend heading over to the Fishermans Wharf area. Most shops in that area are open this holiday.
Chinatown is another great option as most of the shops and restaurants run their regular hours.
If you head to Union Square, plan on most shops being closed as they prepare for Black Friday.
Ghirardelli Square: The management here lets the shops decide if they want to open or not on Thanksgiving Day. However, they did confirm that at least some of the shops will be open on Thanksgiving Day.


Pier 39: About 75% of the shops and restaurants on the pier are open


Union Square: A few shops in Union Square area also open, but it's more hit or miss in this neighborhood.


Chinatown: Here you will find inexpensive items such as San Francisco gifts, clothing and jewelry.
---
Other Events on Thanksgiving in San Francisco 2015
Turkey Trail Trot: This annual event only takes a limited number of entrants, around 1,400, and registration is open for 2015. The cost is $34 per person. The run takes place in Golden Gate Park. The start is at Polo Fields at 8:00am on Thanksgiving morning and the course is mostly flat.
Date & Time: Thursday, November 26 at 8:30am
Location: Polo Fields in Golden Gate Park
Learn More: Visit Active.com to Register
---
San Francisco Turkey Trot: Starts at 8am at AT&T Park and runs along the waterfront. Registration is open and it starts at around $34 per person. It benefits the San Francisco and Marin Food Banks.
Date & Time: Thursday, November 26 at 8:00am
Location: AT&T Park
Learn More: Visit EventBright to Register
---
Indigenous People's Sunrise Gathering at Alcatraz, also called Unthanksgiving Day
: This one day event is to commemorate the 1969 - 1971 occupation of Alcatraz by the "Indians of All Tribes." This sunrise celebration includes traditional Native American dancing, singing, and other performances.
Boats leave Pier 33 every 15 minutes between 4:45am and 6am
Everyone must return from Alcatraz on the last boat at 8:45am
Tickets are $14 per person, kids under 5 are free
Get tickets by calling 415-981-7625 or from the ticket booth at Pier 33 Alcatraz Landing, the ticket booth opens that morning at 4:15am
---
Details for Thanksgiving Weekend
All museums and attractions run regular schedules for the rest of the weekend. All tour companies run their full schedules also. In addition to these activities, here are a few other fun things to check out this weekend.
Tree Lighting in Union Square: The annual lighting of the tree in Union Square is scheduled for Friday, November 27. The ceremony begins at 6pm with the tree lighting finishing at around 6:40pm. Click here for a full list of tree lighting ceremonies and other holiday festivals this weekend.


Ice Skating Rink in Union Square: Each year throughout most of November and December, there is a temporary ice skating rink in Union Square. Each session is 90 minutes and starts on the hour, every even hour starting at 10am.


Embarcadero Skating Rink: A second temporary ice skating rink is open throughout November and December at the Embarcadero Center.


Santa in San Francisco: Santa will make an appearance several times over the Thanksgiving Weekend. Click here to find out where he will be.
---
Event & Tour Tickets at up to 50% Off
Save today by booking your tour and event tickets for Thanksgiving Weekend through Goldstar. They are already offering dozens of tickets at up to 50% off. Here is just a sample of the tickets currently available at a discount:
Sunset Cruise on the Bay
Foodies! The Musical
Golden Gate Park Segway Tour
Muir Woods Day Tour
Electric Bike Tour Over the Golden Gate Bridge
North Beach Food Tour
Click here to learn more and check out Goldstar's selection of tickets today!
---
Black Friday Shopping in San Francisco
Black Friday is a big shopping day in SF. This is when you'll want to head back to the places with larger retail stores for the best deals.
Union Square: Here you will find several shops with great Black Friday deals. Macy's is the anchor store here - with several others that surround it.


Westfield Shopping Center: There is also a large shopping center about five blocks from Union Square. It's an indoor mall with dozens of stores. It is on the corner of Market and Fifth Streets.
Find more details, maps and tips for shopping in this area.
---
SF 49ers Play at Levi's Stadium
The San Francisco 49ers take on the Arizona Cardinals the Sunday after Thanksgiving at their new stadium in Santa Clara. Head over for pre-game celebrations and to watch the game. Kick-off is at 1:05pm Pacific Time.
Learn More: Full Schedule & Details to Attend a Game
Buy Tickets: On Sale Now
---
San Francisco Opera: Die Meistersinger
On Friday night, catch the SF Opera's rendition of Die Meistersinger. This music drama includes three acts and is the longest running opera performed today. It starts at 6pm at the War Memorial Opera House in the Civic Center neighborhood.
More Details: 2015 SF Opera Calendar
---
SF Symphony: The Night Before Christmas
Catch a performance from the SF Symphony on Saturday night. Listen to the SF Symphony as they perform The Night Before Christmas. The show starts at 8pm at the Davies Symphony Hall in the Civic Center district.
More Details: SF Symphony November Calendar
---
Fun SF Tours