San Francisco Events in November 2017
Thanksgiving Day, Holiday Lights Celebrations & More!
Enjoy the best San Francisco events in November 2017. This month, you will find dozens of fun activities from free walking tours to holiday lights celebrations.
Other highlights this month include the Great Dickens Fair, SF 49ers games, and Thanksgiving Day and Weekend activities. You can also enjoy a night out at the theater, opera, or symphony.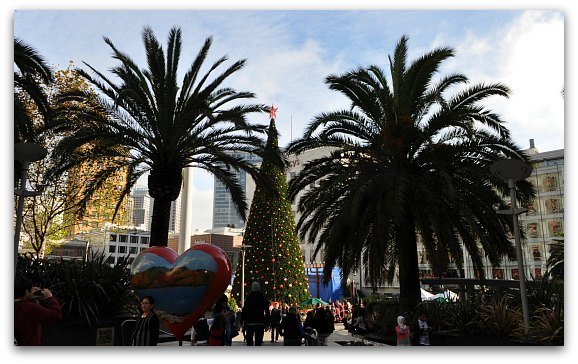 In addition, you will find two special ice skating rinks in the city this time of the year. One is in Union Square and the other is near the Embarcadero Center.
For some of the links on this page, I receive a small commission when you purchase. You don't pay more when you buy through me and it gives me the chance to offer you all this great content for free!
SF Theater: Aladdin
The biggest theater performance this month is Disney's incredibly popular Broadway show, Aladdin. It's based on the hit movie of the same name and created by the producers of The Lion King. This show is sure to be a hit with everyone in the family.
Dates: 11/1 - 1/7
Learn More: Get theater performance details
American Indian Film Festival
If you are curious about American Indian culture, traditions, and current struggles, join the American Indian Film Festival in its 42nd year this November. This festival lasts over a week, showing a variety of short stories, documentaries, and feature films, several of which have been directed by American Indian filmmakers. All films will be screened at the AMC Metreon Theater in downtown SF.
Dates: 11/3-11/11
Learn More: Find more details and the schedule of screenings
Half-Priced Tickets for November
The first place to look for discounts is on Goldstar. They offer deals on tickets to tours, the theater, and more. These are just a few of the discounts you will find this month.
60-Minute Bay Cruise: Cruises around the bay, leaves from Fisherman's Wharf, several cruises a day, Full price $31, Goldstar price $15.50*


Cable Car Hop On/Hop Off Tour: Ride around SF on a cable car on wheels, hop on and off at up to 15 stops around town, Full price $30-$45, Goldstar $20-$30*


Sunset Cruise: 2-hour sunset cruise around the SF Bay, step aboard the Privateer, each ticket includes two drinks, offers spectacular views of the city of San Francisco, Golden Gate Bridge, Alcatraz, and more, Full price $60, Goldstar $45*
*Small service fee at checkout.
Shark Diving Adventure
Take an adventure of a lifetime and come face to face with some of the world's largest great white sharks in their natural habitat. During this season, the famous Farallon Islands just of the coast of San Francisco offer incredible opportunities to view sharks feeding on local seals. You can watch them from the boat, or get up close in the underwater shark cage.
Dates: 11/4 & 11/11
Learn More: Find out more tour details on the webpage
SF Opera
Head over to the SF Opera House in the Civic Center District to see one of two shows this month. The first is Manon which is set in Paris and is about young love as well as the underground world of the City of Lights. It runs from 11/4 to 12/1.
This month's second show opens on November 21. Girls of the Golden West is about Gold Country and the attitudes and issues that arrive when everyone is searching for the treasure. It runs until December 10.
Dates: 11/4 - 12/10
Learn More: Visit the SF Opera page for more information
SF Symphony
Spend an evening at the elegant Davies Symphony Hall, steps away from City Hall, for a performance of the world renowned San Francisco Symphony. Among the many shows you can enjoy this month are: Dia de los Muertos Community Concert, MTT Conducts Mahler's Fourth, and Zukerman Plays Beethoven with the SFS.
Dates: Several
Learn More: See the complete schedule of performances
49ers Football
Head over to Levi's Stadium to watch the San Francisco 49ers play their fourth season at this new stadium in Santa Clara. This month, the 49ers will be taking on the Arizona Cardinals, the New York Giants, and the Seattle Seahawks at home. Go Niners!
Dates: November 5, 12, & 26
Learn More: Click here for the full schedule and links to tickets
Golden Gate Half Marathon
The Golden Gate Half Marathon is an annual event that takes runners over the Golden Gate Bridge during the race. Your run starts near Fisherman's Wharf at the Municipal Pier. You will then run along the waterfront, up and over the Golden Gate Bridge, and return back to San Francisco. The race ends in the beautiful Presidio.
Date: 11/5
Learn More: Click here to visit their site and to register today
Dreamforce
If you are always striving to embark on new visions for your company, this may be the event for you. Deemed to be a transformational week of idea sharing among entrepreneurs and pioneers of every industry, this year's Dreamforce event is sure to drive inspiration, imagination, and innovation in all its participants.
Dates: 11/6 - 11/9
Learn More: Visit the Dreamforce website for more information and registration
Top Hotel Deals in San Francisco
Are you still looking for a great place to stay during your visit to San Francisco? If so, I recommend starting your search on one of these three hotel sites. The links below will take you immediately to the deals section so you can find a great rate for your stay!
TripAdvisor: What's the #1 hotel in San Francisco? Read reviews & find hotel deals on TripAdvisor!
Booking: Find great deals all around San Francisco for your upcoming stay!
Transgender Film Festival
Each day of this annual film festival offers a different program that includes four to seven films selected from independent filmmakers internationally. These works of art showcase and raise awareness about the transgender community. The films will be screened at the Roxie Theater in the Mission District, and at the Castro Theater on Castro Street.
Dates: 11/9 - 11/12
Learn More: Get detailed information about this film festival
South Asian Film Festival
This film festival is a can't-miss event for anyone intrigued by South Asian cultures--including stories from India, Pakistan, Sri Lanka, Bangladesh, Bhutan, Nepal, Tibet, and Afghanistan. Enjoy everything from documentaries to Bollywood over four days of screenings in SF's Japantown and Castro Districts, plus one day in Palo Alto. You can buy tickets to individual movies or a pass to see all SF or Palo Alto films.
Dates: 11/9-12, 11/18
Learn More: Get ticketing information and more about this film festival
Pinot Days
Grab your glass and sample dozens of Pinot Noir wines from the best local producers. Pinot Days is the largest event in the world dedicated to this lovely and flavorful varietal of red wine. For three hours, you can sample pours from wineries such as DeLoach Vineyards, J. Lohr Vineyards & Wines, and (one of my personal favorites) Landmark Vineyards.
Date: 11/11
More: Find additional details for this year's event
Discovery Day at AT&T Park
A great outing for the whole family, Discovery Day at AT&T Park is a free event that transforms the ballpark into a science wonderland. This event draws thousands each year to conclude the larger Bay Area Science Festival. Ignite the inner scientist in you with over 150 hands-on exhibits all over the field. It runs from 10am to 4pm.
Date: 11/11
Learn More: Find out more on the Bay Area Science Festival website
More: Additional free things to do this month in SF
Renegade Craft Fair
This year's holiday Renegade Craft Fair is on November 11 and 12 at the Fort Mason Center. More than 300 artists will be on hand showing and selling their handmade goods. The event is free to enter and lasts from 11am to 6pm both days.
Dates: 11/11 & 11/12
Learn More: Find out more about this November's event
San Francisco International Tea Festival
This year's International Tea Festival is scheduled for Saturday, November 6 at the Fort Mason Center. At this event, you will get the chance to sample a variety of teas from around the world. You will also receive your own teacup to sample during the event. All of the teas will be on sale too, so you can easily pick up anything you want!
Date: 11/12
Learn More: Visit their site for ticketing information
SF Urban Film Fest
We all know San Francisco is a big, beautiful, complex city. But what does that mean? Let yourself delve deeper into this urban world with the 4th annual week-long SF Urban Film Fest, whose film screenings, panel discussions, and storytelling workshops are designed to inspire and awaken civic engagement.
Dates: 11/13 - 11/19
Learn More: Find out more on their website
SF International Hip Hop Dancefest
This year marks the 19th annual SF International Hip Hop Dancefest, the first festival of its kind to honor the artistry of hip hop in a non-competitive environment. The festival features performances by professional dance companies from all over the world. This all-ages event takes place at the Palace of Fine Arts Theater over the course of three days.
Dates: 11/17 - 11/19
Learn More: Check out the festival website for details
Additional Things to Do in SF in November
In addition to all of our fun San Francisco events in November, you will also find a variety of other fun things to do. These include cruises, tours, and free activities. You can also head out on a day trip, visit one of our top museums, and shop at some in some of our most popular districts.
More: Find 50+ fun things to do this month
SF Comedy Shows
San Francisco has a fantastic comedy scene. You can enjoy live performances of improv or standup nearly every night of the week. This month, you can catch David Sedaris, Trevor Noah, and many more on stage at SF's biggest comedy clubs. In addition, this is the home of the famous Beach Blanket Babylon, a long-running, ever-changing satirical musical with fabulous hats.
Dates: Several
Learn More: See the full calendar of upcoming shows
San Francisco Auto Show
This is the 60th year for the San Francisco Chronicle International Auto Show. In 2017, it will once again be held at the Moscone Center in SF's SOMA District. Stop by to see the latest trends in the auto industry and some of the newest models on the market.
Dates: 11/18 - 11/26
Learn More: Visit their site for the full schedule of events and ticketing info
Daily Free Walking Tours
Do you love history? Are you interested in hearing more about San Francisco's unique districts and culture? If so, then check out one of the free walking tours offered by SF City Guides (part of the SF Library). Every day of the week, you will find five to ten tours available all around SF. There is no cost to join a tour, but they do request a small donation at the end to keep their program running strong.
Dates: Every Day
Learn More: Click here for a schedule of tours each day in SF
Tree Lighting Ceremonies
This November make sure to check out one of the tree lighting ceremonies and/or holiday celebrations in San Francisco and beyond. They range from the popular tree lighting celebration at Pier 39 to the lighting of the menorah at Union Square. Click the link below for this year's schedule of events.
Dates: Several in November and December
Learn More: See the entire schedule of events this year
Free Museum Admission Days in November
This is your chance to visit some of SF's top museums for free! Toward the beginning of the month museums such as the Asian Art Museum, the de Young, and the Conservatory of Flowers invite you to visit their exhibits for free.
Dates: Several dates in November
Learn More: Discover the schedule of free days for November
Museum Exhibits in SF
Take advantage of SF's world-class museums, each offering unique exhibits throughout the year. November is your last chance to see The Sculptural Turn at the Asian Art Museum and Noguchi's Playscapes at the SF MOMA. Other top exhibits this month are In That Case at the Contemporary Jewish Museum, Revelations at the de Young, and Gods in Color at the Legion of Honor.
Dates: Throughout November
Learn More: See the full list of top museums and their exhibits
Great Dickens Fair
Celebrate the holiday season at this unique festival. The Great Dickens Fair is a recreation of Victorian London and includes costumed characters, lively entertainment, and food and drink. It's a great place to also pick up some interesting holiday gifts for those on your list. The event is held at the Cow Palace.
Dates: Weekends from November 18 - December 17, plus the day after Thanksgiving
Learn More: Visit their site for more event details
Santa Claus in SF
Santa Claus is coming to town! He will be making his way all around San Francisco in both November and December. Some of his most popular stops are at the Westfield Mall, the Japantown Center Malls, and the SF Zoo.
Dates: Various Dates in November and December
Learn More: Uncover a list of places Santa plans to stop this year
Thanksgiving Day and Weekend Activities
You will find dozens of fun events this Thanksgiving in San Francisco. Use my planning guide to find the best places for a traditional or not-so-traditional holiday meal. Head out on a tour, visit some of SF's famous attractions, or cruise around the SF Bay. My guide also gives you recommendations on what do to all weekend long.
Date(s): Thanksgiving Day is November 23; Weekend is November 24 - 26
Learn More: Find out what to do on Thanksgiving Day & Weekend
A Perfect Day in Chinatown
Enjoy a perfect day in Chinatown with my self-guided tour. Stop by historic temples, learn more at the Chinatown Museum, and sample dim sum. You will also get the chance to get in a little shopping for yourself or anyone on your list. In one day, you will see all of the best of this interesting SF District.
Dates: Any day of the week
Learn More: Check out my perfect day in Chinatown itinerary
What to Wear in November
Do you need some advice on what to wear in November? Check out my insider's guide on what to expect from the weather and some tips on what to pack for your stay.
>> Tips on what to pack and wear in SF
2016 Events
Below are some of the events from 2016 that are not finalized yet for this year. I will update them as soon as the events are ready for this year.
Save the Waves Film Festival
If you are fascinated by the ocean, its wildlife, surfing, or coastal communities, you will appreciate the Save the Waves Film Festival. Not only do you get an evening full of shorts, documentaries, and feature films about the sea--you also help raise money for a good cause. The San Francisco event takes place at the Victoria Theater in the Mission District.
Dates: November 19
Learn More: Get the details about this ocean-themed film festival
Cirque du Soleil in SF
The world-famous acrobatic extravaganza Cirque du Soleil is in town this year with Luzia: A Waking Dream of Mexico. This show will take you on a magical, mystical journey through Mexico's natural and built landscape, accompanied by fantastic music. Head over to the parking lots near AT&T Park where you can't miss the big, beloved circus tent.
Dates: November 18 - January 8
Tickets: On sale now
Learn More: Get the complete SF show schedule, and buy your tickets today!
Day of the Dead in SF
SF's Mission District has been celebrating Dia de los Muertos (Day of the Dead) since the 1970s. Every year, the community sets up a festival of altars in Garfield Park from 4pm - 11pm, and holds a procession at 7pm starting from 22nd and Bryant. If you want to see what this Latin American tradition is all about, head over to check out the art and music. If you want to honor a deceased loved one yourself, feel free to bring flowers, mementos, and candles.
Dates: November 2
Learn More: Read more about the SF celebration
Holiday Ice Rinks in SF
Though it doesn't snow in San Francisco, the city has ways of bringing wintry fun right to the heart of downtown. People of all ages love the holiday ice rinks installed at the Embarcadero (right across from the Ferry Building) and Union Square (right next to the giant Christmas tree and the stores all decked out to the nines). 90-minute sessions are affordably refreshing and a great break from all the hustle and bustle of this part of town.
Dates: November 2 - January 8
Learn More: Get details on the Union Square ice rink
Learn More: Find out more about the Embarcadero ice rink
More Pages to Explore