Rhone Rangers Wine Event in SF
The Annual Tasting & Education for American Rhone Wines
NOTE: As of July 1, San Francisco and Bay Area counties are slowly reopening. Many large events (including 4th of July fireworks & festivals), theater performances, and concerts are cancelled or postponed. Click here to stay up-to-date with what's open and opening soon.
The 19th Annual Rhone Rangers Wine Event will take place on June 9-10, 2017. It celebrates Rhone varietals produced in the US, the wineries that grow them, and people who love them.
Note: This event has moved. I'll keep you updated if they plan to have this event again in San Francisco again in the future.
This annual event features three main activities. The first is the Winemaker Dinner and Auction on Friday night. On Saturday, you will find both a Seminar Series that starts in the morning and a Grand Wine Tasting in the afternoon. All events this year are at the Golden Gate Club in the Presidio.
Before we get started with the event details, let me give you a little information about the Rhone varietals.
About Rhone Wines
The word Rhone describes a wine growing region in the southeastern part of France. A total of 22 red and white varietals grow in this region.
The most notable reds include Grenache, Syrah, and Mourvedre. Other lesser known reds grown there are Petite Sirah, Carignan, and Cinsault.
Well known white wines from the Rhone region are Grenache Blanc and Viognier. Some of the other whites grown there include Marsanne, Picpoul, and Roussanne.
In France, winemakers only create blends with the grapes mentioned above. Historically, winemakers in the US did the same.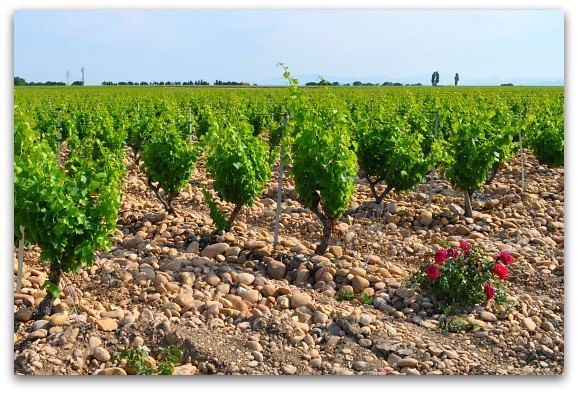 The Chateauneuf-du-Pape area within the Rhone region is one of the most beautiful to me. All vineyards here have large rocks covering the top layer of soil. Why? I've been told that the surrounding area was once a river and as it dried up, it left this interesting soil behind.
However, in recent years, winemakers started making single varietal wines from these Rhone grapes. These wines allow you to really get a feel for the flavors of the individual varietals.
The thing I love about Rhone wines is the variety. Some are light and spicy, while others are heavy with a lot of fruit flavors.
Of them all, my favorite is Grenache. I'm really starting to enjoy single varietal Mourvedre and Cinsault wines too.
Another trend is to create rose or blush wines from these grapes. These make for the perfect BBQ and/or summer wines.
Now that you know a little more about Rhone wines, let's dive into this year's Rhone Rangers Wine Event details.
Winemaker Dinner
On Friday, June 9, head over to the Golden Gate Club in the Presidio for the Winemaker Dinner and Auction.
This year's opening night event will feature several wineries. The evening begins with a walk-around reception. You can sample all of the wines as you learn more about them from the winemakers. There will also be a few appetizers.
The evening continues with a three-course seated meal catered by The Girl & the Fig (one of my favorite Sonoma restaurants). The evening also includes a live auction with rare and unique items that you will only find here.
Seminar Series
This year, you will find three seminars before the Grand Tasting. They will take place on Saturday, June 10, from 11am - 12pm, 1pm - 2pm, and 3pm - 4pm at the Golden Gate Club.
You can choose to attend one, two, or all three seminars. All seminar tickets will grant you entry to the VIP Tasting, which begins at 2pm. This is where you will get the chance to sample Rhone wines from more than 60 wineries.
Grand Tasting
You can also skip the seminars and just enjoy the Grand Tasting of the Rhone Rangers wine event on Saturday afternoon.
There are two tickets. The standard ticket gets you access to sample the wines between 3pm and 5:30pm. The VIP ticket gives you an extra hour for tasting, from 2pm to 5:30pm.
Tickets
You can purchase tickets to the individual events or a weekend pass. Click here for ticketing information and pick yours up today!
Where to Stay
There are a quite few lodging options for you to stay nearby. There is one lovely hotel in the Presidio that is very close to the event. You can also find some great options in the Marina District just east of the Presidio. Alternatively, the wine event is only a short cab ride away from either Fisherman's Wharf or Union Square, which have plenty of great options.
Click the links above to find my recommendations in each district.
You can also click here to compare hotel prices on TripAdvisor.com.
More Fun Things to Do in San Francisco
In addition to the Rhone Rangers wine event, you will find a number of fun things to do in San Francisco at this time of year.
Street Fairs: Every summer in SF, you will find a variety of street fairs. The most popular in June include the North Beach Festival, the Union Street Festival, and the Haight Street Fair. Click here for details on these and other street fairs every year in SF.
SF Theater: All year long you will find performances at theaters all around SF. Top Broadway shows include hit musicals such as Hamilton, Roman Holiday, and The Curious Incident of the Dog in the Night-Time. You will also find several smaller performances each week. Click here to find a calendar of theater shows in SF in June.
Half-Priced Tickets: Before you buy tickets to any event or tour, check out the discounts available on Goldstar. They sell dozens of tickets at up to 50% off for popular events and activities. Click here to check out their current selection and to start saving today!
Concerts: San Francisco is also a fun place to see a concert. You will find popular bands playing at our largest venues such as the Bill Graham Civic Auditorium and the Nob Hill Masonic Center. You will also find up and coming acts and smaller shows at places such as the Fillmore, the Warfield, and the Independent. Click here for this June's schedule of concerts.
Other Pages You Will Enjoy