Pinot Days San Francisco
Sample Some of the Best Pinots from US Producers
NOTE: As of July 30, San Francisco and Bay Area counties are slowing the reopening process due to a spike in cases. Many large events, theater performances, and concerts are cancelled or postponed. Click here to stay up-to-date with what's open and opening soon.
Pinot Days San Francisco is a popular wine tasting event that features Pinot Noir wine from around the US and beyond.
Notice: This event has been cancelled. I'll update this if they plan to move it or reschedule it for 2019.
In 2018, you will once again find almost 70 producers pouring their wines during this event.
This one-day tasting is on Saturday November 3, 2018 from 2pm to 5pm. It will be held at the Bespoke at the Westfield Shopping Centre at 835 Market Street.
A Little About Pinot Noir Wine
Pinot Noir is a diverse grape. It makes a very different wine depending on where it's grown.
You will find some that are light and fruity. You will also find many that are heavier with a more earthy side.
Its low tannins attract both those new to red wines and those who have been enjoying them for years. It's one my personal favorites.
You will taste hints of cherry, raspberry, and strawberry, as well as some Asian and exotic spices. Pinot Noir wines will also usually have some hints of floral such as violets or rose pedals.
Some of the top US regions include Sonoma County's Russian River Valley and a subset of that, the Green Valley of the Russian River Valley. You will also find a large selection of amazing Pinots in Oregon, specifically those from the Willamette Valley.
Burgundy in France (known as Bourgogne on the labels) is one of the first to produce this lovely red and offers up earthier varieties.
Participating Wineries & Food Vendors
You will find an amazing selection of Pinot Noir at this year's wine festival. This is one of the reasons I love this festival. You also get the chance to sample some wines that are not often found at your local wine shop.
Some of my favorite wineries that have participated in this event include DeLoach, Dutton-Goldfield, and Landmark. The first two are found in Sonoma County's Russian River Valley and the other is found in Sonoma Valley.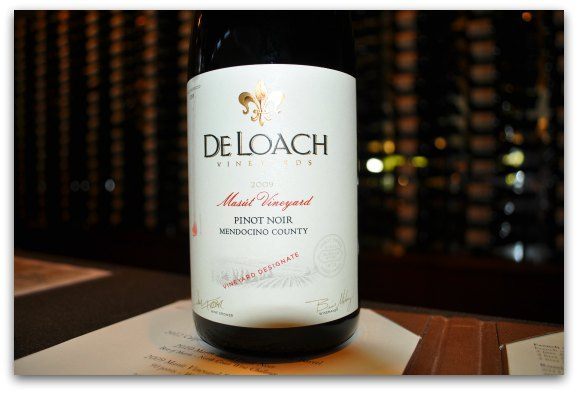 Here are some of the wineries and food vendors that participated in 2018:
Aberrant Cellars
Attune Wines
August West
BRAVIUM WINERY
Calista
Clos de la Tech
Comptche Ridge Vineyards
Crate Big ideas
Davis Bynum Wines
Davis Family Vineyards
DeLoach Vineyards
Dutton-Goldfield Winery
El Porteno Empanadas
Fess Parker Winery & Vineyard
Foley Family Wines
Furthermore Pinot Noir
J. Lohr Vineyards & Wines
Kendric Vineyards
La Rochelle Winery
Landmark Vineyards
MacPhail Family Wines
Monterey Chocolate Company
New Zealand Winegrowers
Omero Cellars
Papapietro Perry Winery
Ram's Gate Winery
Ritual
Rusack Vineyards
Siduri Wines
Sojourn Cellars
Talisman Wines
Thorne Wine
Wrath

Other Event Details
All tastings for the festival are on Saturday, June 18. The public tasting is from 2pm to 5pm. You can also come over early for the VIP tasting from noon to 5pm.
Tickets
Tickets for the public tasting are $75.
Tickets for the VIP tasting are $125. The VIP ticket also includes a one-hour sit-down tasting. Four wineries pour at a time to a group of up to 50 people. It's a great way to learn a little more about the Pinot Day San Francisco producers before the open tasting starts.
Find tickets on the Pinot Days website.
Places to Stay Nearby
If you plan on staying in a hotel for the Pinot Day San Francisco Wine Tasting Event, then I recommend looking for a great place in Union Square. It is just a few blocks away from the event and offers great nightlife as well as restaurants.
Click here for a list of my top recommendations in Union Square.
You can also head over to TripAdvisor.com to compare rates at some of the top hotel sites.
Other Events You Might Enjoy
More Popular Events in June
Stern Grove: Head over to Stern Grove Park on Sunday afternoon at 2pm for this year's opening day for the Stern Grove Festival. These free concerts feature big name musicians as well as local favorites. Click here for this year's full calendar.
Ethnic Dance Festival: The Ethnic Dance Festival is a month-long event that features different dance performances throughout the month of June. Click here for more details.
Savings Tip: One of the best ways to check out the weekend's activities is on Goldstar. They offer dozens of tour and event tickets at up to half-off the full retail price. It's a great way to see what is going on as well as saving on the cost to attend SF events. Click here to take a look at their current selection.
Father's Day: Spoil your Dad this month on his special day with great events, activities, and SF Bay Cruises. Learn more here.
Other Big Festivals in SF
Union Square Live: All summer, you can catch free cultural performances at Union Square Live. Shows are most Wednesdays and Sundays. They include everything from family-friendly circus acts to performances by local musicians. Click here for this year's full schedule.
Yerba Buena Gardens Festival: Another free summer festival is just a few blocks from Union Square at the Yerba Buena Gardens. This event features four to six performances per week. They also offer both family-friendly shows as well as live music performances. Click here for the full schedule.
Sunday Streets: Once a month from May to October, SF hosts the Sunday Streets event. During this event, a specific district offers car free streets all afternoon. In addition to being able to run, walk, and bike easily, they also offer community health programs and workshops. Click here for the schedule of events for this year.
How to Get to Bespoke
Pinot Days San Francisco is easy to get to from any part of SF and the Bay Area. Here are my recommendations.
From San Francisco
You can take the 5, 6, 7, 9, 21, & 31 buses to arrive within a block of the Westfield Shopping Centre. You can also take BART from the Mission or Civic Center to the Powell Street Station.
Another great option is to use the light rail trains F, J, L, M, or N to Powell Street. Bespoke in the Westfield Shopping Centre has an underground entrance from this station.
From the North Bay
From the North Bay, take the 70, 80, or 101 all the way to the corner of Mission and 5th Streets. From here, walk across Mission to enter Westfield.
From the South Bay
Take BART to the Powell Street Station in downtown SF. This drops you at Market and 5th Streets. From here, either head up to street level to enter the shopping mall or use the underground entrance.
You can also take Caltrain to the final stop at 4th and King Streets. Head to Townsend and 4th Street to grab the 91. Take it to the corner of 3rd and Mission (Stevenson Street). Walk two blocks west on Mission and enter between 4th and 5th Streets.
From the East Bay
Take BART to the Powell Street Station. Once you exit this stop, you will be at the corner of Market and 5th Streets. Walk upstairs to enter or head to the underground entrance for the mall.