Pacific Grove Travel: Things to Do, Where to Stay & Other Fun Travel Tips
My Pacific Grove Travel Guide offers you an insider's view of the best things to do in this gorgeous waterfront town. Situated at the southern end of the Monterey Bay, Pacific Grove is famous for its annual winter butterfly migration and so much more.

In addition to this magical migration, you will also find plenty of other fun things to do here. Some of my favorites include heading to the beach, visiting their museums, and checking out the local lighthouse.
My guide also includes some tips on where to eat, the best places to stay, and some interesting ideas on what to do nearby in Monterey, Carmel-by-the-Sea, and other cute towns and areas around here. You will also find a calendar of top events here as well as options that are just a short drive away.
Disclaimer: I receive a small commission from some of the links on this page.

10 Fun Things to Do in Pacific Grove

During your Pacific Grove travel, you will find plenty of fun things to do. I've listed ten of the most popular picks here.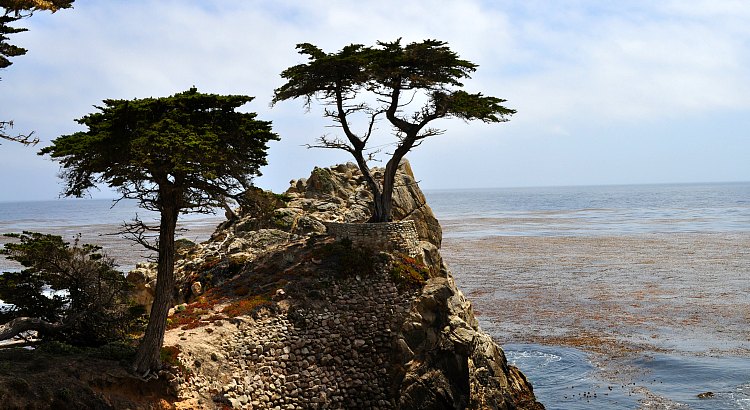 1. Monarch Butterfly Sanctuary
The Monarch Butterfly Sanctuary is the winter home to thousands of Monarch butterflies. From October to February, these wonderful creatures fly to the sanctuary for winter mating season.
Pacific Grove is often referred to as "Butterfly Town U.S.A." because there is nowhere else that they congregate in such masses. The best time to see them here is during the days between 12pm and 3pm when the temperatures are above 55 degrees.
You will find the sanctuary at 250 Ridge Rd.
2. Lovers Point Park
This small beach area sits on the southern end of the Monterey Bay. It offers gorgeous views of the bay and the Pacific Ocean. It's a fun place to spend the day with the family.
Activities here include hanging out at the beach, renting bikes and taking them for a ride, kayaking, and more.
You will find it at 631 Ocean View Boulevard.
3. Asilomar State Beach
This state beach offers a 1-mile beach of sand and rocky coves. It also offers a 1-mile trail through the dunes, which is fairly flat and wheelchair accessible. This beach is part of the Asilomar State Natural Preserve, so you are not allowed to take home any shells or other natural souvenirs from the beach.
You will find it along Sunset Drive in Pacific Grove.
4. Pacific Grove Golf Links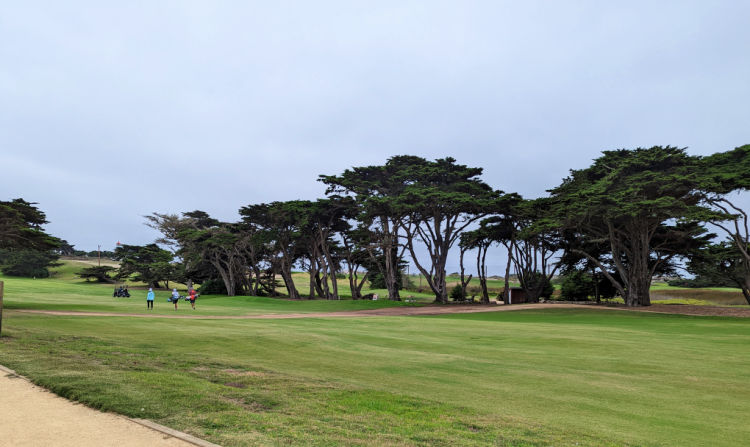 The best golf course in town is the Pacific Grove Golf Links. This 18-hole course is affordable and offers amazing views from almost every tee. The back nine has the best views of the course and is right next to the famous 17-Mile Drive.
If you love golf, and beautiful courses, this is a can't miss while in Pacific Grove.
Book your tee-time directly through Groupon.
5. 17-Mile Drive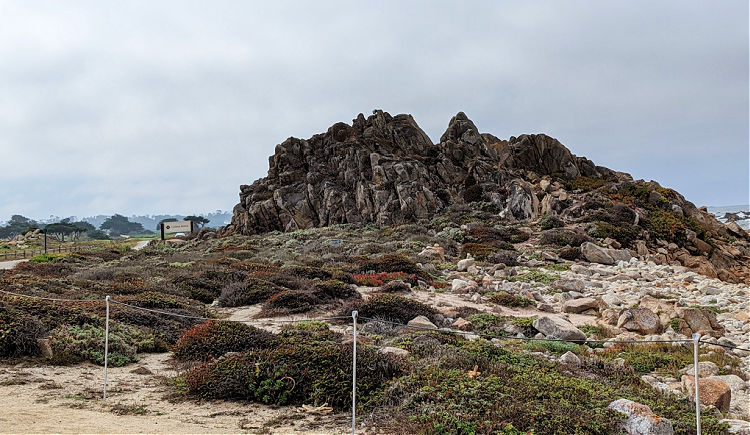 This famous drive starts in Pacific Grove and makes its way through the unincorporated community of Pebble Beach. The section in Pacific Grove is free and offers some great views of the community.
As you approach Pebble Beach, you will find a gate that charges about $10 per car to proceed.
Once inside Pebble Beach, you will be treated to gorgeous waterfront views, a chance to check out its famous golf courses, and an unobstructed view of the Lone Cypress.
6. John Denver Memorial
This is a small memorial to John Denver, the famous singer-songwriter of songs such as "Back Home Again", "Take Me Home, Country Roads", "Sunshine on My Shoulders" and many more. On October 12, 1997, Denver was doing touch and go landings in the area in his experimental aircraft. He crashed just off the coast of Pacific Grove.
Many Denver fans stop by to see this small memorial that honors him near where he crashed on that fatal day.
You will find this memorial at 1275 Ocean View Boulevard.
7. Pacific Grove Museum of Natural History
Opening in 1883, this museum was one of the first of its kind that was dedicated to natural history. It's the perfect stop for anyone interested in learning more about our famous monarch butterfly migration.
It's also perfect for those that want to learn more about our local birds, geology and native plants and enjoy your Pacific Grove travel.
The museum is at 165 Forest Avenue.
8. Jameson's Classic Motorcycle Museum
Motorcycle enthusiasts will love this stop during your stay in Pacific Grove. This small museum features a variety of vintage motorcycles, as well as a few firearms and a few other classic items.
It's only open a few hours a week, so make sure to call ahead for details at (831) 331-3335.
You will find them at 305 Forest Ave.
9. Point Pinos Lighthouse
Built between 1853 and 1854, the Point Pinos Lighthouse is the oldest operating lighthouse on the west coast. It helps those at sea stay away from the rocky waters near the Pacific Grove Coast.
The lighthouse has undergone many renovations over the years and is open to the public five days a week from 1pm to 4pm (closed on Tuesday and Wednesday).
You do not need a reservation to visit unless you are with a large group and want a special tour.
You will find it at 80 Asilomar Ave.
10. Monterey Coastal Trail
Lovers Point Park is the southern starting point for the Monterey Coastal Trail. This 18-mile trail takes you from Pacific Grove to Monterey and all the way north to Castroville.
You can enter and exit the trail at dozens of spots along the way.
It's a great way to easily travel between Monterey and Pacific Grove.

Where to Eat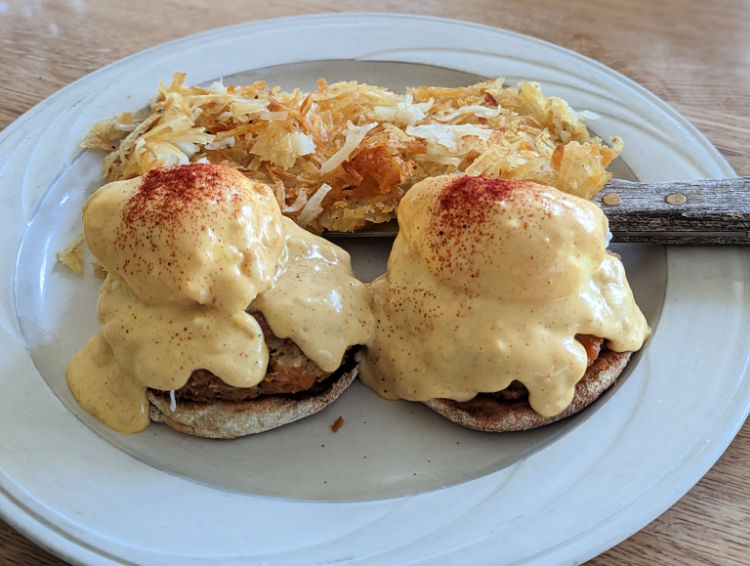 You will find a large concentration of great local eats on Lighthouse Avenue near Forest Avenue. You will find fresh seafood, tasty Italian, and authentic Mexican cuisines.
A few of my favorites include Passionfish (seafood, 701 Lighthouse Ave), Jeninni Kitchen + Wine Bar (Mediterranean/wine bar, 542 Lighthouse Ave.), and La Mia Cucina (Italian, 208 17th St).
You will find several great inexpensive eats around Pacific Grove too. My favorite cheap eats include The Grill at Lovers Point (burgers, 618 Ocean View Blvd.), Goodies Deli (sandwiches, 518 Lighthouse Ave), and Phoebe's Cafe (sandwiches, 800 Asilomar Ave).
You will also find some great places to eat just next door in Monterey along Cannery Row.
Where to Stay

If your Pacific Grove travel plans include a night or two in the area, you will find several great places to stay. Here are a few of my favorites with a link to even more recommendations.
Seven Gables Inn: This historic gem is located right on the waterfront as you can see from the picture above. This 4-star hotel offers great views from every room. You will also find free parking on site as well as complimentary Wi-Fi and an afternoon wine & cheese social. It is probably the most famous, and picturesque of all the places to stay in this area. It's located at 555 Ocean View Blvd. Find availability and reviews for your dates.
Best Western The Inn & Suites Pacific Grove: Rated as one of the best value hotels in the area, the Best Western is a 2.5-star hotel offers free parking, breakfast and Wi-Fi. It's located near the Asilomar State Beach and about a mile from the bars and restaurants along Lighthouse Avenue. You will find it at 660 Dennett St. Check for rooms for your stay in San Francisco.
Green Gables Inn, A Four Sisters Inn: The Green Gables Inn is a small hotel built in 1888. This restored Queen Anne Victorian is sure to please with charming details and a great location. It's about a 10-minute walk to many local restaurants and just a few minutes to the waterfront. You will find it at 301 Ocean View Boulevard. Check here for guest reviews and availability for your dates.
>> Find additional Pacific Grove recommendations
Weather in Pacific Grove

You will love the weather here during your Pacific Grove travel vacation. You will find that it's cool and comfortable all year long. It's the perfect spot to get away from the winter cold and to escape the summer heat that you usually find in the rest of the US.
Most days, the temperatures are around 60 to 65 degrees. The warmest month is September when the highs are around 70. The coolest months are December and January when most days reach up into the upper 50s.
The temperatures cool off every night after the sun goes down. The lows dip down into the lower 50s in the summer and are closer to the mid-40s the rest of the year.
Our rainy season starts in November and ends around the middle of March. We get around 3 to 4 inches a month during that time. The rest of the year, we see very little rainfall with only trace amounts from May through September.
What to Pack for Your Pacific Grove Travel Vacation

My packing recommendation for Pacific Grove and most of northern California is to use layers. I often wear a short-sleeved shirt with a light sweater over it. I'll also typically have a light to medium weight jacket or pullover with it. That allows me to add and remove items as the day warms up or cools down.
I also usually wear jeans or long pants. The winds came make it feel a bit cooler than the temperature, so I try to keep my legs warm. Longer skirts will usually work too.
If you plan to do a lot of walking (which is common for this area), make sure to pack some really comfortable shoes. I usually wear shoes without too much of a heel so I can comfortably walk around as much as needed. However, I also pack a pair of dress shoes in case I'm going out to an expensive and classy dinner as there are lots of amazing restaurants here.
>> Find additional details on the weather by month for the Monterey Bay Area
Events in Pacific Grove and Nearby

During your Pacific Grove travel, make sure to check out some of the top events in town and nearby.
Some of the best events every year in Pacific Grove include the Good Old Days Celebration in April, the Feast of Lanterns in July, and their Butterfly Parade in October. They also have several events to celebrate the holidays and Christmas including their tree lighting ceremony, Christmas at the Inns, and the Holiday Parade of Lights.
Click the links below for details for events each month in Pacific Grove and the surrounding communities.
Things to Do Nearby

Monterey Bay Aquarium: The most visited attraction in this area is the Monterey Bay Aquarium. Less than a mile from the center of Pacific Grove, this world-renowned aquarium offers you a look at the plants and animals that call the bay home. You will see everything from penguins to large fish to hammerhead sharks that live in the bay. It's great for people of all ages and it's a must see on your Pacific Grove travel vacation. 
Old Fisherman's Wharf: Another fun spot to check out in Monterey is Old Fisherman's Wharf. This is where you will find some great seafood restaurants, plenty of places to head out on a whale watching tour, and fun, local shops. You will also find some fun events here throughout the year.
Sunset Sail on the Bay: Head out on the water on a sunset cruise on the bay. My favorite ones usually include two hours on the water with some light appetizers, white wine, beer, or soda. As you relax, keep an eye scanning the horizon to see if you can spot some local wildlife. You might even get lucky and see a whale!
>> More things to do around the Monterey Bay
Comments? Questions? Suggestions?
I would love for you to join me in my private Facebook group! 
It's a great place to interact with me and others who know the area well.
You can ask questions, get advice for your upcoming stay, and then share your photos and advice with others when you return home. It's a great community and the fastest way to get answers to those nagging questions about your visit!