Pacific Grove Lodging: 5 Top Hotels and Bed & Breakfasts in this Quaint Waterfront Town

by Jill Loeffler  •

Updated: November 14, 2022
Most of the Pacific Grove lodging is small, locally owned hotels and bed & breakfasts. Many offer quite a bit of charm and give you a place to call home during your stay.

Pacific Grove is a quaint coastal town near Monterey, California, with a population of about 15,000. It is known for its historic Victorian homes and Asilomar State Beach.
Since many of these places are locally owned, you can find great deals here. This cute town is the perfect alternative to the busier and more expensive town of Monterey.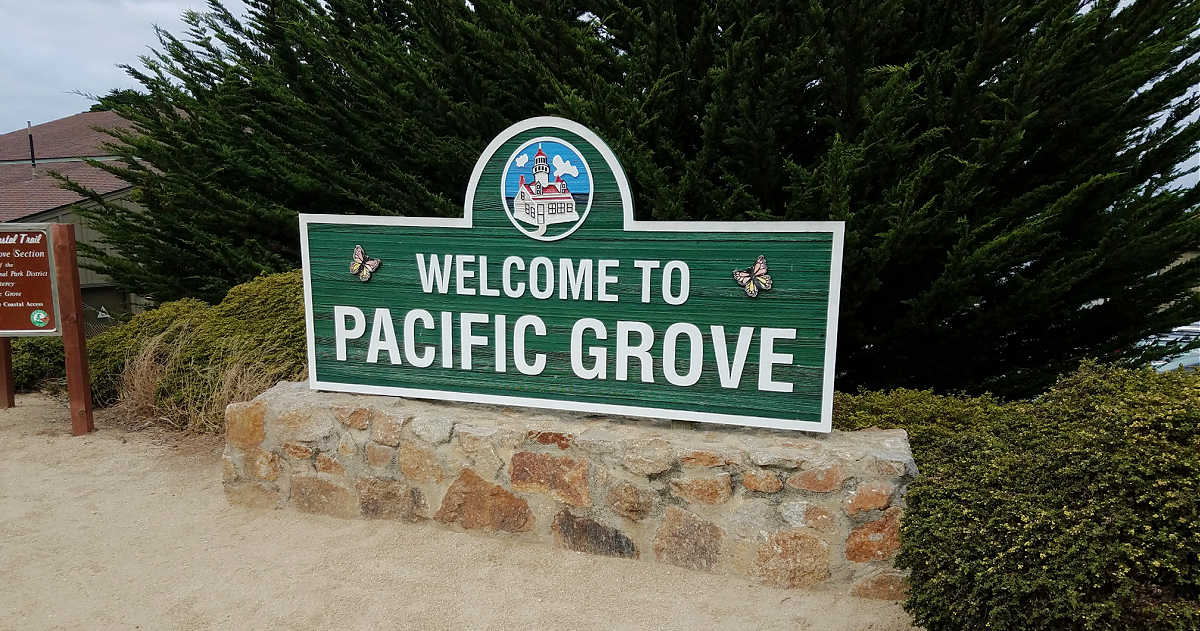 Disclaimer: I receive a small commission from some of the links on this page.

Top Three Hotels in Pacific Grove

Pacific Gardens Inn

Address: 701 Asilomar Boulevard

# of Rooms: 28
Rating: 2.5 Stars
Estimated Price: $120 - $300
The Pacific Gardens Inn is one of the top Pacific Grove lodging choices. It's a simple 2.5-star hotel within walking distance to Asilomar Beach. Several rooms offer kitchenettes so you can make simple meals in your room. There is also plenty of free parking, Wi-Fi, and a hot tub to relax.
Pros: The rooms are meticulously clean and very inviting. If you are traveling with your dog, they offer several pet-friendly rooms. Breakfast is included. The hotel also features a full kitchen and laundry facilities downstairs, so you can make meals or freshen up your clothes during your stay.
Cons: Even though they are clean, the rooms are dated. There is no elevator, so you will want to consider this if stairs are a problem. Select a second-story room to avoid hearing your upstairs neighbors walking around.
Sunset Inn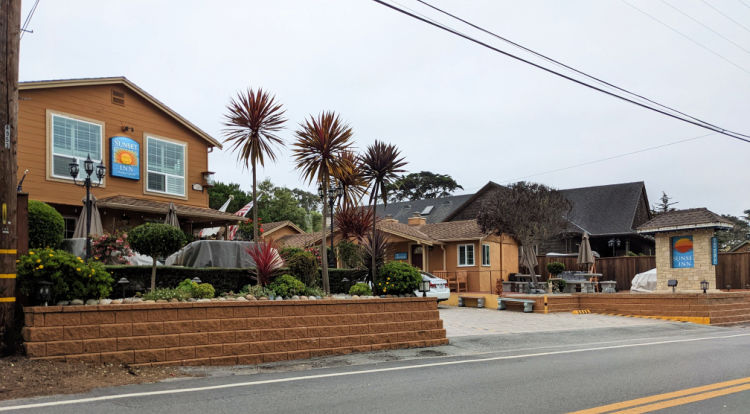 Address: 133 Asilomar Boulevard

# of Rooms: 21
Rating: 2.5 Stars
Estimated Price: $130 - $700
The Sunset Inn is one of the most popular Pacific Grove lodging options. The location of this 21-room hotel offers easy access to the beautiful beaches (just half a block away), the city of Monterey, and the scenic 17-Mile drive. This historic landmark is also right next to the Pacific Grove Golf Course.
Pros: Many upstairs rooms feature a balcony where you can enjoy your morning coffee and the beautiful Pacific Grove sunsets. The rooms with jacuzzi tubs are also charming. There is free parking, and breakfast is included.
Cons: The walls between some of the rooms are thin, so bring earplugs or request a quiet room if you are a light sleeper.
Rosedale Inn

Address: 775 Asilomar Boulevard

# of Rooms: 19
Rating: 2.5 Stars
Estimated Price: $120 - $325
The Rosedale Inn is a cute motel hideaway on Pacific Grove's southwest corner. They offer both standard rooms and suites. It's just steps from the beach near the Asilomar Dunes. It's also close to the Museum of Natural History and Point Pinos Lighthouse.
Pros: Many of the rooms have been recently refurbished. Each building only has a few rooms, all of which are very clean and roomy, which makes for a comfortable stay. I also love that all the rooms have a slightly different personality. Breakfast is included, and parking is free.
Cons: If you are a light sleeper, request a room away from the road. It isn't an extremely busy road but might keep you up at night if you aren't used to the noise. It's an older building, so some rooms are a little dark. The outside has not been rehabbed so that it might make a bad first impression, but the charm and cleanliness inside are worth it for the price.
Two Top Bed & Breakfasts in Pacific Grove

Staying at a bed and breakfast affords you even more of the comforts of home. Many offer peaceful stays and several public areas where you can meet other guests. I always prefer staying at a bed and breakfast over a hotel, as you can really get to know the owners and the other people staying there too.
Seven Gables Inn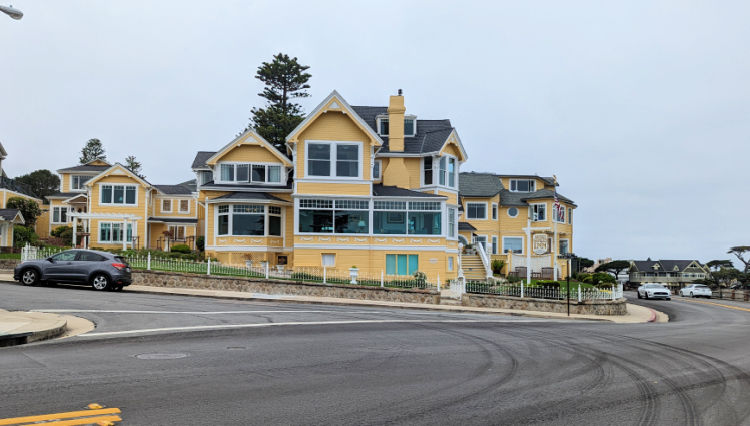 Address: 555 Ocean View Boulevard

# of Rooms: 25
Estimated Price: $325 - $525
The Seven Gables Inn is by far the best Pacific Grove lodging option. Set on a small cliff above the beautiful Monterey Bay, this bed and breakfast location can't be beaten. It's a truly romantic place to stay and the perfect place for couples on a honeymoon or looking for a quiet weekend getaway.
Pros: All rooms offer either a partial or complete view of the water. The upstairs rooms have the best view but cost more. Their breakfast is delicious, and their afternoon wine and cheese reception is always a lot of fun. If you're looking to venture out, Monterey is not too far away, but some of the best restaurants in Pacific Grove are only five or six blocks down.
Cons: You need to book far in advance to grab one of the amazing rooms here. A few of the rooms have small updating needs due to the age of the house.
Green Gables Inn, A Four Sisters Inn

Address: 301 Ocean View Boulevard

# of Rooms: 11
Estimated Price: $260 - $425
The Green Gables Inn sits in an 1888 Queen Anne Victorian home. The remodeled rooms offer both the original historic charm along with modern amenities. This gorgeous retreat is just steps from the colorful Monterey Bay shoreline. It's on the border between Monterey and Pacific Grove, so you are close to several restaurants and shops in both towns.
Pros: This inn is less than a mile from the Monterey Bay Aquarium, making it an easy walk to this popular attraction without worrying about parking nearby. Each room is unique, with several interesting finishing touches.
Cons: Most of the rooms do not have en-suite bathrooms. If you do not want to share a bathroom with other guests, make sure you double-check your room before booking.
Alternatives: Renting a House or Apartment

A new trend in traveling is staying in a local's apartment or house. This trend is supported by many online companies that connect would-be renters with those wanting to rent out their homes.
One of the top organizations to jump on this trend is TripAdvisor. So many people use them for their hotel bookings that they recently expanded their services to include private vacation rentals.
Pacific Grove lodging features more than 40 places for rent. Another 400+ are available if you include the surrounding communities such as Monterey and Carmel.
It's easy to search for a place to stay that fits your needs. You contact the owner (who has reviews from past guests) through TripAdvisor and then work directly with the owner on the details. Best of all, making this agreement with a local resident means you already have a friend in town before arriving.