Monterey Wineries: Top Places to Go Wine Tasting in Monterey County

by Jill Loeffler  •

Updated: May 16, 2022
During your visit to the Monterey Bay Area, you will find plenty of places to sample local wines from Monterey wineries. This area produces hundreds of different red and white wines.

Due to the cool climates in the area, the most highly sought-after wines from the surrounding vineyards are Pinot Noir and Chardonnay. You will also find other popular varieties such as Cabernet Sauvignon, Pinot Gris and Merlot.

Disclaimer: I receive a small commission from some of the links on this page.

Monterey Wineries on Cannery Row

The best place to sample wines in the town of Monterey is on Cannery Row.
A Taste of Monterey: If you want to taste a variety of local wines and enjoy a great view of the Monterey Bay, then this is the place for you. You can grab a space at the wine tasting bar or a table in their bistro (they also serve up yummy flatbread pizzas and other samplers). After you are done, head to their store to buy bottles of wine from up to 95 local producers. You will find A Taste of Monterey at 700 Cannery Row, Suite KK. Head to the back of the building and then up the stairs to the second floor.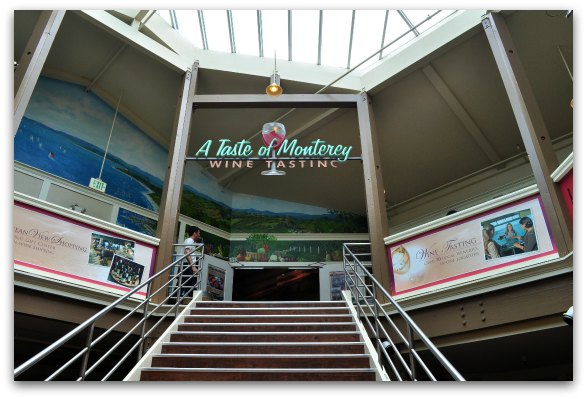 The main stairs leading up to A Taste of Monterey on Cannery Row
Bargetto Wine Tasting Room: Chardonnay, Pinot Noir and Merlot wines are the specialties at Bargetto Winery. Stop by their street level tasting room at 700-G Cannery Row to sample their wines from the Santa Cruz Mountains about an hour north of Monterey.
Pierce Ranch Vineyards: This small, family owned winery mostly produces wines from Spanish and Portuguese varietals. Stop by their tasting room at 499 Wave Street to sample their Tempranillo, Touriga and their Graciano wines.
Carmel Wine Tasting Rooms

About 10 minutes south of Monterey, you will find the small, waterfront village of Carmel-By-The-Sea. Here you will find almost a dozen places to taste the finest from local Monterey wineries. All are within a square mile, so you can easily walk from one tasting room to the next.
Most produce Pinot Noir and Chardonnay along with some other varietals such as Cabernet Sauvignon, Pinot Gris and Merlot.
Here are five of my favorites.
Caraccioli Cellars: It's always fun to taste here since they have a selection of both still and sparkling wines. You will find them on Dolores between Ocean and 7th Ave.
Galante Vineyards: The tasting room for Galante Vineyards is set next to a garden courtyard off the street in downtown Carmel. In addition to the standard wines in this area, they also offer a Malbec, Petite Sirah and Sauvignon Blanc. You will find them off Dolores between Ocean and 7th Ave.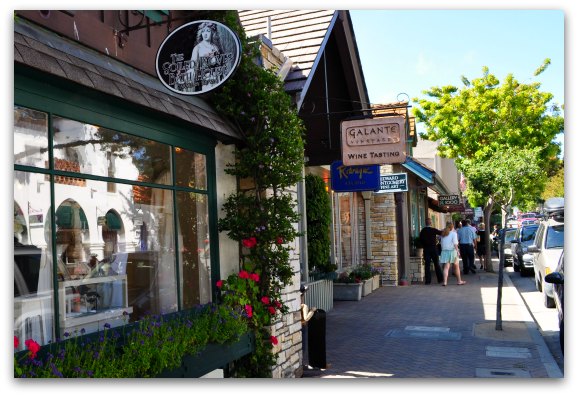 The sign on the street indicating the walk through area to get to Galante Vineyards in Carmel.
Manzoni Cellars: This small, family owned winery is another great place to experience the top shelf quality of the wines from Monterey wineries. At their tasting room in Carmel, you can sample their Pinot Noir, Syrah or their Port wine. They are at 416 San Carlos Street.
McIntyre Tasting Studio: Located in The Crossroads Carmel, you will find the McIntyre Tasting Studio. Here you can sample award-winning wines from this small producer such as Chardonnay, Merlot and Pinot Noir. You will find them at 169 Crossroads Blvd, Carmel-By-The-Sea
Silvestri Vineyards: The gorgeous, new tasting room at Silvestri Vineyards serves up their estate wines including Pinot Noir, Syrah and Pinot Blanc. They are right around the corner form the others mentioned here on 7th Avenue between San Carlos and Dolores.
Carmel Valley Wine Tasting

Carmel Valley is another cute village in Monterey County. It also features several wine tasting rooms right in town.
In Carmel Valley, you can also easily walk from one tasting room to the next as you sample local wines from Monterey wineries.
Here are just a few places to check out during your visit.
Boekenoogen Vineyards and Winery: When you first step into the Boekenoogen tasting room, you will see a standard tasting room with very little fuss. The wines will be the real highlight of your visit. They have fantastic Chardonnay and Pinot Noir. They also produce some flavorful Zinfandel, Viognier and Syrah. This tasting room is at 24 West Carmel Valley Road.
Georis Winery: My favorite part about wine tasting here is that you can either sample inside or sit outside. Another thing I like about the experience here is that they serve all five wines in a flight at the same time, so you can taste and compare them. They also serve a small plate of cheese and fresh baked bread, which adds to the pleasant wine tasting experience. They are at 1 Pilot Road in Carmel Valley, CA.
Joyce Vineyards: Another fun place to visit is Joyce Vineyards. The light and fruity wines at this winery are sure to please. Here you will find mostly reds including Pinot Noir wine, Merlot and Syrah. They also do a few Chardonnays and Cabernet Sauvignon wines. They are at 1 East Carmel Valley Road.
Parsonage Vineyard Tasting Room: This cute tasting room offers you a sample of their 'big red wines'. It's the place to visit if you enjoy hearty reds. It's also fun to walk around viewing their art as you sample their wines. The Syrah is my favorite. You will find them at 19 E. Carmel Valley Road.
Line 24 Carmel Valley Grapevine Express

If you plan to stay in Monterey or Carmel and want to go wine tasting in Carmel Valley, then you should consider taking the Line 24 Carmel Valley Grapevine Express. This bus runs from Monterey, down through Carmel and over to Carmel Valley.
The wine tasting express runs every day of the year. On most days, the first bus leaves Monterey at 6:40 am and arrives in Carmel Valley about an hour later.
It makes almost 20 runs a day around these three towns. The final bus of the day leaves Carmel Valley around 7pm and arrives in Monterey just before 8pm.
It's the perfect way to spend a day (or a couple of days) during your visit to Monterey.
Places to Stay in Carmel Valley

Since there are so many places to taste wines in Carmel Valley, it might even be fun to spend the night. Here are a handful of places you can stay.
Bernardus Lodge: 415 Carmel Valley Road
57 room lodge offers suites and luxurious amenities
Free high-speed internet, parking and fitness center
Full-service spa, salon and restaurant on property
Rooms range from around $385 to $750+ a night
Hidden Valley Inn: 102 W Carmel Valley Road
Cute country inn with free breakfast, parking and internet
Features 45 rooms in a quiet setting
Offers room service and swimming pool
Rooms range from around $145 to $170 a night
>> Find additional places to stay in Carmel Valley
Tasting on the River Road Trail

If you prefer tasting wines in wine country near the vineyards, then this is the list for you. The River Road Trail features several wineries that sit on either side of Hwy 101 between Salinas and King City, CA.
You will find many of the same wineries on this list as mentioned above. Many of these tasting rooms are only open on the weekend.
Here are a few of my favorite places to visit.
Manzoni Cellars: This is the second tasting room location for Manzoni Cellars. Their other tasting room is in downtown Carmel. This location is right next to their vineyards and offers you some gorgeous views of the surrounding area. Each weekend, they serve up their small lot wines including their Pinot Gris, Pinot Noir and Port. You will find their tasting room at 30981 River Rd, Soledad CA 93960: Hours: Saturday and Sunday from 12 pm to 5 pm
Pessagno Winery: This winery is on the northern end of the wine trail. It's between Salinas and Gonzales. Here you can sample several different Chardonnays, Pinot Noirs and their sweet Orange Muscat. Their tasting room is at 1645 River Road, Salinas, CA 93908: Hours: Thursday - Monday from 12 pm to 5 pm
Ray Franscioni/Puma Road Wines: Just to the south of Manzoni and Pessagno, you will find Ray Franscioni/Puma Roads Wines. Here you can sample a variety of Chardonnay wines as well as their Pinot Noir, Pinot Gris and Cabernet Sauvignon. This tasting room is at 32075 River Road, Soledad, CA, which is about one mile south of the Gonzales Bridge. Hours: Thursday - Monday from 12 pm to 5 pm
Marin's Vineyard: Set on the southern end of this wine route, you will find Marin's Vineyard. In their tasting room, you can sample their Syrah, Viognier and Cabernet Sauvignon. You can also taste their sweet, late harvest Viognier. This tasting room is just to the south of King City at 67997 Jolon Road, Lockwood, CA. Hours: Saturday and Sunday from 11 am to 5  pm