Monterey Wharf: What to Do at the Historic Fisherman's Wharf

The Monterey Wharf is an old fishing pier along the Monterey Bay. Originally built in 1846 for passenger and freight ships, it turned into a commercial fishing pier by the 1900s.

Shortly after World War II, the over-fished sardines in the area began to disappear and the fishing industry collapsed. In 1956, the city converted the pier into a shopping and entertainment area.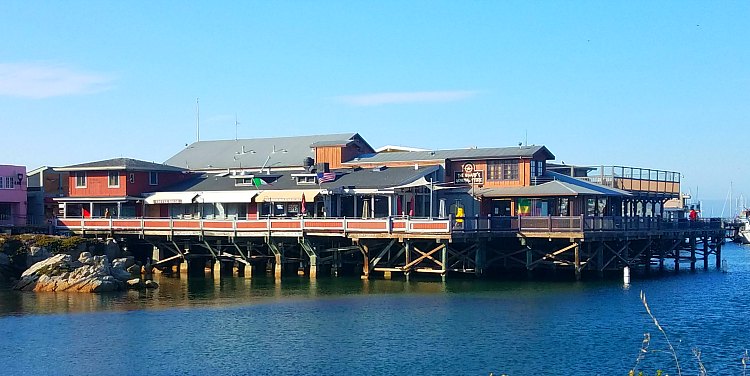 Today, it still houses specialty shops, delicious seafood restaurants and some family-friendly activities.
You can also grab a boat from here to go deep-sea fishing, whale watching or just to cruise around the Monterey Bay.

Disclaimer: I receive a small commission from some of the links on this page.

7 Top Things to Do in Fisherman's Wharf

1. Shop for Unique Gifts

The pier has more than a dozen gift and candy shops where you will find local, ocean-themed items. The places I love to visit are Carousel Candies, where they make fresh salt water taffy on site, and Harbor House Gifts, where you can see the largest painting of the famous Lone Cypress Tree.
There are a few jewelry stores that feature silver and pearls. There are also quirkier options for unique gifts and souvenirs, including Sock Harbor and Pirates Cove.
Part of what makes strolling through Monterey Wharf so fun is the sense of timelessness as you munch on a candy apple or take home an otter-stamped souvenir from the penny press machine. 
2. Eat at World Class Seafood Restaurants

The Monterey Wharf is a haven for crab and pasta lovers, as the restaurants here mainly focus on seafood and Italian cuisine. Many have been in business for decades and are frequented by both visitors and locals. My favorites are the Old Fisherman's Grotto, Grotto Fish Market, Kokomo's, and Abalonetti Bar & Grill.
I love heading over at night for dinner to enjoy the pier illuminated with colorful lights. This adds to the ambiance of a nice seafood dinner near the waterfront, even though most restaurants offer casual dining. 
But no matter what time of day you go, there are always delicious eats available. For something quick, you can grab some fish and chips or a clam chowder bread bowl. If you're just in the mood for a coffee, a milkshake, or another sweet treat, you'll find that too!

3. Go Whale Watching

Monterey is one of the best places in the area to go whale watching. All year long, whales cruise through this part of the California coast as they migrate south toward Mexico for warmer breeding waters, or head back up north toward Alaska for colder feeding grounds.
From the Monterey Wharf, you can catch a day tour that will take you out on the Pacific Ocean, where you will get the chance to see gray whales, humpbacks, orcas, dolphins, or blue whales, depending on the season. I typically choose Discover Whale Watching, Princess Monterey Whale Watching or Monterey Bay Whale Watch for my tours. Find additional details on what it's like to go whale watching in the Monterey Bay.
>> Find details about their guided cruises including ticketing information
4. Enjoy A Day Deep-Sea Fishing

Head over to Chris' Fishing for the ultimate deep-sea fishing adventure. These-all day tours take you off the coast of Monterey to the deep, cool waters of the Pacific Ocean, where you'll have the chance to catch huge cod, albacore, and salmon, as well as a variety of rock fish.
The company was founded in the 1940s and the crew has lots of experience taking visitors out to the best spots only they could know.
At the shop on the wharf, you can buy snacks for the trip. Bathrooms are available on all their vessels. Make sure to bring a jacket or windbreaker, some sunscreen, and a camera!
5. Cruise Around the Bay on a Boat

Another fun way to enjoy your time at the Monterey Wharf is to hop on a boat cruise. The bay is full of wildlife like sea otters, sea lions, and harbor seals, which you can observe better if you're on the water.
These boat tours are short, allowing you to spend the rest of the day walking around the pier and enjoying the other local activities.
The Glass Bottom Boat offers several 30 - 45-minute tours a day on summer afternoons, and on weekends and holidays during the off-season. The Monterey Sailing Company offers 1 - 1.5-hour tours on their beautiful catamaran during the day and at sunset.
6. Watch Some Live Theater

The Bruce Ariss Wharf Theater offers several performances throughout the year, where local artists perform comedies, dramas, musicals, and concerts.
The theater is on the second floor at the tip of the Monterey Wharf pier, and is also known as the "new Wharf Theater" since it opened in 1976 to replace the one that had burnt down in 1959.
The theater's most recent success was a production of the musical "Sweeny Todd."

7. Visit the Comical Sea Lions

As you take in the sights and smells of the Monterey Wharf, you'll probably hear some strange barking noises in the background... that's the sea lions! You'll find dozens of these beautiful blubbery creatures around the wharf, beached on the rocks taking in some sun.
This species of marine mammal are known for their little ears, big whiskers, and strong fore flippers and hind flippers that actually allow them to walk on land (though it looks more like a wobble). Don't miss out on watching these funny characters jockey for position on the rocks and piers, tumble into the water, and make friends with the other sea lions around them.

Hotels Near the Monterey Wharf

If you want to be close to the Monterey Wharf, I recommend staying at one of these three highly rated hotels.

Hotel Pacific
Address: 300 Pacific Street
3.5-star hotel
3 blocks from the Wharf
All 105 rooms are suites with breakfast included
Room rates range from around $150 to $250 a night
>> Find rooms, reviews, and rates for the Hotel Pacific. 

Portola Hotel & Spa
Address: 2 Portola Plaza
3.5-star hotel
3 blocks from the Monterey Wharf
379 room hotel featuring two eateries, a full service spa and a swimming pool
Room rates range from around $225 to $350
>> Learn all about guest reviews and get the best deals for the Portola Hotel & Spa.
Monterey Marriott
Address: 350 Calle Principal
3.5-star hotel
4 blocks from the Monterey Wharf
319 room hotel offering a swimming pool, fitness center and an on-site day spa
Room rates range from around $190 to $270
>> Find the best deals and learn all about the Monterey Marriott for your stay.
Other Resources for Your Trip to Monterey

Comments? Questions? Suggestions?
I would love for you to join me in my private Facebook group! 
It's a great place to interact with me and others who know the area well.
You can ask questions, get advice for your upcoming stay, and then share your photos and advice with others when you return home. It's a great community and the fastest way to get answers to those nagging questions about your visit!