Monterey Wharf
What to Do at the Historic Fisherman's Wharf
NOTE: Click here to stay up-to-date with what's open and opening soon.

The Monterey Wharf is an old fishing pier along the Monterey Bay. Originally built in 1846 for passenger and freight ships, it turned into a commercial fishing pier by the 1900s.
Shortly after World War II, the over-fished sardines in the area began to disappear and the fishing industry collapsed. In 1956, the city converted the pier into a shopping and entertainment area.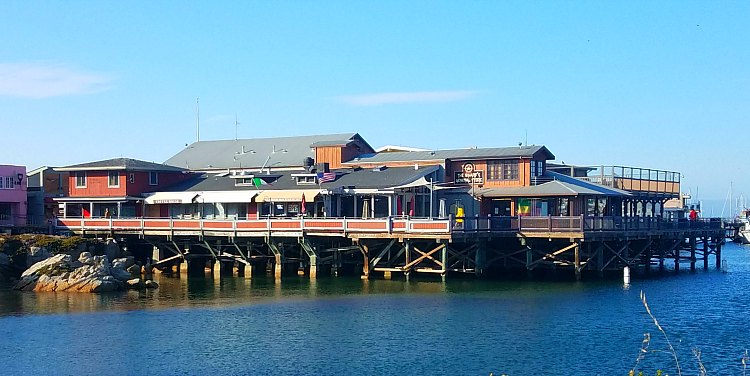 Today, it still houses specialty shops, delicious seafood restaurants and some family-friendly activities.
You can also grab a boat from here to go deep-sea fishing, whale watching or just to cruise around the Monterey Bay.
Disclaimer: I receive a small commission from some of the links on this page.
8 Top Things to Do in Fisherman's Wharf
1. Shop for Unique Gifts
The pier has more than a dozen gift and candy shops. At many of the shops, you will find local and ocean themed items. The places I love to visit are Carousel Candies, where they make fresh salt water taffy on site and Harbor House Gifts, where you can see the largest painting of the locally famous Lone Cypress.
2. Eat at World Class Seafood Restaurants
Most of the restaurants on the Monterey Wharf focus on seafood and pasta. Many have been in business for years and frequented by both visitors and locals. My favorites are the Old Fisherman's Grotto, Grotto Fish Market and Abalonetti Bar & Grill. I love heading over at night for dinner. This is when they illuminate the pier with colorful lights. It adds to the ambiance of a nice seafood dinner near the waterfront.
3. Go Whale Watching
Monterey is one of the best places in the area to go whale watching. All year long, whales cruise through this area during migration. On these all day tours, you will get the chance to see humpbacks, orcas and blue whales. I typically use Princess Monterey Whale Watching or Monterey Bay Whale Watch for my tours. Find additional details on what it's like to go whale watching in the Monterey Bay.
4. Enjoy A Day Deep-Sea Fishing Trip
Head over to Chris' Fishing Trips for the ultimate deep-sea fishing adventure. These all day tours take you off the coast of Monterey to the deep, cool waters of the Pacific Ocean. Here you will track down fish such as cod, albacore and salmon.
5. Cruise Around the Bay on a Boat
Another fun way to enjoy your time on the Monterey Wharf is to hop on a boat cruise. You can choose from a tour with Glass Bottom Boat Tours or even go sailing with Monterey Sailing Company.
6. Watch Some Live Theater
The Bruce Ariss Wharf Theater offers several performances throughout the year. Local artists perform comedies, dramas, musicals and Broadway reviews. The theater is on the second floor at the tip of the Monterey Wharf pier.
7. Visit the Comical Sea Lions
On the rocks along the Monterey Wharf, you will see dozens of sea lions. These funny characters are fun to watch as the jockey for position on the rocks and make friends with the other sea lions around them.
8. Take a History Walk with a Local Expert
If you want to learn more about the history of the Monterey Wharf, then take one of the walking tours with Tim Thomas. On the first Saturday of every month, Thomas, a local historian, walks visitors around the wharf as he explains its past. The walk starts at 10am and lasts until around 2pm. Contact Thomas directly for more information (831) 521-3304.
Hotels Near the Monterey Wharf
If you want to be close to the Monterey Wharf, I recommend staying at one of these three highly rated hotels.
Hotel Pacific: 300 Pacific Street
3.5 star hotel
3 blocks from the Wharf
All 105 rooms are suites with breakfast included
Room rates range from around $150 to $250 a night
Portola Hotel & Spa at Monterey Bay: 2 Portola Plaza
3.5 star hotel
3 blocks from the Monterey Wharf
379 room hotel featuring two eateries, a full service spa and a swimming pool
Room rates range from around $225 to $350
Monterey Marriott: 350 Calle Principal
3.5 star hotel
4 blocks from the Monterey Wharf
319 room hotel offering a swimming pool, fitness center and an on-site day spa
Room rates range from around $190 to $270
Find deals, read reviews, and check availability for Monterey hotels on Booking.com.

Follow SFTourismTips on Facebook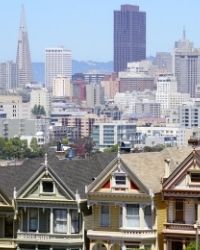 On my Facebook page, you will find more great information about planning your San Francisco vacation.
It includes tips, must see attractions, and other fun details.
Click the link below to check it out. If you enjoy the page, give us a like.

Other Resource for Your Trip to Monterey