Monterey Transportation: Tips to Get To & Around

by Jill Loeffler  •

Updated: January 19, 2023
You will find several Monterey transportation options to get you to and around Monterey, CA. This small, bayside town features shopping, entertainment and one of the best aquariums in the world, the Monterey Bay Aquarium.

Many people choose to visit on a day trip from either San Francisco or the surrounding communities. Others spend up to a week here relaxing on the beach or sampling wines from the nearby up-and-coming wine region.

The free trolley sitting at the stop near the Monterey Bay Aquarium.
It's easy to get to Monterey from the local airports or other nearby cities if you know where to look. Here are just a few of my recommendations on how to get here and how to get around after you arrive.

Disclaimer: I receive a small commission from some of the links on this page.

Monterey Transportation: Choosing the Right Airport

For many of you, the first decision is on which airport to use. You have the choice of flying into one of the larger international airports including Oakland International, Mineta San Jose International or San Francisco International. You can also fly into the small Monterey Peninsula Airport.
Flying into one of the three international airports offers you a larger selection of airlines. However, it will take longer to arrive at your destination.
Below is the distance and estimated travel time between Monterey and the three largest international airports in the region.
San Francisco International Airport (SFO): 107 mi/120 mins
Oakland International Airport (OAK): 106 mi/120 mins
Mineta San Jose International Airport (SJC): 75 mi/90 mins
Monterey Regional Airport (MRY)

Flying into the small regional Monterey Regional Airport offers fewer hassles since this airport is only about 15 minutes from Monterey CA. However, flying into this airport might cost you a little more up front.
The following airlines service Monterey Regional Airport.
Alaska Airlines: Non-stop service from San Diego and Seattle
Allegiant: Non-stop from Las Vegas
American Airlines/American Eagle: Non-stop service from Dallas and Phoenix
JSX: Seasonal flights to Burbank and Orange County
United Airlines: Non-stop service from Los Angeles, San Francisco & Denver

Airport Transit: Shuttle, Car Rentals & Other Options

Before you book your flight, I recommend checking out these details on getting to Monterey from each airport. This will help you understand what your overall cost might be to fly into each one. At times, your flight might be a little less, but the Monterey transportation might cost a little more.
From SFO:
Monterey Airbus: This bus takes you directly from SFO to the Monterey Airbus Station at 438 Calle Principal (this is near the Marriott and the Portola Hotel & Spa in downtown Monterey); the cost is $54 when you book online in advance. The full rate is $59.
Car Rental: You can also rent a car at SFO and drive down to Monterey. This takes around two hours.
From OAK:
Car Rentals: The only option from Oakland International Airport is to rent a car. This drive also takes around two hours.
From SJC:
Monterey Airbus: This airbus also runs between SJC and downtown Monterey. The cost from San Jose International Airport to Monterey is $43 when you book online in advance. The full price is $48.
Car Rental: Driving from SJC to Monterey takes about an hour to an hour and a half.
From MRY:
Car Rental: This is your best option when arriving at Monterey Regional Airport. You can either book before or after you arrive. The car rental lot is next to and slightly uphill from the terminal.
Taxi: A taxi from the airport to downtown or Cannery Row costs about $20 to $25. There is also a $3 airport service charge that the driver adds to the fare when you arrive at your destination.
Monterey Salinas Transit: The walk to the bus stop from the terminal is just over a mile and a half. If you are traveling light and don't mind walking, then this is a cheap alternative. After you land and pick up your luggage, walk out to Fremont Boulevard to pick up the bus.
To Downtown Monterey: If you are heading downtown, pick up 7 bus at the airport. This drops you off at the Monterey Transit Plaza which is on the southern end of downtown Monterey. You can walk to everything from here. 
To Cannery Row: If you are heading to Cannery Row, take the 7 from the airport to the transit center. You will then head to Gate 4 to pick up the 1 Pacific Grove via Asilomar bus. You'll take it 4 stops to Lighthouse and Drake. This stop leaves you at the edge of Cannery Row and you can walk to the water to get to this heart of this district.
Monterey Transportation To/From San Francisco

In addition to arriving directly from the airport, many people choose to visit the area on a day trip from San Francisco. You have two options: go on your own or with a group.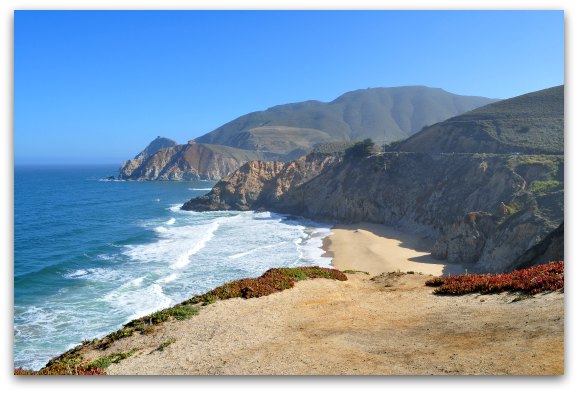 Views of the Pacific Ocean from Hwy 1, this is just one of the stops you can make on your way down the coast. I took this during a stop on a group tour from San Francisco to Monterey.
Driving: The drive down to Monterey is easy. It will take you anywhere from an hour and a half to two hours. If you aren't in any hurry, you can also take the slower Hwy 1 route that runs along the Pacific Ocean. It's a beautiful ride and takes about three hours. I often take this on the way down and take the faster Hwy 101 route on the way back to SF.
Tours: If you prefer to gaze out the window during the ride or let someone else drive, you can also take an organized tour. The best tours offer a ride down Hwy 1 where you get beautiful views of the Pacific Ocean. They also allow you to visit both Monterey and Carmel. Here is the tour I took recently and recommend it for those looking to explore the area with a guide.
Monterey Transportation Around Town

Here are the best ways to get around Monterey once you arrive.
Free Trolley: One of the best Monterey transportation options is the free trolley. If you visit between Memorial Day Weekend and Labor Day Weekend, you can take advantage of this free trolley. It has stops in downtown, at Fisherman's Wharf, along Cannery Row and the Monterey Bay Aquarium. The trolley runs from 10 am and 6 pm every day during these months.
Driving: Traffic is light in much of Monterey. You will find plenty of garage parking in the main areas such as Cannery Row and in the downtown area. During the slow season, you might even be lucky enough to find a great spot on the street.
Walking: Once you get to Cannery Row or Fisherman's Wharf, walking around is easy. Both are only a few blocks long. If you love walking, you can also walk between these two attractions.
More Monterey Transportation Options

Here are a few additional Monterey transportation options for popular destinations around the Monterey Bay and beyond.
Monterey to/from San Jose: You will find an express bus between San Jose and Monterey. The 55 is run by Monterey-Salinas Transit. It picks up at the Diridon Station in San Jose and will take you all the way to the Monterey Transit Plaza in the downtown area. There are several stops along the way, so the entire ride takes over 2 hours. It runs only a few times a day. It's the main connection between San Jose and Monterey for the Amtrak train and those coming into San Jose on Caltrain. This line is currently suspended.
Monterey to/from Big Sur: You can also easily use Monterey transportation to get from Monterey to Big Sur. The 22 bus runs three times a day from Memorial Day through Labor Day and just twice daily the rest of the year. It offers a few stops in Big Sur, so you can select the one that is right for you. The final stop inside Big Sur is the Big Sur Nepenthe. The ride is about an hour. This line is not currently running.
Monterey to/from Carmel: The 5, Carmel Rancho via Carmel is your best bets for using Monterey transportation to get to and from Carmel. It runs a regular schedule, so you can easily plan out your visit to both locations. The ride takes about 16 minutes from the Monterey Transit Plaza - Gate 3.
Monterey to/from Pebble Beach: The easiest way to get from Monterey to Pebble Beach is on the 21 Express bus. It runs three times in the morning and three times in the afternoon daily. It takes about 40 minutes. This service is suspended until further notice.
Comments? Questions? Suggestions?
I would love for you to join me in my private Facebook group! 
It's a great place to interact with me and others who know the area well.
You can ask questions, get advice for your upcoming stay, and then share your photos and advice with others when you return home. It's a great community and the fastest way to get answers to those nagging questions about your visit!