Hotels in Santa Cruz: 15 Great Options

by Jill Loeffler  •

Updated: August 21, 2023
These 15 hotels in Santa Cruz offer options near the Beach Boardwalk, the wharf, and other spots around town. You will also find options that are both budget-friendly and others that offer a high-end luxurious experience.
Whether you are staying for the night or a week, you will find plenty of great hotels all around the Santa Cruz area for your vacation.
Disclaimer: I receive a small commission from some of the links on this page.

1. Dream Inn Santa Cruz

With a choice of stunning suites and rooms, each with ocean or pool views, the Dream Inn Santa Cruz is the place for the perfect relaxing break in this fantastic location. When you visit Santa Cruz, it's all sun, sea, and sand, and the famous boardwalk and beaches are sublime.
The Dream Inn is a landmark in itself, a hotel popular with surfers and families. Enjoy breakfast, brunch, or dinner in the Jack O'Neill restaurant, known locally for its fresh local seafood specials, and relax by the pool with a refreshing drink.
This is where you can get the California vibe, with rooms and decor throughout being a touch retro yet comfortable and sensibly priced.
Whether you're in town for the surf, vacation, or business, the Dream Inn is a great choice. Kids will love the beaches at Santa Cruz, and there's something for everyone in this special place.
Find recent reviews and more details about staying at The Dream Inn Santa Cruz.
2. Carousel Beach Inn

Occupying a prime spot just a few steps from the famous Santa Cruz Beach Boardwalk is the Carousel Beach Inn.
With rooms and suites decorated in fresh and bright styles and views of the ocean and the boardwalk, this comfortable and friendly hotel is in the perfect location for exploring the mile-long main beach at Santa Cruz.
Guests are treated to a complimentary continental breakfast, and Wi-Fi is available in all rooms.
The hotel is in the ideal place for the best eateries, shops, and attractions, and you are just minutes from the golf course, the best places for fishing, and many water sports and charter boats.
With many excellent reviews from satisfied customers, I have no hesitation in suggesting that the Carousel Beach Inn should be on your shortlist if you are planning a vacation or need to be in Santa Cruz for business.
More about the Carousel Beach Inn in Santa Cruz.
3. Beach Street Inn & Suites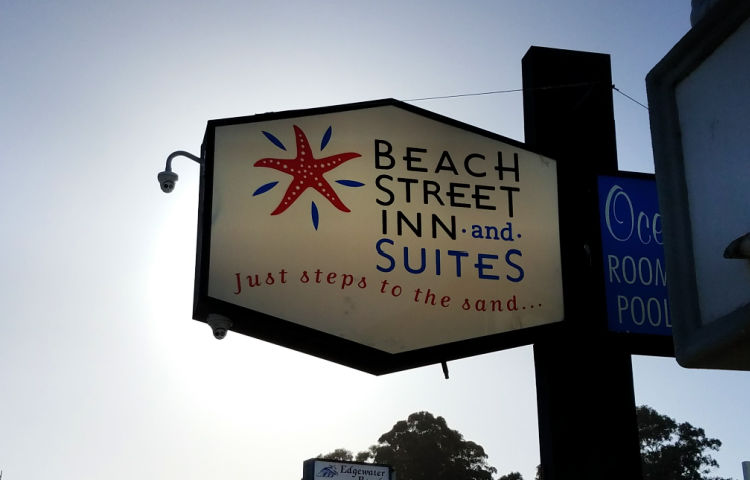 Occupying a fantastic spot on the top of Beach Hill since the 1940s, the recently revamped Beach Street Inn and Suites offer spectacular views of the magnificent Monterey Bay.
Rated one of the best hotels in Santa Cruz, this boutique hotel offers superbly furnished rooms and a warm welcome.
The outdoor heated pool is a bonus, and with a hot tub and fire pit thrown in for good measure, this is an excellent choice for a California family vacation.
Close to shops, restaurants, and bars and right next to the historic Santa Cruz Beach Boardwalk, the Beach Street Inn makes an ideal place to explore the wonderful main beach and local National Parks, each offering a wealth of enjoyment for young and old.
Don't miss the complimentary Espresso and Beverage Bar, which adds a neat and welcome touch to this impressive hotel.
Find more details about staying at the Beach Street Inn and Suites. 
More Things to Do In and Around Santa Cruz
4. Chaminade Resort & Spa

More than just a hotel, the Chaminade Resort and Spa is an experience in its own right. Occupying a spectacular mountain-top location and with plenty to see and do, this is a choice for those who enjoy the great outdoors.
With 300 acres of woodland to explore on excellent hiking trails through redwood forests, this Santa Cruz Mountains resort is the ideal choice for the active family, and the stunning views of Monterey Bay are simply the best you will find anywhere.
An intimate and friendly hotel, dining can be enjoyed outdoors with great views while you eat, and all dishes are locally sourced.
A choice of two heated pools and a full-service spa are icing on the cake, and the resort offers a variety of outdoor adventure experiences for both young and old alike. This is an exceptional place and one that is entirely unique.
Find more details about staying at the Chaminade Resort & Spa.
5. Hyatt Place Santa Cruz

Hyatt Place Santa Cruz offers comfortable rooms decorated in a modern and stylish fashion and is close to the magnificent Santa Cruz Beach Boardwalk. It's also within easy reach of the popular attractions in the region, including the spectacular Natural Bridges State Beach and the mile-long Santa Cruz Main Beach.
A complimentary breakfast is available, and dining is offered throughout the day. A comfortable and welcoming bar is the place to wind down, and the heated outdoor pool - complete with whirlpool - will be popular with the family's youngsters. The hotel offers a fitness center for guests, and free Wi-Fi is provided.
Whether you are here to surf, for a family vacation, or visiting Santa Cruz on business, the Hyatt Place Santa Cruz is an ideal choice and one you will certainly appreciate.
Find more details about staying at the Hyatt Place Santa Cruz.
6. Ocean Gate Inn

Ideally located for the best of Santa Cruz's attractions, the Ocean Gate Inn is a comfortable and welcoming hotel just a mile from downtown Santa Cruz and superbly placed for the beaches and boardwalk.
Unlike many hotels, guests have a choice of smoking and non-smoking rooms, and many rooms have private balconies with fine views.
The rooms are decorated simply yet stylishly, and guests will find coffee, a microwave, and a refrigerator. Wi-Fi is complimentary, and the 24-hour front desk is a welcome service.
Although there is no restaurant in the Ocean Gate Inn, there are many fine restaurants, cafes, and bars within the vicinity, so you have plenty of choices for breakfast, lunch, and evening meals. The addition of on-site self-parking is also a bonus.
Find additional details for the Ocean Gate Inn in Santa Cruz.
7. Ocean Pacific Lodge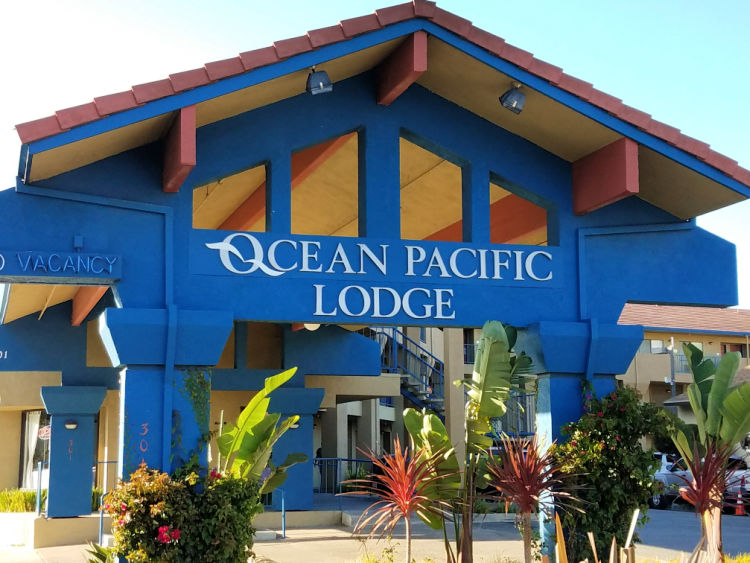 Ocean Pacific Lodge is a well-equipped and comfortable hotel within a few minutes walk from the famous and historic Santa Cruz Beach Boardwalk and the main Santa Cruz Beaches and National Parks.
Rooms come equipped with Wi-Fi, and all rooms are non-smoking, while guests can take advantage of on-site parking.
A pool and hot tub make this an excellent choice for a family vacation, and as it is close to the prime surfing spots, it is popular with those who want to take to the water, especially since Santa Cruz is the home of surfing in California and offers some of the most exciting locations.
There are many restaurants and bars in the locality, as well as interesting shops and other attractions, and a short drive takes you to the very best of Santa Cruz and its friendly and welcoming locals.
Discover additional details about staying at the Ocean Pacific Lodge.
8. West Cliff Inn, A Four Sisters Inn

As with most of the best hotels in Santa Cruz, the West Cliff Inn, A Four Sisters Inn, offers easy access to the main beach and all the best amenities and attractions in Santa Cruz.
A superb signature breakfast is a favorite with guests, as is the afternoon 'wine hour' where you can indulge in a free glass of wine and snacks while socializing with other guests and your friendly host.
The Inn offers the use of bicycles on a first-come, first-served basis, so you can cycle with the family along iconic West Cliff Drive or explore Santa Cruz by bike. They also supply beach gear for the use of guests.
Rooms are decorated in a soft and warm style, making them perfect for a good night's sleep after a long day. The West Cliff Inn is a popular B&B within easy reach of great restaurants, cafes, and bars, and don't miss out on freshly baked cookies in the afternoon!
Find more details and reviews from recent guests.
More Things to Do Nearby
9. Pacific Blue Inn

Located halfway between downtown Santa Cruz and the famous Boardwalk, Pacific Blue Inn is a wonderful choice for a relaxed family vacation. It's close to the prime surfing spots too, so if that's the reason for your visit, this could be a good choice of hotel.
A selection of finely decorated and furnished rooms surround a quiet courtyard, making this a peaceful and enjoyable place to stay.
While there isn't any dining on-site, Santa Cruz is famous for its fine restaurants serving local and international dishes. The seafood here is among the best you'll find anywhere in the world. Pacific Blue Inn is dedicated to an eco-friendly approach.
Get recent reviews and room rates for the Pacific Blue Inn.
10. Hotel Paradox

Hotel Paradox is brought to you by the Marriot Group and is one of the famous Autograph Collection hotels. Superbly furnished rooms provide the ultimate comfort, and highly skilled and friendly staff ensure you enjoy your stay.
A fitness center is on-site for those who wish to keep up with their exercise routine while on vacation, or you can choose to relax by the pool and enjoy drinks and a meal from the hotel's excellent Solaire Restaurant and Bar.
The setting is quite stunning, with the surrounding mountain landscape and redwood forests inspiring a rugged yet comfortable interior to the hotel and the rooms.
At the same time, the location of the Hotel Paradox makes it ideal for exploring the many local attractions and landmarks of Santa Cruz.
Find additional details for staying at the Hotel Paradox.
11. Beachview Inn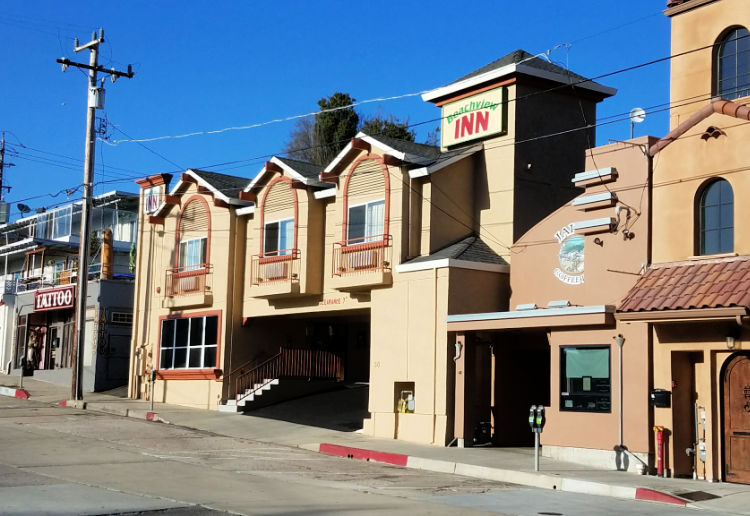 The Beachview Inn is ideal for a family sun, sea, and sand holiday and is just a 5-minute walk from the stunning Santa Cruz Main Beach. A little further, you arrive at the place most visitors want to see, the Santa Cruz Beach Boardwalk, with exciting attractions.
Rooms are decorated in pale and neat colors for a welcoming feel and are furnished to a high standard with comfortable beds. Many rooms are also party to ocean views.
Although Beachview Inn does not have an on-site restaurant, the location puts it within easy walking distance of some of the best restaurants in Santa Cruz and various bars, shops, and entertainment areas.
Onsite parking is provided, and although rooms are non-smoking, there is a dedicated smoking area.
Find reviews and current room rates for the Beachview Inn. 
12. Sea and Sand Inn

With superb ocean views in every room, the Sea and Sand Inn is perfectly placed for access to the best beaches and the Santa Cruz Beach Boardwalk. Rooms are decorated in a simple yet stylish fashion.
Many come with a private balcony overlooking the beach, a great place to sit for a drink in the evening while enjoying the fantastic Santa Cruz weather.
Friendly and welcoming, your Sea and Sand Inn hosts invite you to join them for freshly baked cookies in the afternoon, plus a complimentary wine and cheese hour every day in the early evening.
Within easy reach of the best restaurants, cafes, and shops in Santa Cruz, the hotel is ideally placed for downtown shopping and exploration, and why not book a room with a hot tub with ocean views?
Get additional details for the Sea and Sand Inn. 
13. La Quinta Inn

Newly built and occupying a prime spot just minutes from the historic boardwalk and the finest beaches in Santa Cruz, La Quinta Inn Santa Cruz caters equally well to families and solo visitors.
Rooms are spacious and well-equipped; many come with fine ocean views, and guests can enjoy coffee, tea, and free Wi-Fi. An outdoor pool and spa will keep adults and children occupied, and you can choose to relax on the outdoor terrace or explore the surrounding areas.
There is a lot to see and do in and around Santa Cruz, and you are within walking distance of some fine restaurants, friendly bars, and quaint cafes—an excellent choice for a family break in this exciting location.
Find out more about staying at the La Quinta Inn. 
14. Hampton Inn Santa Cruz West

Situated a mile from the heart of Santa Cruz and close to the best of the local amenities and attractions, Hampton Inn Santa Cruz West is by Hilton and comes with the level of comfort and service you expect from the brand.
Natural Bridges State Beach - one of the most spectacular you will ever visit - and the famous Santa Cruz Beach Boardwalk are about a mile and a half from the hotel, as are many excellent restaurants in downtown Santa Cruz.
A hot breakfast is served, setting you up for a day's exploring or relaxing on the beach.
Or perhaps you need a break and prefer to spend a day by the heated indoor pool? This hotel is an excellent choice for a family vacation, surfers, and business users who will appreciate the business services provided within it.
Find more details and recent reviews for the Hampton Inn Santa Cruz West. 
15. Bella Notte Inn

The beautifully presented Bella Notte Inn is a fine boutique hotel located in the heart of the East Cliff area of Santa Cruz. It is the only hotel in the immediate vicinity with off-street parking, a major bonus for families on vacation.
The beautiful beaches of Santa Cruz are just a short walk away, as is downtown Santa Cruz, where you can choose a restaurant to dine in and enjoy seafood and other dishes made from local ingredients.
Rooms are superbly finished and comfortable and feature free Wi-Fi, quality bedding, and custom furnishings, while a heated bathroom floor in all rooms is a nice touch of luxury that is very welcome.
Snacks are available, and coffee and tea are provided in the rooms. All in all, a great choice of hotel in the beautiful East Cliff region, with easy access to all the famous landmarks and amenities.
Find recent guest reviews for this Santa Cruz hotel.
Additional Ideas for Your Santa Cruz Vacation
If you are planning to visit Santa Cruz for your vacation, you will find plenty of additional fun things to do here. Here are just a few additional options for your stay.
Santa Cruz Museums
This waterfront town is also home to some great museums. My list offers details on some of the best, from the Santa Cruz Surfing Museum to the Seymour Marine Discovery Center. You'll find plenty to keep you busy!
Find details for all of the best Santa Cruz museums.
Santa Cruz Hiking
If you love the outdoors, you are going to love the hiking trails available around Santa Cruz. This page offers details for easy, medium, and challenging hikes. You'll find options along the waterfront and through the gorgeous redwoods.
Find information on the best hiking trails in and around Santa Cruz.
Comments? Questions? Suggestions?
I would love for you to join me in my private Facebook group! 
It's a great place to interact with me and others who know the area well.
You can ask questions, get advice for your upcoming stay, and then share your photos and advice with others when you return home. It's a great community and the fastest way to get answers to those nagging questions about your visit!