Carmel-by-the-Sea Events: Top Festivals and Other Activities Each Year
Each year, you will find a variety of fun and entertaining Carmel events. Top things to do include wine tasting parties, family-friendly activities, and art festivals.

The city of Carmel-by-the-Sea hosts the annual Jewish Film Festival, Big Sur International Marathon, and their city's birthday celebration. Make sure to check out some of these great events during your visit!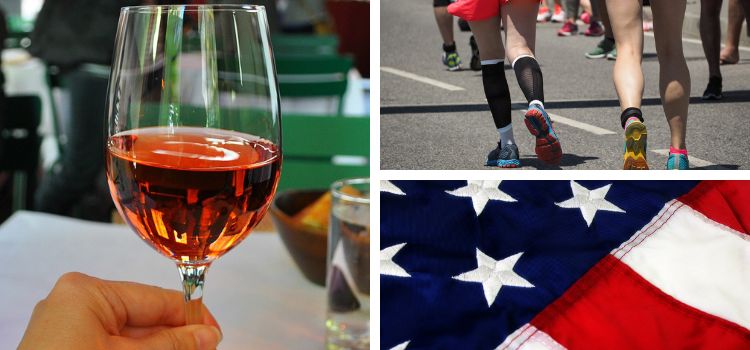 Disclaimer: I receive a small commission from some of the links on this page.

Rio Grill's Resolution Run

Ready to get those New Year's Resolutions in order and started right away? Then this is one of the best Carmel events for you to start it off right.
The Rio Grill's Resolution Run is either a 5k or a 10k walk/run. It will allow you to cruise through the gorgeous town of Carmel as you burn off those extra calories you put on during the holiday season.
This annual run will start at the Rio Grill located in the Crossroads Shopping Village and through trails and roads along the way. The beauty of this walk or run is that you will get to see some of the most stunning views of the area as you cruise along the route.
It will end at the gorgeous Carmel Mission Basilica, which includes 5 museums on its grounds. The race starts promptly at 9 am and you will want to get there beforehand so you can be prepared and ready to race!
Your registration fee not only allows you to run the race, but also includes a long-sleeved t-shirt (which you will love since it will probably be pretty chilly at this time of the year), a delicious brunch prepared by the Rio Grill, and prizes for the top three finishers in each age grouping.
Since your benefit's local kids' charities, you will not only be starting the year off on the right foot, but you'll also be supporting kids' health and happiness!
>> Visit their site for more details and to register for this year's run
>> Find more events around the Monterey Bay in January
Forks, Corks, and Action!

If you love the best wines, the finest dining, and meeting with the winemakers and chefs of the area, then this is a must attend event.
Even if you are a complete novice, or someone who has dined at the finest restaurants in the world, you will always learn something new at this event no matter how many times you attend it. As you have your four-course dinner, complete with specially paired wines, the winemakers and chefs will tell you about the culture, history, and how they produced these amazing wines and delicacies.
The Forks, Corks, and Action! dinner is only held during certain months of the year, so make sure to click the link below and check the schedule. It often sells out quickly, so try to plan as far ahead as possible and don't miss.
The dinners are located at the Hyatt Carmel Highlands' Pacific's Edge Wine Room at 120 Highland Drive in Carmel-by-the-Sea and start at 6 pm. Reservations are required in advance as it is a limited person event.
>> Visit Eventbrite for an upcoming schedule of events
>> Find more events in February
Carmel Jewish Film Festival

This two week event is one of the best Carmel events for movie buffs. As the name states, these movies all relate to Jewish culture, and the lives of Jews, not only from the USA but from all over the world.
In addition to movies, you can also enjoy programs that include interviews and panels with the filmmakers, actors, movie subjects, and more. These programs shine a light on these films, the people in them, and why they are so important in today's world.
There is also an opening night reception with music, food and drinks, and talk by a special guest. The closing night reception also includes drinks and entertainment. These usually sell out quite quickly, so it is best to buy your tickets in advance.
Movies are usually held on weekends, but there are a few weekday showings, so you will want to check the link below to find the exact dates and locations.
>> Visit their site for this year's dates
>> Additional March events for the Monterey Bay Area
Big Sur International Marathon

The reason that the Big Sur International Marathon is nicknamed, "Running on the Ragged Edge of the Western World" race is because you basically are while still enjoying some of the most beautiful views anywhere.
This run starts at Big Sur Station at 6:45 am and winds its way north on Highway 1 until you reach the town of Carmel. The race has numerous aid stations along the way and bus transportation to the start in Big Sur and from the finish line in Carmel depending on where you are staying. The course's elevation starts out at over 300 feet and finishes at a low of 10. The total elevation gain and loss is about 2,000 feet.
Some of the goodies you'll receive when enter the race include a long sleeve shirt, food and drinks at the beginning and the end, a race program and you can join in the expo and race clinics to learn from some of the best out there.
Last but not least, this is a Boston Qualifier so expect some serious hard core runners along with the fun run folks. Awards will be given depending on time, age, and gender.
>> Visit their site for registration information
Pebble Beach Food & Wine Festival

The Pebble Beach Food & Wine Festival is one of the top Carmel events each year. It s is known world-wide as a can't miss event for anyone who loves wine, food, and to enjoy it all in one of the most gorgeous settings anywhere.
This 4-day festival includes not only incredible wine and food, but also amazing events such as the Celebrity Chef and Winemaker golf tournament, special dinners with chefs from the local area and the world, amazing wine tasting classes with some of the top wine makers and wineries, and so much more.
You will be able to enjoy over 250 wineries' best. There will also be more than 100 celebrity chefs on hand to excite and delight your every sense.
In case you are looking for more than wine, the Pebble Beach Food & Wine Festival also includes liquors such as whiskey, vodka and other top flight options.
All four days are jam packed with incredible classes, meals, tastings, and other events. Make sure to pick up your tickets early as they often sell out in advance.
>> Get dates and more events in April
Winemakers Celebration

This one of the truly wonderful Carmel events since it is the only time that the whole city of Carmel-by-the-Sea shuts down and only allows people 21 and older into it.
This festival gives you a chance to taste the best wines from this up-and-coming region before it becomes even more famous and pricey to the public. Not only will you drink some of the best Carmel wines, local chefs will whip up delicious bites to pair with them.
Some of the wineries that will be in attendance include Wente, Chalone, J. Lohr and many others. This area has over 80 vintners and the location is perfect for Chardonnays and Pinot Noirs specifically, but other varietals also.
>> More details for this year's event on their site
Carmel Art Festival

The Carmel Art Festival is one of the best Carmel events in May. This annual event includes over 60 juried artists. This means you'll be seeing some of the best local artists proudly exhibiting their best pieces from throughout the year.
This 3-day events also includes silent auctions, a Kids Make Art day, live music, food and the always fun Sculpture-In-The-Park. This free public showing is always the weekend after Mother's Day, so it is easy to plan for as you get ready for your trip to this gorgeous area of northern California.
This event is held in many different galleries, and also the outdoors in Carmel, so you can stroll around, enjoy the indoors and outdoors while enjoying art, meeting artists, and delicious food and drinks.
>> Dates for this year's events and more things to do in May
4th of July Celebration

Spend your Fourth of July in Carmel-By-the-Sea. This annual event is free and includes loads of food, such as potato chips, ice cream, cookies, and watermelon. Don't forget the classic American treat, the hot dog. The best part of this celebration is that ALL food and drinks are free! Make sure to arrive as early as possible since there is a limited supply of food and beverages.
This free event is family friendly and open to anyone who wants to attend it. So make sure to get on down to Carmel-by-the-Sea to celebrate Independence Day.
This festival starts at 12 noon in the Carmel downtown area of Devendorf Park just across from the Carmel Plaza on Ocean avenue. It will continue until 4 pm.
NOTE: Fireworks are not allowed in Carmel for safety reasons.
>> More things to do and other Fourth of July celebrations around Monterey
Carmel Bach Festival

This annual 2- to 3-week festival pulls in artists from around the world and features more than 40 concerts. This is one of the Carmel events that offers a diverse line-up, which makes it the perfect pick for almost anyone.
You can also take a a garden, cottage, and cantatas tour during the festival. This tour usually has about 4-6 homes and they are refurbished to their original designs. It gives you a peek at what it would have been like to live in Carmel in the old days.
The festival is held at different locations including the Sunset Center Theater, the Carmel Mission Basilica (which is the home to five different museums), the All Saint's Episcopal Church and more. This will allow you to learn and see more about Carmel during this wonderful experience.
If you are looking to experience the high-life during your stay at the Carmel Bach Festival, you might want to buy a ticket to the Annual Gala which opens this event every year. You will love the food, drinks, live music, and it is the perfect way to kick off this event as you can also bid on items during the auction.
>> More about this year's Bach Festival
Carmel-by-the-Sea Concours on the Avenue

Car enthusiasts will not want to miss this year's Concours on the Avenue. You will be treated to 18 blocks full of the biggest and best automobiles from all around the area.
Carmel-by-the-Sea's Ocean Avenue closes during this event so you can take your time to stroll and admire each car at your own pace. You will find around 200 cars on display.
Some of the cars that will be available include top of the line luxury cars, hot rods, sleek and sexy sports cars, and the very American classic Hot Rods. For those that want to check out something completely different, there is a special group of Micro Cars.
Awards will be given out for the best of show in the afternoon as the event comes to an end.
>> More festivals and fun things to do in August
City Birthday Party & Parade

For more than 100 years, this party has been celebrated by locals, and visitors, alike in the gorgeous waterfront town of Carmel-by-the-Sea. Since it's always the weekend around Halloween, it is often one of the top Carmel events each October.
Some of the fun events include the city's classic, and much beloved by all, Halloween Parade through downtown. Everyone in it is wearing their best costumes and will be distributing candy to guests watching it. You will also get to see dancers, performers, dogs on parade and more!
After the parade, there will be a yummy hot-dog lunch with drinks and other food. This is where everyone can enjoy the day and have some munchies.
This fun party starts at 11 am and ends at 2 pm. It is located at Ocean Avenue & San Carlos Street.
>> More things to do in October
Annual Tree Lighting & Carmel Plaza Party

If you happen to be visiting our little town during the month of December, the tree lighting and party is a fun and festive way to celebrate. This festival leads Carmel into the holiday season and includes lots of live performances by bands, dancers, and more.
Many of the city dignitaries will be in attendance, and since Christmas is getting closer, Santa Claus will be there so you can tell him what gifts you want this year.
The tree lighting starts around 6 pm and it is always a beautiful sight to see every year. After the tree is lit, there will be an open house on Carmel Plaza with food, drink, and entertainment for all to enjoy!
This party starts at 3 pm and ends at 7 pm and is located at Devendorf Park and also Ocean Avenue & Mission Street. The tree light event takes place during either rain or shine.
>> More events this December in the Monterey Bay Area
Carmel Events at the Sunset Cultural Center

The Sunset Cultural Center is one of the best places to see top Carmel events in the area. This is where the Monterey Symphony plays most of their concerts. You will also find dance performances, theater shows, and both local and internationally recognized singers.
These are just some of the top upcoming shows.
Comments? Questions? Suggestions?
I would love for you to join me in my private Facebook group! 
It's a great place to interact with me and others who know the area well.
You can ask questions, get advice for your upcoming stay, and then share your photos and advice with others when you return home. It's a great community and the fastest way to get answers to those nagging questions about your visit!