Saint Patrick's Day in San Francisco
Best Ways to Celebrate St. Paddy's Day in 2017
San Francisco is full of fun things to do on Saint Patrick's Day, including the annual parade, festival, pub crawls, and live performances. The city is also home to more than a dozen Irish bars and restaurants.
This year, the holiday is on Friday, March 17, though some festivities take place the Saturday before.
Read on to find a list of ways you can celebrate, places with the best Irish dishes, top Irish bars, and other activities planned for the official celebration weekend.
For some of the links on this page, I receive a small commission when you purchase. You don't pay more when you buy through me and it gives me the chance to offer you all this great content for free!
Saint Patrick's Day Parade and Celebration
Every year, the United Irish Societies of San Francisco hosts a large Saint Patrick's Day Parade and Festival. The 2017 celebration is set for Saturday, March 11.
The highlight of the event is the Saint Patrick's Day parade which starts at 11:30am. The parade route begins at 2nd and Market streets and heads straight down Market Street all the way to Civic Center Plaza near San Francisco City Hall, where the festival will be taking place.
The festival includes Irish music, dancing, and a never-ending supply of beer. The festival starts at 10am and closes around 5pm that afternoon.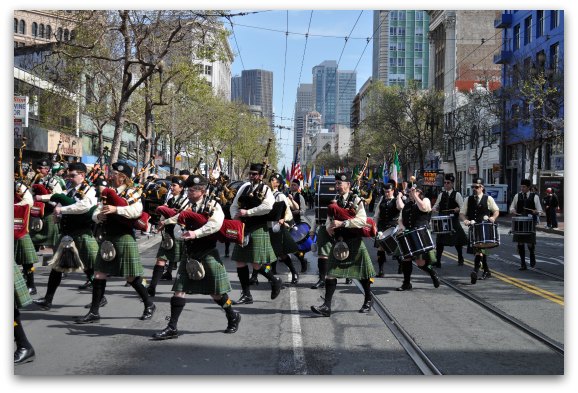 I love heading over in the early afternoon to grab a drink and enjoy the entertainment. However, it does tend to get a little crazy later on in the afternoon, so be prepared for that if you plan on staying all day.
Learn More: Parade pictures & what you can expect at this year's festival
Saint Patrick's Day Parties, Events & Activities
Every year, many of the Irish pubs in SF also celebrate the holiday. Here are a few of the top events scheduled this year. Most are on Friday, March 17.
The Irish Bank
Every year, the Irish Bank celebrates with two fun block parties.
Saturday, March 11: Saint Patrick's Day Parade Block Party
Starts at noon and runs until midnight
Live entertainment all day long

The Quiet Men: Noon to 3pm
The Watch: 3pm to 6pm
DJ Marc Van Brabant: 6pm to 12am
Friday, March 17: Saint Patrick's Day Holiday Block Party
Starts at 2pm and runs until midnight
Live entertainment from 2pm to midnight

TBD: 2pm to 5pm
The Watch: 5pm to 8pm
DJ Marc Van Brabant: 8pm to 12am
The Irish Bank is located at 10 Mark Lane in the Financial District.
Street Party in the Financial District
The annual Saint Patrick's Day Street Party in front of the Royal Exchange and Harrington's Bar & Grill is scheduled for Friday, March 17. The party is on Front Street (between Sacramento and California Streets). The street closes down around 3pm and the party starts at 4pm. Wonderbread Five will take the stage around 5pm and drinks will continue to pour until around 11pm. Head over to the Financial District for this fun, annual event.
Taverna Aventine
The annual Saint Patrick's Day Alley Party at Taverna Aventine is set for Friday, March 17. Head over starting at 4pm for this fun event. You will find Taverna Aventine between North Beach and the Financial District at 582 Washington Street.
Irish Themed Saint Patrick's Day Pub Crawl
This 2-day event offers drink specials and a stop at some of the top bars in the Marina District. The first pub crawl is on the holiday itself, Friday, March 17. You can enjoy drink specials from 3pm to 1am.
The second day is on Saturday, March 18 from 2pm to 1am. Green clothes and costumes are encouraged. Make sure to check in at Bar None (1980 Union Street, #4) for maps of all of the participating locations.
>> Find tickets for this crawl at up to 50% off on Goldstar
Maggie McGarry's Irish Pub
This North Beach Irish pub features Irish music on Saint Paddy's Day. Enjoy the music of The Trad Men and the Fast & Vengefully as they take the stage for an evening of Irish rock, reels, and jigs. Maggie McGarry's is at 1353 Grant Avenue.
The Chapel
Celebrate Saint Patrick's Day at the Chapel. Head over early for their Sinner's Happy Hour from 5 - 7:30pm. Then come back later to see Zoo Station: The Complete U2 Experience on stage at 9pm. There will be food and drink specials during the show.
Tickets: Buy your tickets for Zoo Station
Other Concerts on Friday, March 17
Buena Vista Cafe
Get in the Irish spirit on Saint Patrick's Day at the Buena Vista Cafe. All day long, they will be serving up corned beef and cabbage, Irish soda bread, and other Buena Vista favorites. And...of course, make sure to enjoy at least one of their Irish Coffees during your visit! They are open from 9am to 2am on Friday, March 17.
Details: More information on what it's like at the Buena Vista Cafe
Biscuits and Blues
Biscuits & Blues is one of the best places for downhome entertainment and food in San Francisco. The venue hosts both regional and international acts. Most play blues, jazz, or both. On Saint Patrick's Day, Delta Wires takes the stage at 10pm. In addition to the live music, make sure to come by early for some of their famous Southern comfort food, including their amazing friend chicken.
Tickets: Find tickets on sale for the show at up to 50% off
Celebrate Saint Patrick's Day at Pier 39
The pier turns 39 this year and you will find celebrations every weekend in March. They have a special event planned for Saint Patrick's Day. Head over between 6pm and 8pm for drink specials and live music by the Irish band The Shots.
More: Additional details about visiting Pier 39
Other Places to Check Out
If you want a traditional Irish meal, or a place to just hang out for St. Paddy's Day, click the link below for information about SF's best Irish pubs and restaurants.
Learn More: Top Irish Pubs & Restaurants
Other Saint Patrick's Day & Weekend Activities for 2017
If you're not into the party scene, or are looking for something to do before heading out to the pubs, here are some additional activities planned for Saint Patrick's Day and the weekend.
San Francisco Theater: Hamilton
This month's biggest theater performance in SF is the Broadway hit Hamilton at the Orpheum Theater. Praised for its innovative score and wonderful costumes, this is a creative musical version of an Alexander Hamilton biography.
Tickets: Pick up tickets for this weekend's performances
Learn More: Full March theater calendar
---
North Beach Pub Crawl
Are you looking for something a little different? How about a small group pub crawl in North Beach? This popular group tour is led by a local San Franciscan who will walk you through the bars frequented by the Beat Generation. In addition to stopping for a drink or two, you will also get the chance to discover what really went on in these infamous North Beach pubs.
Find Tickets: North Beach Pub Crawl
---
SF Bay Cruise
Are you looking for something to do during the day on this holiday? If so, head out on the water on this 60-minute SF Bay cruise. This fun adventure will take you past SF's top attractions, including Alcatraz, Angel Island, and Sausalito. You will also get the chance to cruise under the Golden Gate Bridge - twice! The tour runs all day long.
Find Tickets: Find tickets at up to 50% off on Goldstar
---
Twilight Cruise on the SF Bay
Another fun option for Saint Patrick's Day in San Francisco is the Twilight Cruise on the Bay. This two-hour cruise offers views of the SF Skyline along with live entertainment and a hearty appetizer buffet (sandwiches, salads, fruit, and desserts). A full bar will also be open on board where you can purchase both hot and cold drinks at a reasonable price during your cruise. Both indoor and outdoor seating is available.
Find Tickets: Find Tickets at Up to 50% Off on Goldstar
---
SF Ballet
If you're in the mood for a more refined St. Patrick's Day evening, watch a performance of the SF Ballet at the War Memorial Opera House in the Civic Center neighborhood. The show, which features Fusion, Arthur Pita's world premiere, and Fearful Symmetries, is at 8pm on Friday, March 17.
Learn More: Complete SF Ballet Schedule
---
SF Symphony
The renowned SF Symphony also performs on St. Patrick's Day. The show is at 8pm at the Davies Symphony Hall near SF City Hall. On this particular evening, you'll get to enjoy Beethoven and Barrer: Featuring Gil Shaham.
Learn More: Full SF Symphony Calendar
Top Hotels for Saint Patrick's Day Weekend
There are several great places in San Francisco to stay on St. Patrick's Day. Since most of the action is in and around the downtown and Union Square areas, I recommend looking for a hotel near one of these districts.
Both of these neighborhoods offer a variety of public transportation options, so you can easily get to the rest of the city from here. Take a look at these recommendations based on budget, amenities, and location.
You can also look for discounts on TripAdvisor or Booking.com before you book your hotel. They offer several discounts on room rates, parking, wifi, and more. Click the links below for details.
TripAdvisor: What's the #1 hotel in San Francisco? Read reviews & find hotel deals on TripAdvisor!
Booking: Find great deals all around San Francisco for your upcoming stay!
Where to Watch the NCAA Tournament
St. Patrick's Day always coincides with the NCAA basketball tournament. This year's tournament starts on Tuesday, March 14. Here are some of the places in San Francisco where you can celebrate and also watch the games.
1. Johnny Foley's Irish House: This is a great place to watch the games. I recommend heading toward the back of the bar where there are several TVs. From here, you can watch the game from either the tables or from selected seats right at the bar.
2. Kezar Pub: This small but popular Irish bar is also a great place to watch the basketball tournament. You'll also get to mingle with locals and sample the pub's amazing "bangers & mash." The bar usually opens around 11:30am and is located in the Haight-Ashbury District just steps from Golden Gate Park at 770 Stanyan Street.
3. Union Square Sports Bar: The Union Square Sports Bar is an interesting place. It's a great sports bar with a number of TVs, but it's also a bit of a dive bar and sometimes you'll find a few sketchy characters that hang around outside. The neighborhood is safe, however, as it's just a few blocks from Union Square. They don't have food, but they have a large selection of beers and a lots of TVs for the size of the bar. Find them at 115 Mason Street.
4. Nickie's: If you prefer to focus on the basketball tournament rather than the Irish celebrations, then Nickie's is the place for you. This sports bar in the Lower Haight neighborhood offers pub food all day as well as a great selection of beers. They normally open around noon and you will find them at 466 Haight St.
5. Greens Sports Bar: Another place to watch basketball is Greens Sports Bar in the Russian Hill neighborhood. This place is usually really crowded, so plan on standing for a while until a seat opens up. It's a bar only, no food, but a great place to watch the games. Here you'll mainly find locals from the surrounding neighborhood. Greens normally opens around 10am and is at 2239 Polk St.
Other Pages You Might Enjoy