Neighborhoods of San Francisco
Top Attractions & Activities in the Civic Center
& Hayes Valley SF Neighborhoods
Civic Center and Hayes Valley are two centrally located neighborhoods of San Francisco. These San Francisco districts are home to City Hall, the Asian Art Museum, and the Orpheum Theater.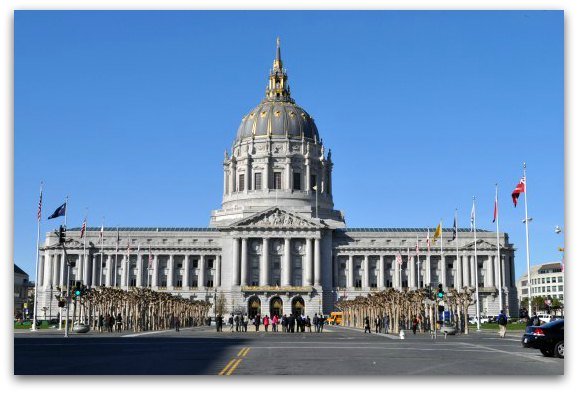 They are also home to many other performing arts centers, including the SF Symphony, the SF Ballet, and the SF Opera. Since these neighborhoods of San Francisco draw a large crowd for all of their events, you will find some of the best restaurants in San Francisco here.
For some of the links on this page, I receive a small commission when you purchase. You don't pay more when you buy through me and it gives me the chance to offer you all this great content for free!
Top Activities and Attractions
These bustling neighborhoods of San Francisco have a number of fun activities and attractions. Here are some of my favorites.
Explore The Rare Pieces of Art at the Asian Art Museum
The SF Asian Art Museum is one of my favorite San Francisco museums. It houses more than 17,000 items in its permanent collection. Several of them are rare artifacts that you will not see anywhere else in the world. On the link below, you will find photos of the museum and what to expect when you visit.
Learn More: Asian Art Museum
---
Stop by City Hall
One of my favorite free SF attractions is City Hall. This gorgeous building is the heart of the Civic Center District. Since it's a public building, it's free to visit and take a look around. Highlights inside include the grand staircase, the gorgeous rotunda, and the South Light Room mini-museum.
Learn More: See pictures & learn more about what it's like to visit
---
Listen to the World Class SF Symphony
This San Francisco neighborhood also provides many opportunities to experience high culture. One of the most popular options in this area is the San Francisco Symphony. This world-renowned group performs several times a week and often performs with international special guests.
Learn More: Find a current calendar & some tips for attending a performance
---
Enjoy an SF Ballet Performance
The SF Ballet also performs in this neighborhood. It's one of the oldest ballet companies in the US and was the first to perform The Nutcracker in the Americas. Their interpretation of The Nutcracker is still one of their most popular performances every December.
Learn More: Current calendar & more details on the SF Ballet
---
Learn the History of the Neighborhood on a Free Walking Tour
One of the best ways to learn more about these neighborhoods of San Francisco is by taking the Civic Center/City Hall walking tour. This is a free tour given by volunteers through the San Francisco Public Library. You can pick up the tour on the steps of the Main Library starting at 11am on Tuesday and Thursday mornings. The tour runs all year long and you don't need a reservation ahead of time.
Learn More: Civic Center/City Hall walking tour and other free tours
---
See a Broadway Show at the Orpheum Theater
San Francisco has a number of theaters, but one of the most beautiful and well known is the Orpheum. This historic theater hosts some of the nation's largest Broadway productions, such as Hamilton, Wicked, and The Lion King.
Click through the link below to see a full schedule of San Francisco theater events at the Orpheum and other theaters throughout the city.
Learn More: San Francisco theater calendar
---
Grab a Beer in the Beer Garden
A new addition to the Hayes Valley neighborhood is a local outdoor beer garden called Biergarten. This traditional German beer garden serves both German beers and locally produced foods. It's one of the best ways to mix with the locals.
During the summer, the beer garden is open Wednesday - Saturday from 3pm - 9pm, and on Sunday from 1pm - 7pm. Their winter hours are Wednesday - Saturday from 2pm - 8pm and Sunday from 1pm - 7pm.
You will find the Biergarten at 424 Octavia Street between Fell and Linden Streets.
Best Restaurants
Hayes Valley sits to the west of the Civic Center. This is one of the neighborhoods of San Francisco with a number of amazing restaurants.
I come to this neighborhood a lot and it seems like there is always a new culinary hot spot opening up. With the crowds of people that come in for all of the performances, the demand for restaurants here is high.
These are just a few of my favorites:
Suppenkuche: Traditional Bavarian German cuisine, long-standing restaurant in the neighborhood, gets crowded, no reservations, great food, but be prepared to wait in line, dinner only; 525 Laguna Street at Hayes


Jardiniere: Higher-end French restaurant with a California twist, most expensive pick on my list, but worth the money; 300 Grove Street at Franklin


Arlequin: Grab and go sandwiches and salads, great outdoor eating space in the back, head next door to their wine shop to enjoy wine by the glass with your meal; 384 Hayes Street


Sauce: Comfort American food at a decent price, staff is very friendly, good selection of wines and other cocktails; 131 Gough Street


Top Hotels in Civic Center & Hayes Valley
The following are some of the top rated hotels that you'll want to look at if you are interested in staying in one of these central neighborhoods of San Francisco.
Inn at the Opera: 333 Fulton Street, 3.5 stars

Great location just steps from the SF Opera House
European-style bed and breakfast
Free Wifi, room service, suites available
Rooms start at around $195 a night



Phoenix Hotel: 601 Eddy Street, 2.5 stars

Hip, colorful, and funky hotel in a 'transitional' area
Highly rated, but make sure you read the reviews to understand the ins and outs of this hotel before booking—some people love it, while others hate it due to its surroundings
Rooms start at around $195 a night



Days Inn at Civic Center: 465 Grove Street, 2 stars

Motel-type setup for this hotel, with free parking
Free Wifi, breakfast included
Rooms start at around $130 a night



Holiday Inn at Civic Center: 50 8th Street, 3.5 stars

Larger hotel just a few blocks south of City Hall
Free Wifi, bar and restaurant on site, fitness center
Rooms start at around $160 a night
Book a Room: Find the best hotel prices on Booking.com. You can also cancel most rooms for free if your plans change. Click here to check out recent guest reviews and find great prices on Booking.com.
Learn More: Additional San Francisco lodging options by neighborhood and price
How To Get To These Neighborhoods of San Francisco
From Fisherman's Wharf
It will only take you about 30 minutes to get from Fisherman's Wharf to these central neighborhoods of San Francisco. Here are your best options:
47 or 49 Bus: Pick up either of these buses on the western side of Fisherman's Wharf, both will drop you off at McAllister and Van Ness, across the street from City Hall.


San Francisco Taxis: This will decrease your travel time to around 15 minutes and will cost you about $15 to $20, depending on traffic.
From Union Square
Union Square is just a few blocks away. You can either walk down Market Street to Civic Center Plaza or take one of these transit options. All will take around 15 minutes.
F Street Car: This picks up at several stops along Market Street. It's $2.50 for a one-way ride.


Light Rail Muni Train: Pick up the train at the Powell Street Station and take it to either the Civic Center or Van Ness Station—both are just a few blocks away from these neighborhoods of San Francisco. Almost all light rail trains head to both of these stops, including the J, K, M, and N trains.


Taxi: Taking a taxi from Union Square to Civic Center or Hayes Valley is a quick way to get here. It should take you less than 10 minutes and cost around $10 to $15.
Hop On/Hop Off
Another way to get to this neighborhood is on the Hop On/Hop Off Tour Bus. This neighborhood is stop #7 and it drops you off at Civic Center Plaza. Learn more about taking the Hop On/Hop Off Bus Tour.
Driving
Driving to this neighborhood is a popular option. However, parking can be a hassle.
One of the best ways to relieve the parking headaches here is to reserve your spot online in advance through GottaPark. This online parking reservation system allows you to review the spots available and the price for each one before you arrive.
More Pages You Might Enjoy