SF Bay Area Valentine's Day Events 2017
Great Pillow Fight, Theater Shows & More Ideas this Holiday
SF Bay Area Valentine's Day events in 2017 include the Great Pillow Fight in San Francisco, theater performances all around the area, and special cruises. You find fun things to do both on the holiday and the weekend before.
Read on for several ideas on how to spoil your sweetie this holiday.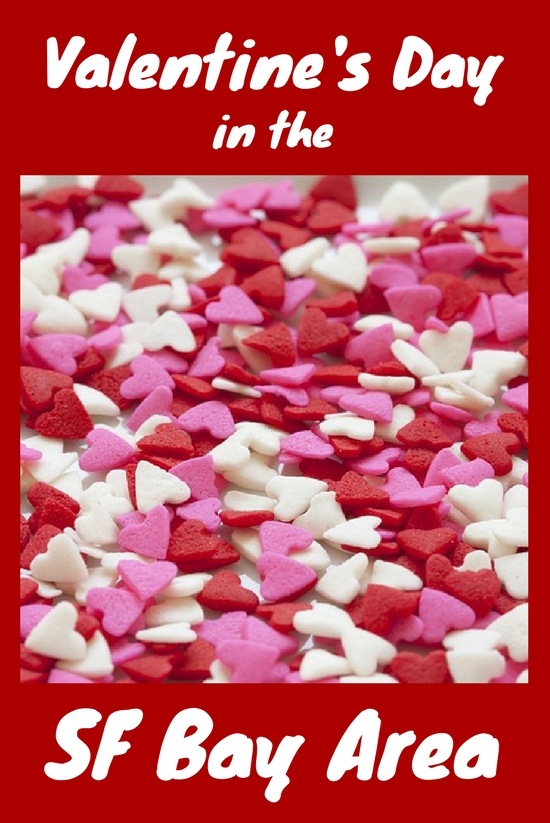 Great San Francisco Pillow Fight
Have you always wanted to be part of a flash mob? Now you have your chance to be part of the Great San Francisco Pillow Fight! In the past, approximately 1,000 people have shown up at Justin Herman Plaza on Market Street with pillows hidden in their bag only to bust them out when the clock strikes 6pm.
It's an amazing sight to see feathers flying everywhere, not to mention a good arm workout. This is by far one of the most unique SF Bay Area Valentine's Day events.
This is not a sanctioned event, so if you go, it's at your own risk!
SF Bay Area Theater
Do something different for date night this Valentine's Day and spend the evening enjoying the best of San Francisco theater!
Some of the city's most historic venues are offering Tony Award-winning shows that are sure to capture your heart. Catch RENT, the beloved musical that shows the strength of love and friendship in the bohemian world of struggling artists, at the Golden Gate Theater.
Or head to the Curran for Fun Home, a bold new musical and family drama that invites you on one girl's emotional journey about sexuality and family secrets.
Many of the shows are on Valentine's Day, but many are also the weekend prior.
>> Find a full calendar of theater performances all around the Bay Area
Cirque du Soleil in San Jose
One of the most magical SF Bay Area Valentine's Day events is Cirque du Soleil's performance of Luzia: A Waking Dream of Mexico under the Grand Chapiteau in San Jose. The show is inspired by Mexico's natural beauty and its indigenous peoples, and is designed to inspire you to explore your senses.
Getting to see the group's world-famous daring acrobatics illustrate such a colorful, mystical story makes the trip to the South Bay well worth it.
>> Find tickets to this and other performances this year
>> More San Jose theater shows this season
SF Bay Cruises
A very romantic and memorable way to treat your honey on Valentine's Day is by taking a three-hour dinner cruise on the SF Bay. You'll enjoy a delicious meal, premium wine and beer, music, dancing, and breathtaking views of San Francisco.
You can board the yacht from either the Embarcadero in the city, or the Berkeley Marina in the East Bay. And if you already have plans for Valentine's Day, you can still take a romantic brunch or dinner cruise on Valentine's Weekend (February 10 - 12).
>> Find details on all of Hornblower's Valentine's Day Cruises
Visit SF's Botanical Garden for Free
If you and your honey love flowers, then you are in luck as the SF Botanical Garden's free admission day happens to fall on Valentine's Day! Located in Golden Gate Park, this is the perfect place to take your sweetheart for a romantic stroll among the colorful spring flowers and gardens from all over the world. This is a truly serene destination for those couples looking to escape the city's hustle and bustle on this special day.
>> Calendar of all free admission days in SF
>> Details on visiting SF's Botanical Garden
Events, Tours & Activities at Up to 50% Off
You will also find some great deals on SF Bay Area Valentine's Day Events on Goldstar. These are just a few of the top events featured for this holiday.
Champagne & Mimosa Cruise: Enjoy two beverage per ticket on this 2-hour cruise around the bay, leaves from Pier 39 at 10am on Valentine's Day morning, Full price $60, Goldstar $45*, check for tickets
Rocky Horror Picture Show: At Berkeley's UC Theater at 8pm, Full price $16.50-$26.50, Goldstar $10-$26.50*, check for ticket availability
Valentine's Sunset Sail: Leaves from Sausalito at 6:45pm, 2 hour and 30 minute cruise around the bay, Full price $75, Goldstar $37.50*, find tickets
*Small service fee at checkout
SF Indie Fest
How about a twist on the classic "dinner and a movie" for your Valentine's Day date? Rather than heading to the regular movie theater, mosey on down to SF's Mission District to watch some of the incredible independent films being screened at the SF Indie Fest.
From February 2nd to the 16th, they will feature nearly 80 alternative and subversive films at the Brava Theater, Roxie Theater, and Alamo Drafthouse.
>> More on this year's Indie Fest
Valentine's Day Weekend
In addition to the SF Bay Area Valentine's Day events (February 10 - 12), you will also find a number of fun things to do the weekend prior. Here are just a few of the top options.
SF Giants Fan Fest
The SF Giants Fan Fest gives baseball fans a head start to the upcoming season by inviting them to AT&T Park to meet the players, get their autographs, and stock up on new SF Giants gear. You can also play catch on the field, watch last season's highlights on a big screen, and get your picture taken with their World Series trophies.
>> Find details about this event and this year's SF Giants schedule
Chinese New Year Parade in SF
Head to Chinatown on Valentine's weekend to enjoy a one-of-a-kind annual cultural event, the Chinese New Year Parade. On Saturday evening, February 11, you'll see over 100 entries ranging from floats to marching bands, to Chinese lanterns, drums, and lion dancers. Watch the awe-inspiring 28-foot-long Golden Dragon as it snakes its way through the streets to ward off bad spirits and welcome in the upcoming lunar new year.
>> Details on the parade and tips to attend
Concerts in the Bay Area
Valentine's weekend also offers up some amazing live music performances around the Bay Area. One of the best is Crush SF at the Bill Graham Civic Auditorium. This year's line-up includes Afrojack, Andrew Luce, Illenium, Shaun Frank, Team EZY, and Wiwek.
If you're looking to get out of the city, check out the Valentine's Super Love Jam at the SAP Center in San Jose. This concert includes Zapp, Rose Royce, Evlyn Champagne King, the Chi-Lites, and Marshall Thompson. Also in San Jose, at the City National Civic, there will be a concert by Chicago - The Band.
More Things to Do in the Bay Area in February