Fleet Week San Francisco
2016 Schedule of Events & Pictures from Previous Years
Fleet Week San Francisco is an annual event that draws thousands of people into the city. It's held every year in San Francisco on the first or second weekend in October.
The 2016 dates are October 3 - 10. Most activities and the large air show are over the weekend of October 7 - 9. You will find additional ship tours on Monday, October 10.
You can also enjoy the Parade of Ships on Friday or head out on a cruise to watch the Blue Angels perform from the water.
San Francisco Fleet Week 2016 Schedule
Here is the schedule of this year's Fleet Week activities:
Friday, October 7, 2016
11am - 12pm: Parade of Ships
12pm - 4pm: Air Show Practice (Blue Angels from 3pm to 4pm)
10am - 5pm: Humanitarian Assistance Village
10am - 5pm: Marina Green Festival Center
Saturday, October 8, 2016
12pm - 4pm: Air Show (Blue Angels from 3pm to 4pm)
10am - 5pm: Humanitarian Assistance Village
10am - 5pm: Marina Green Festival Center
Ship Tours (find more details below)
Sunday, October 9, 2016
12pm - 4pm: Air Show (Blue Angels from 3pm to 4pm)
10am - 5pm: Humanitarian Assistance Village
10am - 5pm: Marina Green Festival Center
Ship Tours (find more details below)
Monday, October 10, 2016
*Schedule of events is subject to change at anytime.
Cruises During Fleet Week San Francisco
Red & White Fleet 2.5-Hour Fleet Week Cruise

2.5-hour afternoon cruise to see the Blue Angels
Offered Friday, Saturday, and Sunday of Fleet Week
Cruise leaves at 1:30pm (please arrive at least 30 minutes before departure)
Outdoor decks with incredible views of the performance
Enjoy a light appetizer buffet of sandwiches, salads, antipasti, fruit, and dessert
Leaves from Pier 43 1/2 in Fisherman's Wharf
$75 for Adults (18+), $52 for Youth (5-17)
Blue & Gold 2-Hour Cruise
Saturday and Sunday from 2pm to 4pm (please arrive at least 45 minutes in advance)
Includes a buffet lunch with items such as clam chowder, spring salad, spinach dip, sandwiches, desserts, and more.
Cruise also includes an open house bar with cocktails, house beer, wine, and non-alcoholic beverages
Tickets start at $90 for adults and $60 for children
Cruise on the SS Jeremiah O'Brien
Saturday, October 8 from and Sunday, October 9 from 10am to 5pm (boards at 9am)
Cruise around the bay in the morning and get front row seats to the air show in the afternoon
Catch the air show from 12:30pm to 4pm (with the Blue Angels performing from 3pm to 4pm)
Complimentary continental breakfast and coffee once you are aboard
Yummy hot dog lunch provided by Annie's Hot Dogs, though you are also welcome to bring your own lunch (plus It's-It Ice Cream!)
Complimentary water, soft drinks, wine, and beer
Tickets are $165 for all ages for the Saturday cruise
Tickets are $140 for adults and $85 for children on Sunday
More Places to Watch the Air Show & the Blue Angels
The northern side of San Francisco along the bay is CROWDED during the air show. If you want to sit down, you will need to arrive at least an hour before the Blue Angels perform.
Most of the Air Show takes place over the bay - around Fort Mason. You can find a place to watch on either side.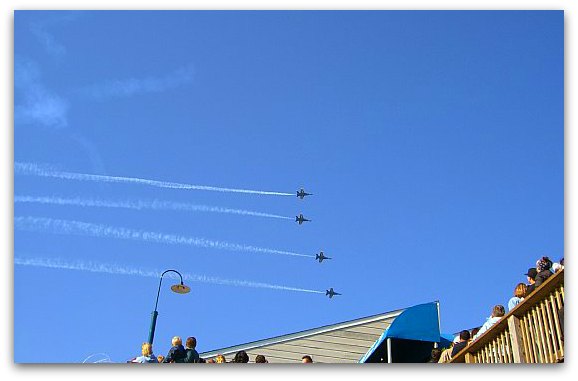 The view of the Blue Angels from the bottom deck at Pier 39.
Here are a few places to watch the Air Show with some additional notes to think about for each option:
Pier 39: You will be close to the action, but it gets really crowded here. However, it's a great place to see most of the show. Try to find a spot with a clear view of the Golden Gate Bridge.


Aquatic Park: There is a small stadium here with seats facing out over the bay. You will get a great view of the Fleet Week San Francisco Air Show from here, although the maneuvers over the Golden Gate Bridge will be harder to see.


Crissy Field: There will be fewer people on this side - which makes it a nicer viewing area. This is a great place to see the maneuvers near the bridge from the Blue Angels. It is a little further away from the main action though, so the trees block out a little bit of the show.


Marina Green: Just to the east of Crissy Field is the Marina Green. This large green space offers a great look at the air show. You can also buy premium tickets for this area, so you don't have to fight for a place to watch the fun. Tickets for the premium section are already on sale.
Half-Priced Tour & Event Tickets for this Weekend
Here are a few event and tour tickets for this weekend at up to 50% off on Goldstar.
Champagne & Mimosa Weekend Morning Cruise: Cruise departs from Pier 39 on both Saturday and Sunday morning at 10am, this two hour cruise returns around noon, includes two drinks per ticket, Full price $60, Goldstar price $36*


2-Hour Sunset Sail: Stick around after the air show to enjoy a cruise around the SF Bay, 2-hour cruise leaves on Friday, Saturday, and Sunday at 5pm (check in at 4:45pm), Full price $60, Goldstar price $36*
*Small additional fee added at checkout.
More Things to Do this Weekend in San Francisco
These are some of the other fun things to do during Fleet Week San Francisco.
Hedwig & the Angry Inch at the Golden Gate Theater
Catch a theater performance during your time in San Francisco. This popular Broadway hit features shows on Friday, Saturday and Sunday nights as well as a performance on Sunday afternoon.
Tickets: On sale now for all performances
More: Find additional theater performances this weekend in San Francisco
---
Litquake
If you love literature, you will love Litquake. This two-week event focuses on literature and features presentations, panel discussions, and other events. You will find several events during Fleet Week San Francisco.
More: Find more details here
---
Free Walking Tours
Every day of the week, SF City Guides offers free walking tours in districts all over town. Learn more about the Golden Gate Bridge, Union Square, the Palace of Fine Arts, and more.
Details: More details on SF's free walking tours
---
Concerts in San Francisco
If you love to listen to live music, then you will find plenty of options this weekend in SF. We have venues large and small with everything from well known artists to popular local bands.
Calendar: Click here for a full schedule of concerts this weekend
Hotel Options in San Francisco
Since thousands of people attend Fleet Week each year, I highly recommend booking early.
I also recommend checking out the special deals on TripAdvisor.com. They offer discounts on dozens of hotels throughout San Francisco. You can get a special price on your room, receive free parking, and more. Click here to check out their current offers so you can save on your room today!
Ship Tours: Details on Ships You Can Tour
The tours of the ships are wildly popular. All tours are free and they encourage you to interact with the sailors on board. I recommend showing up well before they open their doors as it's first come, first served and the lines get long fast.
This is a list of ships that have offered tours in the past. Check back for a full list of ships that will be in port this year as well as the dates and times they are open to visitors.
HMCS CALGARY

Pier 15/17 (Saturday and Monday only)



US Navy
US Navy


USCGC BOUTWELL
More Pictures and What to Expect in 2016
Below are a few of my photos from previous years for each activity. They will give you an idea of what to expect this year.
Parade of Ships 2016: Friday, October 7 from 11pm to 12pm
The Parade of Ships is the official start of the Fleet Week celebrations in San Francisco. All of the ships for the event come in under the Golden Gate Bridge and head to their designated pier in San Francisco. You can tour all of these ships during the three-day celebration.
A couple of years ago, my mom, sister, and I were on Alcatraz Island during the Parade of Ships, which is one of the best places to be for this event. Here are just some of my pictures from that day.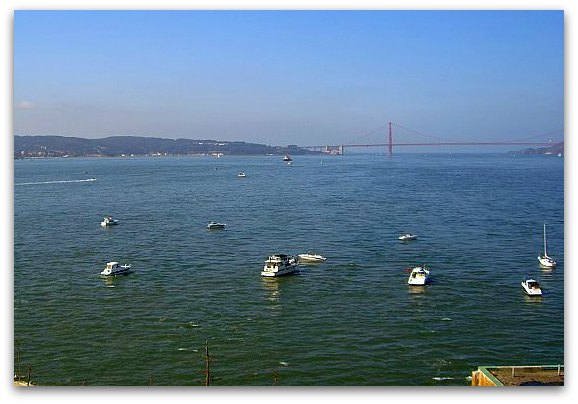 The Parade of Ships is about ready to begin. The boats at the bottom of the picture are all waiting for the parade to start. In the background is the Golden Gate Bridge, which is where all the boats enter the San Francisco Bay for the event.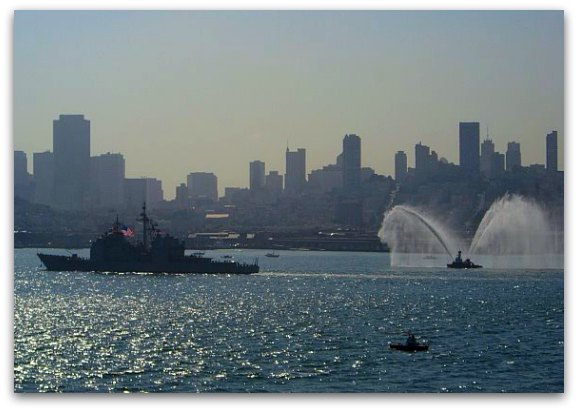 This is one of the first boats coming in for Fleet Week San Francisco. You can see the downtown San Francisco skyline in the background.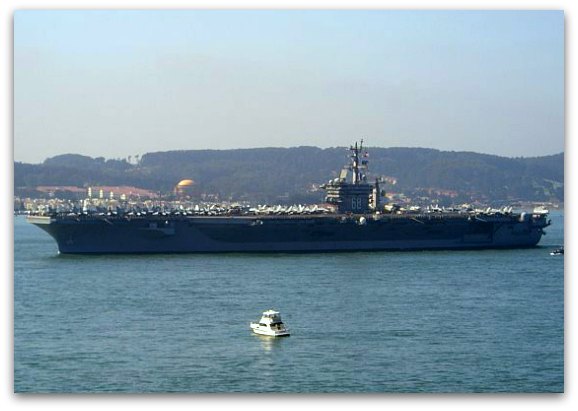 This is one of the largest ships that come into San Francisco for Fleet Week. It's an aircraft carrier and is open for tours all weekend. In the background are the Presidio and the Palace of Fine Arts.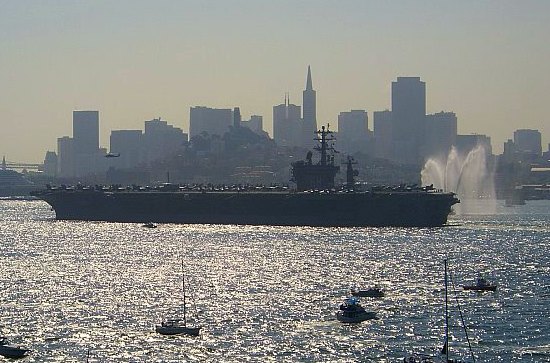 This is a second look at the aircraft carrier heading into San Francisco. It's close to Alcatraz Island and making its way to its pier to set up for tours. You can again see downtown San Francisco including the Transamerica building in the background.
---
Fleet Week Air Show: Saturday & Sunday
The event that most people come out for is the air show on Saturday and Sunday from 12pm to 4pm. There are several performances during the four-hour show.
Both days, the air show finishes with an amazing performance by the Blue Angels. They always start their performance a little after 3pm. Even if you have watched them before, you will never get tired of seeing their performance over the San Francisco Bay.
Here are just a few of my Blue Angel photos from previous Fleet Week San Francisco performances. This is a shot of just four of the six Blue Angels doing a maneuver. This is another shot from Pier 39.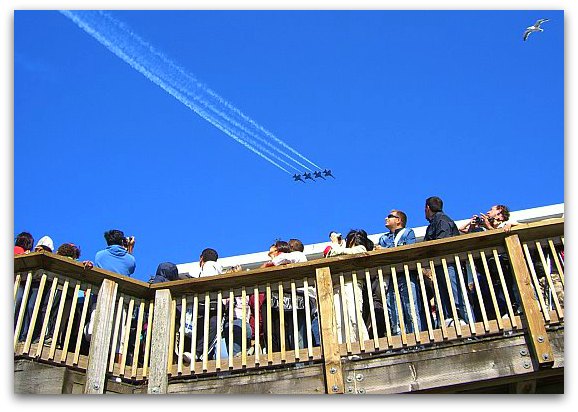 This is another shot of the Blue Angels, in the distance, performing over the San Francisco Bay. In front is a crowd of people and the sea lions near Pier 39.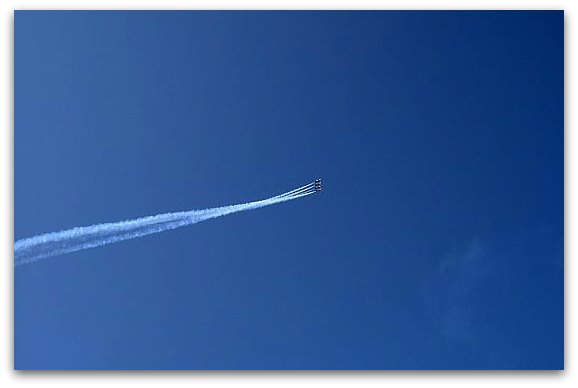 The smoke trailing the Blue Angles as they perform another maneuver.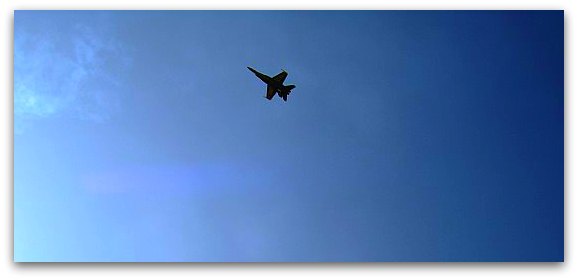 The Blue Angels get daringly close during their performance. My camera does not have a great zoom, so this shows just how close you will feel from the viewing area!
You can also head out to catch some of the practice sessions on Thursday, October 8 between 12pm and 4pm and on Friday, October 9 between 12:30pm and 4pm. There are fewer people around and they don't perform their entire show. However, it's a great way to catch the action if you are not going to be around on Saturday or Sunday.
Save this year's Fleet Week San Francisco details to your Pinterest board.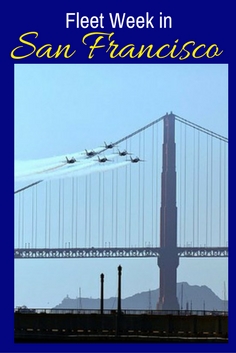 More SF Tips & Events
Back to the Top