Fleet Week San Francisco
2014 Schedule of Events & Pictures from Previous Years
Fleet Week San Francisco is an annual event that draws thousands of people into the city. It's held every year in San Francisco on the first or second weekend in October.
The 2014 dates are October 9 - 13, 2014. Most activities and the large airshow are over the weekend on Saturday, October 11 and Sunday, October 12. They will also do some additional ship tours on the final day, Monday, October 13.
With the airshow cancelled in 2013, this turned into a small, emergency rescue event. However, everything is back on track for 2014. This year, you can expect the large airshow, ship tours and more.
I'll update this page once the 2014 event schedule is released. Bookmark this page and check back often for updates!
Previous Year's Events and What to Expect in 2014
Although they have confirmed the dates, the specific details for 2014 are still being finalized. Here is the schedule from previous years and what you can expect from this year's Fleet Week San Francisco.
Parade of Ships: Saturday Morning
The Parade of Ships is the official start of the Fleet Week celebrations in San Francisco. All of the ships for the event come in under the Golden Gate Bridge and head to their designated pier in San Francisco. You can tour all of these ships during the three day celebration.
A couple of years ago, my mom, sister and I were on Alcatraz Island during the Parade of Ships - which is one of the best places to be for this event. Here are just some of my pictures from that day.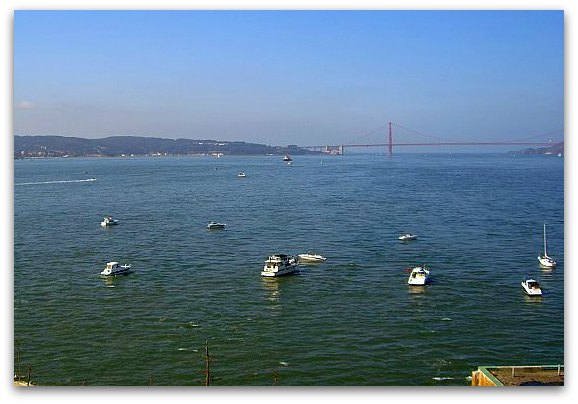 The Parade of Ships is about ready to begin. The boats at the bottom of the picture are all waiting for the parade to start. In the background is the Golden Gate Bridge which is where all the boats enter the San Francisco Bay for the event.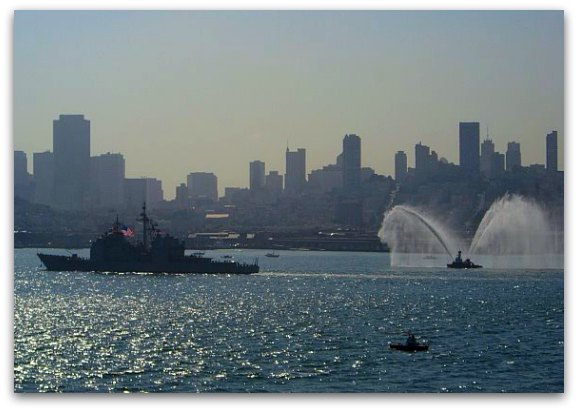 This is one of the first boats coming in for Fleet Week San Francisco. You can see the downtown San Francisco skyline in the background.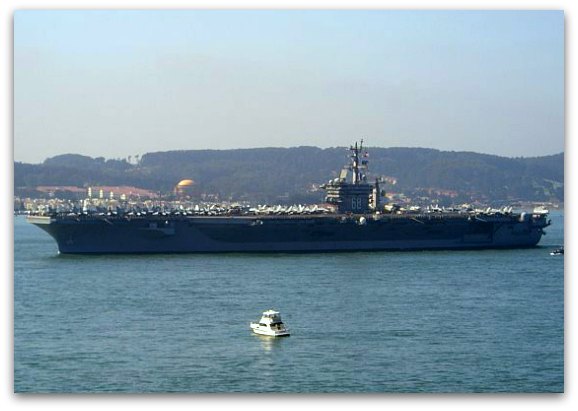 This is one of the largest ships the comes into San Francisco for Fleet Week. It's an aircraft carrier and is open for tours all weekend. In the background is the Presidio and the Palace of Fine Arts.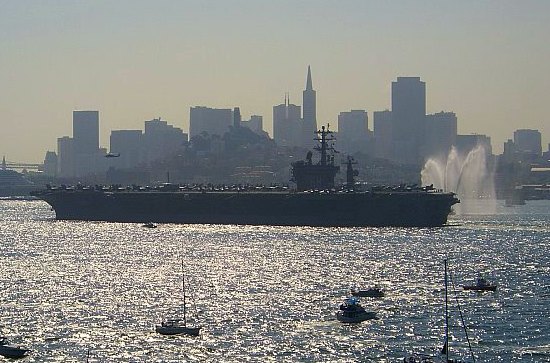 This is a second look at the aircraft carrier heading into San Francisco. It's close to Alcatraz Island and making its way to its pier to set up for tours. You can again see downtown San Francisco - including the Transamerica building - in the background.
In the past, the Parade of Ships was on Friday around noon. This year, the schedule shows that the Parade of Ships is on Saturday instead.
---
Fleet Week Air Show: Saturday & Sunday
The event that most people come out for is the air show on Saturday and Sunday from 12:30 to 4pm. There are several performances during the three and a half hour show.
Both days, the Air Show finishes with an amazing performance by the Blue Angels. They always start their performance a little after 3pm. Even if you have watched them before, you will never forget seeing their performance over the San Francisco Bay.
Here are just a few of my Blue Angel photos from previous Fleet Week San Francisco performances.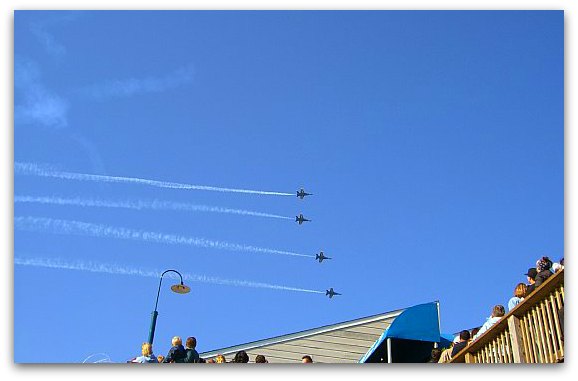 This is a shot of just four of the six Blue Angels doing a maneuver. This shot is from Pier 39.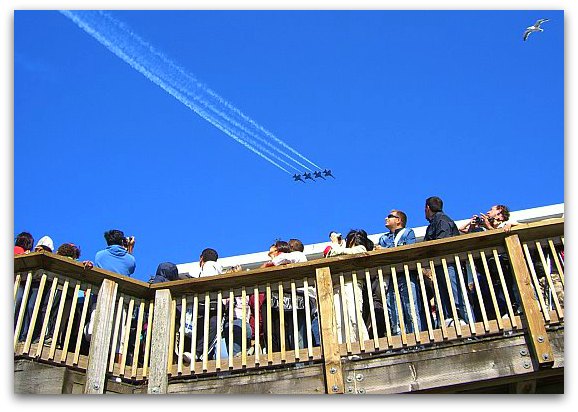 This is another shot of the Blue Angels, in the distance, performing over the San Francisco Bay. In front is a crowd of people and the sea lions near Pier 39.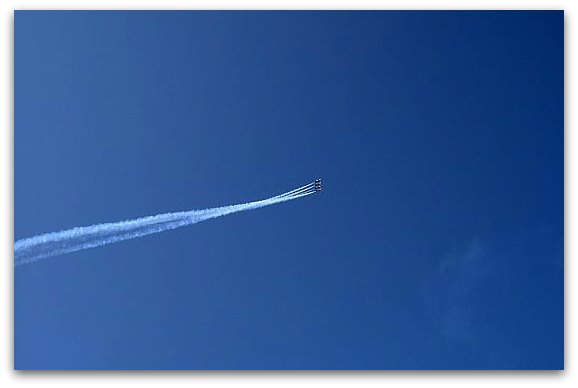 The smoke trailing the Blue Angles as they perform another maneuver.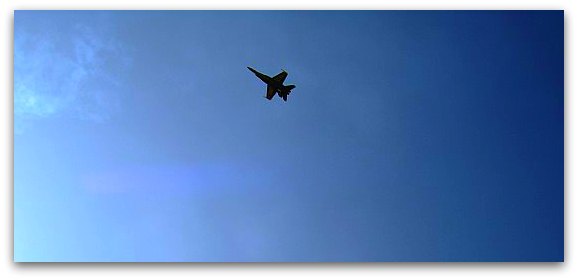 This shows you how close they get during their performance. My camera does not have a great zoom, so this shows just how close they get to the viewing area!
---
Where to Watch the Air Show & the Blue Angels
The northern side of San Francisco along the bay is CROWDED during the air show. If you want to sit down, you will need to arrive at least an hour before the Blue Angels perform.
Most of the Air Show takes place over the bay - around Fort Mason. You can find a place to watch on either side - just knowing that the main action is around this area.
Here are a few places to watch the Air Show with some additional notes to think about for each option:
Pier 39: You will be close to the action, but it gets really crowded here. However, it's a great place to see most of the show. Try to find a spot with a clear view of the Golden Gate Bridge.


Aquatic Park: There is a small stadium here with seats facing out over the bay. You will get a great view of the Fleet Week San Francisco Air Show from here, although the manu vers over the Golden Gate Bridge will be harder to see.


Crissy Field: There will be fewer people on this side - which makes it a nicer viewing area. This is a great place to see the manu vers near the bridge from the Blue Angels. It is a little further away from the main action though, so the trees block out a little bit of the show.
Another great way to enjoy some of the Fleet Week San Francisco shows is from the water. There are several cruises to choose from both Saturday and Sunday. These tickets usually go on sale a month or so before the event.
I'll update you once they are available.
---
Hotel Options in San Francisco
---
Ship Tours: Saturday, Sunday & Monday
The tours of the ships are wildly popular. There are usually around four or five ships that you can tour on these three days.
The tours are all free, which means the lines get really, really long. I recommend picking one ship a day to tour and head over as early as you can each morning. This will put you near the front of the line and you won't have to wait for hours for your tour.
---
San Francisco Fleet Week 2012 Schedule
Since this event was very different in 2013, here is the 2012 schedule. This is similar to what you can expect for 2014.
Thursday, October 4, 2012: Blue Angels Circle and Arrival Maneuvers practice 1-5pm
Friday, October 5, 2012; Fleet Week Air Show Practice 12:30pm to 4pm
Saturday, October 6, 2012: Parade of Ships All ships will berth along the northern San Francisco waterfront
Ship Tours
Fleet Week Air Show from 12:30pm to 4pm
Humanitarian Assistance Disaster Response Display on Marina Green 10am-5pm
Sunday, October 7, 2012
Fleet Week Air Show from 12:30pm to 4pm
143rd Annual Italian Heritage Parade at 12:30pm: Military Marching Band, Color Guards, Marching Units - San Francisco's North Beach - Powell & Jefferson Streets to Stockton to Washington Square, followed by a Band Concert at Washington Square.
Humanitarian Assistance Disaster Response Display on Marina Green 10am -5pm
Ship Tours
Monday, October 8, 2012
---
Additional Fleet Week Celebrations Along the Bay
Here are a few other things to check out during the Fleet Week celebrations. These are also from 2012, so you can expect all of these celebrations again in 2014.
Pier 39
Stop by Pier 39 as they join in on the Fleet Week celebrations. Here you can listen to live military band performances, enjoy their interactive exhibits and see military vehicles and displays.
The festivities on Pier 39 start on Friday, October 5 and last until Sunday, October 7. Stop by between 12 pm to 7 pm all three days!
---
Ghirardelli Square
On Saturday and Sunday, Ghirardelli Square also has several Fleet Week events scheduled. Here is their detailed list of events for both days:
Saturday, October 6

11:30am-1:30pm: Travis Air Force Base Jazz Band
1pm-3pm: Rubber Ducky Capture - Mermaid Fountain
4pm-8pm: Alta Rockers
Sunday, October 7
11:30am-1:30pm:59th Army Jazz Band
1pm-3pm: Rubber Ducky Capture - Mermaid Fountain
1pm-5pm: Sunny Moon Face Painting - Center Fountain
4pm-7pm: Drew James
Many shops and restaurants in Ghirardelli Square also have special discounts all weekend long!
---
More SF Tips & Events
Did you enjoy this page?
If so, share it with your friends!

Like me on Facebook for the latest
on events, attractions and
other tips to help plan your visit.
Search the Site or Ask a Question
Are you still looking for additional information? If you can't find what you are looking for, you can use the Google search box below to search the site or click here to ask me directly. Thanks for visiting my site!