Halloween San Francisco 2016
Fun Things to Do for All Ages
San Francisco is the place to be again for this year's 2016 Halloween celebrations. Whether you are looking to party or for some family friendly events, you will find them all here.
This year, it falls on a Monday, so most events fall the weekend before the holiday. You will also find some events the week prior too.
Highlights this year include several popular ghost tours, more than a dozen 21 and older events, and several museum sponsored events for the kids. You will also find some fun places to go trick-or-treating, haunted houses, and a few other fun activities all weekend long.
Top 21+ San Francisco Halloween Parties
This year, you will find dozens of 21 and older Halloween Parties. Most are on Saturday night, October 29 at some of San Francisco's largest venues.
These parties often include music by some of SF and the Bay Area's top DJs, cocktails throughout the night, and a chance to mingle with other Halloween lovers. Almost all require costumes.
Learn More: Full List of the Best 21+ Parties in SF
Ghost Tours in San Francisco
San Francisco is said to be one of the most haunted cities in the US. This makes it the perfect place for fun, yet spooky ghost tours. They range from a visit to one of SF's most ghostly spots, Alcatraz Island, to a walking tour through City Hall. All of them offer chilling stories about the dark events that led to today's mysterious and unusual occurrences. Many run all year long with a few extra special tours just for Halloween.
Learn More: Ghost Tours of San Francisco
Halloween Events for Kids
Enjoy several kid-friendly activities for Halloween 2016. These events fall both on the weekend before and on the big holiday, so you can celebrate both weekends. Highlights this year include the SuperNatural Halloween Event at the California Academy of Sciences, Boo at the Zoo at the San Francisco Zoo, and the 5th Annual Spooktacular Halloween Party in Japantown.
Learn More: 2016 Halloween Events for Kids
Halloween Events at Up to 50% Off on Goldstar
*Small service fee will apply.
Other Fun Events on Halloween Weekend
Here are a few additional events this Halloween in San Francisco!
SF Opera's Halloween Event at Oasis
Spend the night before Halloween with the SF Opera artists at Oasis. Show off your lip syncing skills while enjoying some cocktails and a performance by legendary drag superstar Heklina. Throw on your best costume (not required, but fun!) and head over to 298 11th Street. Make sure to stick around after the performance to dance the night away with a local DJ.
Date: Sunday, October 30, Doors open at 7pm and the show is at 8pm
Tickets: Learn more and pick up your tickets today on the SF Opera website
---
Arcane: Halloween Ballet
Enjoy a performance of this Halloween Ballet at the Fort Mason Center. The event offers fun for all ages with new acts including Pacific Islander poi ball spinners, magic, and much, much more!
Dates: October 21 - 23 & October 28 - 30
Tickets: On sale at up to 50% off on Goldstar
---
Hedwig & The Angry Inch
Catch the final performance of this funny theater production at the Golden Gate Theater. It's on at 2pm on Sunday afternoon October 30.
Tickets: On sale now for this performance
Calendar: Find additional shows this month in SF
---
Symphony Performance
Head to Davies Symphony Hall on Monday, October 31 for Dudamel as he conducts the Los Angeles Philharmonic. The performance starts at 8pm.
More: Find a full schedule of symphony performances in SF
---
Open Studios
Enjoy local art the weekend of Halloween. On Saturday and Sunday, you can walk around the Presidio, Haight Ashbury, Richmond, and other districts. All studios are open from 11am to 6pm.
Info: Additional info on this year's Open Studios event
Find Halloween Costumes
If you are looking for the perfect Halloween costume, then check out my list of my five favorite places to shop. You can design your own look or find the perfect pre-made option. All are open year around.
Learn More: 5 Places to Find Costumes in SF
10 Most Haunted SF Places
Would you like to investigate some of SF's most haunted locations? On this list, you will find a list of the most haunted places in San Francisco that are open to the public. This allows you to stop by and investigate these ghostly sightings for yourself!
Learn More: 10 More Haunted SF Locations
---
Save this list of events to Pinterest!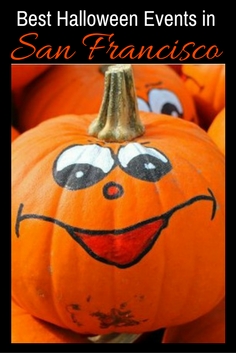 Other October Events & Tips