Christmas Eve Dinner in San Francisco 2017
Traditional & Non-Traditional Options All Around Town
You will find a variety of options for Christmas Eve dinner in San Francisco in 2017. A few dozen restaurants are offering special meals for the holiday. Others are open and allow you to order off their regular menu.
You will find some of my top picks below. You will also find some other great ideas for an unforgettable day in SF.
For some of the links on this page, I receive a small commission when you purchase. You don't pay more when you buy through me and it gives me the chance to offer you all this great content for free!
Christmas Eve Dinner in San Francisco
Restaurants are still finalizing their menus for 2017. Below you will get an idea on what to expect from the menus from 2016.
Here are a few of the best places to find Christmas Eve Dinner in San Francisco.
1300 Fillmore: Christmas Eve Gospel Brunch of Christmas Eve Dinner, Western Addition, American


Alioto's: 3-course meal in Fisherman's Wharf, Seafood


Alta CA: 3-course dinner for $75 per person


Burritt Room & Tavern: $56 3-course feast, Downtown/Union Square


Campton Place: 5-course meal at $150 per person


Cocotte: Prix fixe menu for $79 per person


Frances: 4-course menu for %90 per person with additional wine pairing at $40 per person, Castro


Jardiniere: 3 course meal, 2 choices within each course, $105 each, $59 for the additional wine pairing


Keiko a Nob Hill: $195 tasting menu, French, Nob Hill


L'Olivier: Serving their regular regular menu all evening long


Michael Mina: 3 course prix fixe with choices for $125 or 8 course tasting menu for $185 each


Namu Gaji: Special menu of noodles during Namu Noodle Night, Mission


One Market Restaurant: Serving dinner from 5pm to 8pm from their regular menu


Palio d'Asti: Sicilian Christmas Eve dinner with their annual Feast of the Seven Fishes, $82 per person with additional items available


Rich Table: Open from 4:30pm to 9:30pm, select from A la Carte menu or chef's picks, Hayes Valley


Zingari Ristorante: 3 course meal for $69 per person, 3pm to 10pm, special children's menu is also available
Secure your spot early, by booking a table on OpenTable.com.
Half-Priced Show Tickets for Christmas Eve
You will find several great shows this Christmas Eve in SF. Here are a few offering tickets at up to 50% off.
Santaland Diaries: Humorous anti-holiday show written by David Sedaris, two shows on Christmas Eve at 2pm & 4pm, Full price $25-$35, Goldstar $10-$17.50*


Irving Berlin's White Christmas: Classic musical about two performers who fall in love with two beautiful sisters, show times are at 12pm and 5:30pm, Full price $60-$110, Goldstar $45-$75*


Smuin's The Christmas Ballet: Nontraditional show with everything from jazz to ballet, show time is at 2pm, Full price $71, Goldstar $39*
*Small fee at checkout.
All Shows on Christmas Eve
There are a few additional great shows this year that you can enjoy either before or after your Christmas Eve dinner in San Francisco. They include shows such as Aladdin and SF Ballet's The Nutcracker.
Half-Priced Christmas Eve Tours & Activities
If you want to explore a little before your Christmas Eve Dinner in San Francisco, then you might enjoy some of these tours at up to 50% off on Goldstar.
Bay Cruise: 60-minute cruise around the bay and you go under the Golden Gate Bridge twice, several cruises leave on Christmas Eve day, Full price $30, Goldstar $15*


Emperor Norton's Time Machine Walking Tour: 2.5 hour tour with SF's unofficial mascot, Emperor Norton, walk through Union Square, North Beach, and Chinatown, tour starts at 11am, Full price $20, Goldstar $10*


Chinatown Food Walking Tour: Sample traditional and non-traditional Chinese cuisines on this tour, starts at 10am, Full price $60, Goldstar $39*
*Small service fee at checkout.
Best Places to Stay
There are more than 300 hotels in San Francisco. You will also find plenty of apartment rental options. If you are still looking to book your stay for Christmas Eve, check out these pages to learn more about where to stay, to find the best deals, and where you can find recent guest reviews to ensure the one you select is right for you.
Fisherman's Wharf Hotel Recommendations | Where to Stay in Union Square
Not sure which district is right for you? Check out my page that explains the pros and cons of staying in each district.
More Fun Things to Do on Christmas in SF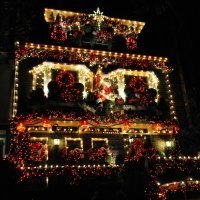 Christmas is a very special time for many folks around the world, and spending it in San Francisco can make it so much more memorable. Although several attractions are closed on December 25, you'll still find plenty to do.
You can sightsee on a fun tour of the Golden Gate Bridge or cruise the SF Bay, take a stroll in the one-of-a-kind Botanical Garden, share a nice meal at one of the city's best restaurants, and much more.
>> Fun ideas for spending Christmas in SF
Where to See Christmas Lights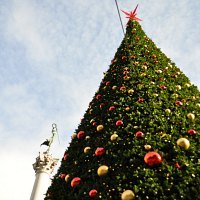 At this time of year, San Francisco always comes aglow with warm, colorful Christmas lights and other decorations. Whether you're surrounded by downtown buildings, in the residential neighborhoods, or by the waterfront, you can't help but notice the holiday cheer everywhere around you.
However, there are a few places in particular whose displays are especially worth visiting, including Pier 39, Union Square, the SF Zoo, local favorite Tom & Jerry's, City Hall, and many others.
>> Insider tips for viewing SF's best holiday decorations
What Closes Early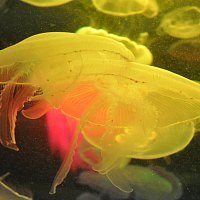 While many San Francisco attractions will be closed on Christmas Day, most will be open on Christmas Eve, but some with shorter hours than usual. Several museums, like the Exploratorium and the Aquarium by the Bay, close a few hours early. (Many stores, on the other hand, stay open later on this day for last-minute shoppers.)
Other attractions, like Lombard Street and the Palace of Fine Arts, are of course open to the public all day everyday, so you can enjoy them at your leisure. Be sure to check the holiday schedule before you make your plans!
>> Get the Christmas Eve and Day schedule for ALL the major attractions
Things to Do on New Year's Eve
If you'll be sticking around to ring in the new year in San Francisco, you'll be thrilled by all your fun options for NYE. You could head to the Embarcadero to watch the annual fireworks display over the bay, dance the night away at one of the many 21+ clubs or party boats, go out to an elegant dinner, or enjoy a comedy show, among other things.
Check out the details for each of these options, and also find out how to get around safely that night.
>> Discover the best things to do on New Year's Eve in SF
Additional Fun Things to Do During Your Stay