Carnaval San Francisco 2015
Details on One of the Largest Celebrations on Memorial Day Weekend
Carnaval San Francisco is a large, two-day celebration in the colorful Mission District. This year's event is on Memorial Day Weekend, Saturday, May 23 and Sunday, 24, 2015.
This SF Festival celebrates Latin American and Caribbean arts and traditions. It runs from 10am to 6pm both days.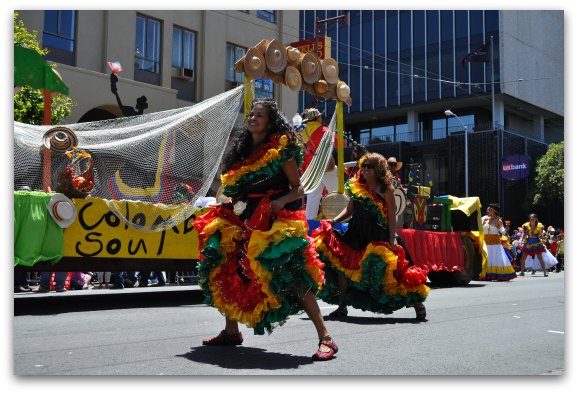 The highlight of the weekend is the Grand Parade on Sunday, May 24. It starts at 10am and lasts until around 2pm.
During the parade, you will have the chance to see more than 30 music and dance groups. Each one showcases elements of the year's theme. Here are just a few pictures from previous years.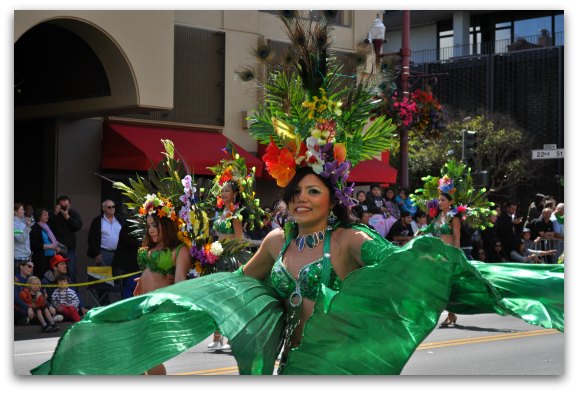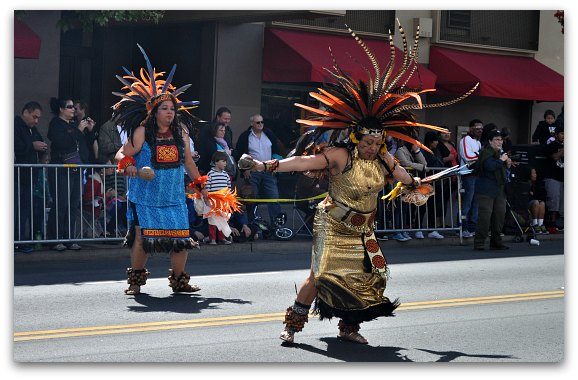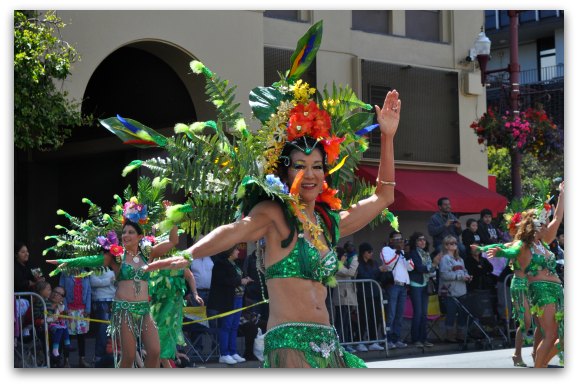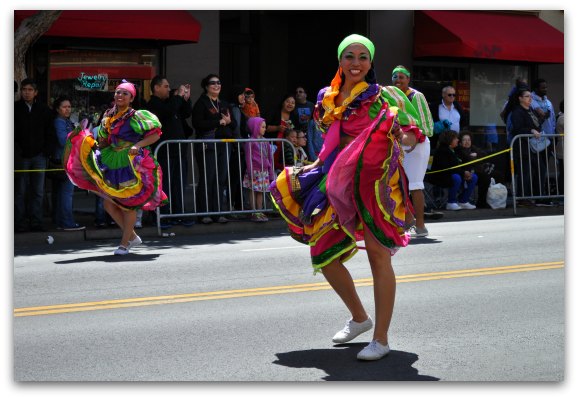 The parade starts on 24th and Bryant Streets. From there, it heads west to Mission Street. It continues north on Mission to 17th Street. It ends at 17th and Harrison.
Here is a map of the parade route.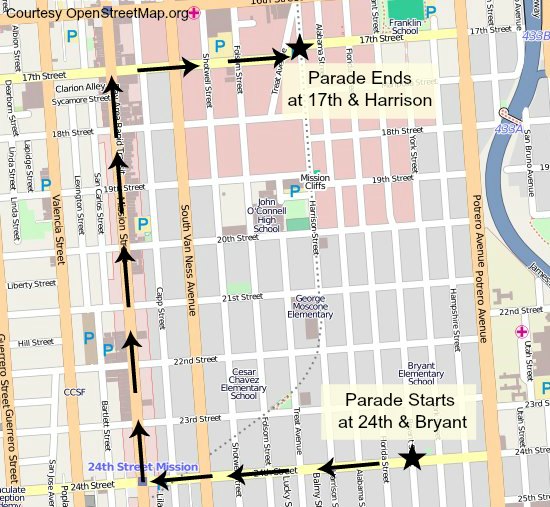 More Festival Details
Carnaval San Francisco stretches out along eight city blocks of the Mission (find other things to do in this SF neighborhood). Most of the festival takes place on Harrison Street between 16th and 24th Streets.
The event is free, although they usually request a donation at the entrances.
This family friendly event includes food, music, dance and arts & crafts. You will also find other fun activities throughout the weekend.
Live Music
On every corner of the festival, DJs will be spinning Latin and Caribbean music such as Cumbia, Cha Cha Cha, Tango and Salsa. You will also hear Hip Hop Rancheras, Samba and Reggae music.
Carnaval San Francisco will also include three stages with additional live music.
Here is the full line up for 2014. I'll post the 2015 line-up once it's available.
22nd & Harrison Street Stage
Saturday, May 24, 2014
Sunday May 25, 2014

11:10 AM - Santos Perdidos

12:00 PM - Ballet Lisanca Congolese Performing Arts

12:20 PM - Sol Tevel

1:20 PM - CultuCuba

1:40 PM - La Mixta Criolla

2:40 PM - Mas Makers Massive

3:00 PM - Very Be Careful

4:00 PM - MCCLA Copa de Amor y Ritmo

4:20 PM - Big Mountain Reggae

5:30 PM - Brenda Perdue + Javier Alvarez + Zumba Fitness

11:00 AM - Mission District Young Musicians Program

12:00 PM - The Cuban Cowboys

1:00 PM - SFSU Afro-Cuban Ensemble

1:45 PM - Grupo Mixteso

2:05 PM - Rico Pabon

2:50 PM - Grupo Samba Rio

3:00 PM - Rukatan Latin Tribe

3:50 PM - Amor do samba

4:10 PM - Richard Bean and Sapo

5:25 PM - Fogo Na Roupa
20th & Harrison Street Stage
Saturday, May 24, 2014
Sunday May 25, 2014

12:00 PM - Quick

1:15 PM - Room of Voices

2:15 PM - Eddie and the Boopers

3:15 PM - Funkanauts

4:30 PM - Puro Bandido

12:00 PM - Kiriaps

1:15 PM - Sol Trevel

2:15 PM - Los Diablos del Amor

3:15 PM - Lumbre

4:30 PM - Dakila
17th & Harrison Street Stage
Saturday, May 24, 2014
Sunday May 25, 2014

11:10 AM - Hernandez Hideaway

12:20 PM - Chelle and Friends

1:40 PM - Kat Parra Latin World Ensemble

2:40 PM - Muevete Salvage de Cuba

3:00 PM - SambaDa

4:00 PM - Batala San Francisco

5:30 PM - Loco Bloco

11:00 AM - Los Boleros

12:00 PM - Edgardo Cambon y LaTiDo

1:00 PM - Azabache

1:45 PM - Latin Dance Grooves

2:00 PM - Fito Reynoso y su Ritmo y Harmonia

2:45 PM - Rueda Con Ritmo

3:00 PM - Rumbaxe

3:45 PM - Sambaxe

4:05 PM - Sistas-Wit-Style

4:30 PM - Louie Romero y Mazacote

5:30 PM - SambaFunk!
Tips to Get Here
From Union Square
BART: The fastest way to get here from Union Square is by taking BART. It picks up at the underground station at Market & Powell Streets. Take it to either the 16th or 24th Street Stations. Then head six blocks east to Harrison Street (you will need to cross Mission Street to get there).


27-Bryant: You can also pick up the 27 on the corner of Market and 5th Streets. This will take you to 18th and Bryant. Once you get off the bus, walk two blocks east to Harrison Street.
From Fisherman's Wharf
49 Mission Bus: The best way to get here from Fisherman's Wharf is by taking the 49 Mission Bus. Pick it up on the corner of Van Ness Avenue and North Point Street. It will take you all the way to the Mission District. Hop off at the 18th Street stop and head across Mission Street toward Harrison. It's about a six block walk.



Note: Since the parade goes down Mission Street on Sunday, the route for this bus will change that day. You will probably need to get out at the 16th Street stop on Sunday in order to get to the festival and parade. Ask the bus driver for the stop closest to your destination.
---
More Fun Events This Weekend
Memorial Day Beer Lunch Cruise: On Monday, head out on the SF Bay for the two-hour Memorial Day Beer Lunch Cruise. On this cruise, you will enjoy a lovely BBQ lunch along with premium craft beers and Champagne. As you cruise around the bay, you will also get the chance to see some of SF's top attractions such as the Golden Gate Bridge, the Palace of Fine Arts and Alcatraz Island.
Tours & Other Events: All weekend long, you will find dozens of other tours and events throughout SF and the Bay Area. The best way to save on everything you do this weekend is by looking at the tickets available on Goldstar. This online ticket retailer offers almost 200 tickets for SF and the surrounding communities at up to half off the full retail value. Click here to find discounted tickets to popular tours and other evnets on Memorial Day Weekend.
Other Events You Might Enjoy
Did you enjoy this page?
If so, share it with your friends!

Like me on Facebook for the latest
on events, attractions and
other tips to help plan your visit.
Search the Site or Ask a Question
Are you still looking for additional information? If you can't find what you are looking for, you can use the Google search box below to search the site or click here to ask me directly. Thanks for visiting my site!