SantaCon SF
Details for the 2016 Event in San Francisco
This year's SantaCon SF is on Saturday, December 10, 2016. You will find this annual event in almost every large city in the US and around the world.
SantaCon is when thousands of people dressed in Santa costumes walk through the streets spreading good cheer.
It's a non-political, non-violent, non-controversial day fueled by fun-loving people, revised Christmas carols and, of course, a few holiday drinks.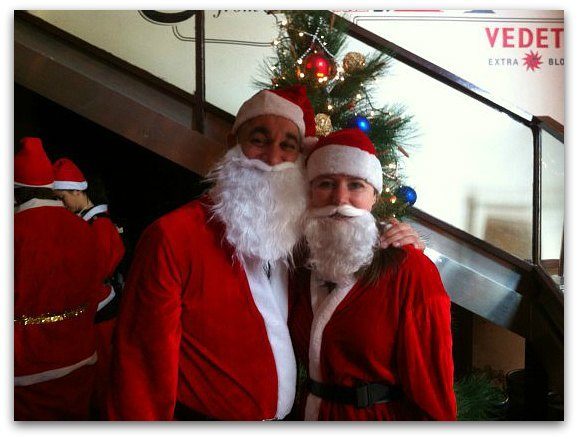 It's free to participate--just put on your Santa costume, follow the walking routes and sing along for fun.
You will also want to bring cash if you plan on enjoying a few holiday cocktails or a bite to eat along the way.
SantaCon Event Details
The Santas behind SantaCon like to keep the details under lock and key until the last minute. They have released information to say that the event will once again start in Union Square at 11:30am. They will also have a toy drive again this year.
Toy Drive 2016
This year, they are also asking that you bring along a new (not used, please) toy for the SFFD toy drive. A truck is set up in front of the Handlery Union Square Hotel, located at 351 Geary Street.
Please drop your toy off here before heading to Union Square. The fire truck will collect toys at this location from 11:30am to 1:30pm.
Here are a few tips for picking up a toy for the drive:
Toys for kids 12 years and younger
Most requested items for girls are dolls and arts & crafts kits
Most requested items for boys are sports equipment
More Tips to Enjoy SantaCon SF
This event gets a little crazy and I request that you please, please, please be kind and respectful to those around you. This is meant to be a fun way to meet new people and spread some holiday cheer.
They ask that you pay for your drinks and food in cash. The bars will be slammed, so this will make the process much easier for them.
Also be aware that not all bars welcome Santas, so look out for any "No Santas" signs before you enter.
This Year's Participating Bars
This year, the best way to get a list of participating bars is to download the Banter app. It lists 60 bars partcipating in this year's event. You will find the app here: www.thebanterapp.com.
The full list of bars should be available late on the day on Friday.
Additional Places to Stop for Some Holiday Cheer
These places are not officially on a route, but are offering up some holiday fun for Santas at different times throughout the day.
Hawthorne: 46 Geary Street

Bottles Tonight SF SantaCon Afterparty
Doors open at 9:30pm and goes till after hours
Fully dressed Santas get in free
Music by DJ Dean Samaras
Club OMG: 43 6th Street
Doors open at 1pm with no cover charge
Drink specials all day long for anyone in a Santa costume
DJs all day long
Mayes: 1233 Polk Street

Starts at 11am
The Official Santacon SF Afterparty

Other Pages You Might Enjoy