San Francisco New Year's Eve Cruises
Enjoy a Night on the Water to Ring in 2018
San Francisco New Year's Eve Cruises are my favorite way to celebrate the new year. The best part is that there are several types so you can find the one that fits you best.
On this night, you will find party cruises, family-friendly options, and higher-end dinner and dancing cruises. All offer some food, drinks, and of course, an amazing view of the fireworks show at midnight.
Many of these cruises return to port shortly after the fireworks display.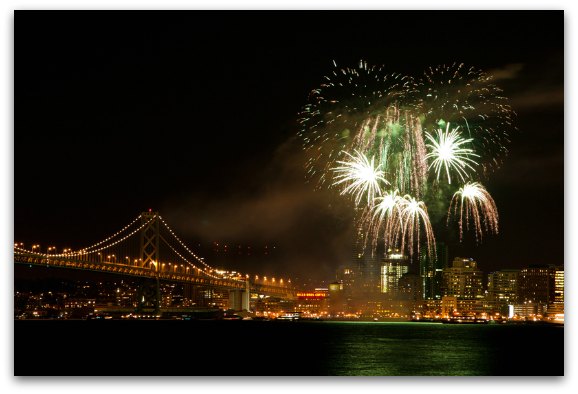 Be prepared to fight through the crowds as the thousands of people watching from the shore will also be heading home.
Also, many of them sell out early, so grab your tickets as soon as you know this is what you want to do for New Year's in San Francisco!
San Francisco New Years Eve Cruises 2017 - 2018
1. Hornblower New Year's Eve Cruise with Four Course Dinner

Four hour cruise starts at 9pm
Gourmet four-course seated dinner
Open premium bar including Champagne, cocktails, beer, wine and other liquors
Dance floor with live entertainment
One of the best views of the New Year's Eve fireworks
Festive party favors
Dress code for this cruise is upscale casual to business casual. No jeans allowed.
Cost per person starts $310 (plus taxes and other fees)
2. Hornblower San Francisco New Year's Eve Cruise
4 hour cruise that starts boarding at 9pm on Pier 3
Enjoy an open bar, buffet dinner, and a Champagne toast at midnight
Standard cocktail bar with house Champagne and liqueurs, cash bar for all other beverages
Dance the night away to DJ Entertainment
Watch the fireworks from one of the best spots in the bay
Smart dress is recommended
Cost per person starts at $261 (plus taxes and fees)
3. 5th Annual Speakeasy New Year's Eve Cruise 2018
Hop aboard the Fume Blanc Commodore for NYE 2018
Transport yourself back to the 20s with black jack tables and dealers
Enjoy live entertainment from DJs spinning Top 40 music
Sip on cocktails from the open bar for four hours
See the lights of SF's top attractions including Alcatraz, the Bay Bridge and the Golden Gate Bridge
Leaves from Pier 40
Check in begins at 7:30pm, boarding is at 8:30pm, departing at 9pm
The boat returns to shore at 1am
Upscale event and cocktail attire required for entrance
4. Fireworks Cruise with SF Bay Adventures
Cruise the bay on the classic schooner FREDA B
Leaves from Sausalito at 11pm with check in starting at 10:30pm
Returns to Sausalito at 1:30pm
Enjoy the fireworks display from the deck starting at 12pm
Cash bar for beer, wine and non-alcoholic beverages
Wear layers to stay warm, no high heels (too difficult on the boat deck)
Tickets required for all passengers including children
5. SF Spirit NYE Moonlight NYE Party
5th Annual Moonlight Cruise on NYE with the San Francisco Spirit
Room for 550 guests with three decks that include full dance floors, fully stocked bars, and a great sundeck to check out the views of SF
Open bar, live DJs, and appetizers
21+ event with great views of the fireworks
Boarding at 9:00pm, departs at 9:30pm, returns at 1:00am
6. Family Friendly Fireworks Cruise (2016)
Enjoy New Year's Eve 2016 on the SF Bay
3-hour cruise offers entertainment, dancing and one of the best views of the fireworks at mid-night
The cruise features a hosted bar for adults with a DJ playing all night long
Kids entertainment includes a face painter, fortune teller, and a magician
This cruise runs from 9:30pm to 12:30am
7. New Year's Rock the Yacht
Party Cruise aboard the Chardonnay Commodore
Features two spacious decks and plenty of room to watch the fireworks at midnight
4 hours of hosted bar and a champagne toast at midnight
Taste of delicious desserts during the cruise
Leaves from Pier 40 near AT&T Park (is not near Pier 39)
Check in starts at 7:45pm, boarding at 8:30pm, leaves at 9pm and returns around 12:30am
Dress code is semi formal attire (required to board)
8. New Year's Eve Fireworks Gala Cruise
Four-hour open bar with great views of the fireworks
DJ entertainment all night long
Spacious 2-story yacht, the Pinot Noir
Cocktail attire required for this event
Check in starts at 7:30pm, leaves at 8:30pm, and returns at 12:30am
Leaves from Pier 40 (not by Pier 39, near AT&T Park)
9.  NYE Fireworks Cruise on The Derek M. Baylis (2016)
New Years SF Fireworks celebration cruise, party on a 65ft yacht without getting all dressed up
4 hour cruise leaves from Marina Bay, Richmond at 7pm or at Pier 40, San Francisco at 9pm
The San Francisco fireworks will launch from barges located 1,000 feet out in the bay, and we will get as close as possible for front row seats
Cruise the holiday lights of the famous SF Historic Waterfront landmarks, the Golden Gate Bridge, Alcatraz Island, Angel and Treasure Island and the new Bay Bridge.
Free champagne at midnight, free water, free sodas, and your first 2 drinks free with plenty of  help-your-self snacks and good music
For those who get cold easily, we have blankets and plenty of seats in the large cabin
Price is $135.00 to $145 per person
Fun Things to Do During the Day
Do you love exploring on New Year's Eve Day? If so, you will find plenty of things to see and do. Here are just a few of my top recommendations.
Disney's Aladdin: Head over to the Orpheum Theatre for the final performance of Disney's Aladdin in 2017, the show starts at 1pm and is a fun thing to do to start your celebrations
Half Priced Tour Tickets: In addition to shows, you will find several tours running on NYE Day. These are just a few of the best that are being offered at up to 50% off the full retail price on Goldstar.
SF Bay Cruise: 60-minute cruise runs several times during the day, Full price $30, Goldstar $15*


Chinatown Food Walking Tour: 10am tour offers you the chance to taste some of Chinatown's best dishes, Full price $60, Goldstar $39*


North Beach Food Crawl: 11am tour of the best Italian dishes and sweet treats in the district, Full price $60, Goldstar price $30*
*Small service fee at checkout.
Hotel Rooms
Whether you are staying for a few days or are just in town for the night, I highly recommend checking out the great hotel deals on TripAdvisor.com. They offer dozens of options throughout the city. The best way to grab the top deals is to book your room early! Check out the current special offers on TripAdvisor.com here.
Are you looking for a few recommendations? If so, then check out my Union Square Hotels and my Fisherman's Wharf Hotels pages for the best options for every budget.
Other 21+ Parties
If you prefer to stay on land, you also have several amazing options. Most of the 21 and older parties feature several dance floors, a variety of music, open bars (for at least part of the night), and a chance to meet some new friends.
Learn More: 21+ Parties on NYE 2017
SF NYE Fireworks Display
The biggest event on NYE 2017 is the fireworks display along the SF Bay. This year's display starts at 11:59pm and lasts for about half an hour. You will find it (and thousands of other fireworks lovers) just to the south of the Ferry Building along the Embarcadero.
Learn More: Tips to Attend the 2017 NYE Fireworks Display
All 2017 NYE Activities in SF
In addition to all the parties, you will find some other fun things to do in SF this night. You will find theater performances, live music, and several other fun things to do. You can also find out details on the extended hours for all public transit options in and out of SF.
Learn More: All NYE Activities for 2017
Other Fun Things to Do in SF