San Francisco Cherry Blossom Festival
Event Schedule & Other Tips to Attend the 2016 Festival in Japantown
The Japantown neighborhood comes to life in the spring when the cherry blossoms start to bloom. This is also when more than 200,000 people flock to Japantown for the annual San Francisco Cherry Blossom Festival.
The Northern California Cherry Blossom Festival in SF started in 1967. Since then, it's grown to be one of the largest cherry blossom festivals in the US.
The 2016 festival will be held on two weekends, April 9-10 and April 16-17.
This celebration includes traditional music, dance and other cultural activities.
During the festival, you can sample a variety of Japanese and Japanese-American cuisines. These include popular dishes such as fresh sushi, tempura, and chicken or beef teriyaki.
Another highlight of this SF event is the Grand Parade. This year it will be on Sunday, April 17, starting at City Hall around 1pm on Polk Street near McAllister. The parade then follows Polk Street north to Post Street and turns left toward Japantown.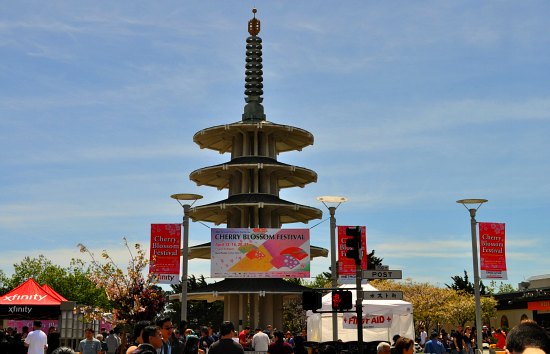 The parade concludes in Japantown near the Peace Plaza on Post Street at 3pm. Here is a map showing the typical parade route.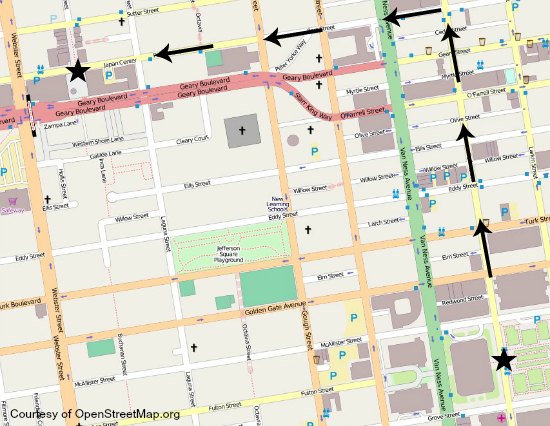 Most of the San Francisco Cherry Blossom Festival events are held on Post Street between Laguna and Fillmore Streets.
---
Events at the 2016 Festival
Note: The information below is from the 2015 event. Please check back for updated details and schedules.
Taiko Drum Performances
This is one my favorite things to see each year at the Cherry Blossom Festival.
The taiko drum was originally used as a way to ward off evil spirits and pests from harming the crops. Over the years, it was used less frequently in the Japanese culture and this art faded away.
However, in recent years, taiko drum enthusiasts began a revival effort and now it's performed in Japanese cultures throughout the world.
Here are a few pictures of them in action.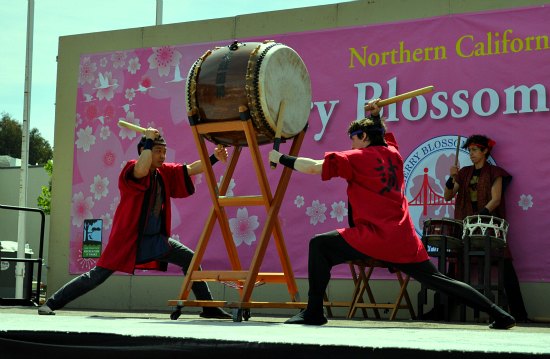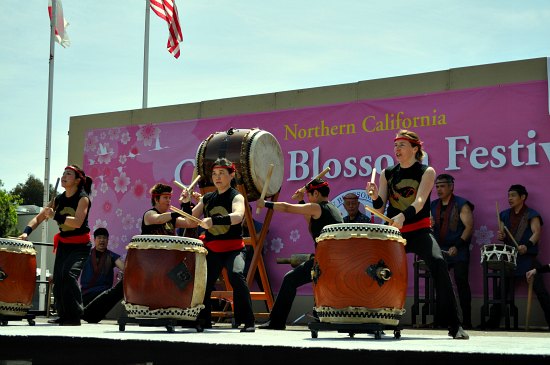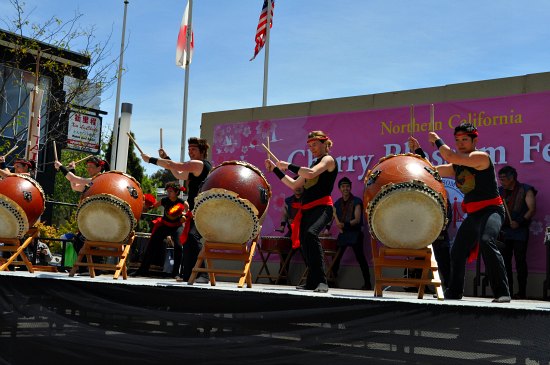 They perform the following times during the 2015 festival:
Saturday, April 11th from 12:15pm to 1:15pm
Sunday, April 12th from 12:30pm to 1:30pm
Saturday, April 18th from 12:00pm to 12:30pm
Saturday, April 18th at 7pm - This is a paid performance. Tickets are $30 per person and $25 for students and seniors. Buy them in advance at www.sftaiko.com or at the Taiko Dojo Store at 1581 Webster Street, Suite 200.
---
Chanoyu - The Tea Ceremony
Another traditional Japanese art is the Tea Ceremony. Throughout the San Francisco Cherry Blossom Festival, you'll get the chance to watch and learn more about this well-known Japanese ceremony.
---
Japanese Music and Dance
Another highlight of the festival is the traditional Japanese music and dance. You will get the chance to listen to the music from a koto, or Japanese harp. This is one of the most popular Japanese musical instruments.
You also get the chance to see minyo, a traditional Japanese folk dance and song that has been handed down from generation to generation and has evolved over the years.
They usually have several performances both weekends.
---
Sanrio Kids Corner
Every year, there is also a special game and craft area for kids. The Sanrio Kids Corner features Hello Kitty and her friends.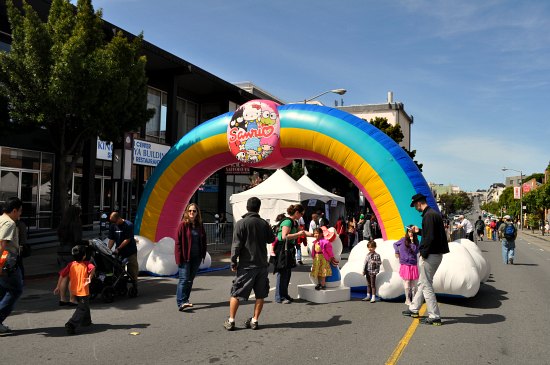 Some of the games here in past years have included the Hello Kitty Spin & Win and Characters Sand Painting. Usually there is an extra charge for this, around $10 per child.
---
Schedule of Events on the Main Stage
Here is the 2015 schedule for the first weekend on the Peace Plaza Stage:
Saturday, April 11

12:15pm: San Francisco Taiko Dojo
1:15pm: Opening Ceremony
1:30pm: Michiya Hanayagi and Michisuya Hanayagi Kai
2:00pm: Nihon Buyo Kiyonomoto
2:30pm: World Oyama Karate
3:00pm: Children's Tsuzami Challenge
3:15pm: Essence
3:45pm: Minyo - Mariko Kosugi
4:00pm: Sakura Minyo Doo Koo Kai
4:30pm: Tojokan Shinkendo Dojo
5:00pm: El Cerrito High School Japanese Club
5:15pm: Northern California Naginata Federation



Sunday, April 12

11:15am: Yamasho Kai
11:45pm: 2015 Senior Appreciation Brunch Honorees
12pm: Queen and Court
12:30pm: San Francisco Taiko Dojo
1:30pm: Soko Joshi Dojo
2:00pm: Ensohza Minyoshu
2:30pm: Reigen Fujii Shamisen
2:45pm: San Francisco Wushu Team
3:15pm: Shorinji Kempo
3:45pm: Kendama USA
4:45pm: Japense Club of Sacred Heart Cathedral
5:00pm: Oshiro Karate Dojo
5:30pm: Chie Kwon-Treagus
Here is the 2015 schedule for the second weekend, April 18 - 19:
Saturday, April 18

12:00pm: San Francisco Taiko Dojo
12:30pm: Grass Valley Taiko
1:00pm: Rosa Parks School Japanese Bilingual Bicultural Program
1:30pm: Rinka Buyo Group
2:10pm: Children's Tsuzumi Challenge
2:15pm: Yoko and the Sunshine Girls
2:30pm: La Sakura Ladies
3:00pm: Mayuko
3:20pm: Eden Aoba Taiko
3:50pm: Fukushima University
4:15pm: San Francisco Okinawa Kenji Kai
4:45pm: Zanshin Dojo
5:15pm: UC Berkeley Yosakoi Group
5:30pm: Zeros from Anime Jungle



Sunday, April 19

11:00am: San Francisco Kendo Dojo
12:00pm: Enshin Karate
12:30pm to 3:00pm: No Performances, Parade
3:30pm: San Francisco Awakko-ren Awa Odori
4:00pm: Anime Talent Show
4:30pm: Sakura Ren Awa Odori
5:00pm: Raffle Drawing
You will find dozens of other performances at this year's event. Visit the official Cherry Blossom site for a full schedule of events.
---
Savings Tip: Are you looking for other fun things to do this weekend? If so, then check out the ticket selection on Goldstar. They offer a variety of tickets for events, tours, and other activities at up to 50% off! Click here to check them out today!
---
San Francisco Hotels
Are you still looking for a hotel for your stay? Here are several recommendations based on budget, amenities, and neighborhood.
---
Tips for Visiting Japantown
Are you looking for other things to do in Japantown? Do you need a hotel near the festival?
On this page, you'll find out other top activities in Japantown, recommendations for top hotels, and some of my favorite restaurants in this SF neighborhood. You will also find the best public transportation options to get to the festival.
Learn More: Japantown
---
More fun Events in April
SF Giants: The 2014 World Series Champions, the San Francisco Giants, kick of their 2015 season this April. Their first home game is on Monday, April 13. Click here for additional details.
Book of Mormon: Head over to the Orpheum Theater for the biggest theater performance this month, Book of Mormon. By the creators of South Park, this funny musical will keep you laughing all night long. Click here for ticketing details and the full theater calendar for this April.
TAPAS Wine Tasting Event: Another fun event this month is the TAPAS Grand Wine Tasting Event. Open to the public, this event features domestically produced wines from grapes that originated in Spain and/or Portugal. Click here for this year's event details.
---
Other Places in SF to See Flowers in Bloom this Spring
---
Other Top Events in April