SF Bay Area Events in April 2018
Festivals, Easter Activities, & Other Fun Things to Do
SF Bay Area Events in April 2018 include sporting events, theater productions, and festivals. Highlights include Finding Neverland at the Center for the Performing Arts in San Jose, two Cherry Blossom Festivals, and Golden State Warriors Basketball.
You can also catch the season openers for both the SF Giants and Oakland A's baseball teams, attend a film festival, or head to Petaluma for their Butter & Egg Days Parade & Celebration.
If you love wine, then you will also find plenty to do this month. Top events include Calistoga Food & Wine, Passport to Dry Creek, and Pebble Beach Food & Wine.
Read on for a full calendar of events this month in the SF Bay Area.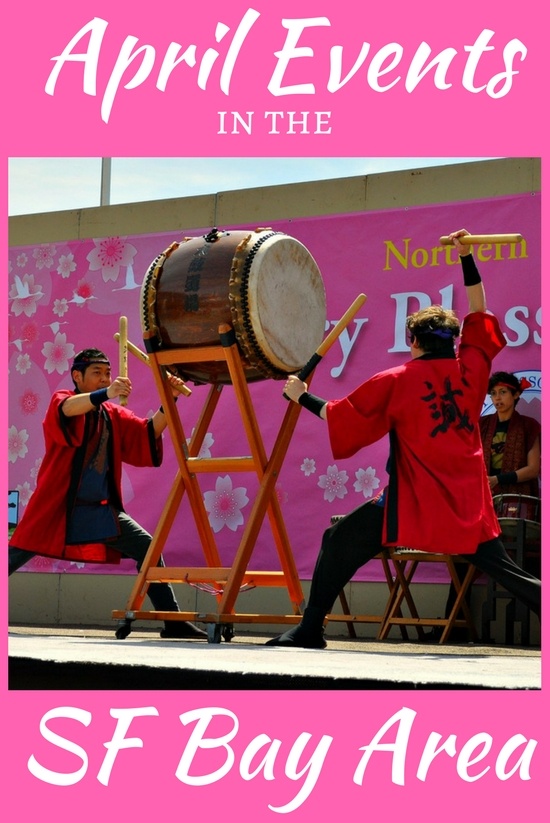 Disclaimer: I recieve a small commission from some of the links on this page.
Finding Neverland on Stage in San Jose
One of the biggest SF Bay Area events in April is Finding Neverland. It's the story behind Peter Pan and its author J.M. Barrie. Barrie becomes friends with a young widow and her family. He bases his story of Peter Pan off their lives.
Dates: 4/17-22
More SF Theater Shows: Full calendar of SF theater productions in April
SF Bay Area: Full calendar of theater shows in Bay Area in April
Golden State Warriors Basketball
Don't miss the last month of season play for Warriors basketball at the Oracle Arena in Oakland, right across the bay from San Francisco. Watch this popular NBA team close out an exciting year with some of the best SF Bay Area events in April. During the first two weeks, you can see the Dubs take on the Phoenix Suns and the New Orleans Pelicans. Then we'll be wishing them luck in the playoffs!
Dates: 4/1 & 4/7 + Post season play
More: Tips to attend a game
Oakland International Film Festival
This year marks the 16th anniversary of one of the largest SF Bay Area events in April--the Oakland International Film Festival. You can enjoy a variety of excellent independent works from around the globe at venues all over the East Bay city of Oakland. Attend the screenings, filmmaker panels, networking events, and more to celebrate five days of amazing shorts, documentaries, and feature films created by local and international artists.
Dates: 4/3-4/7
More: Find more information on the festival website
San Francisco Cherry Blossom Festival
This annual SF event is one of the largest cherry blossom festivals outside of Japan. For 50 years, the Japanese community has been organizing this celebration of spring for the public to enjoy. Held over two consecutive weekends this month, the festival is a great opportunity to taste delicious Japanese cuisine, attend a tea ceremony, watch traditional dancers and taiko drummers, and take the little ones to the Sanrio Kids Corner.
Dates: April 14-15 & 21-22
More: Additional details on this year's event
Bay Area Baseball: Giants & A's
That time of year is finally here! It's baseball season, so put on your caps and head to the ballpark! But which ballpark will you choose? We in the Bay Area are lucky to have not one, but two stellar MLB teams.
Then, you can watch the San Francisco Giants take on the Diamondbacks, Mariners, Dodgers, and Padres, right here in the city at AT&T Park. Or, you can watch the Oakland A's take on the Angels, Boston Red Sox, and the Chicago White Sox of the American League across the bay at the Oakland Coliseum.
Dates: Several in April
More: SF Giants schedule
More: Oakland A's schedule
Bay Festival in Berkeley
The Bay Festival is a wonderful, free community event that started 80 years ago when the Berkeley Marina first opened. This outdoor fair gives the whole family a chance to enjoy good food, listen to live music, and learn about the environment and other important issues at the various booths. You'll find tons of activities and entertainment from 11am to 4pm on the lawn of this public waterfront park in the East Bay.
Date: 4/14
More: Read more event details
Easter in SF
If you're going to be in town for Easter, you'll find many of SF's best restaurants offering a delicious Sunday brunch. Another idea is to take an Easter Brunch or Dinner cruise out on the bay to admire the city skyline and bridges. For families and kids, it looks the like Easter Bunny will be spreading his good cheer and treats all over San Francisco this year!
There's a colorful Spring Celebration and Easter Parade on Union Street in the Marina District, as well as other fun activities at Golden Gate Park, Fort Mason, and Ghirardelli Square.
Date: Sunday, April 1
More: Full calendar of what to do on Easter in SF
Santa Cruz Mountains Passport Day
Another one of the SF Bay Area events in July that offers wine tasting all day long is Santa Cruz Mountains Passport Day. Spend the day sampling locally made wines from the Santa Cruz Mountains. More than 50 wineries will open their doors for this event. It runs from 12pm to 5pm.
Date: 4/21
>> Visit their website for more information
SF Bay Area Concerts
San Francisco is full of great concert venues, from large auditoriums to independent cafes. You'll find live music in the city almost every night of the week, and the biggest shows this month include Judas Priest at the Warfield, Puddles Pity Party at the Palace of Fine Arts, and SoMo at the Great American Music Hall.
Outside of SF, you'll find even bigger groups filling stadiums all around the Bay Area. This April welcomes Miguel to the Greek Theatre in Berkeley, Romeo Santos to the Oracle Arena in Oakland, and Bad Bunny to the SAP Center in San Jose.
Dates: Several this month
Calendar: Find a full schedule of top concerts in the SF Bay Area
Bay Area Book Festival in Berkeley
The Bay Area Book Festival in Berkeley offers two days of literary fun with some of the most famous authors in today's world attending. There are talks, readings and an opening night gala if you want to meet and greet some of the authors. There are also children, teen and family programs for you to enjoy.
Date: 4/28 & 4/29
San Jose Sharks
This is the last month to watch the San Jose Sharks take on fierce hockey rivals at the SAP Center in San Jose (about an hour south of SF). This month we're wishing them luck as they wrap up the regular season with the playoffs approaching. Watch the Sharks play the Dallas Starts, the Colorado Avalanche, and the Minnesota Wild.
Dates: 3, 5, & 7 + Post season play
More: Tips to attend a game in San Jose
Pebble Beach Food & Wine
Pebble Beach Food & Wine is a premier culinary event that brings together 250 acclaimed wineries and 100 celebrity chefs for four days of amazing wining and dining. Held in beautiful Pebble Beach, famous for its panoramic California coastline, this festival truly provides guests an unforgettable experience at the wine tastings, cooking demos, and exclusive sit-down meals.
Dates: April 5-8
More: Visit their site for details
Great Chefs and Wineries
Yet another food and wine celebration on our calendar of SF Bay Area events in April is the Great Chefs and Wineries charity event that benefits Lifehouse Agency, supporting hundreds of folks with developmental disabilities. You'll find this gathering of 50 distinguished local restaurants and wineries at the Peacock Gap Golf Club in San Rafael in the North Bay. The event will not only feature delicious treats, but live and silent auctions, raffle drawings, a special performance by Lifehouse, and an intimate concert.
Dates: April 21
Schedule: More information and tickets
Silicon Valley Comic Con
This April in the South Bay, Apple co-founder Steve Wozniak presents the premier event in technology and pop culture: the Silicon Valley Comic Con. This convention brings together celebrities, comics, independent artists, cosplay, video games, music, apps, and even more electronics. The event will take place at the San Jose Convention Center. You can get tickets for individual days or all three.
Dates: April 6-8
Schedule: Visit their site for additional details
Monster Jam at Levi's Stadium
If you love seeing big, powerful machinery in action, this is the event you've been waiting for. The popular monster truck tour, Monster Jam, is coming to the South Bay this month. Head over to Levi's Stadium in Santa Clara to watch "Grave Digger" and other famous 12-foot-tall trucks tear up the custom-made dirt course as they race and freestyle all over the arena. This action-packed show is always a crowd-pleaser.
Date: April 28
Tickets: On sale now
Passport to Dry Creek Valley
One of my favorite SF Bay Area events in April is Passport to Dry Creek Valley, a two-day festival featuring the best food and wine in Sonoma County. You'll get the chance to discover over 45 Dry Creek Valley wineries, each with its own elaborate theme for the weekend.
In addition, you'll enjoy exquisite food and wine pairings with the area's best chefs at a series of intimate winemaker lunches and dinners. Head to the North Bay and soak in all that Northern California's wine country has to offer.
Dates: April 28 & 29
More: Visit their site for ticketing information
Cupertino Cherry Blossom Festival
In addition to the large Cherry Blossom Festival in San Francisco, the South Bay town of Cupertino will also honor this beautiful Japanese tradition with its own weekend-long program.
This community festival goes beyond celebrating the spring blossoms; it celebrates and promotes the 39-year-old cultural exchange between Cupertino and its sister city, Toyokawa, Japan. Enjoy authentic dance, food, and more throughout the last weekend in April.
Dates: April 28 & 29
DoNapa Culinary Crawl
At the DoNapa Culinary Crawl, there are three basic steps to follow and repeat: walk, taste, and sip. If that sounds like the perfect way to spend a relaxing Thursday evening in wine country, head to downtown Napa (North Bay) and enjoy a variety of specially prepared bites paired with exclusive drink specials that are laid out for participants at the best tasting rooms and restaurants in town.
This is a unique opportunity to try an expansive variety of great food and wine all within walking distance.
Date: 4/27
>> More about this delicious Napa event
Petaluma Butter & Egg Days Parade & Celebration
A long-running tradition in the North Bay town of Petaluma is the annual Butter & Eggs Parade and Celebration, which honors the region's rich agricultural history as one of the nation's premier dairy producers. The parade takes place at noon, and will feature over 100 entries representing the local community.
The fair runs from 10am to 5pm, and includes four city blocks of booths for arts and crafts exhibitors, food vendors, and community organizations. There will be plenty of entertainment and rides for the youngsters as well.
Date: 4/28
More Fun SF Bay Area Events in April