Pictures of San Francisco
Our Original Works & Camera Recommendations
NOTE: On December 6, San Francisco (and a few surrounding counties) will once again be on a stay-at-home order. This will last indefinitely. Click here for more information.
Are you looking to buy unique and original pictures of San Francisco? While I walk the streets taking photos all the time, my fiance is a professional photographer. He loves finding the most interesting shots all around town.
Some will be very familiar to you such as his images of the Golden Gate Bridge and Alcatraz. You will find others offer a unique look at the place we call home.
Below, I've included just a sample of his work from his website called Camera or Bust for you to enjoy and/or purchase.
At the bottom, you will find some of my fiance's recommendations on the best cameras to use if you are also interested in getting some great shots during your stay.
Our Original Works
My fiancee loves to take pictures of San Francisco. There are opportunities around every corner. Below are some of my favorites from his collection. Click through the links to see a bigger version of each one.
You can also purchase all of them as a print or have fun with them by adding them to an iPhone case, greeting cards, duvets, or even as your new shower curtain!
At the bottom is a link to more of his pictures of San Francisco. He is always adding new pieces (as well as new works from our other travels).
Sailing the San Francisco Bay
This photo shows a single sail boat on the waters of the SF Bay. In the background, you will see the Golden Gate Bridge and the Marin Headlands.
Click here to see a bigger image and for purchasing details.
Golden Gate Bridge
This is a lovely shot of the span of the Golden Gate Bridge on a sunny day in San Francisco. Click here for a large image and to learn more.
Golden Gate Two Trees
I love these shots where you get a view of the bridge between the trees. This was shot from Crissy Field and again shows the Marin Headlands in the background.
Click here for more on this photo.
Painted Ladies
The Painted Ladies of Alamo Square are some of the most photographed attractions in San Francisco. These beauties are colorfully painted Victorians from the late 1800s.
Click here for purchasing details and to see a larger image.
More SF Photos
In addition to these, you will find additional pictures of San Francisco here. All of these are my fiance's works. We travel often too so you can also find pieces from our trips around the world.
Camera Recommendations
You don't need to spend thousands of dollars to get amazing pictures of San Francisco. Below we offer up a handful of recommendations that cover all budgets.
SFTourismTips.com is a participant in the Amazon Services LLC Associates Program, an affiliate advertising program designed to provide a means for sites to earn advertising fees by advertising and linking to amazon.com.
Our Camera: Sony a6000
Let's start with the camera that my husband uses for his photography. Since we are often walking the city, he doesn't like to carry something that is too heavy. He loves having a highly professional camera that he can easily carry with him all day.
We use the Sony a6000. This mirrorless camera is lightweight and takes amazing photos. It also allows you to change out lenses, so you can capture perfect pictures of San Francisco.
Many professional photographers are moving to this type of camera as the body is small and easy to carry around. Plus, it offers you the chance to take professional photos at a fraction of the cost of larger, more expensive DSLRs.
Click here to read recent reviews and to learn more about our Sony a6000.
A Few Budget-Friendly Options
It's amazing the quality of photos you can get from some of the budget-friendly options these days. If you don't plan to sell your photos or print our large pictures of San Francisco after your visit, then these are a great choice.
Sony DSCW800/B 20.1 MP Digital Camera
One of the top budget-friendly cameras that is also mirrorless is the Sony DSCW800/B 20.1 MP Digital Camera. For under $100, it includes the following features:
MP Super HAD CCD sensor for beautifully detailed images
Sony Lens w/ 5x Optical Zoom
Reduced blur with SteadyShot Image stabilization

Ability to capture videos in 720p HD Movie mode
Easy Mode makes the camera even easier to use
Super HAD CCD 20.1 MP sensor

Sony Lens with F3.2 (W) - 6.4 (T) Maximum Aperture
Click here to learn more about this option on Amazon.
Nikon COOLPIX
If you are able to spend just a little more or want something a little higher quality, then I recommend looking at Nikon's COOLPIX brand. New ones range from around $150 to $300. You can also look at their refurbished options for quite a bit less.
Click here for a great selection of Nikon COOLPIX cameras on Amazon.
iPhone Camera Lens Kits
If you have an iPhone, you can also just buy a camera kit to add to the already great cameras in these phones. They simply slip onto the camera so you can take wide angle, fisheye, or macro shots.
One of my favorites in this area is a camera lens kit from Amir. For less than $50 (or less as it is often on sale), you can get three lenses to attach to your iPhone for a variety of pictures of San Francisco.
Click here to read recent reviews and learn more about this cost-effective option.

Follow SFTourismTips on Facebook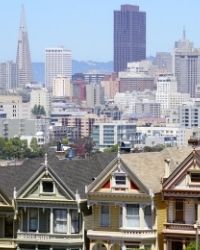 On my Facebook page, you will find more great information about planning your San Francisco vacation.
It includes tips, must see attractions, and other fun details.
Click the link below to check it out. If you enjoy the page, give us a like.

More Places to Take Colorful Pictures of San Francisco