J-Pop Summit 2016
Enjoy Japanese Music, Film and Food
The J-Pop Summit 2016 celebrates the Japanese culture and includes both traditional and modern elements. This three-day festival is July 22 - 24, 2016. This is the eighth year for J-Pop Summit and this year the festival will be at the Fort Mason Center, the Regency Ballroom, and NEW PEOPLE Cinema.
The event will be similar to last year and will include many of the elements you love as well as several fun, new activities.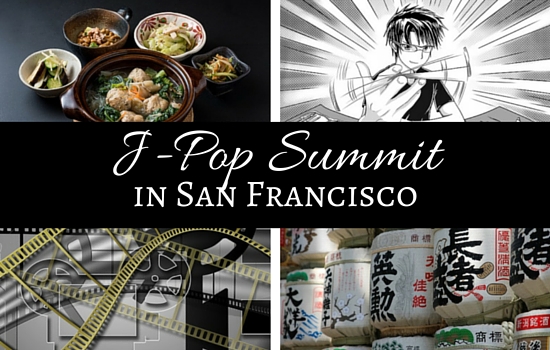 The festival offers food, film, and appearances by special guests. Most events are on Saturday and Sunday between 11am and 8pm.
During this event, you will also find J-Pop Idol, autograph signings with Japanese celebrities, and a Food & Sake Summit.
More Details on this Year's Events
This year's event requires tickets to all of its activities. All of this year's events are at the Fort Mason Center between the Marina and Fisherman's Wharf except the opening night at the Regency Ballroom. The Japan Film Festival is also at the NEW PEOPLE Cinema.
Opening Night Event
This year's opening night event is on Friday, July 22. This event will be held at the Regency Ballroom.
This exciting event will feature Japan's pop princess Kyary Pamyu Pamyu. Doors open at 6pm and the show starts at 7pm.
Interactive Summit
The J-Pop Summit will feature a tech-focused event in the Interactive Showcase inside Festival Pavilion. This special area includes a variety of cutting edge technology products out of Japan. You can walk around to learn more about the latest hardware, software, digital arts, and more.
You can also stop by Ideathon, panel discussions, and the start-up pitch contest at Gallery 308.
The Interactive Summit is open both Saturday and Sunday.
Food & Sake Summit
This year's Food and Sake Summit will take place at the Fort Mason Center. It's the perfect chance to sample sake and Japanese cusines from top local food trucks and chefs.
J-Pop Idol & Live Music
Sign up to sing your heart out in Japanese. This contest will take place at the Fort Mason Center and you must register in advance in order to participate.
In addition to J-Pop Idol, this event will feature live music throughout the venue all weekend long.
Japan Film Festival of San Francisco
In addition to this three-day event, there is also a ten day film festival. It includes movies all about Japan and the Japanese culture. It starts the same weekend as the J-Pop Festival. All films show at the New People Cinema in Japantown.
Click here for more details on this year's festival.
Fashion Show
You will also get the chance to see the latest fashions from Tokyo. It will include many top brands and will include some audience participation. The fashion show will be in the main stage during the J-Pop Summit.
Anime & Games
This year, you can enjoy discussions and autograph sessions by the Japanese top creator Wakamatsu Kaori.
Arts & Crafts
Purchase handmade gifts, accessory, and jewely inspired by Japanese fashion. The arts and crafts section will feature hundreds of unique pieces all weekend long.
More Details for the J-Pop Summit 2016
Tickets
You will find a variety of ticket options for this year's event. You can buy two-day tickets, which gives you full access both days. You can also buy just for one day. For certain activities, you can also just buy a ticket for that activity. VIP tickets are also available which feature additional benefits.
I recommend buying your tickets in advance. Head to the J-Pop Summit website for ticketing details.
Places to Stay Nearby
If you are spending your entire weekend at the J-Pop Summit 2016, then I recommend finding a hotel nearby. The closest district is the Fisherman's Wharf area. You can find plenty of options there. Click here for my recommendations.
It's also easy to get to the Fort Mason Center from Union Square. This is where you will find the largest concentraion and variety of hotels. Click here for my recommendations.
You can also stay in Japantown. Here are some of the best options there:
Hotel Kabuki: Formerly the Miyako Hotel San Francisco, this 3.5 star hotel is your best bet. They offer comfortable rooms for a decent price (for San Francisco that is!). It is at 1625 Post Street. Rooms start at around $188 per night for this weekend.


Hotel Tomo: Another great option is the 3-star Hotel Tomo. It's a little pricier, but is very cute and comfortable. It is at 1800 Sutter Street. Rooms start at around $275 per night.


Queen Anne Hotel: One option that is just a few blocks away is the historic Queen Anne Hotel. This three star offers unique rooms with a personal feel. it is at 1590 Sutter Street. Rooms start around $189 per night for this weekend.
Save on Your Hotel: You can also save by booking through TripAdvisor. They feature a number of specials for hotels all around San Francisco and it's the best place to find a deal. Click here to check out their current special offers.
Best Public Transit Options
There are many buses that drop off within a few blocks of the J-Pop Summit. Your best options are 22 & the 43. Both drop you within a few blocks of the Fort Mason Center.
You can also take the Hyde/Powell line to the western side of Fisherman's Wharf and then walk over to the festival. It's about six blocks, but there is a hill you must walk up and over. You can also take the cable car to Fisherman's Wharf and then cab over from there.
More Pages for You
Other Fun Summer Events
Stern Grove Festival: Every summer, Stern Grove Park comes to life with their summer concert series. These free shows feature international stars as well as local favorites. Stop by every Sunday at 2pm from mid-June to mid-August to catch a performance. Click here for this year's line-up.
Summer Streets: Get healthy this summer during SF's Summer Streets. One Sunday a month, a district hosts a healthy living festival. They include workshops, health screenings, and more. In addition, they provide blocks of car free streets so you can run, walk, or bike with less hassle. Find this year's schedule.
Savings Tip: One of my favorite places to find tickets to top SF events and activities is through Goldstar. Here you will find tickets for almost 200 SF and Bay Area activities at up to 50% off. They range from SF Bay Cruises to theater tickets. It's the best way to see and do even more in the gorgeous city by the bay. Click here to check them out today!
Outside Lands Music Festival: One of the biggest outdoor music festivals in SF is the Outside Lands Music Festival. This annual event offers three days of live music, fun, and relaxation in Golden Gate Park. Click here for details and a look at this year's line-up.
Wine Tasting Events: If you love sampling wine, then you must attend one of SF's famous wine tasting events. Most months, you will find one that offers a variety of samples from around the world. The largest is the Chronicle Wine Tasting event in February. You can also sample Pinot Noir Wine at Pinot Days and take home some treasures from the Rhone Ranger Wine Tasting in the spring. Click here for a full schedule this year.
Other Pages You Will Enjoy