Carmel California Hotels
Top Accommodations Options in Carmel-By-The-Sea
Carmel California hotels range from high-end resorts to quaint bed and breakfast options. You can also rent out an apartment or a house from a local resident.
You will find prices are the most expensive during the busy summer travel months and over holiday weekends. Low season in Carmel is on non-holiday weekends from November to March. However, the secret to this beautiful waterfront town is that the weather is beautiful almost all year around.
One thing to note about Carmel is that no one has formal street addresses. You will notice all of the hotels and other accommodations give you a street name and cross street. This might seem strange, but many years ago they decided to give the houses names instead of an address. This means all businesses refer to their location by cross streets too. During your stay, you will get familiar with finding restaurants and shops with only the cross streets.
Top Five Hotels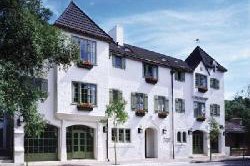 L'Auberge Carmel
Address: Monte Verde Street at Seventh Avenue
Rating: 4.5 Star Hotel
Estimated Room Rates: $340 - $425
The L'Auberge in Carmel offers the ultimate in luxury. Located in the heart of the Carmel's popular commercial district, this 20-room hotel offers you the chance to walk to dozens of restaurants, shops and even wine tasting rooms.
Pros: The recently renovated hotel features European style luxury. The location can't be beat for those looking to shop or do some wine tasting. It's also just six blocks from the Carmel beach.


Cons: If you require an elevator to reach your room, stick to the rooms on the first floor. Sometimes the street gets noisy, so request a room in the back if you are a light sleeper.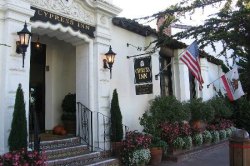 Cypress Inn
Address: Lincoln Avenue & 7th Avenue
Rating: Inn
Estimated Room Rates: $245 - $595
This cute inn is also right near Ocean Avenue and the center of the action in Carmel. This small 18-room hotel offers old-fashioned hospitality and several amenities. There is a popular restaurant on-site called Terry's Lounge where you can enjoy American and California cuisine.
Pros: This is a lovely place to stay for anyone looking for a nice, low-key weekend. It's perfect for couples and anyone else wanting to enjoy all that Carmel has to offer.


Cons: Some of the rooms are small and best for just couples instead of families. Many of the bathrooms are also on the smaller side. There is no air conditioning in most of the rooms, since Carmel rarely gets too warm during the day or at night.
Tradewinds Carmel
Address: Mission Street at Third Avenue
Rating: 3.5 Star Hotel
Estimated Room Rates: $225 - $500
The Tradewinds Carmel is on the northern end of the commercial district in Carmel. It is a small hotel with just 28 rooms. For your stay, you can choose a king room, queen room or one of two suites. Most rooms also feature a fireplace and ocean views!
Pros: There is so much to like about this hotel. The upper floors offer a view of the ocean, even though the hotel is several blocks away from it. It's within walking distance to the center of the commercial district, so you can easily walk to restaurants, bars and other entertainment options. It's set on a quiet street and has a cute courtyard with a fire pit and chairs, so everyone can enjoy the outdoors during their stay.


Cons: It's close to all the action, but the last block up to the hotel is a little steep. You will want to be aware of if you choose to set out on foot.
Carmel Mission Inn
Address: 3665 Rio Road
Rating: 3 Star Hotel
Estimated Room Rates: $135 - $250
The Carmel Mission Inn is a three star hotel with many amenities. This 165-room hotel features an on-site restaurant, fitness center and free parking. They also offer a heated swimming pool, several suites and high speed internet access.
Pros: This place is a great value for your money. It offers several amenities for a three star hotel, so you don't have to go far to find what you need. It has a colorful, retro vibe. The rooms are clean, comfortable and spacious for the price.


Cons: It's a bit off the beaten path, but it is priced accordingly. There are some other restaurants and shops nearby. However, it's about a mile or more from the main commercial district.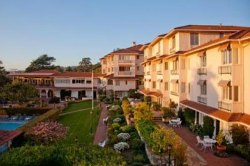 La Playa Carmel
Address: Camino Real at 8th Avenue
Rating: 3 Star Hotel
Estimated Room Rates: $191 - $538
This historic hotel features 75 rooms and is centrally located in the commercial district. It offers both turn of the century charm as well as modern amenities. It's just two blocks from the beach and also close to dozens of shops and restaurants. Make sure you also spend some time in their gorgeous and colorful gardens.
Pros: This hotel is very charming and comfortable. It's in a great location so you can choose to spend time on the beach or out shopping. There is also a swimming pool and a bar/restaurant on-site. If you can, spend a little more for the ocean view rooms.


Cons: Since it's an older hotel, some of the rooms are a bit tight (especially those with two beds). There are no elevators, so request a room on the first floor if walking up and down stairs is a problem (the staff will help you with your bags). Ask for a room away from the street to avoid any noise at night.
Find the best deal, compare prices, and read what other travelers have to say about these and other top Carmel California hotels at TripAdvisor.
Top Five Bed & Breakfast Accommodations
An alternative to one of the standard Carmel California hotels is a quaint bed and breakfast. Due to the size of many of the buildings here, B&Bs are more abundant than the typical hotel. Here are just a few of my favorites.
Lamp Lighter Inn & Sunset House Suites
Address: S.E. Corner of Ocean Avenue & Camino Real
# of Rooms: 6
Estimated Room Rates: $185 - $450
This cute bed and breakfast is tucked away in an ancient grove of trees. It's also centrally located which allows you to walk to several popular Carmel shops and restaurants. One of my favorite features here is the courtyard area with tables and fire pits. This lovely area is also where you can enjoy your breakfast or the evening wine and cheese reception.
Pros: It's very cozy and comfortable. It's perfect for couples looking for a romantic get away in Carmel. The staff is very friendly and helpful. It's also just a few blocks from the beach.
Cons: Some of the rooms could use a little updating including the bathrooms. The bathrooms are clean, but many are small and could use some updating to brighten them up a little.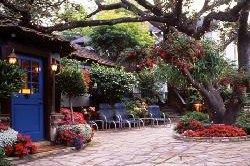 Vegabond's House Inn
Address: Dolores Street & 4th Avenue
# of Rooms: 11
Estimated Room Rates: $175 - $355
The Vegabond's House in is one of my absolute favorites. This boutique bed and breakfast features just 11 rooms in a quiet, yet centrally located neighborhood in Carmel. This place is unique and their guests' needs are the most important thing to them.
Pros: They serve breakfast in bed! Where else could you get this kind of service? Each day, you tell then when you want your breakfast and they will bring it to you. Each room comes with complimentary sherry too. Make sure you also take advantage of their free wine and cheese reception each night.
Cons: The breakfast is a little lighter than most bed and breakfasts. They serve up an 'extended continental breakfast', which includes a hard boiled egg, coffee and some toast. Some of the bathrooms are quite small.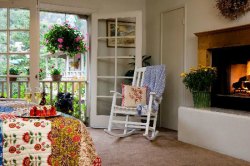 Carmel Country Inn
Address: Dolores Street
# of Rooms: 12
Estimated Room Rates: $275 - $425
The Carmel County Inn is another great spot for couples looking for a weekend away from the chaos. Situated near the commercial district in Carmel, this inn offers both suites and studios. The rooms are clean, the staff is friendly and most rooms feature a fireplace to warm up things up at night.
Pros: You will find this hotel set in a quiet and serene area. However, it's also walking distance to many fine shops and restaurants. The staff is friendly and the owners can tell you anything you want to know about Carmel.
Cons: The treetop rooms require that you can walk up a set of stairs. Make sure you consider this before booking.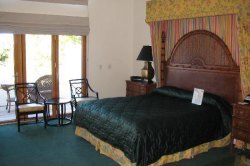 Tally Ho Inn
Address: Monte Verde Street at Sixth Street
# of Rooms: 14
Estimated Room Rates: $199 - $355
The Tally Ho Inn offers a quiet, countryside type experience in the heart of Carmel. It's just a half a block from the major restaurants and shops. Head in the other direction three blocks and you will be at the gorgeous Carmel beach. Most rooms offer partial ocean views and feature jacuzzi tubs. You will also enjoy the morning continental breakfast and evening reception.
Pros: My favorite thing about this cute inn is the outdoor seating areas. They allow you to spend some time getting to know other guests or just enjoying the outdoor views. The staff is always so friendly and helpful here too. They also offer free on-site parking, which is rare in Carmel.


Cons: Room #109 can get loud during the weekdays with the trucks delivering to the restaurant next door. Avoid this room if you are a light sleeper. A couple of the rooms are a little dated, but still clean and comfy.
Carmel Garden Inn
Address: NW Corner 4th Street and Torres
# of Rooms: 10
Estimated Room Rates: $139 - $209
You will also find this gem in the heart of Carmel's central business district. This place is great because the rooms are good sized for the money. Some of the rooms even offer a small kitchenette, so you can make very basic meals to eat in. They also serve a wonderful breakfast each morning and have a wine and appetizer reception each night.
Pros: The breakfast here is amazing. It's one of my favorites in Carmel. The owners and staff go above and beyond to make sure your stay is up to your standards.


Cons: They are in the process of updating a few of the rooms. This means a few of the rooms still need a little touch up. This inn has a lot of charm and history, which means many of the bathrooms do too. They are on the smaller side, but big enough to get done what you need to get done.
Find the best deal, compare prices, and read what other recent guests have to say about these Carmel bed and breakfasts at TripAdvisor.
Renting an Apartment or a House
My new favorite way to travel is to rent a house or apartment from a local. In the past, it was always difficult to find great places to stay. However, TripAdvisor recently added these types of accommodations to their site, which makes them easier to find and evaluate.
Instead of staying at one of the Carmel California hotels, check out some of the great apartments and hotels on TripAdvisor. They currently feature more than 60 of these within Carmel and more than 400 in the surrounding areas.
You will work directly with the landlord on availability and other details. They will also meet you when you arrive, so you will immediately have a local to help you out.
Options range from small, detached studio apartments to large six bedroom six bathroom homes.
Find the best private accommodations and read what other travelers have to say about them at TripAdvisor.
Other Pages You Might Enjoy